Een tijdje geleden leerde ik een nieuw verzorgingsmerk kennen: Uriage. Nu had ik hier nog nooit van gehoord, maar blijkbaar is dit Franse merk erg bekend en geliefd in de wereld.
Ik testte twee producten uit het uitgebreid gamma: de reinigingsdoekjes en de beroemde spray met thermaal water. Ik was enorm benieuwd want het zou bijvoorbeeld een goede dupe zijn van het alom bekende Serozinc van La Roche Posay (die ik nog steeds nergens heb kunnen vinden voor een of andere rare reden).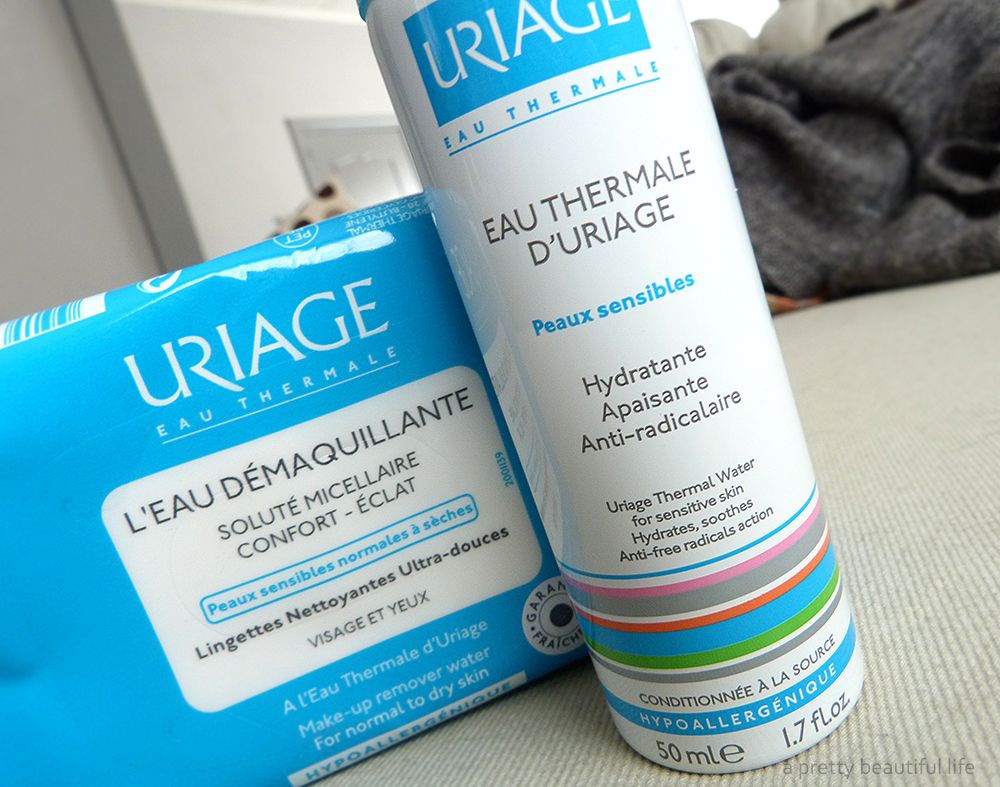 A while back, I was introduced to a new skincare brand: Uriage. I wasn't familiar with this brand, but apparently it's a well-known and loved brand. I got to test two products by Uriage: the make up remover wipes and the famous thermal water spray. I was very curious about these products because a lot of people claim that it's a great dupe for La Roche Posay's Serozinc (which, oddly enough, I still haven't found in the local pharmacies).
Deze producten van Uriage maken gebruik van thermaal water. Dit is niet zomaar water: het bevat mineralen die erg lijken op de 'NMFs' (Natural Moisturizing Factors) zodat de huid wordt gehydrateerd, oligo-elementen die de huid radicaalvrij houdt en filmogenische eigenschappen die de huid zijdezacht maken. Het wordt gebruikt om je huid te verfrissen en om make up langer te laten blijven zitten, maar je kan het ook gebruiken tegen roodheid, irritatie, jeuk, zonnebrand,… Volgens de lieve PR dame kan je dit water ook in je mond spuiten (bv. als je wondjes hebt). Het proeft alleen een beetje zoutig, maar het kan dus perfect. Het is dus zeker niet zomaar water!
These Uriage products use thermal water. This isn't just regular water: it contains minerals that resemble NMFs or Natural Moisturizing Factors, which hydrate the skin. It also contains oligo-elements that keep the skin radical free and filmogenic properties for a smooth and velvety skin. The water is also used to freshen up the face and to make make up last longer, but you can also use it when you suffer from redness, irritation, itching, sunburn,… And according to the sweet PR lady, you can also spray some of this water in your mouth, for when you have e.g. small wounds. It just tastes a little salty, but it's definitely possible.It's definitely NOT just water!
Van de spray ben ik zeker en vast fan! Het kalmeert de huid en helpt met de roodheid op mijn wangen. Ook voor kleine puistjes en oneffenheden gebruik ik het, want het maakt ze minder rood en naar mijn gevoel verdwijnen ze ook sneller. Hoera, egale huid! Ik draag deze spray nu ook rond in mijn tas, om mezelf af en toe eens te verfrissen. Het helpt ook om mijn make up beter te fixeren, dus dat is natuurlijk ook erg mooi meegenomen.
De doekjes bevatten dus ook hetzelfde thermaal water. Ik vind dat deze mijn make up goed verwijderen, maar voor echte waterproof make up moet je deze niet gaan gebruiken want dan ga je teleurgesteld zijn met het resultaat. Ik gebruik deze doekjes ook om mijn huid te verfrissen, en niet enkel mijn gezicht. Deze doekjes hebben ook een fijn, verkoelend effect dus je kan ze bv ook gebruiken op je armen of hals. Ideaal bijvoorbeeld als je verbrand bent.
I'm definitely a big fan of the spray! The water calms my skin down and also helps soothe the redness on my cheeks. I also use this product on small blemishes because it takes away the redness. I also feel like it helps clear the skin up a bit faster.
I'm currently carrying this spray in my bag so I can freshen my skin up on the go. Oh, and it makes my make up last longer, so that's an added bonus.
The wipes contain the same thermal water. These do a good job of removing my make up, but you'll be disappointed with the results if you try to use these on waterproof make up. Sometimes I use these wipes to freshen myself up, and not just the face. Because of the cool feeling it gives me, I like to use these on the rest of my body as well, e.g. on my arms for when I have a sunburn.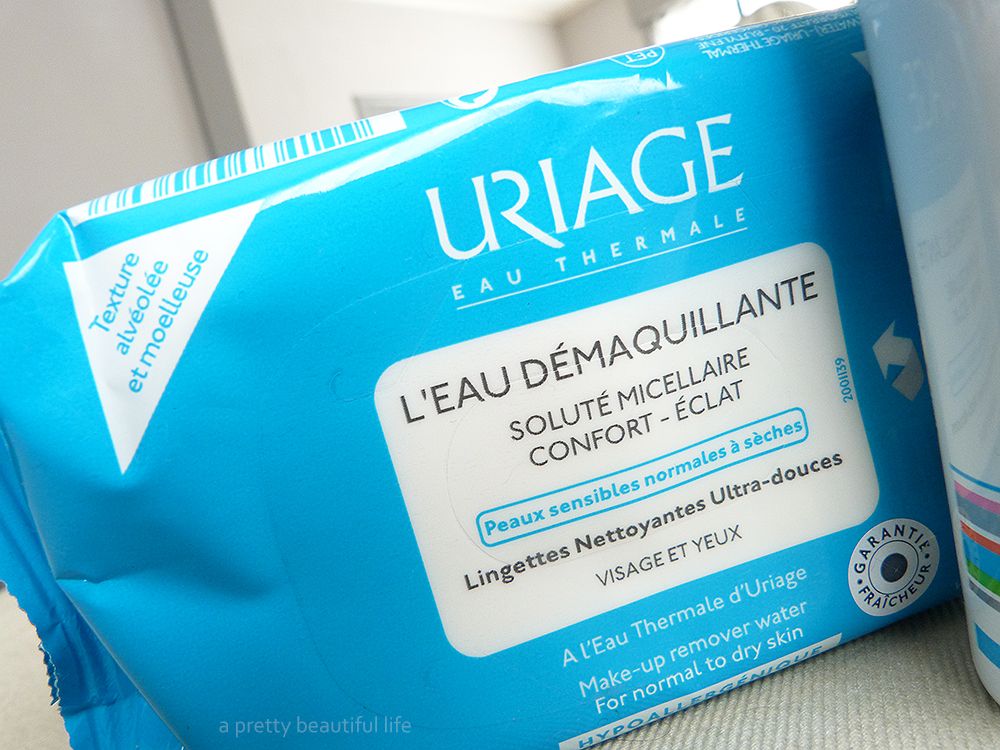 Uriage heeft mij kunnen overhalen met deze spray. Ik ben een grote fan ervan en draag hem nu overal mee. Ideaal voor in de zomer, wanneer je in een gloedhete auto moet zitten en in de file staat… Uriage to the rescue!
Uriage has won me over with this spray. I'm a big fan of the product and am always carrying it with me wherever I go. It's ideal for summer, when you're sitting in a scorching hot car, stuck in traffic… Uriage to the rescue!
Thermal water spray – €2,96 voor 50 ml
Make up remover water – €8,50 voor 25 stuks
Verkrijgbaar in de apotheek
Veel liefs,
Diana