Nagellak met een intense kleur maar zonder agressieve chemicaliën? Dat is de beschrijving voor de nieuwe Color Crush nagellakken van The Body Shop. Deze collectie bestaat uit 24 vrolijke kleuren die, naast het ontbreken van schadelijke stoffen zoals formaldehyde, formaldehyde-hars en kamfer, ook volledig geschikt zijn voor vegetariërs en veganisten. Hoe fantastisch is dit? Ik testte 4 kleurtjes uit, dus lees meer voor jouw portie nail happiness.
Nail polishes with an intense colour but without the aggressive chemicals – that's how The Body Shop describes their new Color Crush nail polishes. There are 24 vibrant colours that gives your nails a pop of colour without harmful ingredients such as formaldehyde. Keep reading for your dose of nail happiness!
The Body Shop staat bekend om haar ecovriendelijke, natuurlijke en fair trade producten. Ik vind het geweldig dat een merk zich zo inzet om de wereld een betere plek te maken en ben elke keer weer verrast door hun prachtige producten. Deze Color Crush nagellakken bevatten geen beschadigende eigenschappen maar dekt even goed als andere varianten. In totaal zijn er 24 kleuren, gaande van nude tinten tot vrolijke, felle kleuren.
The Body Shop is known for its eco-friendly, natural and fair trade products. I really love that a brand is so dedicated to make the world a better place and I'm always so surprised by the great quality of their products. These Color Crush nail polishes don't contain any harmful ingredients but the formula is just as good as other nail polishes. There are 24 colours in total, from nude hues to more poppy colours.
De kleuren die ik hier heb, heten (vlnr) 130 Red My Mind, 330 Rosy Cheeks, 510 The Body Shop Green en 640 Mint Cream. Allemaal leuke namen en prachtige kleuren!
The colours have here are called Red My Mind, Rosy Cheeks, The Body Shop Green and Mint Cream. Great names and great colours, don't you agree?
Het kwastje is niet breed genoeg om je nagel in één veegje te lakken. Zo'n kwast heb ik zelf het liefst, maar deze is zeker niet min. Het pakt wel veel product op dus je moet je kwastje goed afvegen voor je je nagels begint te lakken.
I prefer wide brushes so I can apply my nail polish in one stroke, but this brush isn't that bad. It does however pick up a lot of polish so make sure you wipe the excess off before applying a coat.
Red My Mind is een oranjerode kleur – heel fel en erg vrolijk. Deze is eigenlijk perfect na slechts 1 laagje, maar 2 dunne laagjes werken altijd beter dan 1 dikke.
Red My Mind is an orange red colour – very vibrant. It's actually perfectly opaque after just 1 layer, but I prefer 2 thin layers to 1 thick layer.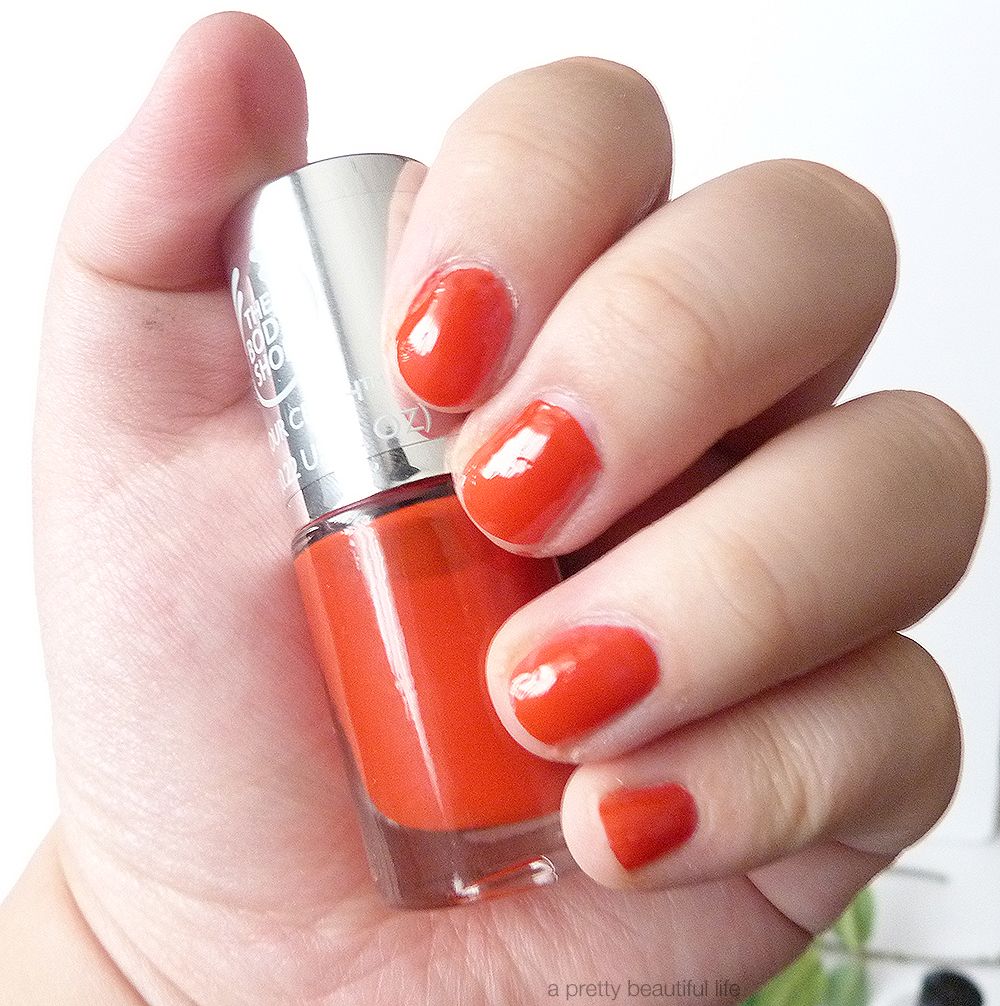 Rosy Cheeks is mijn favoriet: het is een zalmroze kleur dat mij spontaan vrolijk maakt. Fantastische kleur en dekt ook enorm goed.
My favorite colour is Rosy Cheeks, a salmon pink hue. It's a great colour and it's also very opaque.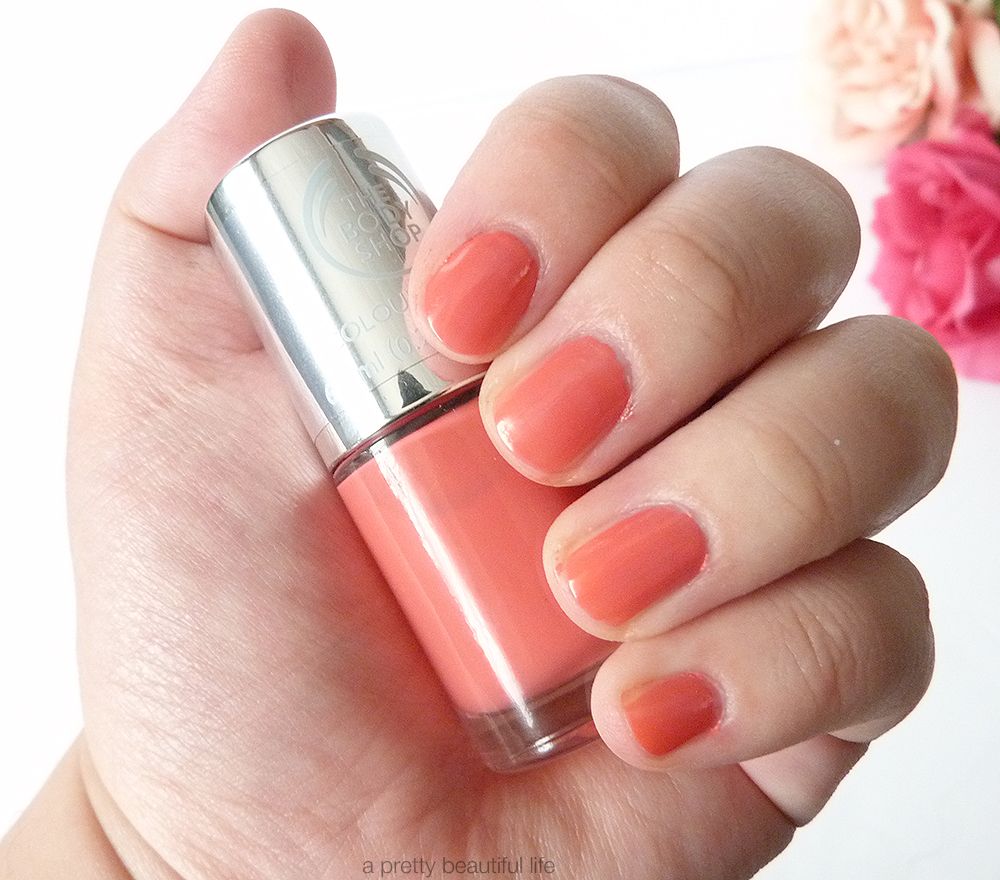 The Body Shop Green is een donkergroene kleur dat mij aan een uitgestrekt bos doet denken. Echt ideaal voor de herfst! Ook deze nagellak dekt perfect na 1 laag.
The Body Shop Green is a dark green colour that reminds me of a vast forest – perfect for autumn.
Tot slot hebben we nog Mint Cream, een mintgroene kleur. Deze vond ik het moeilijkst om aan te brengen. Zelfs met 2 laagjes is de dekking niet overal perfect. Het is wel een geweldig mooie kleur dus als hiermee kunt werken, moet je het zeker in huis halen.
Finally we have Mint Cream. I found this colour very difficult to work with. I applied 2 layers but as you can see it's not completely opaque. It is a great c0lour though so if you can work with it, you should definitely get it.
De nagellakken blijven erg goed zitten en het resultaat blijft mooi glanzend gedurende een dag of 4. Met een goede base -en topcoat blijft het resultaat nog beter zitten dus dat moet je zeker en vast gebruiken. Al bij al ben ik dus érg tevreden over deze nagellakken! Ik ga er zeker nog meer in huis halen; Crimson Kiss en Almond Kiss lijken me werkelijk prachtig. Je hebt er een fan bij, The Body Shop!
The nail polishes last for about 4 days without chipping. If you use a good base and topcoat, the result will last even longer. I'm very happy with these nail polishes and I'm planning on getting some more colours. I'm definitely eyeing Crimson Kiss and Almond Kiss!
THE BODY SHOP COLOR CRUSH NAIL POLISH – €6