Vinden jullie het ook oneerlijk dat ze in Amerika zoveel mooie beauty brands hebben die je hier niet kunt vinden? Neem nu tarte. Wie dit merk niet kent: tarte staat gekend voor haar fantastische, langhoudende Amazonian Clay blushes waar zowat elke beautyblogger in de wereld gek op is. Je kan dit merk niet kopen in Europa, maar gelukkig heb ik mijn slag kunnen slaan op eBay. Ik scoorde dit Sephora-exclusief Pigment of Imagination set met een blush en een highlighter en ben er zooo blij mee. Al vind ik het best duur als je er over nadenkt: in Amerika kost dit setje $20 (€8!). Maar goed, voor een merk dat je hier niet kunt krijgen, betaal ik gerust iets meer. Lees verder voor een review!
Sometimes I get very jealous when I think of all the beauty brands they have in the US that we can't get our hands on. Take tarte for example: their Amazonian Clay blushes are loved by every beautyblogger in the world, yet it's so incredibly difficult to find here in Europe. Luckily I managed to score this Sephora-exclusive Pigment of Imagination Deluxe Cheek set on eBay for only €20. Still, it's crazy when you think that this set costs only $10 (€8!) in the US! But since you can't get tarte here in Europe, I was happy to pay a bit more. Keep reading for a full review!
Dit Pigment of Imagination Cheek Deluxe setje bevat een Mini Amazonian Clay 12-Hour Blush in Mirage (1,42 gram) en een Mini Cheek Stain in Fantasy (4,8 gram). Ik hou eigenlijk zelf meer van mini's omdat ik die tenminste kan opgebruiken. Ik denk niet dat ik ooit de pan heb geraakt van een product, dus dan is dit natuurlijk veel voordeliger.
This Pigment of Imagination Cheek Deluxe set contains a Mini Amazonian Clay 12-Hour Blush in Mirage (0.05 oz) and a Mini Cheek Stain in Fantasy (0.17 oz). I actually prefer travel size products over their fullsize versions since I rarely finish a product completely.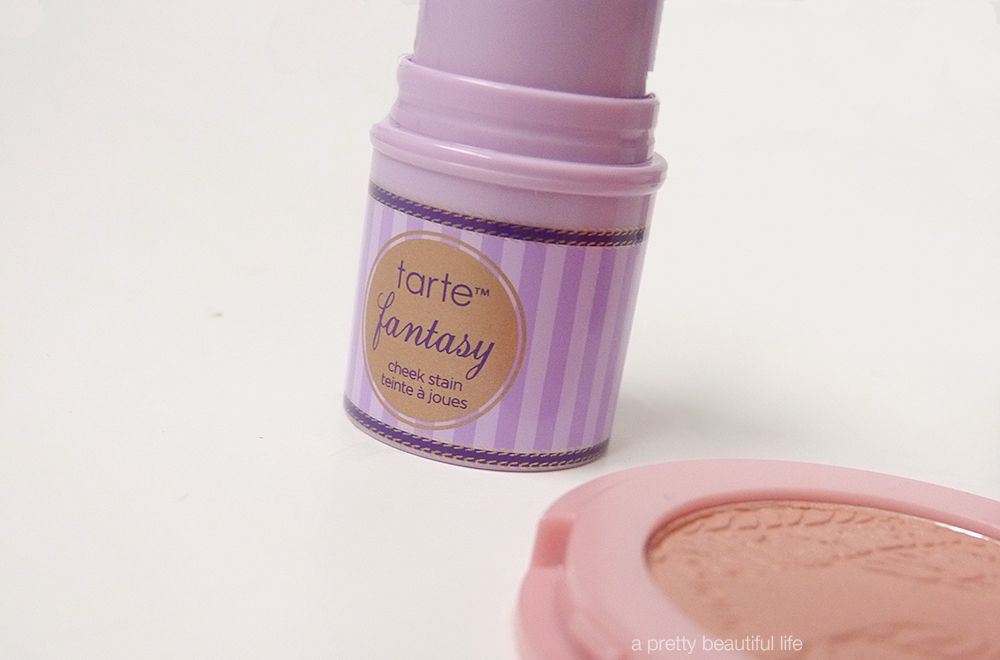 De blush die ik hier heb, heet Mirage. Het is een peachyroze kleurtje zonder shimmers maar wel met een mooi glansje. Helemaal mijn kleur dus ik ben ook erg blij dat ik hem heb kunnen bemachtigen!
The blush in this kit is called Mirage. It's a gorgeous peachy pink colour without shimmers but it gives your skin a nice glow.
De blush voelt erg zacht aan en verstuift totaal niet – ideaal om mee te werken, dus. Nu had ik veel verwacht van de pigmentatie maar dit heeft mij eigenlijk een beetje teleurgesteld. Mirage heeft toch enkele laagjes nodig eer het op je huid verschijnt. Ik ben zelf al heel bleek dus dat viel wel tegen. Gelukkig kan je de kleur altijd opbouwen en het resultaat blijft natuurlijk.
The blush has a very soft texture and isn't powdery at all. I did expect a lot from this blush but unfortunately the pigmentation wasn't all that great. I'm pretty pale and it took multiple layers for it to show up on my skin but luckily, you can build the colour up without it looking powdery on the skin.
Dan hebben we nog een cremehighlighter in Fantasy, een champagne kleur met een mooie glans. Deze zit in een stickvorm wat ik wel handig vind om mee te werken.
The highlighter in this set is called Fantasy, a champagne colour with a gorgeous sheen.
Zoals altijd stak ik mijn arm uit om volop te swatchen, maar ik viel wel achterover van de pigmentatie van 'Fantasy'. Met slechts één veegje krijg je onderstaand resultaat. Best indrukwekkend! Natuurlijk moet je dus deze stick niet rechtstreeks op je jukbeenderen aanbrengen. Ik gebruik zelf mijn ringvinger om een beetje op mijn huid te deppen, maar een stevige kwast werkt ook.
I was thoroughly impressed by the pigmentation of this highlighter. I swiped the product on my arm and got the result that you see on the picture below. Of course, you're not going to apply the highlighter directly from the tube on your cheekbones. I personally prefer to tap the product on my skin with my fingers but you can also use a dense brush.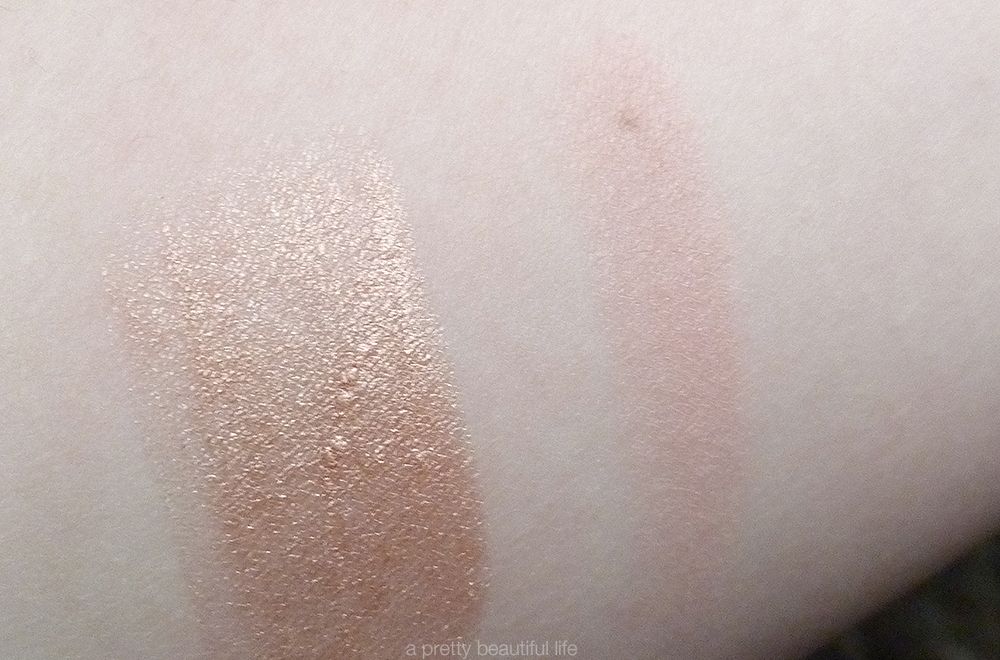 Ik ben erg tevreden over mijn eerste kennismaking met tarte. De houdbaarheid van beide producten is trouwens super dus ik heb niks slechts te zeggen over dit setje! De pigmentatie van de blush kon natuurlijk beter maar je ziet de kleur op mijn huid en dat is voor mij genoeg.
I'm very happy with my little tarte products. I love the colours and the longevity of the products. The pigmentation of the blush could be better but it shows up on my skin so I'm quite content.
Veel liefs,
Diana