Ik ben helemaal voor producten die gemakkelijk in gebruik zijn. Dus toen ik de L.A. Lights To-Go set van Smashbox zag op't werk (de Estée Lauder Company Store in Maasmechelen Village) heb ik hem direct gekocht. Multifunctionele sticks die je op je lippen en wangen kunt gebruiken, die een mooi kleurtje en glow geven? Bring it on!
"Photographers call the natural light just before sunrise or after sunset 'magic hour.' It's perfect for shooting because it casts golden, diffused light onto the models' faces. Now you can re-create the amazing effect of L.A. magic hour anytime, anywhere!"
De L.A. Lights Lip & Cheek Color Glow on the Go sticks hebben een lichte, romige formule die gemakkelijk versmelten met de huid voor een natuurlijke gloed. De kleuren zijn makkelijk op te bouwen en kunnen gebruikt worden op zowel de lippen als de wangen.
In de Lights To Go set zitten de vier bestseller kleuren van Smashbox: Hollywood & Highlight, Silver Lake Sunset, Beverly Hills Blush en Venice Beach Bronze.
Hollywood & Highlight: een prachtige witgouden kleur, perfect om mee te highlighten en stroben
Silver Lake Sunset: een peachy bronze kleur, te gebruiken als een subtiele blush of als warme highlighter
Beverly Hills Blush: een warme roze tint, ideaal als blush
Venice Beach Bronze: een warme bronzer om wat kleur toe te voegen aan de huid
Hieronder zien jullie swatches van de vier kleuren. Zoals je kunt zien, zijn de kleuren goed gepigmenteerd en erg glanzend. Ze zijn ideaal om een mooie gloed en kleurtje aan je huid te geven – zeker welkom tijdens deze wintermaanden!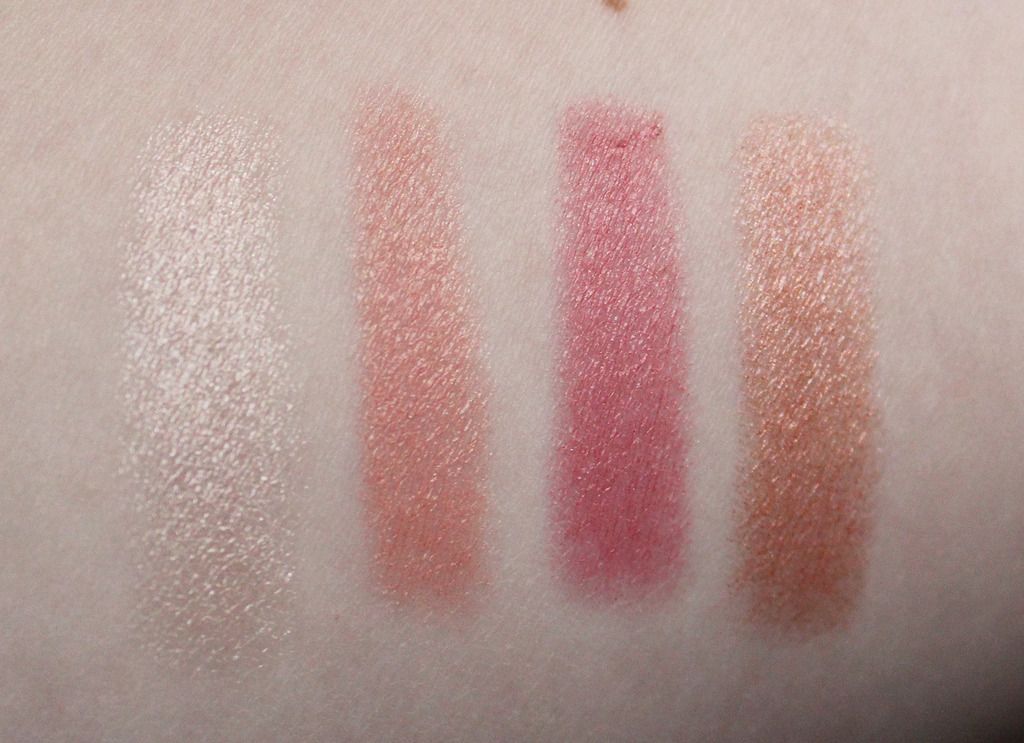 De twee middelste tinten zijn ook perfect om als lipstick te gebruiken. Persoonlijk vind ik ze iets te glanzend voor mij, maar het werkt wel!
Smashbox L.A. Lights To-Go – €28 bij Maasmechelen Village
Veel liefs,
Diana