De laatste tijd voelt mijn huid zó glad en egaal aan dat het precies lijkt alsof ik elke maand Botox krijg. Gelukkig heb ik mijn zacht velletje te danken aan 1. genen en 2. keigoede producten. Mijn genen kan ik niet delen maar mijn huidverzorgingsroutine wel. In dit artikel doe ik mijn skincaregeheimen uit de doeken dus lees snel verder.
Lately my skin has been looking SO good. It's thanks to 1. my genes and 2. some awesome products. I can't share my genes with you but I can tell you what products I use. Keep reading to find more about my current skincare routine.

Een goed gereinigde huid is de basis voor alles. Mijn favoriete reiniger (en ondertussen al mijn 3de fles) is de Perfectly Clean Foam Cleanser/Purifying Mask van Estée Lauder, een zachte reinigingscrème die je ook als masker kan gebruiken. Het is geschikt voor alle huidtypen maar ik denk dat mensen met een iets vettere huid hier het meeste baat bij hebben. Deze reiniger stript al het overtollige sebum van mijn gezicht en laat een 'perfectly clean' huid achter. Mijn gecombineerde huid werd volledig getemd door deze reiniger (insert zweepgeluid)!
A good cleanser is the base for a perfect skin. My favorite cleanser is the Perfectly Clean Foam Cleanser/Purifying Mask by Estée Lauder. This is my third tube and I still can't get enough. The cleanser strips away all of the excess sebum and leaves my skin soft and supple.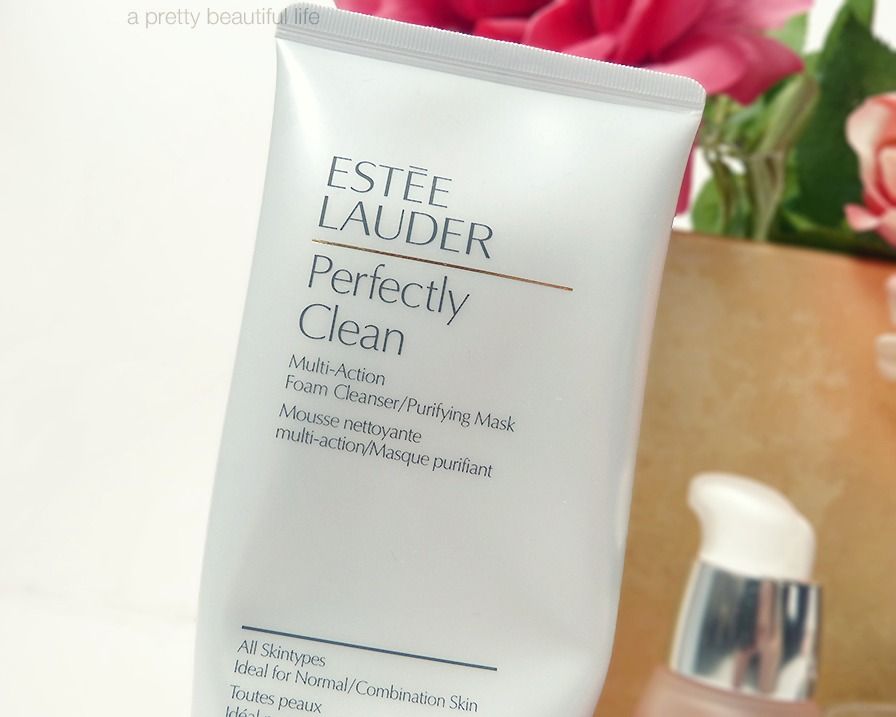 Nieuw in mijn routine maar nu al een favoriet: het Intral Redness Relief Soothing Serum van Darphin. De extreem waterige textuur is even wennen maar al snel kan je niet meer zonder. Het goedje ruikt héérlijk, voelt verkoelend aan en heeft de roodheid op mijn wangen grotendeels verholpen. Dit verdient een erg dikke hoera! Ik gebruik elke ochtend een druppeltje (klinkt weinig maar het is meer dan genoeg), gevolgd door mijn favoriete dagcreme van Clinique. Ik schreef er al een lovende review over (lees hier) en ik smeer hem nog steeds elke ochtend op. Hey, if it's not broken, don't fix it!
The Intral Redness Relief Soothing Serum by Darphin is a fairly new product (I received it a couple of weeks ago), but it's already become a staple in my routine. This heavenly scented serum really erased the redness on my cheeks. I use a little drop every morning since a little goes a long way, and I can't imagine my routine without it. After this serum, I use my trusted Clinique moisturizer.
's Avonds gebruik ik àltijd het Advanced Night Repair Synchronized Recovery Complex II van Estée Lauder. Dit is een must, want dit serum heeft mijn huid echt Botox-achtig glad gemaakt. Zonder dit ziet mijn huid er moe en afgeleefd uit! Dus als jullie op zoek zijn naar een goed serum: koop deze. Het is niet goedkoop maar je doet er enorm lang mee; ik heb mijn flesje al sinds april en hij is nog 1/4de vol.
I always use the Advanced Night Repair Synchronized Recovery Complex II by Estée Lauder. I cannot skip this step – otherwise my skin will look tired and I'll start to get pimples again. So if you're looking to spend your money on a good serum, go for this one. I received this bottle in April and I still got 1/4 left (I've been using it every night!). Trust me, it works wonders and you really need it in your routine.
Ik beëindig mijn routine met het Thermaal Water van Uriage. Ik gebruik het soms om mijn huid op te frissen of om over mijn make up om het geheel er gezond te laten uitzien. Het is ook erg verfrissend dus dubbel yay!
I finish my routine with Uriage's Thermal Water. I always spray a bit on my face to freshen my skin up or after I applied my make up to make everything look dewy and healthy.
Zoals jullie kunnen zien, bestaat mijn routine niet uit 101 verschillende producten. Ik gebruik geen scrubs, toners of maskers, enkel mijn geweldige Clarisonic Aria als ik eens een grondige reiniging nodig heb. Op het gebied van skincare denk ik altijd: 'less is more'. Ik hou er niet van om veel producten te gebruiken, zeker omdat ik geen echte probleemhuid heb en dan hou ik het liever basic. Je ziet wel dat de meeste producten die ik hier gebruik meer high-end zijn, maar als het op skincare aankomt, moet je echt niet besparen. Je merkt ook dat Estée Lauder goed vertegenwoordigd wordt. Ik heb het al vaak gezegd maar ik blijf erbij: dit is mijn all-time favoriet merk, en als ik maar één merk moest kiezen voor de rest van mijn leven, dan is  het deze wel! Ik ben benieuwd naar jullie favorieten dus laat het mij zeker weten.
As you can see, I keep my skincare routine fairly simple. I usually don't use scrubs, toners or masks and I only grab my Clarisonic about 2 times a month. I live by the motto 'less is more'. Since I don't have a problematic skin, I don't use a lot of products. You might've also noticed that Estée Lauder is very present in my routine. I can't stress this enough, but Estée Lauder is THE best brand out there for skincare and make up. If I had to choose only one brand for the rest of my life, it would be EL.
Veel liefs,
Diana