Het is misschien wel al herfst maar ik ga nog één zomercollectie aan jullie voorschotelen. Een extra portie kleur op deze druilerige dag kan absoluut geen kwaad, niet waar? Dus zet je schrap om deze felle, zomerse en vrolijke Viva Carioca collectie van PUPA te aanschouwen!
Okay, so it's officially autumn but I'm going to show you one more summer collection. A bit of colour on this cloudy day won't hurt anyone. So get ready to discover the Viva Carioca collection by PUPA!
De Viva Carioca collectie is geïnspireerd op het zwoele Brazilië en haar sprankelende tradities. Dat zie je terug aan het gebruik van de felle kleuren (deze verwijzen naar het even kleurrijke Rio) en de gouden details op de verpakkingen.
The Viva Carioca collection was inspired by Brasil and its great traditions. The Brasilian influences can be seen in the use of bright colours and the golden details on the packaging.
Laten we beginnen met de Chubby Gloss, een lipgloss in stickvorm dat hydraterend werkt en tegelijkertijd kleur afgeeft. Ik heb 004 Bright Hibiscus, een fel koraalachtig tintje.
Let's start with the Chubby Gloss, a lipgloss stick that works hydrating and deposits a hint of colour at the same time. I received 004 Bright Hibiscus, a vibrant coral colour.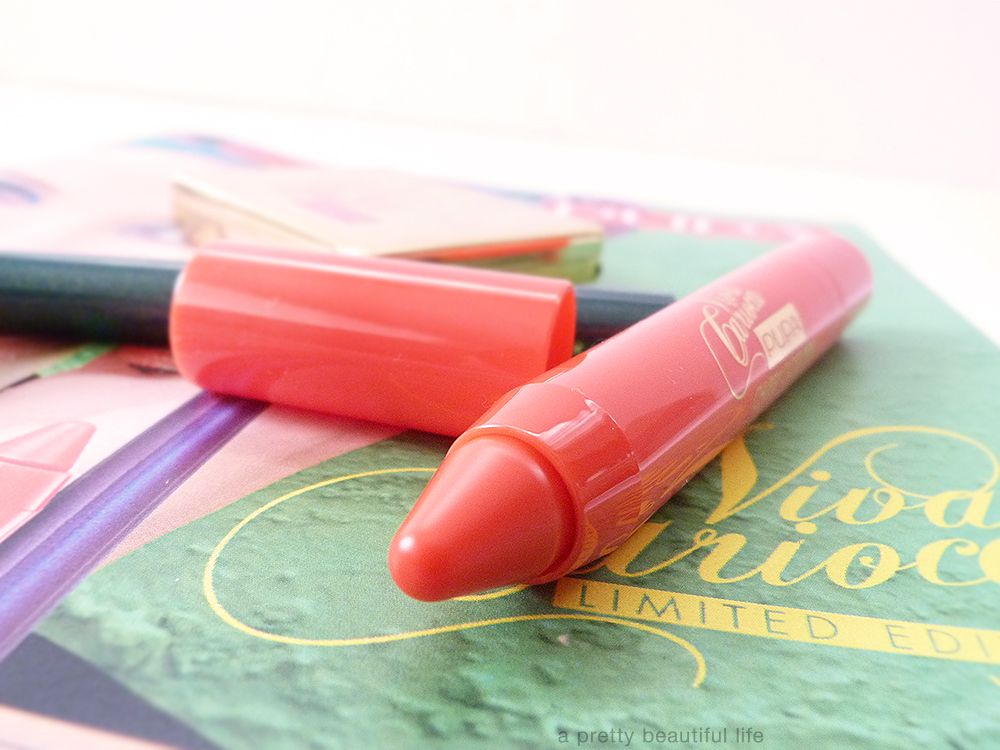 De gloss heeft een kleurtje maar op de lippen is geeft het een zeer subtiel effect. Het zorgt meer voor glans een gehydrateerde lippen. Heel fijn om te gebruiken, maar niet erg bijzonder in vergelijking met andere soortgelijke producten.
The gloss is a pinkish coral. It hydrates my lips really well and also gives them a bit of colour. The sheen is amazing though. I like this product but I don't think it's that special, especially when you compare it to other sticks that perform a bit better when it in terms of longevity.
Waar ik wel dol op ben, is deze fantastische Long Lasting Eyeliner in 004 Electric Green. Deze vloeibare eyeliner heeft een scherp puntje waardoor je zeer dunne lijntjes kunt trekken. De formule droogt zeer snel op en je lijntje blijft de hele dag netjes zitten. En de kleur is natuurlijk fan-tas-tisch!
What I do love, is this amazing Long Lasting Eyeliner in 004 Electric Green. This liquid liner has a sharp tip that allows you to draw very fine and precise lines. The formula dries pretty quickly and your liner will stay put for the rest of the day. And I absolute love the vibrant green colour!
De ster uit deze collectie zal wel ongetwijfeld het Vamp! Duo Eyeshadow in Exotic Flora zijn. Dit prachtig oogschaduwduo bestaat uit een hemelblauwe en een turquoise kleur verpakt in een prachtig goud doosje.
The star of this collection must be the Vamp! Duo Eyeshadow in Exotic Flora. This little palette contains a sky blue and a turquoise colour and comes in a gorgeous golden packaging.
Zoals je kunt zien, is de pigmentatie van alledrie de producten dik in orde. De oogschaduws had ik misschien iets feller verwacht maar je kan deze perfect opbouwen waardoor de intensiteit sterker wordt. Ik ben vooral fan van de rechtse kleur omdat het een mengeling is van blauw, groen en goud.
As you can see, the pigmentation of all three products is quite alright! The eyeshadows could be a bit more pigmented but you can definitely layer the eyeshadow to increase the opacity. I especially like the colour on the right because it's an unique blend of blue, green and gold.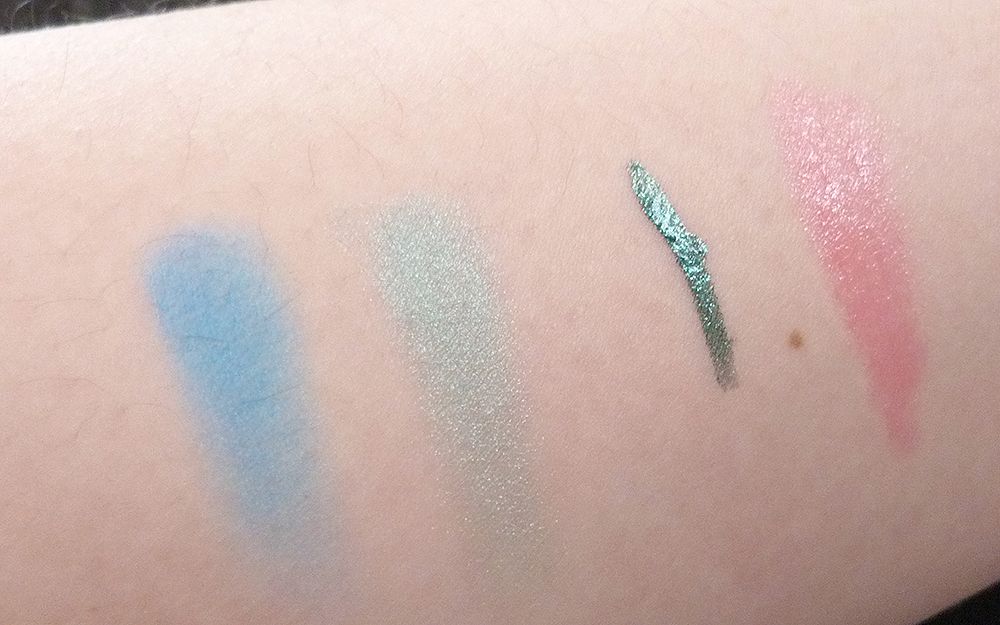 Vamp! Duo Eyeshadow – €16,10
Long Lasting Eyeliner – €15
Chubby Gloss – €15
Like A Doll Luminys Blush – €23
Lasting Color Gel Duo – €10,65
Verkrijgbaar via www.neolabo.be