Ik toonde in een vorig artikeltje al mijn eerste ervaring met & Other Stories beauty (klik hier) en vandaag kunnen jullie deel 2 lezen. Ik toon jullie graag de Eye Colour oogschaduws en de Cheek & Lip Tint dus blijf zeker lezen.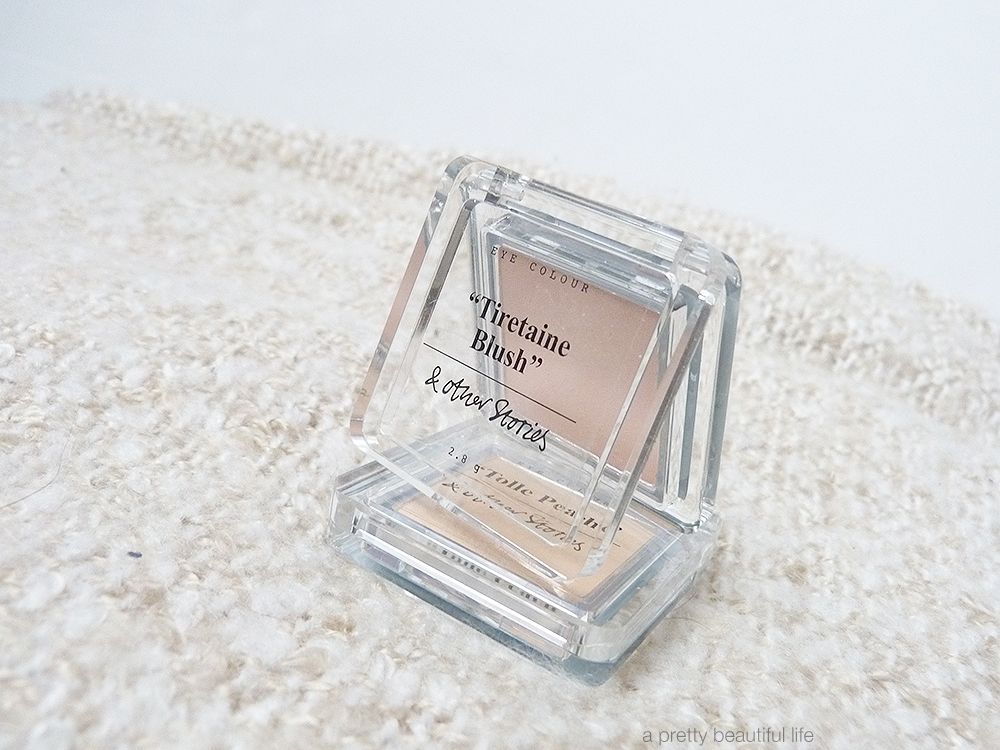 I recently tried out & Other Stories make up for the first time. Today I'm showing you part 2 with 2 Eye Colours and a Cheek & Lip Tint.
Allereerst heb ik twee Matte Eye Colours in Tolle Peach en Tiretaine Blush. Het zijn matte oogschaduws in lichte kleurtjes wat deze kleuren dus ideaal maakt als matte highlighters.
First of all, I have two Matte Eye Colours in Tolle Peach and Tiretaine Blush. These are matte eyeshadows that seem perfect as a highlighter.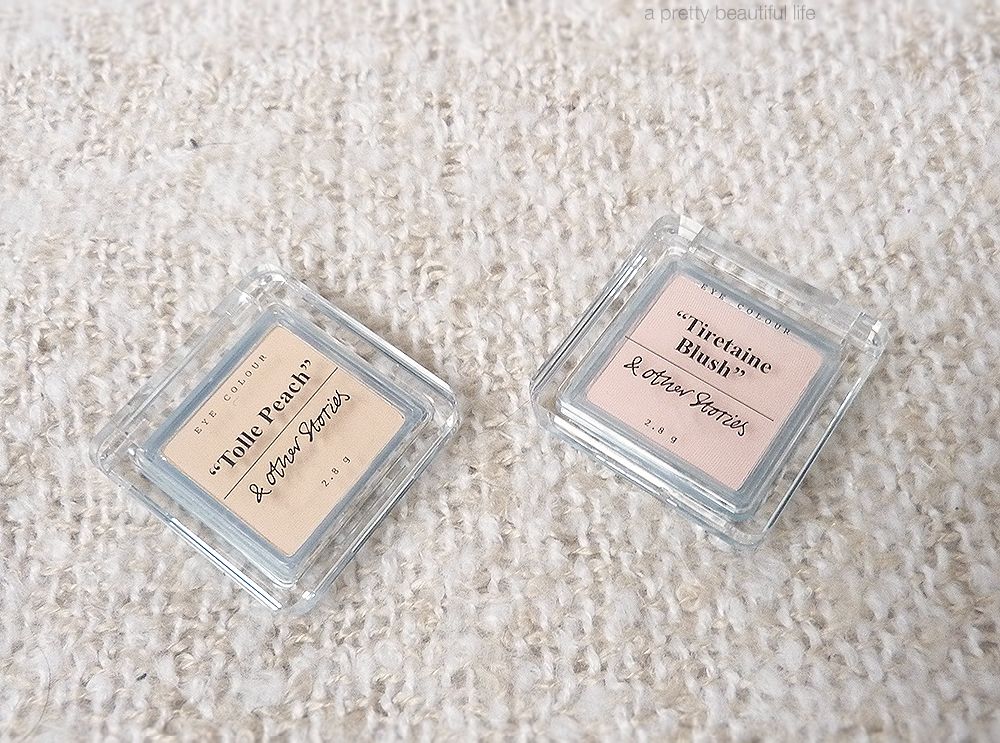 Links zien jullie Tiretaine Blush, een lichtroze kleurtje, en rechts Tolle Peach dat meer een gele ondertoon heeft. Ze lijken misschien een beetje poederig op de foto maar in het echt zijn de oogschaduws super zacht en erg fijn om mee te werken. Je moet er wel een goede primer onder gebruiken want door hun fijne textuur zijn ze gemakkelijk om af te vegen.
On the left is Tiretaine Blush (a soft pink) and on the right Tolle Peach (a pastel yellow). They might seem a bit powdery on the picture but in real life, they're really soft and easy to work with. You do have to use a good primer underneath because their soft texture tend to glide off the skin quite easily.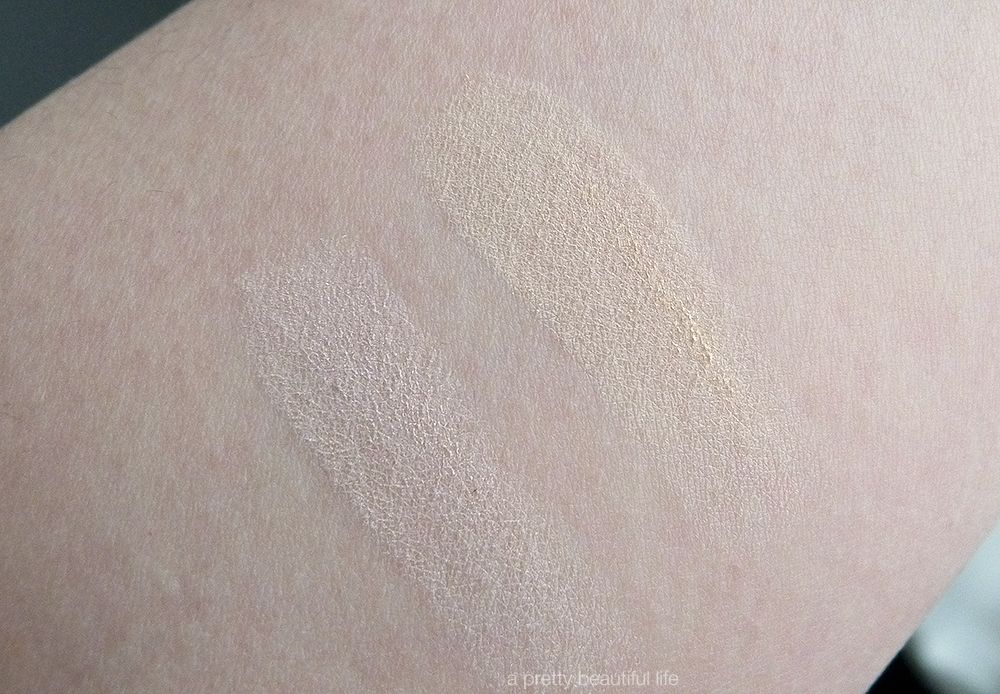 En dan mijn favoriet productje: de Cheek & Lip Tint in Pucker Coral. Zoals de naam het al verklapt, is dit een crèmeproduct dat je op je lippen als op je wangen kunt gebruiken. Pucker Coral is een zalmroze/oranje kleur dat erg mooi staat bij iedereen.
My favorite product is the Cheek&Lip Tint in Pucker Coral. The name says it all: this is a creamy product that you can apply on your lips as well as your cheeks. Pucker Coral is a salmon/orange colour that looks good on everyone.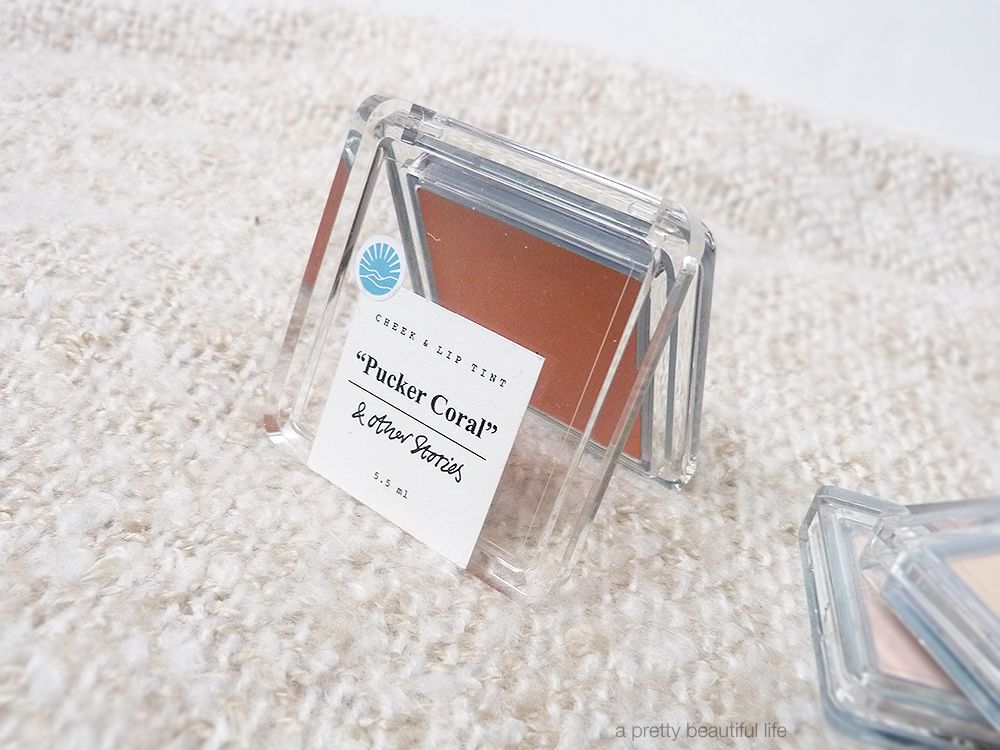 De Cheek&Lip Tint heeft eigenlijk een erg harde en stugge textuur. Je moet het goed opwarmen met je vingers om het product lekker romig te krijgen. Ik zou het dus niet direct aanbrengen met een kwast, al kan je wel eentje gebruiken achteraf om het product uit te werken.
The Cheek&Lip Tint actually has a very firm texture. You need to warm it up with your fingers to get that creamy texture. I wouldn't recommend using a brush because of that, but you can always use one afterwards to work the product into the skin.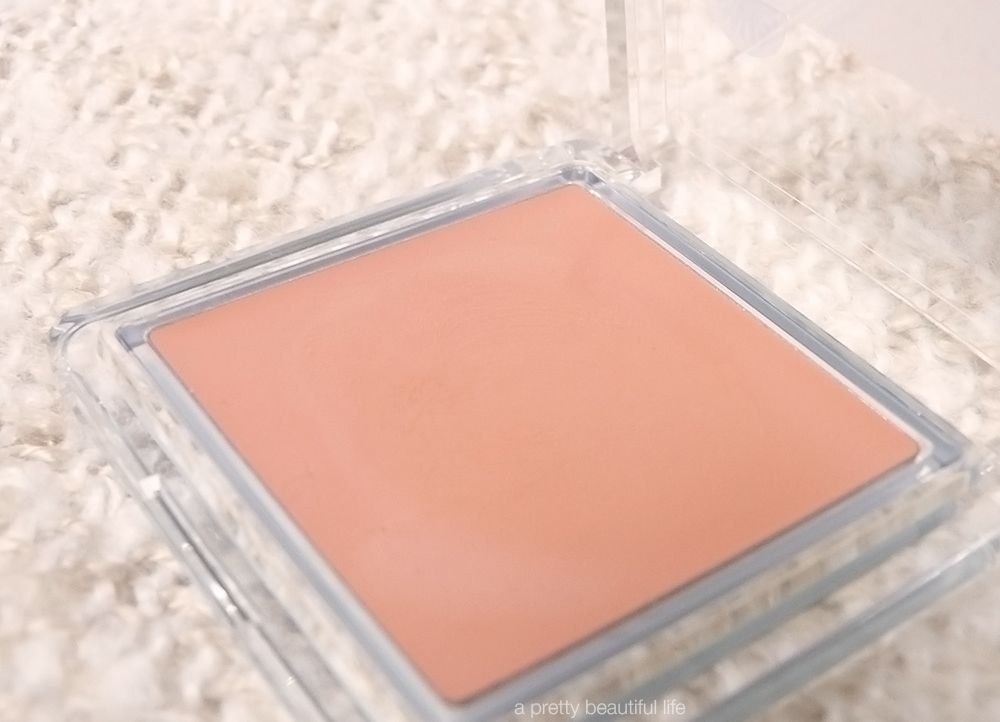 Hier heb ik de tint hevig aangebracht, maar je kan het uiteraard lichter aanbrengen voor een gezond blosje. Hydrateer je lippen wel goed vooraleer je dit aanbrengt want het kan een beetje droog aanvoelen.
I swatched the tint quite heavily in this picture. If you want to use it on your lips, you should probably prep them first with a good lip balm since it can feel a bit dry.
Ik vind de prijs-kwaliteit verhouding van & Other Stories erg goed, De producten zijn van uitstekende kwaliteit en de prijs die je daarvoor betaalt, is meer dan redelijk. Ik ben erg benieuwd geworden naar meer en hoop snel een bezoekje te kunnen brengen aan de winkel om nog meer te testen! Hebben jullie al ervaring met & Other Stories beauty?
I think that the price quality ratio is very nice: the products are of high quality and they fall into the budget/mid range category. I'm hoping to visit the & Other Stories store soon so I can buy myself some more make up and other beauty goodies!
Matte Eye Colour – €9
Cheek & Lip Tint – €15