NIVEA heeft bij mij altijd al een speciaal plekje gehad. Mijn mama smeerde altijd de klassieke NIVEA creme op na het douchen dus die geur brengt allemaal jeugdherinneringen terug.
Ik was dan ook superblij toen ik deze nieuwe producten in handen kreeg. Een handzeep, bad -en douchecrème met die heerlijke, nostalgische geur? Hébben! Dat NIVEA niet eerder daar aan gedacht heeft want ik wed dat deze producten een ware hit zullen worden.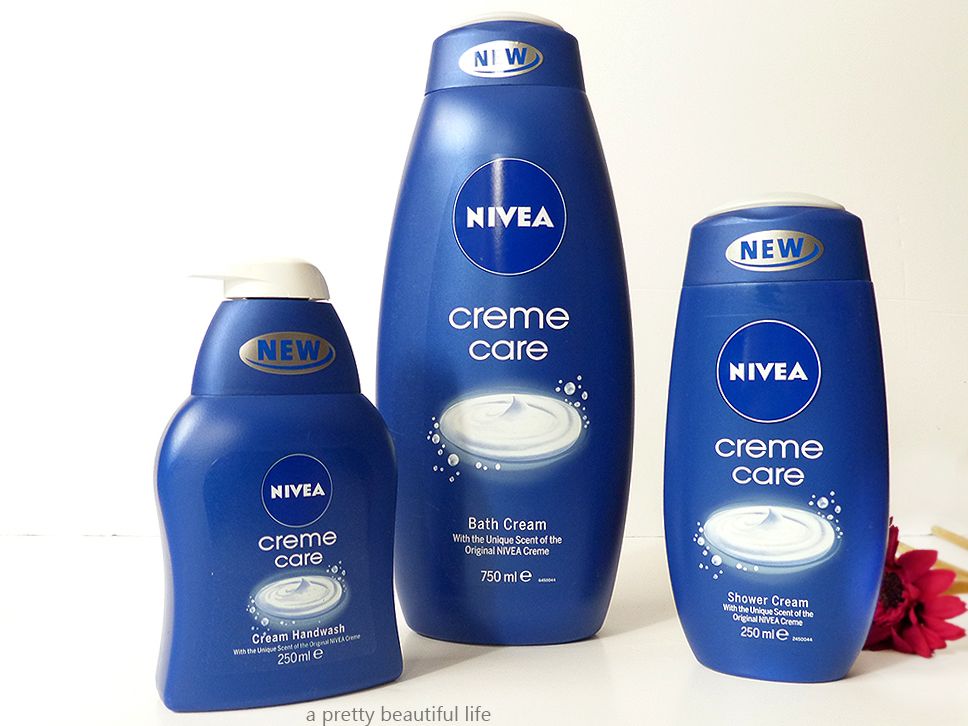 NIVEA always had a special place in my heart. My mom always applied NIVEA after a shower so the scent of the little blue pots make me feel very nostalgic. You can imagine that I was super excited when I received these new NIVEA Creme Care products (a handwash, a bath cream and a shower cream) with the same amazing scent. Let's get testing!
De NIVEA Creme Care douchecrème is al een tijdje verkrijgbaar. Dit was trouwens een gigantisch succes waardoor NIVEA besloot om dit hemelse gamma uit te breiden met een handzeep en een badcrème.
Al deze producten hebben trouwens ook een verzorgende formule die je huid reinigt en heerlijk zacht maakt, net zoals de legendarische blauwe pot van NIVEA. Dit is te danken aan ingrediënten zoals eucerit (een natuurlijk verzorgende olie), provitamine B5 (herstellend, kalmerend en hydraterend) en glycerine (verbetert de huidelasticiteit). Tot slot is er nog het unieke ingrediënt Hydra IQ dat de natuurlijke hydratatieproces van de huid stimuleert.
The NIVEA Creme Care shower cream is already available and naturally it was a great success. NIVEA followed up by launching a handwash and a bath cream, both with the classic NIVEA scent.
The ingredients in these products like eucerit, provitamin B5 and gycerin hydrate, protect and heal your skin.
Een uitgebreide review over deze producten is niet nodig: I love it. Dit zijn alledrie fantastische producten die mij een superzacht velletje bezorgen. En de geur – need I say more? Voor mij part brengt NIVEA geurkaarsen met deze klassieke geur uit en ik zou het nog steeds kopen. Voor mij dus volledig geslaagd!
An extensive review of these products is unnecessary. I'll keep it very short: I freaking love this. Not only do they make my skin super soft – the scent is just amazing. If NIVEA launched scented candles or even toilet refresheners, I'd still buy it. That's how much I love this.
NIVEA douchecrème – €2,99 / 250 ml
NIVEA badcrème – €5,09 / 750 ml
NIVEA vloeibare handzeep – €2,69 / 250 ml