Al sinds mijn kindertijd ben ik dol op games spelen. Ik ben opgegroeid met Zelda, Mario Bros en Kirby, en heb alle Pokémon spellen in huis. Tegenwoordig speel ik nog steeds geregeld met mijn Wii en begin ik een paar keer per jaar opnieuw een Pokémon avontuur.
Dus toen ik een tijd geleden werd uitgenodigd om het nieuwste spel van Nintendo te ontdekken, trok ik met veel enthousiasme naar Brussel. Daar leerde ik Tomodachi Life kennen, dat ondertussen tot één van mijn favoriete spellen is gegroeid. Lees verder voor een verslagje en meer info over het spel!
I love playing video games, ever since I was a little kid. I grew up with Zelda, Maria Bros and Kirby, and I own all Pokémon games. Nowadays, at the age of 21, I still regularly go crazy with my Nintendo Wii, and I start a new Pokémon adventure each year.
So when I was invited by Nintendo to discover their newest game, I drove all the way to Brussels for the presentation. I was introduced to Tomodachi Life that has rapidly become one of my favorite games. Keep reading for an event report and more info on the game.
Ik werd verwacht in het Be Manos hotel in Brussel. Daar werd ik ontvangen door de lieve mensen van het persbureau en Nintendo. Zij gaven ons een boeiende presentatie over het spel, met alle ins en outs. Het kriebelde al snel om zelf aan de slag te gaan!
The presentation was held at the Be Manos hotel in Brussels. There I was welcomed by the sweet people of Nintendo and their press agency. They gave everyone there an interesting presentation about the game. I couldn't wait to try the game out for myself!
Tomodachi is het Japanse woord voor 'vriend', en dat is waar dit spel ook rond draait. Tomodachi Life is een beetje zoals de Sims: je hebt namelijk een eiland dat je moet beheren, samen met bewoners die een eigen willetje hebben. Deze bewoners moet je zelf maken: een mini-me, je ouders, je broers en zussen en natuurlijk je vrienden. Of wil je een relatie met Brad Pitt? Dat kan allemaal, en het is nog eens erg simpel. Je kan zelf een mannetje samen te stellen (compleet met een unieke stem en karaktertrekken!), maar nog leuker is een foto van jezelf trekken waarna het systeem je automatisch omzet in een Mii. Grappige resultaten verzekerd!
Daarna kan je aan de slag. Je moet je personage eten geven, en soms willen ze met je spelen. Of ze hebben gehoord van een nieuwe buur en willen ze graag kennis maken, dus daar moet jij voor zorgen. Klinkt een beetje simpel, maar het is echt verslavend!
First, I'll introduce you to Tomodachi Life. The word 'tomodachi' means 'friend' in Japanese, and that's what this game is all about.
Tomodachi Life is a bit like the Sims: you have an island that you have to control, together with a bunch of inhabitants who each have their own will. You'll have to create these islanders yourself, so you could go for a mini-me, your family and your friends. Or would you rather have a relationship with Brad Pitt? That's definitely possible, so go ahead. It's very easy to create new characters: you can make one from scratch or you can take a picture, and the game will automatically create a Mii for you. Also very cool: you can choose a voice and character traits.
Then the game really starts. You have to feed your islanders, and sometimes they want to play with you. Or they heard a new neighbour moved in and they want you to introduce them. It sounds simple, but it's incredibly addictive.
Ik maakte eerst mezelf na in het spel. Hieronder zie je mijn Mii (ja, ik heb een knoflookhoed op) terwijl ik een koffietje drink met mijn zusje. Het grappige is dat beide Mii's elkaar niet zo leuk vinden! Dat komt omdat elke personage een eigen wil heeft. Je kan ze eten geven, maar als ze het niet lekker vinden, dan laten ze het je duidelijk weten. Ook worden ze verliefd op elkaar (soms ontstaan er zelfs sappige driehoeksverhoudingen), kunnen ze ruzie maken en heel soms vallen ze je lastig tot je iets voor hen doet. Zo belde één van mijn personages me constant op om te vragen of ik op haar baby wilde passen!
Ook als je je personages even alleen laat, bekokstoven ze vanalles. Zo was mijn Mii niet blij met de outfit die ik haar had gegeven, en toen ik niet keek, kleedde ze zich weer om! Dat aspect van het spel zorgt ervoor dat alles enorm boeiend blijft. Je weet niet wat er allemaal kan gebeuren, dus het is elke keer weer spannend.
I started off by creating my alter ego. You can see my Mii in the picture (yes, I am wearing a garlic hat) enjoying some coffee with my sister. The funny thing is: both Mii's actually hate each other! That's because they all have their own free will. You can feed them, but if they don't like it, they'll be sure to let you know. The Mii's also fall in love which sometimes lead to juicy love triangles. They also fight and sometimes, they even harass you until you do something for them. I had a Mii who kept on calling me, asking me to babysit for her!
And even if you're not playing the game, life on your island goes on. For example: my Mii wasn't happy with the outfit I gave her, so when I wasn't playing, she changed into other clothes. That aspect of the game really creates an interesting element. You never know what's going to happen or what your characters are going to do.
 Ik kreeg van Nintendo een 2DS en het spel zelf om uit te testen. Ondertussen speel ik het al bijna twee maanden en geloof het of niet: ik speel het bijna elke dag. Het is zo verslavend om even de DS aan te zetten en te kijken wat mijn personages nu weer uitspoken. Ook is er elke dag nieuw eten/kleding/decoratie te koop en zijn er allerlei evenementen die zich afspelen. Al is het maar voor tien minuutjes: je vindt me elke dag met de DS in handen.
I received a 2DS console and the game itself to test it. I've been playing Tomodachi Life for almost 2 months now, and I have to admit: I've been playing it almost every single day. It's SO addictive to turn on the DS and see what my islanders are up to. There are also new foods/clothing/decoration available every day, which is totally worth checking out.

Voor mij is Tomodachi Life een erg geslaagd spel. Het is een beetje een mix tussen de Sims en Tamagotchi, maar met veel meer onverwachte wendingen en humor. Echt, met sommige grapjes en situaties heb ik hardop moeten lachen!
Nog even tussendoor: we kregen een heerlijk sushi buffet aangeboden. Dat vind ik wel de moeite waard om even te vermelden 😉
For me, Tomodachi Life is a very fun game. It kind of reminds me of a mix of the Sims and Tamagotchi, but with a lot more unexpected twists and humour. I sometimes had to laugh out loud because some of the situations and jokes were SO funny!
I also have to quickly show you guys this wonderful sushi buffet Nintendo offered us. I think that's worth a mention, don't you think?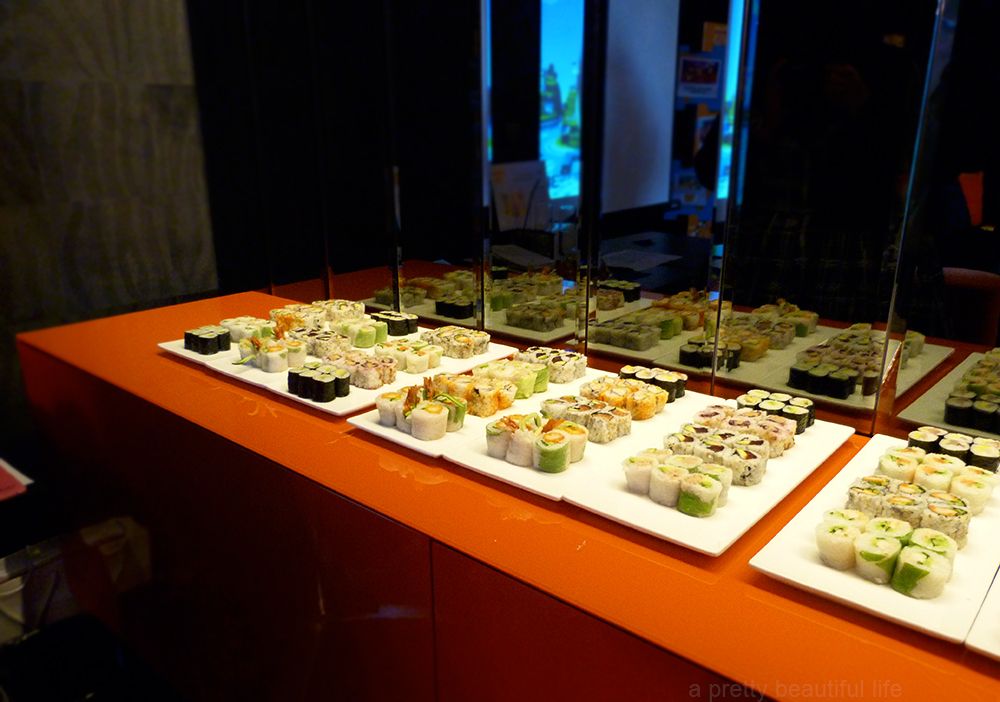 Een dikke merci aan de lieve mensen van Nintendo en Lewis PR voor de fijne avond en het spel. Ik heb een nieuw favorietje erbij, dankzij jullie!
A big thank you to the sweet people of Nintendo and Lewis PR for having me and for introducing me to the game. I now have a new favorite, thanks to you!
Tomodachi Life – nu verkrijgbaar in de winkels en in de e-shop