Vorig jaar maakte ik al kennis met Burberry Beauty. Ik was destijds helemaal onder de indruk van de Fresh Glow Luminous Fluid Base (het blijft nog steeds mijn favoriete highlighter/primer!) maar nu heb ik Burberry nog beter leren kennen. Ik testte enkele prachtige make upjes uit die ik jullie nu met veel plezier ga tonen.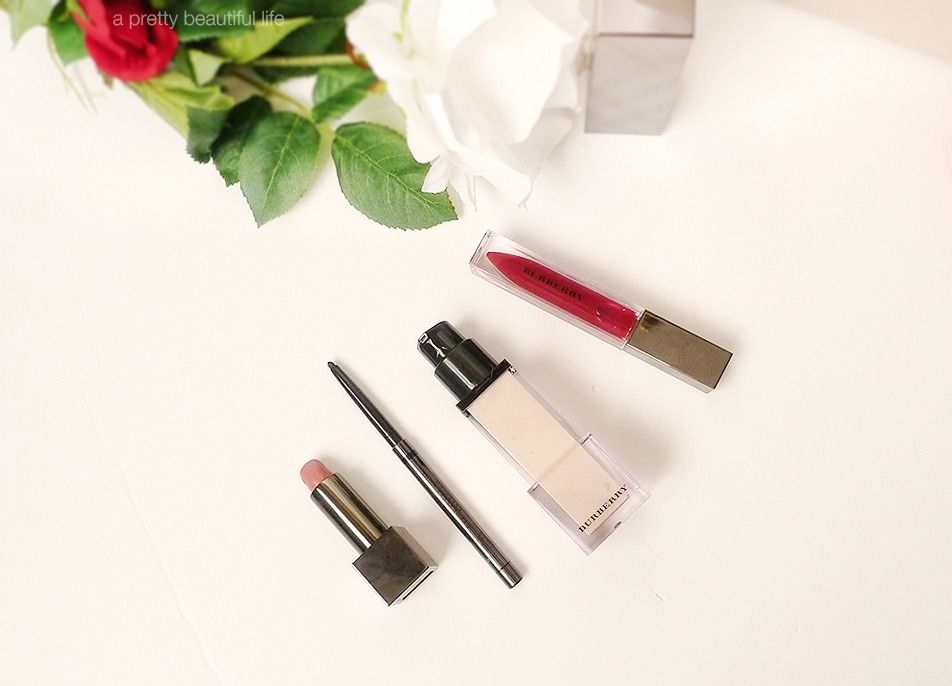 I discovered Burberry Beauty last year when I got to try their Fresh Glow Luminous Fluid Base. It's still one of my most used products (I use it as a highlighter or primer). I recently got the chance to test more Burberry products and I'm so excited to tell you more!
De verpakking is fenomenaal! Je vindt op de doppen het beroemde Burberry-printje terug en het zilver zorgt ook voor een luxetoets. De lipstick heeft trouwens een speciale dop met magneet – erg uniek en handig.
The packaging is so incredibly gorgeous: the famous Burberry print can be found on the caps and the silver gives everything a luxurious touch.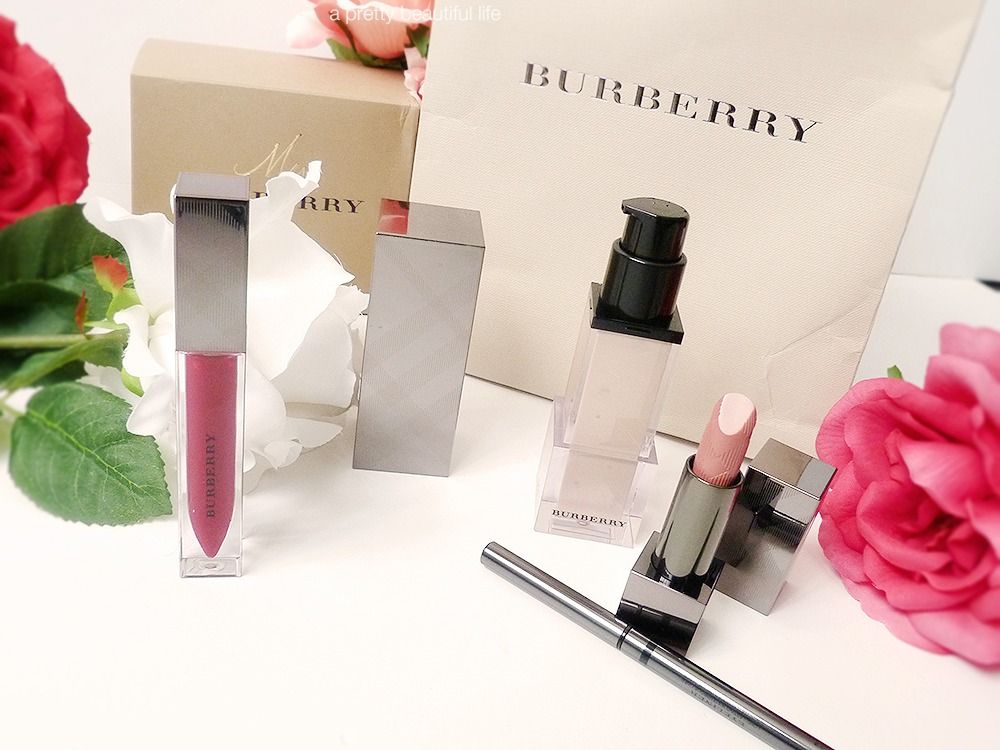 Laten we eerst een kijkje nemen naar de Burberry Lip Cover in Tulip Pink. Oh em gee, zijn jullie ook op slag verliefd op de kleur geworden? Voor mij was het in ieder geval liefde op het eerste gezicht. Tulip Pink is echt de perfecte kleur voor mij: zacht, naturel en beigeroze.
Let's take a look at the Burberry Lip Cover in Tulip Pink. I fell in love with the color from the moment I opened the tube! Tulip Pink is a soft and natural beige-y pink without any shimmers.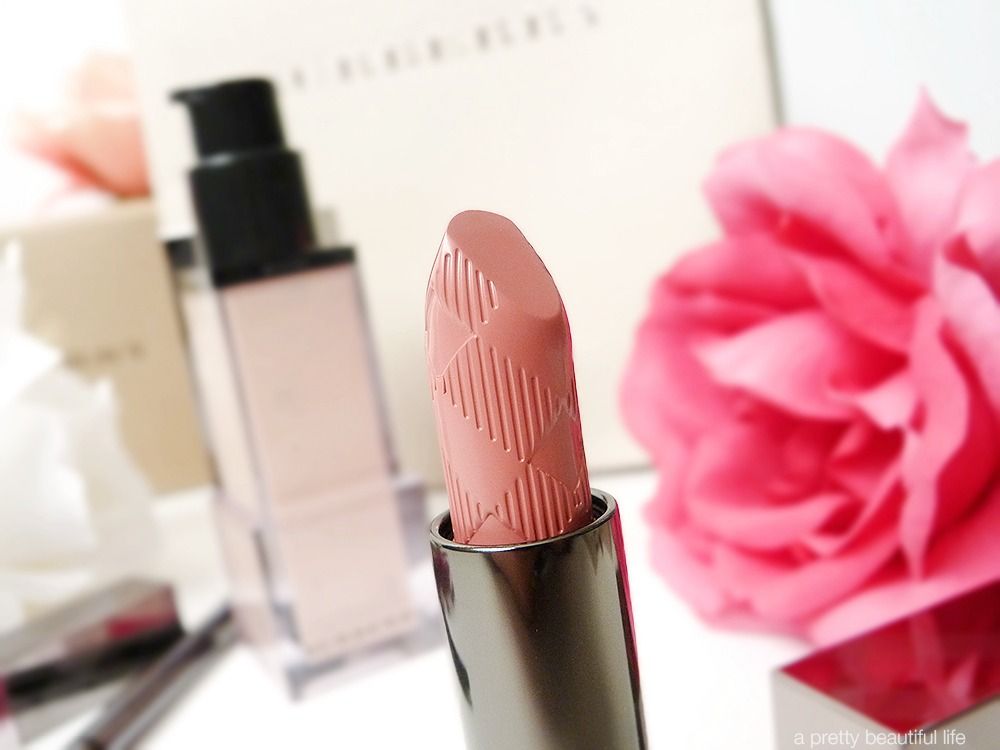 De Lip Covers vormen een combinatie van verzorgende oliën en 'gel dispersed pigment' voor een intense hydratatie en langhoudende kleur. De formule is erg zacht en glijdt zonder enige moeite over de lippen. Het resultaat is fantastisch: een prachtige dekking dat totaal niet zwaar aanvoelt en goed hydrateert. Het overleeft bij mij zelfs een maaltijd, wat ik erg indrukwekkend vind voor zo'n romig product. Yes, weer een favorietje erbij op gebied van lipstick!
Now, the Lip Covers are a lightweight combination of nourishing oils and gel dispersed pigments for an intense hydration and longlasting colour. The formula is very soft and applies like a dream. The result is amazing: an opaque colour and hydrated lips. It even lasts through a full meal which I think is very impressive since it's a very creamy product.
Nog een lipproduct: de Lip Glow in Oxblood. De Lip Glows geven een vleugje kleur aan de lippen en hydrateren ze tegelijkertijd ook dankzij de voedende oliën en ceramides.
Another lip product: the Lip Glow in Oxblood. These glosses give your lips a hint of colour and hydrate them at the same time thanks to its nourishing oils and ceramides.
Nu heb ik al veel gehoord over Oxblood; het is blijkbaar een erg populaire kleur in het Burberry Beauty gamma. Ik snap ook direct waarom want dit is dé perfecte donkerrode/bordeaux kleur.
I've heard a lot about Oxblood (apparently it's one of Burberry's most famous colours) and I get why: it's the perfect plummy red colour!
Wat zo fantastisch is aan de Lip Glow is dat je het heel licht kan aanbrengen zoals op onderstaande afbeelding. Dit geeft je lippen een vleugje kleur dat erg natuurlijk oogt.
What I love about the Lip Glow is that you can apply a very sheer layer for just a hint of colour – very natural and pretty.
Natuurlijk kan je ook meerdere laagjes aanbrengen voor een feller effect. Dat werkt verrassend goed: de Lip Glow is niet té dik van textuur waardoor je gemakkelijk de kleur kunt opbouwen.
You can also apply multiple layers to intensify the colour. That's actually pretty easy: the Lip Glow doesn't have a very thick texture which makes it easier to layer the product.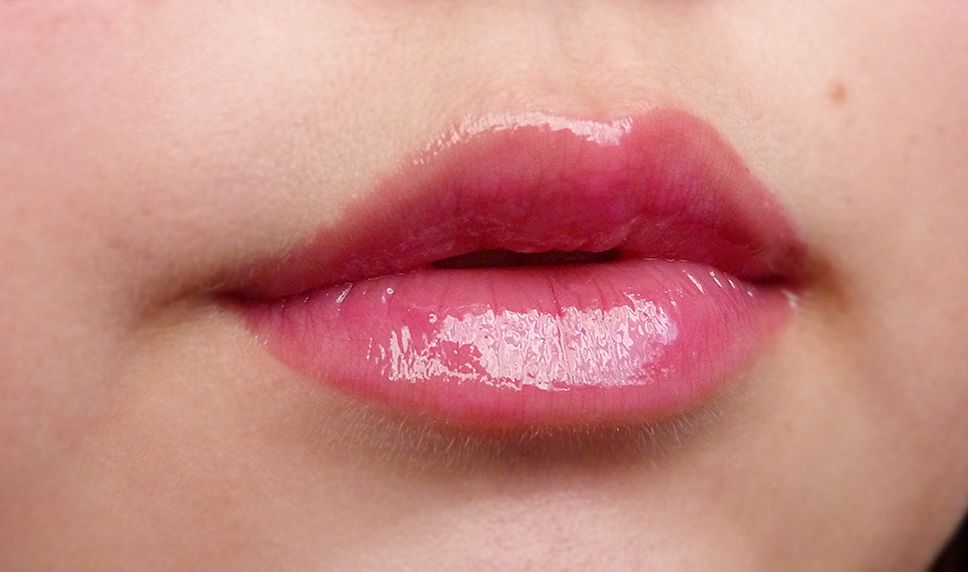 Het product waar mijn liefde voor Burberry mee begon, is de Fresh Glow Luminous Fluid Base in 'Nude Radiance'. Je kan mijn volledige review hier lezen als je wilt, maar mijn mening blijft hetzelfde: dit is één van mijn Holy Grails. Het hydrateert enorm goed en zorgt voor de perfecte basis voor je make up. Het hecht mijn make up precies ook beter en de glans zorgt ervoor dat mijn huid een ongelofelijk mooie gloed krijgt. Soms dep ik het ook op mijn jukbeenderen en neusbrug als highlighter. Ik zeg het niet vaak, maar dit is een product dat je gewoon MOET hebben. Het maakt je make up leventje veel gemakkelijker, geloof me!
The product that started my love affair with Burberry is the Fresh Glow Luminous Fluid Base in 'Nude Radiance'. It's the perfect all-round product: it can serve as a primer, a highlighter and it also hydrates your skin really well. I usually apply it underneath my foundation for a healthy glow but I also use it on my cheekbones and nose bridge as a highlighter. I don't say this very often but you absolutely NEED this product in your life!
Hier heb ik een druppeltje 'Nude Radiance' op mijn arm gebracht en geblend. Ik denk dat je wel de glans en gloed kunt zien. Ik hou enorm veel van het effect: een natuurlijke glans (geen shimmers!).
In this picture I've applied a drop of Nude Radiance on my arm and blended it. You can definitely notice the glowy effect!
Tot slot heb ik nog de Effortless Kohl Eyeliner in Jet Black. Dit is een waterproof oogpotlood dat je niet hoeft te slijpen – lekker handig. Wat ik direct merkte aan dit potloodje is dat het zowel waterproof als smudgeproof is. Dat wilt concreet zeggen: of je nu in de regen loopt of hardhandig in je ogen wrijft, dit schatje loopt niét uit.
Nu heb ik veel oogpotloden gebruikt die 'waterproof' zouden zijn. Dit klopte wel, maar vanaf het moment dat je per ongeluk in je ogen wrijft, loopt de boel uit. Met deze Effortless Kohl Eyeliner heb je dat probleem niet. Ik draag het nu constant en laat mijn gelliner zelfs links liggen!
Finally I have the Effortless Kohl Eyeliner in Jet Black. This is a waterproof eye pencil that doesn't need any sharpening since you can just twist it up. I immediately noticed that this pencil is waterproof AND smudgeproof. Most pencils are just waterproof but when you accidentally rub your eyes, everything smudges. This Efforless Kohl Eyeliner doesn't have that problem; you can run in the rain and rub your eyes all you want. The only way you're getting this off is with a good make up remover. I really love this product and I've been replacing my gelliner with this baby!
Het klinkt cliché maar ik ben dol op al deze producten van Burberry. De kwaliteit is fenomenaal en de verpakking is pure eyecandy. Natuurlijk ligt Burberry in een hogere prijsklasse, maar dit zijn producten die moeiteloos de hele dag blijven zitten en die super gepigmenteerd zijn. Ik ben hier ongelofelijk content mee en ga Burberry in mijn lijstje van favoriete merken plaatsen!
It sounds cliché and unbelievable but I love ALL of these products. The quality is just amazing and the packaging is pure eyecandy. Of course Burberry is a bit pricey, but the products are highly pigmented and last a very long time. I can now definitely add Burberry to my favorite make up brands!
Nu het bijna Kerstmis is, ga ik de Lip Cover in Oxblood vragen aan de Kerstman (hier kunnen jullie meer swatches vinden). Dit is de meest perfecte kleur ever <3
I'm definitely going to ask Santa to bring me the Lip Cover in Oxblood. Isn't it one of the most gorgeous colours you've ever seen?
Burberry Lip Glow – €25
Burberry Lip Cover – €28
Burberry Fresh Glow Luminous Fluid Base – €41
Burberry Effortless Kohl Eyeliner – €22,50
Burberry Beauty wordt in België exclusief verkocht bij Galeria Inno in de Louizalaan in Brussel maar je kan ook op hun webshop bestellen.