Jullie weten ondertussen dat ik van producten hou die ik 's morgens één keer moet aanbrengen en die de rest van de dag perfect blijven zitten. Een hoge eis, maar het is doenbaar! Dat bewijzen de Colour Caresse Shine Stains van L'Oréal. Het zijn geen gloednieuwe producten – ondertussen liggen ze al een hele tijd in de winkels en zijn ze zowat overal verkrijgbaar -, maar ik moest deze schatjes toch even laten zien.
By now, you probably already know that I absolutely love products that I only have to apply once in the morning and that last for the whole day. Sounds impossible, but L'Oréal's Colour Caresse Shine Stains prove it's possible. These aren't new products (they've been in the stores for a while now), but I just had to quickly show these products.
Ik heb twee kleuren gekocht: 101 Lolita en 402 Milady. Twee totaal tegengestelde kleuren: Lolita is een zachtroze nude kleurtje, en Milady is een knallende berry/paarse kleur.
I bought two colours: 101 Lolita and 402 Milady. These are two completely different colours: Lolita is a soft, nude pink colour whereas Milady is a vibrant berry colour.
De applicator is druppelvormig en in het midden is er een 'gat' dat het product opneemt. Ik vind deze heel fijn werken, ondanks de ietwat rare vorm.
The applicator is shaped like a drop. There's a small 'gap' in the middle that picks up the product. I think these work really well, despite the slightly weird shape.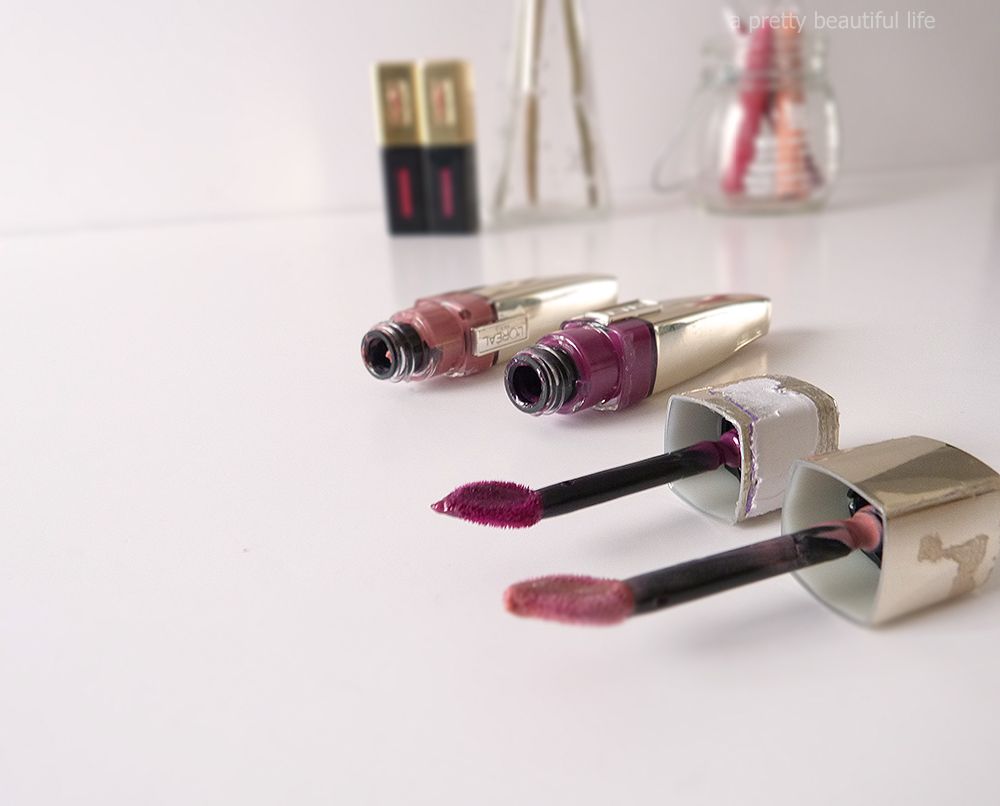 De stain heeft een erg lichte, bijna waterige textuur. Het smeert erg gemakkelijk uit en geeft, zoals je wel kunt zien, erg veel pigment af. Indrukwekkend!
Verder heeft het product een lichte framboosgeur- en smaak, best lekker en helemaal niet storend.
The stain has a very light, almost water-y texture. It's very easy to apply and as you can see, the colour is very opaque and vibrant. Impressive! The product also has a light raspberry fragrance and taste. It's actually quite nice and not very noticeable.
Lolita is een zachtroze kleurtje met een lichte shimmer. Deze zie je bijna niet want ik heb erg gepigmenteerde lippen, maar ik vind dat het mijn lipkleur wat egaliseert en een mooie glans geeft. Het is mijn favoriet voor mijn dagelijkse look.
Lolita is a soft pink colour with a light shimmer in it. You can't really see it here cause I have quite pigmented lips, but I think it kind of evens out my lip colour and provides my lips with a nice sheen. It's definitely a favorite for my daily looks.
Als je iets gewaagder zoekt, dan moet je voor Milady gaan. Deze paarse, bessenrode kleur is fantastisch mooi! De pigmentatie is super en het product brengt ook gelijk aan. Het trekt wel een beetje in de lijntjes, maar dat valt eigenlijk niet op.
If you're looking for something a bit more vibrant, then you should go for Milady. This berry colour is sooo beautiful! The pigmentation is great and the product also applies very evenly. It does, however, kind of build up in the fine lines of my lips, but it's not very noticeable.
Deze lipproducten stainen je lippen dus ook. Als bewijs onderstaande foto die ik heb getrokken vlak nadat ik swatches had gemaakt. In totaal is het product nog geen minuut op mijn huid gebleven, maar je ziet al duidelijk een stain. Dat effect heb je dus ook op je lippen! Milady laat een erg mooie, bessenrode kleur achter.
These products also stain your lips. I took this picture right after I made swatches. So in total, the gloss was on my skin for under a minute, but you can definitely see the staining effect. Same goes for the lips!
Ik ben een erg grote fan van deze Colour Caresse Shine Stains en vind ze een waardige vervanger van de YSL Rouge Pur Couture Vernis à Lèvres (klik hier). Ze hebben ongeveer dezelfde applicator, de formule lijkt sterk op elkaar en ze stainen allebei de lippen erg goed. Ik durf het gerust een dupe te noemen…
I'm a big, big fan of these Colour Caresse Shine Stains. I think these are a great alternative for the YSL Rouge Pur Couture Vernis à Lèvres. They have roughly the same applicator and formula and both products have a nice staining effect. You could definitely say that this is a dupe!
L'Oréal Colour Caresse Shine Stains – €13,95