Producten met een citrusgeur? Count me in. Zo heb ik zowat alle producten uit de de Verveine-lijn van vorig jaar (lees hier): een douchegel, een EDT, een body sorbet en een handcreme. Yum!
Toen ik las dat L'Occitane ook dit jaar een limited edition lijn met verveine uitbracht, kon ik niet wachten om één van de producten in handen te krijgen. En zo gezegd zo gedaan, want ik heb hier de fantastische Frisson de Verveine Fresh Shower Gel. Blijf lezen voor meer info!
Products with a citrus scent? Count me in! I practically have every product from the L'Occitane Verbena collection (read about it here): a shower gel, an EDT, a body sorbet and a hand cream. Yum!
So when I read that L'Occitane was about to launch a LE with verbena for this summer, I had to get my hands on the products. Luckily the Fresh Shower Gel quickly found its way to my doorstep. Keep on reading for more info.
Wanneer het warm is, verlang je niet naar zware, zwoele geuren. Dat weet L'Occitane goed want zowel vorige als deze zomer bracht het merk een volledige lijn met frisse citrusgeuren uit. Dit jaar is de Frisson de Verveine lijn aan de beurt: een verkwikkende, lichte geur met citrusvruchten, vers geplukte groene blaadjes en watervruchten. Klinkt heerlijk!
When it's hot outside, you don't want heavy, sensual scents. L'Occitane knows that and every summer, they launch a complete line of products featuring the refreshing scent of citrus. This year the collection is called 'Frisson de Verveine': energizing citrus fruits, freshly picked green leaves and other refreshing ingredients such as cucumber. Sounds great, doesn't it?
Deze Fresh Shower Gel bevat speciale bubbeltjes die, wanneer ze in contact komen met de huid, openbarsten en golven van verfrissing vrijgeven. Ik was eerst sceptisch, maar de douchegel werkt inderdaad erg verkoelend en verfrissend! Heerlijk op een warme dag: de bubbels verkoelen je extra en de geur maakt je goed wakker.
Over de geur gesproken: deze ruikt niet zo sterk naar citrus als de collectie van vorig jaar. Hier ruik je minder verbena en meer komkommer en warme kruiden. Het ruikt fris, maar niet zo zoet als de Verbena collectie van vorig jaar. Ook geschikt voor mannen, dus!
This Fresh Shower Gel contains special little bubbles that burst upon contact with the skin. The bubbles then release waves of freshness, cooling the skin down. I was sceptical at first but I have to admit that it works! It's ideal on a hot day: the bubbles cool you down and the scent re-energises you.
About that scent: this one doesn't have the strong citrus undertone like the Verbena collection from last year. There's less citrus and more cucumber and fragrants herbs. It smells very refreshing but not as sweet as last years line. The herb-y undertone makes it ideal for men as well.
Wat kan ik zeggen? Ik ben D-O-L van de Verbena producten van L'Occitane. Ik kan amper wachten tot volgend jaar om te zien wat ze dan weer uit hun mouw schudden!
What can I say? I L-O-V-E the Verbena products by L'Occitane. I can hardy wait for next summer to see what L'Occitane comes up with next!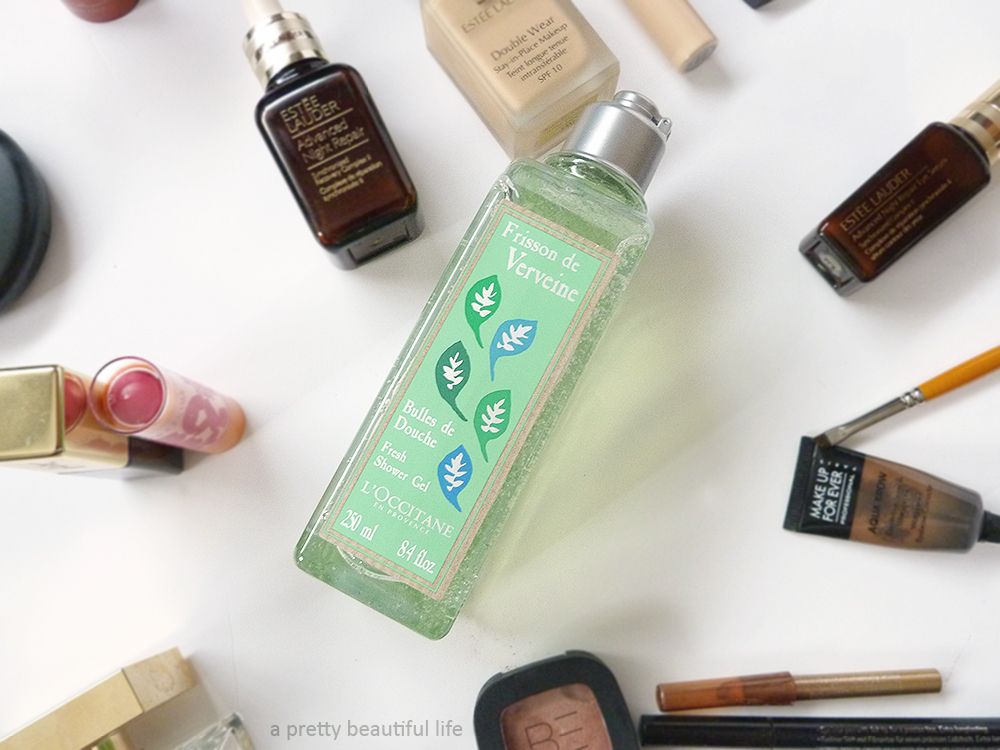 Fresh Shower Gel – €14,50 / 250 ml
Cooling Body Gel – €23 / 250 ml
Refreshing Body Mist – €9 / 50 ml
Bath Salts – €16 / 300 gram
Ice Gel for Leg&Feet – €15,50 / 75 ml
Hand Cream Gel – €7,50 – 30 ml
Eau de Toilette – €46 / 100 ml