Toen ik enkele weken geleden aan het shoppen was in Maasmechelen Village, moest ik de L'Occitane winkel binnenlopen. Ik zocht eigenlijk een face mist (die ik trouwens heb kunnen bemachtigen) maar dit schattig lip en hand duo moest ook mee.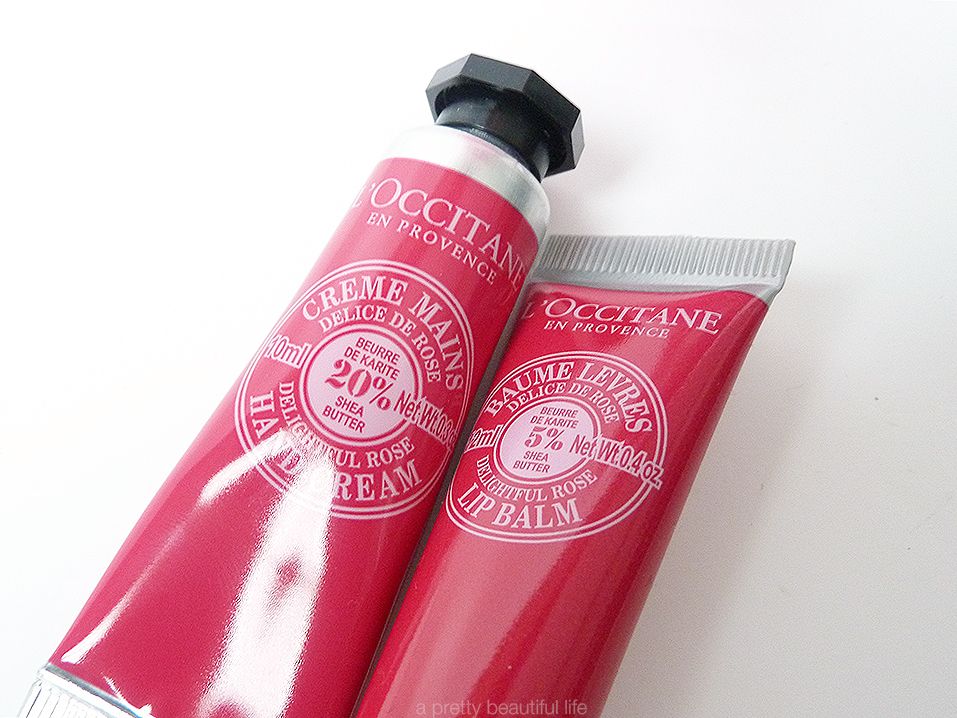 During a shopping trip at Maasmechelen Village a few weeks ago, I visited the L'Occitane shop as per usual. I was actually looking for a face mist (which I found by the way) but I also went home with this cute lip and hand duo.
De handcrèmes van L'Occitane vind ik altijd heerlijk. Ze zijn lekker romig maar hydrateren supersnel en laten geen vettig laagje achter. Ik hou er ook van dat ze zoveel verschillende geuren in het gamma hebben want zo is er voor ieder wat wils.
I just love the hand creams by L'Occitane: they're so creamy, they hydrate the skin immediately but don't leave behind a sticky feeling.
Ik spotte dus dit schattig doosje met daarin twee miniproducten: een lippenbalsem en een handcreme in de geur Délice de Rose. Zoals de naam het wel al zegt, is dit een frisse en bloemige rozengeur. Meer kan ik er eigenlijk niet over zeggen want ik ben gewoon tevreden over de producten!
I managed to grab one of these cute cups containing two mini products: a lip balm and a hand cream. The scent, Délice de Rose, is fresh and flowery and reminds me of freshly picked roses. I can't really say much more about these products. It's just plain and simple: I love L'Occitane.
Dit schattige duo is, voor zo ver ik kan zien, niet verkrijgbaar in de gewone winkels. Je zal dus moeten afzakken naar de L'Occitane outlet in Maasmechelen Village (waar ik trouwens stage doe dus laat me iets weten als je op bezoek komt!) waar dit setje amper €6,70 kost.
This set isn't available online or in the stores so you're going to have to visit the L'Occitane outlet in Maasmechelen Village. I'm doing an internship at the Village so if you do decide to visit, please drop by and say hello!
Veel liefs,
Diana