De laatste tijd heb ik enkel good hair days en dat heb ik te danken aan enkele nieuwe producten van Kérastase uit de Elixir K Ultime lijn. Ik gebruik sinds een paar weken de shampoo en een solide haarolie uit dit gamma en mijn haar heeft er nog nooit beter uit gezien. Tijd om mijn geheim met jullie te delen!
Lately I've been blessed with nothing but good hair days. It's all thanks to the Kérastase Elixir K Ultime products. I've been using the shampoo and solid hair oil from this collection and my hair has never looked better. Time to share my secret with you all!
Het Elixir K Ultime gamma van Kérastase maakt gebruik van de oil blending techniek, de kunst om de opmerkelijke oliën eerst te klasseren en vervolgens te mengen tot een perfecte synergie waarin hun eigenschappen versterkt worden. Naargelang hun specifieke kenmerken geven deze oliën het haar alles waar het van droomt, bv. omega 3 voor glans en omega 4 voor de voeding. Het gamma werd onlangs uitgebreid met 2 nieuwe producten die ik jullie nu graag toon.
The Elixir K Ultime line by Kérastase uses the oil blending technique: classifying the oils and then mix them to a perfect synergy. These oils give your hair everything you've dreamed of: omega 3 for shine, omega 4 for nutrition,…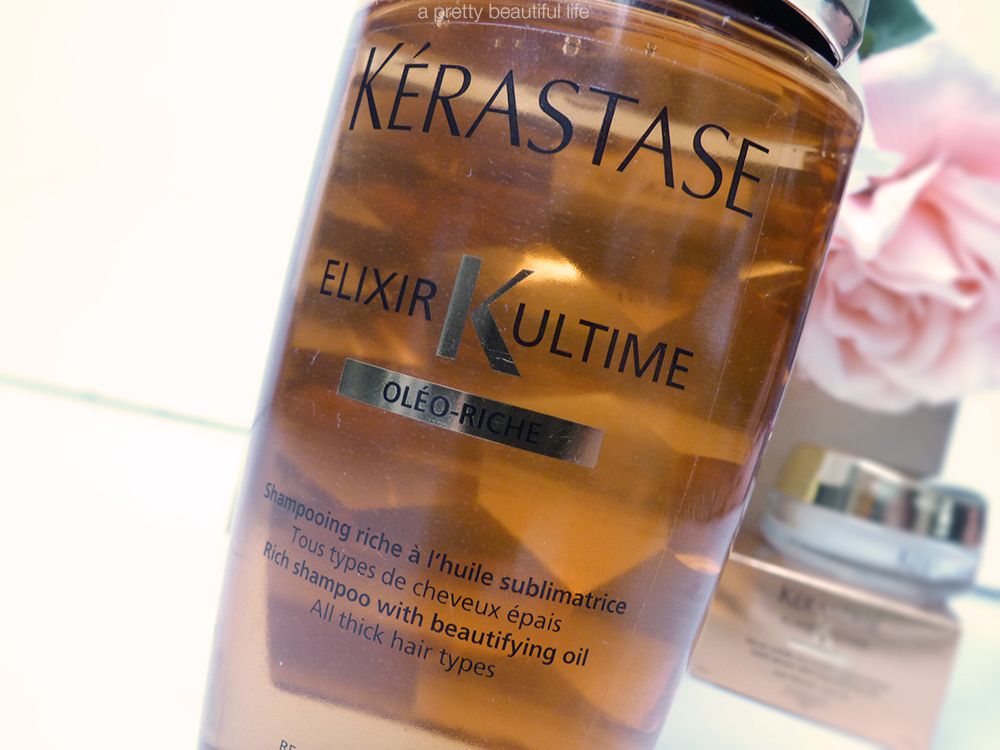 Laat ik de shampoo voorstellen die mijn haar volledig heeft getransformeerd: de Bain Oléo-Riche die het haar door en door voedt en mooier maakt. Ik gebruik normaal enkel shampoo voor vet haar maar ik dacht, laat ik eens iets nieuws proberen. En ik ben blij dat ik dat heb gedaan want het heeft mijn haar volledig veranderd! Ik had eerst erg stug haar, maar na het gebruik van deze shampoo heb ik superzachte, gladde, luchtige lokken. Ik wou dat jullie allemaal mijn haren konden aanraken. Love it!
Let me introduce you to the shampoo that changed my hair completely: the Bain Oléo-Riche. This baby turned my hair from stubborn to runway-smooth! I wish you could all touch my hair since it's now shiny and smooth and awesome.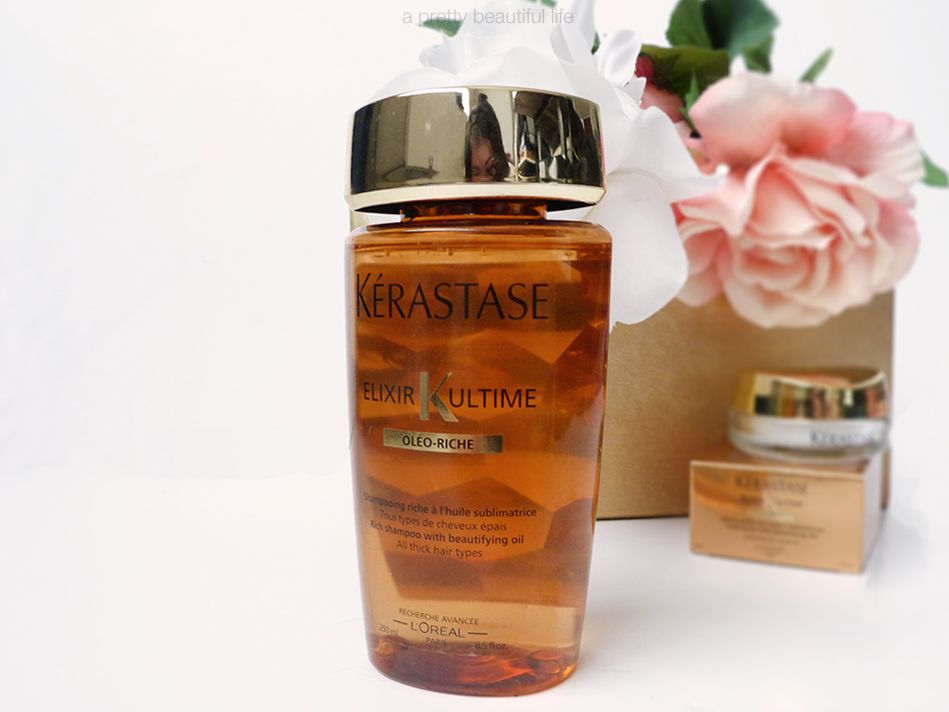 Life-changing product nummer 2: het Sérum Solide. Nu gebruik ik al jaren met veel plezier de haarserums van Kérastase. Naar mijn mening zijn dit de beste serums op de markt! Nu heeft Kérastase een solide serum uitgebracht met alle voordelen van haar 'gewone' oliën maar in een handig potje.
Life-changing product number 2 : the Sérum Solide. I've been using Kérastase's hair oils for years now and I'm convinced these are the best ones on the market. Now Kérastase has launched a solid serum with all of the advantages of their hair oils but in a much travel friendlier packaging.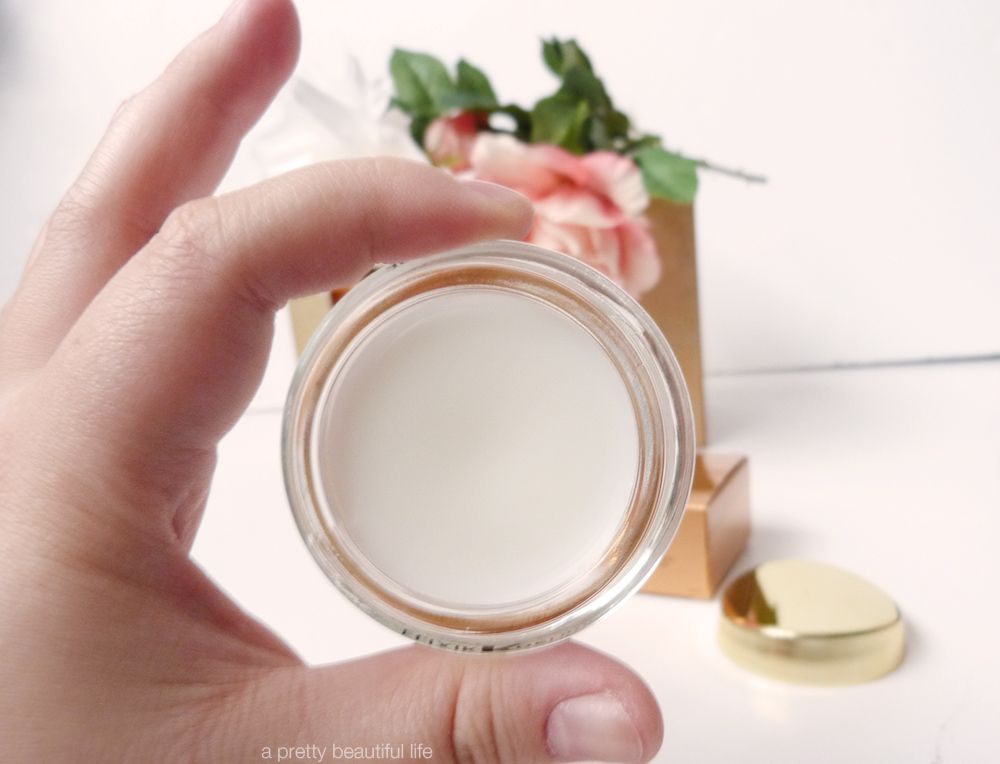 Het voordeel van zo'n solide serum is dat je het àltijd en overal kan gebruiken en zo veel of zo weinig als je wilt. Zo kan je gebruiken als finish voor je kapsel (extra glans), of als spot treatment op beschadigde lokken of op je haarpunten. Het is ook ideaal om frizzy lokken te temmen. Een erg veelzijdig product, dus!
Ik gebruik na het wassen van mijn haren altijd een 'echte' haarolie en op de dagen dat mijn haar een frizz bomb is, gebruik ik dit goedje – veel handiger en minder vet dan een haarolie. En af en toe wat serum in de punten van mijn haren masseren doet ook wonderen.
The biggest advantage to a solid serum is that you can use any amount you want at any time. For example: you can use it as a finishing touch, as a spot treatment for damaged hair or to tame frizzy hair. I always use a 'real' hair oil after I wash my hair and I whip this serum out for when my hair is super frizzy (it's much easier and less greasy). I also regularly massage the serum into my split ends and it works wonders.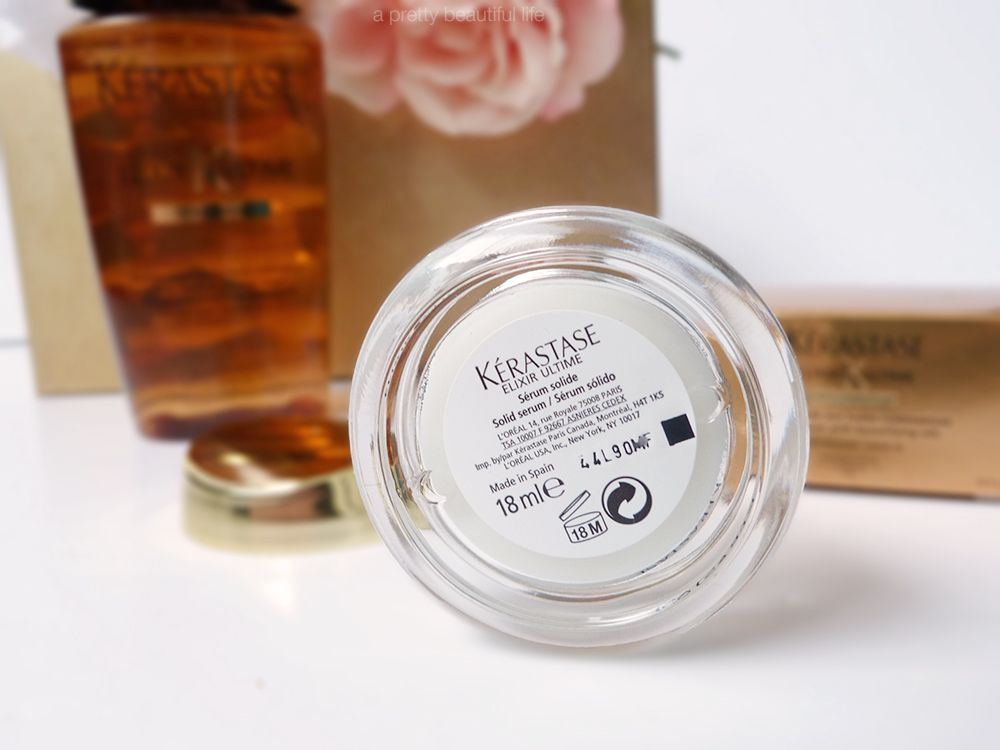 Ik blijf erbij: Kérastase is mijn go to merk als het op haarverzorging aankomt! Het is wat prijziger, maar de producten transformeren je haar compleet.
Kérastase is still my go to brand when it comes to hair products. It's a bit pricier than drugstore brands but it definitely works miracles.
Kérastase Bain Riche – €22,90 / 250 ml
Kérastase Sérum Solide – €29,50 / 18 gram