Voor mij is Kérastase het beste haarverzorgingsmerk. Toegegeven, het is een beetje aan de prijzige kant, maar als je ziet wat het met je haar doet, wil je niks anders meer.
Ik ontdekte onlangs een nieuwe lijn, de Discipline lijn, met fantastische producten in een prachtig roze verpakking. Deze is ideaal voor mensen met onhandelbaar, pluizig haar dat naar geen enkel haarproduct wilt luisteren. Deze Collection Fondant Fluidealiste producten garanderen een soepel, glad en gezond haar dat luchtiger aanvoelt. Bovendien versnellen de producten het proces van haardrogen zodat de hitte minder schade kan aanbrengen.
De ster uit deze lijn? Dat moet de Fluidissime zijn, complete verzorging in een compact en stijlvol flesje. Niet alleen beschermt het je haar tegen de hitte van een stijltang of haardroger; het werkt ook tegen pluizend haar, zorgt voor glans en een luchtiger kapsel. Ik gebruik dit altijd als ik mijn haar moet drogen en inderdaad, mijn haar heeft meer volume, voelt lichter aan en glanst enorm. Het helpt precies ook de kleur langer vasthouden, dus dat is erg mooi meegenomen.
De Fondant Fluidealiste is een balsem dat je haar intens verzorgt als een conditioner. Maar het grote voordeel: het verzwaart je haar niet. Integendeel, want mijn lokken voelen net luchtiger aan als ik dit heb gebruikt.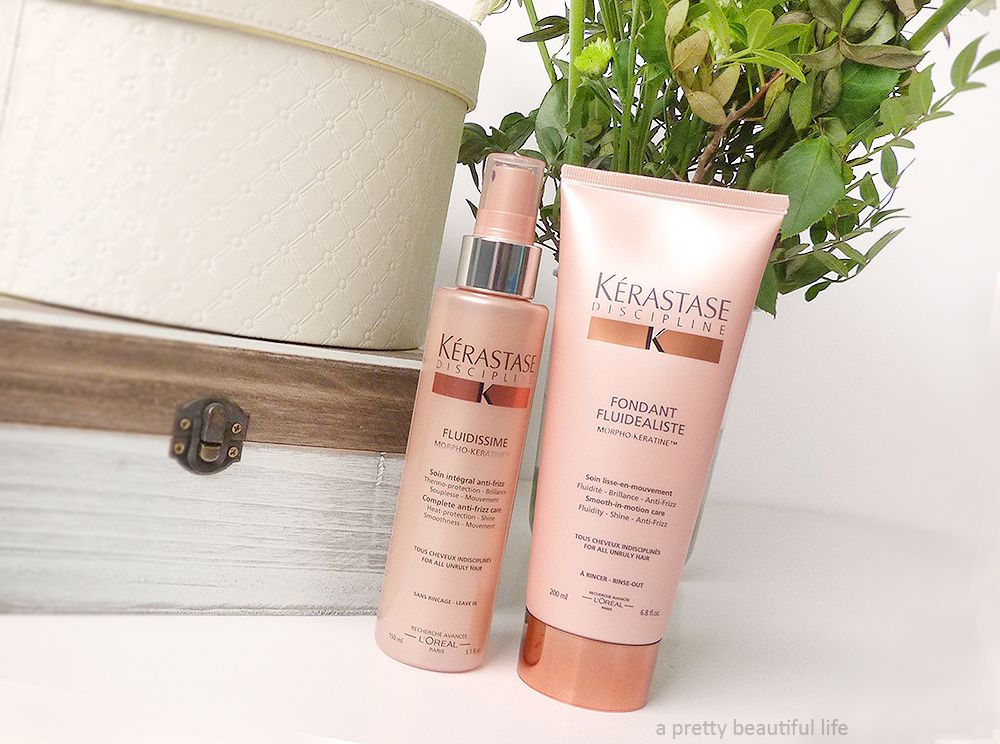 In my humble opinion, Kérastase is the best haircare brand out there. It's not very cheap, but once you see what it does for your hair, you'll never want anything else.
I recently discovered their new line of products called Discipline. These products (with gorgeous pink packaging!) guarantee supple, smooth and healthy hair that feels lighter and fresh. They also accelerate your blowdry so your hair receives less damage.
The best product in this line is the Fluidissime. This spray protects your hair against the heat from your blowdryer or straightener. It also combats any frizz and makes your hair lighter and smoother. I always use a couple of sprays when I blowdry my hair and it really does wonders. I also feel like it keeps my haircolor vibrant, so that's a nice addes benefit. The Fondant Fluidealiste is a thick balm that nourishes your hair like a conditioner, but it won't weigh your hair down. On the contrary, my hair feels much lighter!
Dus als je luchtig, glanzend haar wilt zoals de Victoria's Secret modellen? Rep je dan naar de Kérastase kapper en haal deze juweeltjes in huis. Je zal er geen spijt van krijgen, geloof me!
Fondant Fluidealiste – €27 / 200 ml
Fluidissime – €25,50 / 150 ml
Bain Fluidealiste voor alle haartypen – €19,90 / 250 ml
Bain Fluidealiste zonder sulfaten – €19,90 / 250 ml
Maskeratine – €39 / 200 ml