Het geurtje waar ik de laatste tijd helemaal dol op ben? Jeu d'Amour van Kenzo. Dit ultravrouwelijk parfum weergeeft een romantisch liefdesspel door een mix van sensuele en bloemige noten. Het gezicht van het parfum is trouwens Louise Bourgoin, een fantastisch mooie Franse actrice/model die perfect bij deze campagne past. Lees verder om meer te ontdekken over dit liefdesspel!
Lately I've been crazy about Jeu d'Amour by Kenzo, an ultra-feminin perfume with a mix of sensual and flowery notes. It probably has to do with the amazing Louise Bourgoin, a gorgeous French actress and model and the perfect face for Jeu d'Amour.
Jeu d'Amour is een betoverend parfum met zowel warme, sensuele geuren als lichte, bloemige noten. Het parfum opent met topnoten van thee, bloedmandarijn en granaatappel, gevolgd door een hart van tuberoos en fresia. De basisnoten, tot slot, bestaan uit sandelhout en musk.
Jeu d'Amour is an enchanting perfume with both warm, sensual scents as light, flowery notes. The perfume opens with topnotes of tea, blood mandarin and pomegranate. It is then followed by heart notes such as tuberose and freesia. The base notes consist of sandelwood and musk.
De flacon zelf doet denken aan een zwierige, lange jurk waar ieder meisje wel van droomt. Het silhouet van de flacon doet denken aan een vrouwenlichaam – ook erg leuk gevonden!
The bottle was inspired by a woman wearing a flowy long dress. I love the colours and silhouette of the bottle – it's super feminin and is the perfect embodiment of the scent itself.
De bloemige noten zorgen voor de frisse, bloemige opening waar ik zo van hou. Maar aan het einde van de dag ruik je meer die warme, musk geur. Dat past ook zo goed bij mijn mood: 's morgens barst ik van de energie en ben ik fris en monter, maar tegen de avond ben ik kalmer en gebeurt alles op het gemak. Wel leuk dat dit geurtje een beetje evolueert met mijn gemoedstoestand!
The perfume opens with flowery notes that I love very much. At the end of the day, a warm and musky scent remains.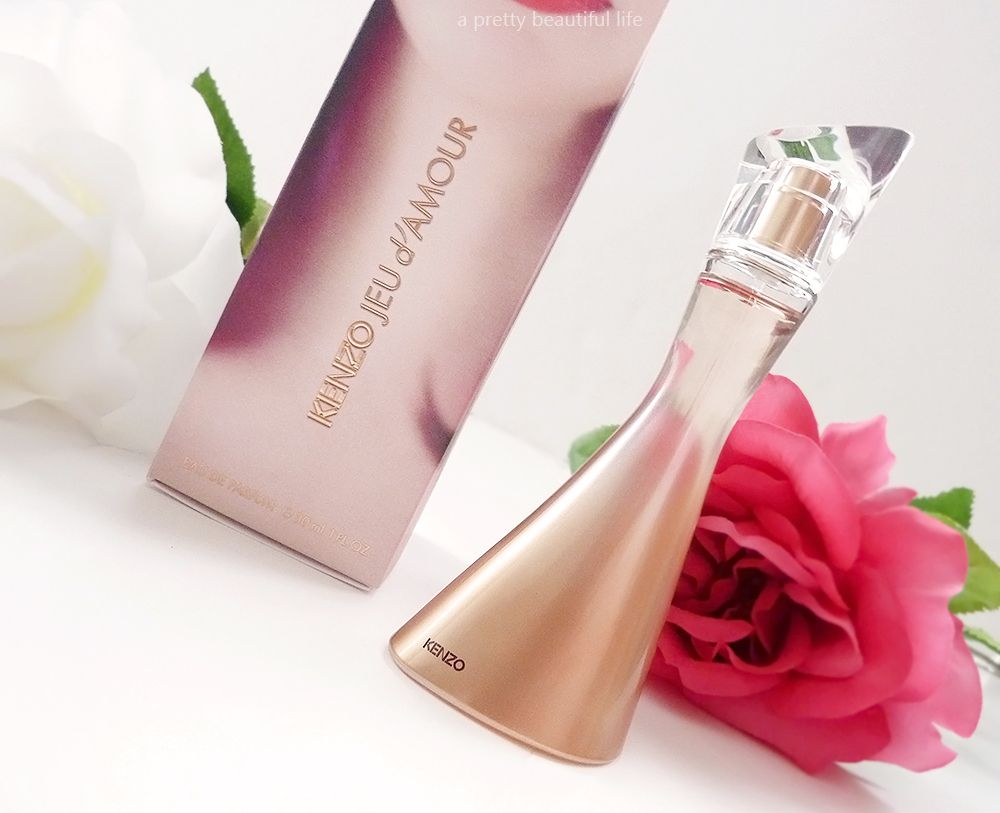 Kenzo Jeu d'Amour – 30 ml (€47,95) / 50 ml (€67,35) / 100 ml (€92,60)
Meer info op de website van Kenzo.