Of je nu een reisje naar een ver land maakt, naar een festival gaat of gewoon thuis luiert: dankzij P&G heb je alle zomer essentiels in huis om zorgeloos van het zonnetje te genieten! Vandaag toon ik wat jullie nodig hebben voor een summerproof look.
Whether you're planning a trip around the world, rocking out at a festival or just planning on hanging out at home: thanks to P&G, you'll have all the necessities for a careless summer. Today, I'll be showing what you're going to need for a summerproof look.
Als je op reis gaat, heb je natuurlijk goede koffers nodig. Wat dacht je van dit kleurrijk exemplaar van Samsonite? Compact, een zeer goede kwaliteit en een hip kleurtje. Deze ga je gemakkelijk vinden op de bagageband in de luchthaven!
If you're planning on travelling this summer, you're definitely going to need a good suitcase. How about this one by Samsonite? It's made from high-quality materials, sturdy, compact and has a flashy colour. You're not going to lose this baby at the baggage claim area!
Natuurlijk moet je je koffer vullen met de juiste beautyspullen. Dit is ongeveer wat P&G in gedachten heeft, en ik moet zeggen: I like the way they think.
Of course, you have to fill your suitcase with the right beauty products. This is what P&G had in mind, and I have to say I like the way they think.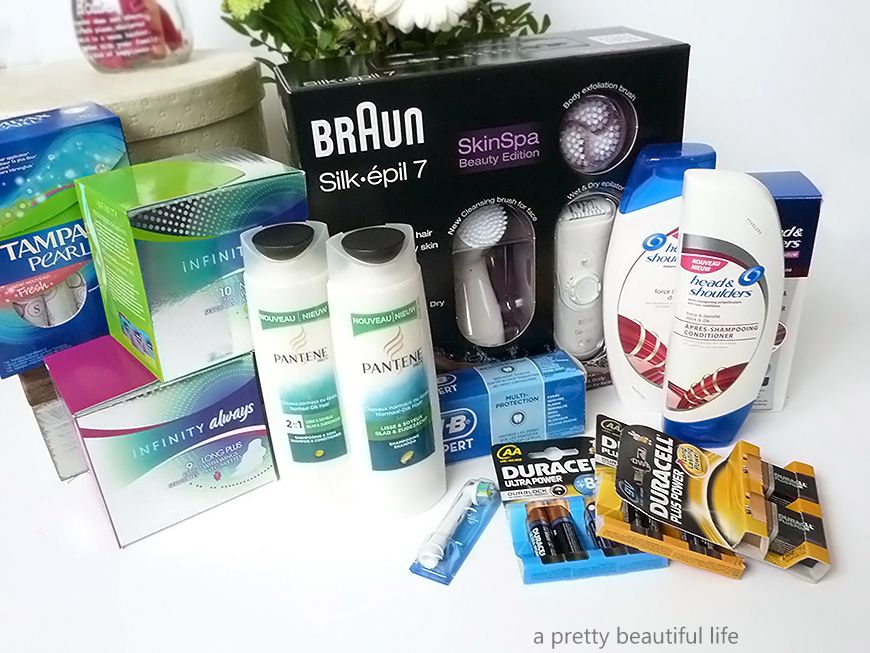 GLADDE BENEN EN EEN GODDESS GLOW
Allereerst, deze fantastische set van Braun. De set bevat de Silk Épil 7, een epilator dat je zowel droog als nat kunt gebruiken. Daarnaast bevat het nog de nieuwe exfoliatieborstel om dode huidcellen te verwijderen. Ook zit er een speciale 'body exfoliation brush' bij, die je aan je epilator vastmaakt en zo je lichaam kan scrubben. Deze hele set kost €179,95, wat ik een mooie prijs vind voor het geheel. Denk er aan: een losse epilator kost rond de €100, en de prijs van zo'n exfoliatieborstel kan ook hoog oplopen, dus de combinatie vind ik zeker een goede aankoop.
Smooth legs and a goddess glow
First up: this amazing set by Braun. This set contains the Silk Épil 7 (an epilator that can also be used in the shower), an exfoliation brush for the face to remove dead skin cells and a special body exfoliation brush which you can hook up to your epilator. This entire set costs €179,99, which I actually don't find very expensive considering the products that you get. Keep in mind that an epilator usually goes for about €100, and an exfoliation brush isn't that cheap either. So actually, this set is really a bargain!
DRAAGBARE ENERGIE
Het wordt onderschat, maar een paar batterijen in je tas als je op reis gaat/een festival bezoekt kan heel goed van pas komen. Deze batterijen van Duracell zijn dus zeker een musthave, ook al blijf je thuis en heb je een paar AAA's nodig voor je afstandsbediening 😉
Portable energy
People often overlook the importance of batteries, but they are incredibly important for when you travel or visit a festival. These Duracell batteries are definitely a musthave, even if you're staying at home and need a pair of AAA's for your remote control 😉
ZOMERS VOLUME
Wie wil nu geen sterk, volumineus haar? Niemand, denk ik! Head&Shoulders heeft een nieuw gamma ontwikkeld – Sterk&Dik – om je lokken sterker en dikker te maken door de haarvezel vanaf de wortel te versterken. En natuurlijk blijft H&S roos bestrijden, dus dat is ook mooi meegenomen.
Summer volume
Who doesn't long for strong, voluminous hair? Head&Shoulders has created a new product line called 'Sterk&Dik' to make your hair thicker by strengthening the hairs from the root. And obviously, Head&Shoulders continues to battle dandruff, so that's an added benefit.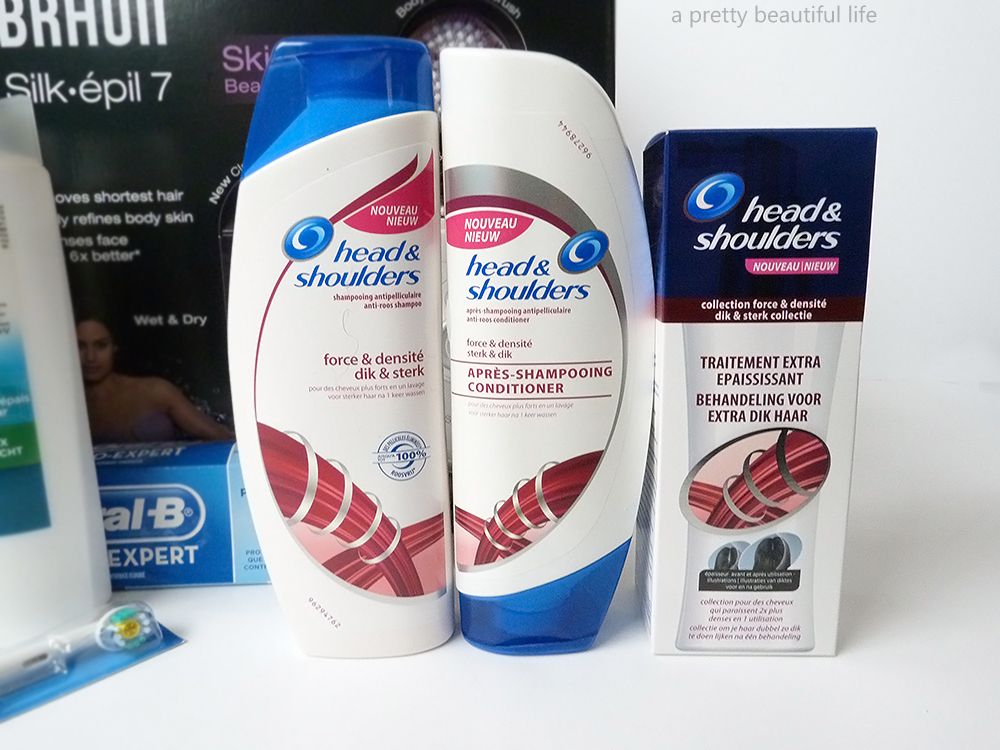 GLANZEND GEZONDE ZOMERLOKKEN
Zon is leuk, maar het kan wel haar tol eisen. Zonnebrand gebruikt iedereen wel, maar bescherming voor je haar wordt vaak over het hoofd gezien. Deze producten van Pantene leggen je haren flink in de watten en zorgen ervoor dat je terug van een gezonde, glanzende haardos kan genieten.
Shiny, healthy summer hair
Gotta love the sun, but don't forget that prolonged exposure takes its toll. People normally use sunscreen, but protection for your hair is often overlooked. These products by Pantene pamper your hair and make sure that you get your glossy locks back.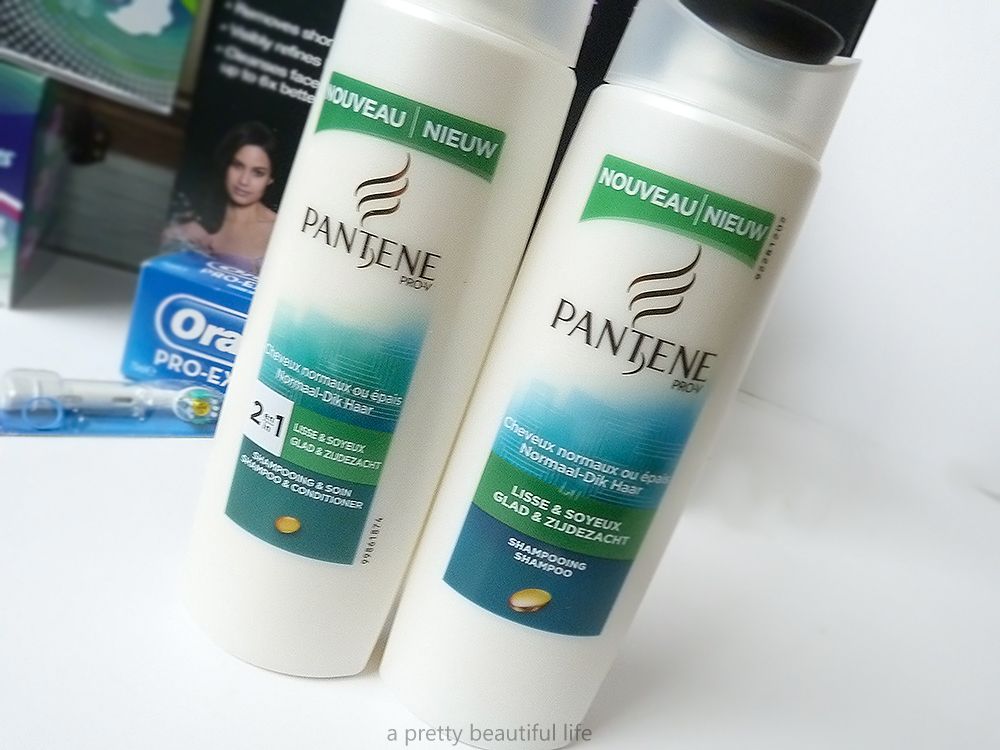 SUMMER SMILE
Een goede tandpasta is onmisbaar! Oral-B weet dit en heeft daarom een gamma slimme tandpasta's die zich in de mond aanpassen om te beschermen en te verzorgen waar jij dit het meest nodig hebt.
Als je een nog betere verzorging wilt, moet je zeker een elektrische tandenborstel uitproberen. Ik heb al een paar jaar de TriZone en het is een fantastisch toestel! Zeker in combinatie met onderstaand borsteltje, want na 1 gebruik waren mijn tanden al een stuk witter. Het borsteltje polijst de tanden erg goed zonder deze te beschadigen, en door de kleine, ronde kop kan je elke tand grondig reinigen.
Summer smile
A good toothpaste is indispensable! Oral-B knows this all too well and has created a line of smart toothpastes that adapt in the mouth to protect and care for your teeth where you need it the most.
If you're looking for an even better oral hygiene, you should definitely try an electric toothbrush. I've been using the TriZone for a few years now and I still love it. Especially when I use the little round brush you can see in the picture. After only one use, my teeth were a lot whiter. The brush polishes the teeth without damaging them, and the round shape allows you to clean each individual tooth.
OPTIMALE BESCHERMING
Zomerplannen of niet – Moeder Natuur doesn't give a damn. Gooi daarom een paar stuks Tampax of Always in je tas zodat je overal en altijd voorbereid bent.
Optimal protection
Summer plans or not, Mother Nature doesn't give a damn. That's why it's a good idea to throw a few pads or tampons in your bag so you're always prepared.
Voila, nu heb je alles qua beautyproducten voor een fantastische zomer. Laat me ook zeker weten als jullie nog aanraders hebben!
So these were all the beauty products you need for a great summer. Please let me know if you have any suggestions or products that you think are necessary for summer!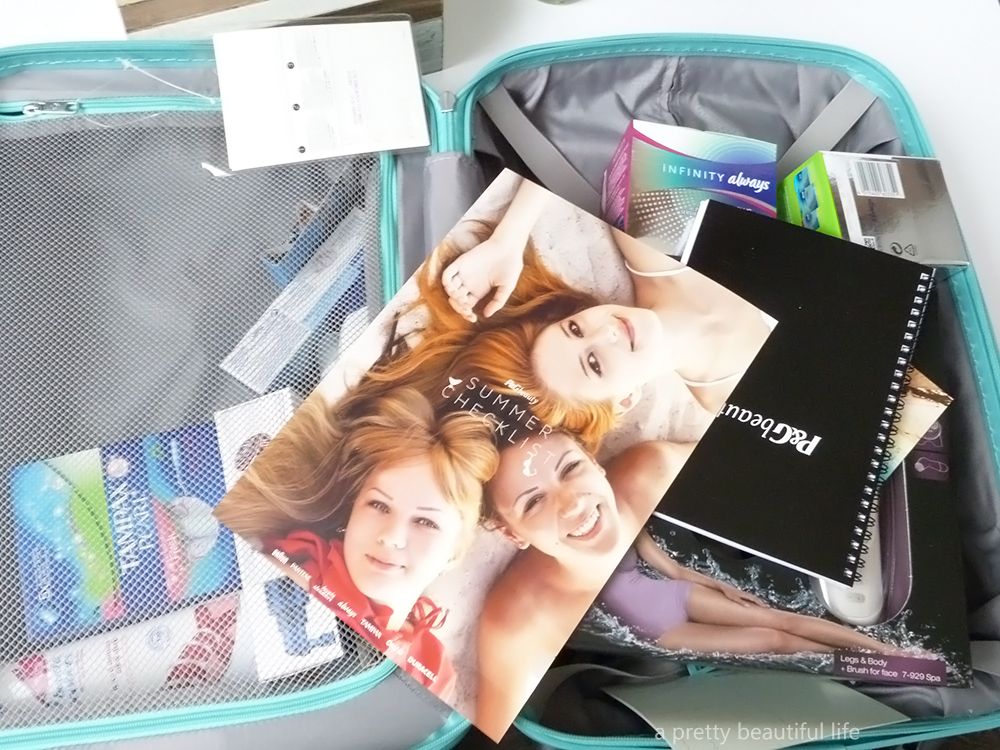 (Nog een dikke, dikke merci aan Charlotte en Déborah voor dit fantastische zomerpakket! BIG LOVE!)