Een merk waar ik nog niet veel ervaring mee heb, is Helena Rubinstein. Uiteraard kende ik het merk wel – de luipaardprint is alom gekend – maar ik had er nog niets van geprobeerd. Nu mocht ik onlangs enkele producten uittesten dus vandaag mijn eerste indruk van Helena Rubinstein.
I never tried anything by Helena Rubinstein before. Of course I knew the brand – everyone recognises the famous cheetah print – but I only recently tried out their products.
Ik heb hier twee make-upproducten voor de ogen en een make-upremover van Helena Rubinstein. Ideaal: oogschaduw, mascara en een remover om alles netjes te verwijderen.
De Lash Queen Feline Blacks mascara kent iedereen wel dankzij de beroemde luipaardprint. Deze geliefde mascara vond haar inspiratie bij kattenogen en geeft de wimpers een onweerstaanbare katachtige blik. De unieke formule en het rond borsteltje met ontwarrende inkepinen verlengen de wimpers en zorgen voor veel volume.
The Lash Queen Feline Blacks mascara was inspired by feline eyes. The unique formula and the round brush give the lashes lots of length and volume.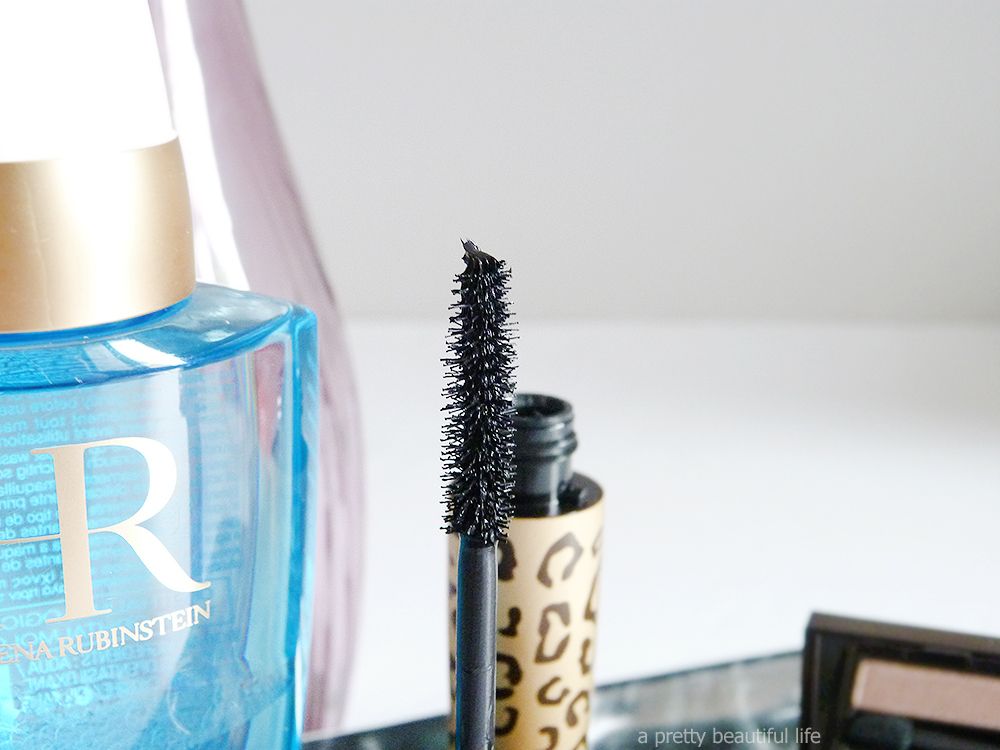 Wimpermodel Michèle heeft deze mascara weer uitgetest. Links zien jullie haar naakte wimpers, in het midden één laagje en rechts twee laagjes. Ze vindt dat de mascara haar wimpers mooi uitwaaiert maar ze mist toch wat volume en lengte, en de formule voelt toch wat droog aan.

My colleague with the gorgeous lashes tested this mascara again. On the left her lashes without anything; in the middle her lashes with one coat of mascara; on the right two coats. She loves how the brush fans out her lashes but she misses a bit of volume and length.

Ik heb ook nog een prachtig oogschaduw duo, de Wanted Eyes Duo in Black Onyx & Moon Stone. Dit oogschaduwduo spelen met kleur en licht en kunnen op verschillende manieren gebruikt worden. Deze combinatie vind ik alvast heel mooi en ik zie al direct heel wat mogelijkheden voor me.
I also received a gorgeous Wanted Eyes Duo eyeshadow in the colour 'Black Onyx & Moonstone'.
Dit duo is een combinatie van een taupeachtige tint en een zwarte kleur met gouden glitters. Allebei echt mooie en niet veelvoorkomende kleuren.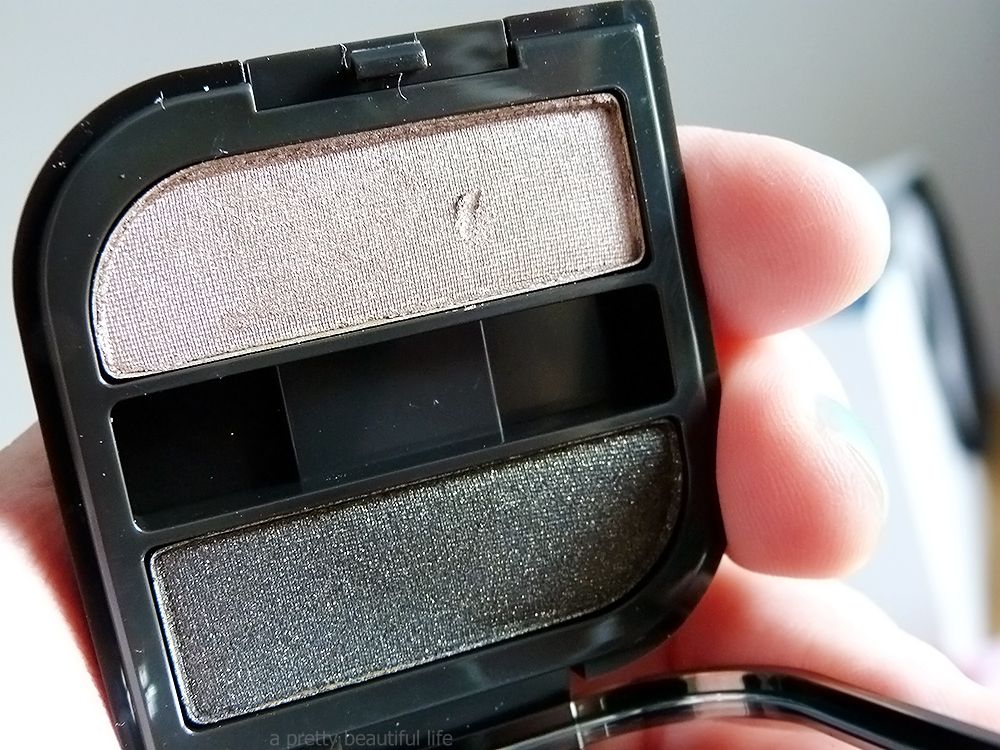 De oogschaduws zijn lekker fel gepigmenteerd en hebben een onwaarschijnlijk mooie glans. Ze voelen heel zacht aan en blijven zelfs zonder primer de hele dag netjes zitten. Er is ook geen fall-out aanwezig wat je wel vaak ziet bij oogschaduws met glitters. Top!
The eyeshadows are very pigmented, they feel soft and stay put for the entire day, even without a primer. There's also no fall-out which are actually quite common with eyeshadows that contain glitter.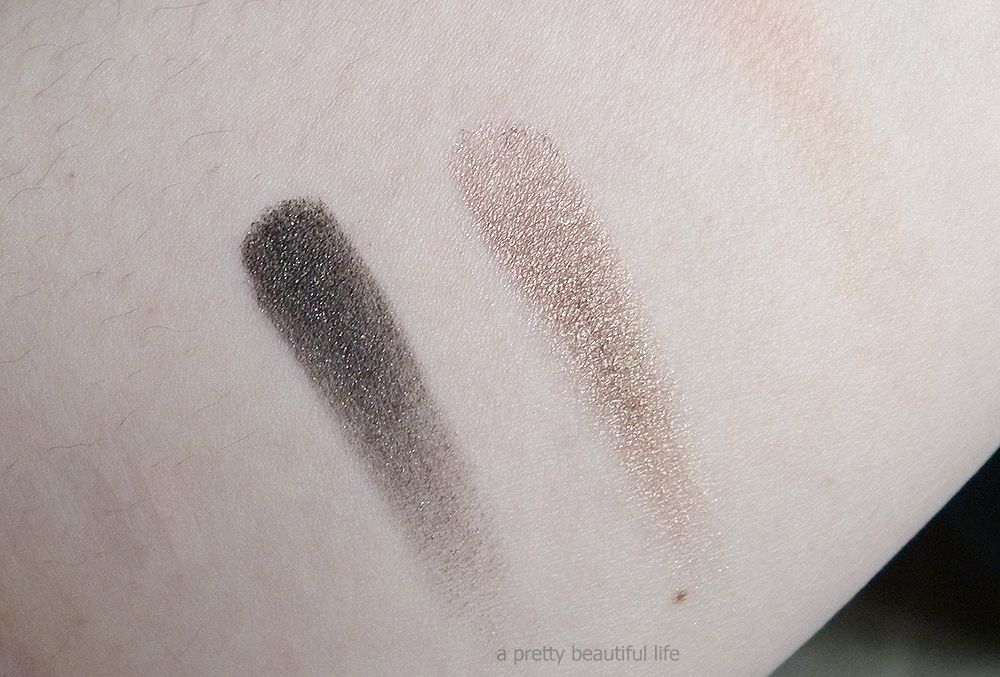 Om alles te verwijderen, heb ik de All Mascaras Eye Make Up Remover. Deze verwijdert niet alleen mascara maar alle soorten oogmake-up, zelfs waterproof. Het werkt ook best voedend aan want na het gebruik ligt er even een dun laagje olie op mijn huid die snel intrekt. Het resultaat: een gereinigde huid dat nog eens lekker zacht aanvoelt. Ideaal voor de tere huid rondom je ogen!
I also receive d the All Mascaras Eye Make Up Remover that removes all kinds of eye make up, even waterproof formulas. It also works a bit hydrating as it leaves behind a thin film of oil that gets absorbed by my skin pretty quickly. The result: a super soft and supple skin and clean eyes.
Helena Rubinstein is pure luxe, maar iedere cent waard. Ik ben onder de indruk van de oogschaduws en als ik naar de foto's van Michèle's wimpers kijk, dan ben ik ook overtuigd van de mascara. De remover staat nu steevast op mijn tafeltje en gebruik ik altijd om mijn eyeliner te verwijderen. Wat kan ik nog meer zeggen? Helena, I love you.
HR All Mascaras! Complete Eye Make Up Remover – €32 (125 ml)
HR Lash Queen Feline Black mascara – €33,50 (7 ml)
HR Wated Eyes Duo Eyeshadow – €45