De kerstcollecties nemen langzaamaan de parfumeries over dus bereid je maar voor op veel goud en glitter. Ook hier bij APBL mag je enkele fantastische kerstcollecties op de blog verwachten. Laten we beginnen met de spectaculaire Un Soir à L'Opéra van Guerlain. Deze adembenemende collectie bevat alle producten die je nodig hebt voor een avondje uit vol luxe en elegantie. Kijk snel mee om meer te ontdekken!
The christmas collections are slowly taking over the department stores. I received a few products from the gorgeous 'Un Soir à L'Opéra' collection by Guerlain and I'm dying to show you a full review of these products, so keep reading.
Guerlain liet zich voor haar kerstcollectie inspireren op een 'night at the opera' en bevat make up producten die je helemaal klaarmaken voor een luxueuze gala-avond. Je kan de hele prachtige collectie bekijken op de site van Guerlain. Ik toon jullie alvast de productjes die ik heb ontvangen.
Guerlain was inspired by a night at the opera and created a make up line with products that will get you ready for the perfect gala evening. You can view the complete collection here. I'll be showing you the products that I received.
Ik heb hier twee prachtige Gloss d'Enfer lipglossjes, twee Colour Lacquer nagellakken en het L'Écrin 2 Couleurs oogschaduwduo in Cygne Noir. Zelfs zonder te swatchen kan ik al zien dat dit fantastische producten zijn.
I received two Gloss d'Enfer lipglosses, two Colour Lacquer nail polishes and the L'Écrin 2 Couleurs eyeshadowduo in Cygne Noir. Even without swatching, I can tell that these are going to be amazing products.
Het L'Écrin 2 Couleurs oogschaduwduo in '10 Cygne Noir' bestaat uit een harmonieuze combinatie van een intense zilverzwarte tint en een gesofisticeerde bordeauxkleur met koperkleurige glitters. Beide kleuren bevatten een stevige dosis glans en glitter.
The L'Écrin 2 Couleurs eyeshadowduo in '10 Cygne Noir' consists of a harmonious combination of a shimmering silver black and an intense plum colour with copper glints.
De oogschaduws zijn, ondanks hun stevige dosis glitter, erg zacht en verstuiven niet. Ik was op het eerste zicht een beetje teleurgesteld in de pigmentatie (vooral van de grijze kleur), maar toen bracht ik de kleuren nat aan…
The eyeshadows are very soft, despite the fact that they contain a lot of chunky glitters. I was a bit disappointed when I swatched them, but then I decided to apply them with a damp brush.
…en voilà, opeens krijg je een superintense kleurafgave. Ik was énorm onder de indruk van het verschil! Ik denk dat je de oogschaduw droog aangebracht ideaal is voor wanneer je een vleugje kleur wilt (de zilverzwarte kleur is perfect voor een smoky eye) en nat als je het als accentkleur wilt gebruiken.
What an amazing difference, huh? I was really impressed by the intensity and the opacity of the eyeshadows when applied damp. I think this is the ideal method if you want a pop of colour. If you prefer a sheer wash of colour, you should use the eyeshadows with a dry brush. The silver colour for example would be ideal for blending a smoky eye.
Op naar de nagels. In de collectie zitten twee prachtige lakjes perfect voor de feestdagen. Het zijn wel limited edition kleuren dus als je deze wilt hebben, ga je snel naar de parfumerie moeten hollen.
For the nails, we find two gorgeous nail polishes that are perfect for the holidays. These are limited edition colours so if you want them, you'll have to run to the store asap.
400 Coque d'Or is een nagellak met een intense, metallische finish. Of zoals ik het zou beschrijven: gesmolten goud!
400 Coque d'Or is described as a gold nail polish with an intense metallic finish.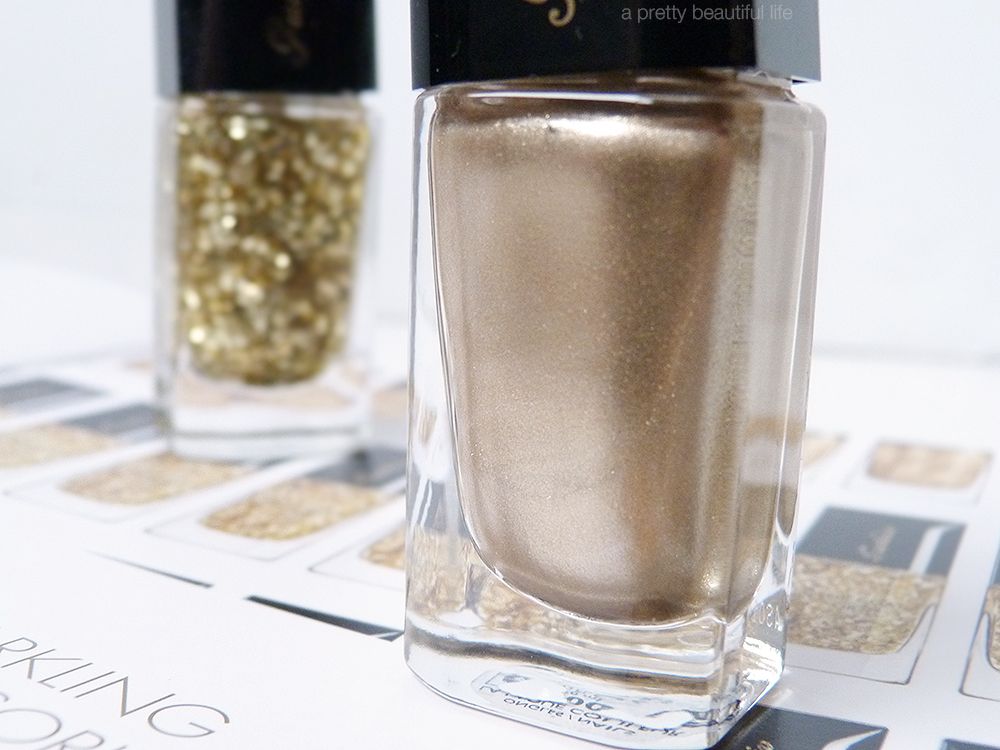 Zoals ik al zei: gesmolten goud. Wat een geweldige kleur is dit! Ik had altijd gedacht dat goud op de nagels nogal smakeloos was, maar dit is elegant en feestelijk. De combinatie van de glitters met de metallische finish is ook fenomenaal.
Doesn't this remind you of molten gold? I absolutely love this colour. I used to think gold nail polish was tacky but this is elegant and festive. I especially love the combination of the glitters and the metallic finish.
Voor een extra portie luxe moet je naar de 901 L'Oiseau de Feu grijpen, een topcoat met een 'gold leaf' effect.
901 L'Oiseau de Feu is a luxurious topcoat with flecks of chunky golden glitters for a gold leaf effect.
Ik vind het altijd erg moeilijk om met zo'n topcoats te werken: de glitters/stukjes worden niet gelijk verdeeld waardoor je ze echt met het kwastje moet rondschuiven. Het effect vind ik dan wel weer de moeite dus ik neem dat gekluns er wel bij!
I've always found it very hard to work with topcoats that contain chunky glitters. The glitters are rarely distributed evenly so you have to use the brush to move them around a bit. I do like the effect though so I don't really mind the hassle.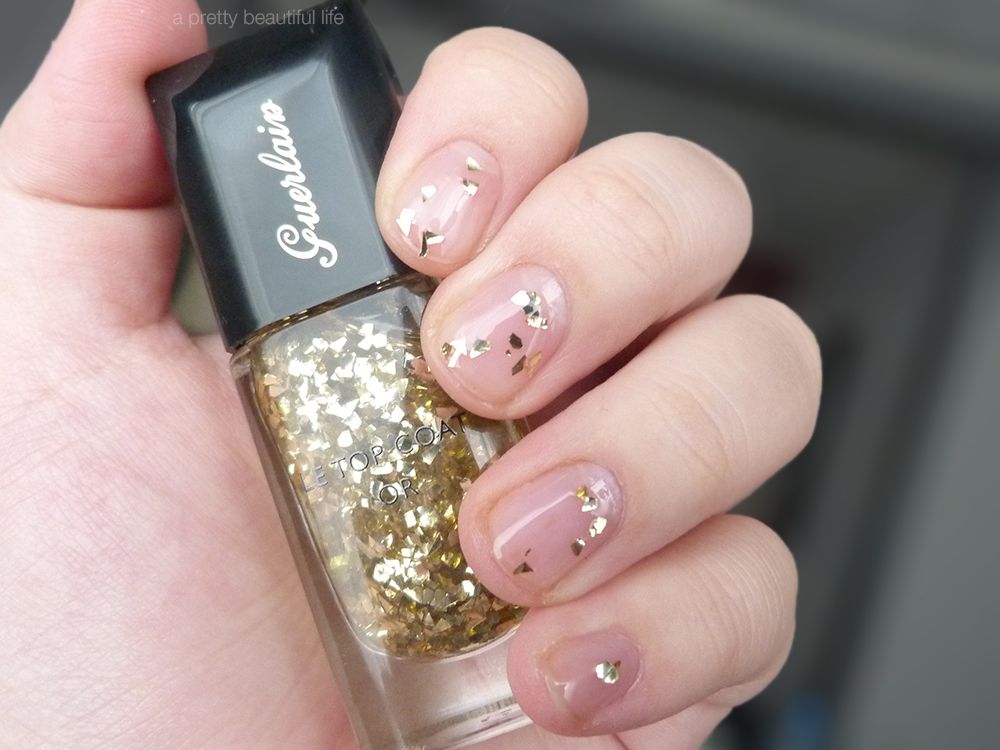 Ik combineerde ook beide lakjes met elkaar en het resultaat is fenomenaal mooi. Je ziet wel dat ik de glitters niet fatsoenlijk heb kunnen verspreiden over de nagels, maar you get the picture.
I also combined both nail polishes and I absolutely love the result. You can see that I didn't manage to spread the glitters evenly but you get the general idea.
We zijn nu aan de lippen gekomen – het hoogtepunt, al zeg ik het zelf! Ik heb de twee lipglossjes uit deze collectie: 920 Rouge Parade en 901 L'Oiseau de Feu.
And now, the higlight of the review: the lipglosses. I received both colours: 920 Rouge Parade and 901 L'Oiseau de Feu.
De lipglossen hebben een sponsapplicator. Ik vond het wel fijn om mee te werken – het enige nadeel is dat het nogal weinig product oppakt waardoor je een keer of twee terug in de tube moet gaan om meer product op te nemen.
The lipglosses have a sponge applicator. It doesn't pick up a lot of product though so that's a bit of a downside.
Rouge Parade is de mooiste kleur EVAR. Guerlain beschrijft het zelf als 'a deep black cherry' maar ik vind het meer een intense roodroze kleur. Ik vond de gloss wat moeilijk om aan te brengen en hij trekt een beetje in de lijntjes, maar verdorie, wat een fantastische kleur is dit. Ik vergeef je alles, Rouge Parade!
Rouge Parade has to be one of the prettiest colours ever. Guerlain describes it as a deep black cherry but I think it's more of an intense red-pinkish colour. The application didn't go very smooth as the gloss tends to settle into the lines of my lips, but I love this colour so much – I don't even care.
Dan is er nog L'Oiseau de Feu, een speciale topcoat voor de lippen die 'golden pearl particles' bevat. Ik gebruikte het op onderstaande foto zonder iets anders op mijn lippen. De subtiele glitters in de gloss laten je lippen direct voller lijken. Je kan deze gloss gewoon zo dragen of over je favoriete lipstick voor een intense glans. Tip: probeer deze niét over een lipgloss zoals Rouge Parade aan te brengen want dan eindig je met een rode applicator (ik spreek dus uit ervaring).
Then there's L'Oiseau de Feu, a special topcoat for your lips that contains golden pearl particles. I used it on its own so you could see the volumizing effects that the tiny golden particles give your lips. You can also apply it over your favorite lipsick for an intense glossy finish.
Je hebt nu wel vast door dat ik gek ben op deze collectie van Guerlain. Op en top feestelijk met veel gouden glitters! Vooral de Gloss d'Enfer in Rouge Parade is mijn favoriet, dus dit is een dikke aanrader. Zelf ga ik nog proberen om de fantastische Météorites te bemachtigen want die zijn echt to die for!
You've probably already noticed that I adore this collection by Guerlain. It's super festive and contains a lot of golden glitters – what's not to like? I especially love the Gloss d'Enfer in Rouge Parade and I'm pretty sure you guys do too. I'm definitely going to try and get my hands on the coveted Météorites. They are absolutely to die for!
Gloss d'Enfer – Rouge Parade & L'Oiseau de Feu / €29
Colour Lacquer – Coque d'Or & L'Oiseau de Feu topcoat / €23,50
L'Écrin 2 Couleurs – Cygne Noir & Cygne Blanc / €40,50
Rouge G – Rouge Parade / €45
Petrouchka eye&blush palette / €77
Coque d'Or Perfumes Shimmer Powder / €79
Nu verkrijgbaar in de parfumerie