Officieel is het al lente maar daar is nog niets van te zien. Om toch het zonnetje in huis te halen, toon ik jullie graag de nieuwe Terracotta Joli Teint Powder Duo's van Guerlain.
So it's supposed to be spring but you wouldn't say that when looking out of the window. But let's try and fix that with a dose of sunshine in a compact, shall we? Take a look at the gorgeous new Terracotta Joli Teint Powder Duo's by Guerlain!
De Terracotta-lijn van zal jullie ongetwijfeld bekend in de oren klinken (zo niet, neem dan zeker eens een kijkje op de site van Guerlain). Deze producten zijn immens populair en geliefd door vrijwel iedereen, ongeacht de huidtype of huidskleur.
Chances are you have already heard of the Terracotta products by Guerlain. They're immensely popular and loved by everyone, no matter their skintype or skin tone.

De Terracotta Joli Teint poeders bestaan uit twee complementaire kleuren: een warm bronspoeder en een frisse kleur (roze voor blondines en abrikoos voor brunettes) die je huid die samen de huid doen opleven en een gezonde glow geven. Alles wordt afgewerkt door het prachtige Guerlain logo in het midden van het poeder en de zonnestralen er rond.
The Terracotta Joli Teint Duo Powders consist of two complementary colours: one warm shade and one coloured shade (pink for blondes and apricot for brunettes) to deliver a burst of radiance and glow to your skin. The powder has the Guerlain logo stamped in it, surrounded by sunrays.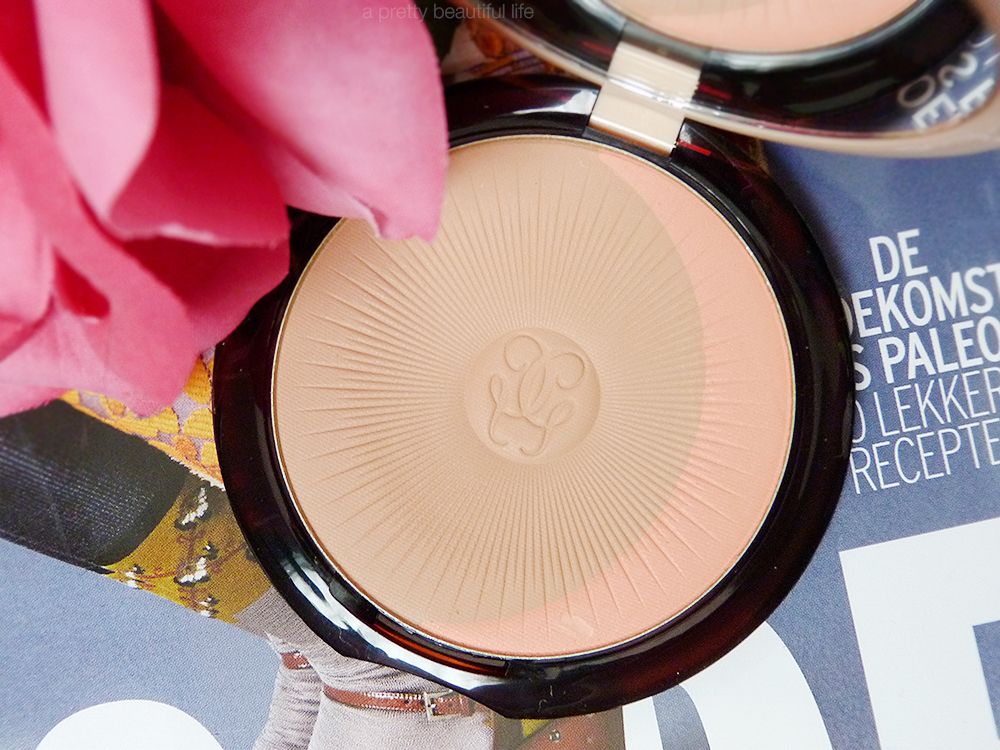 Er zijn 4 kleuren beschikbaar (00 Clair/Light Blondes, 01 Clair/Light Brunettes, 02 Naturel/Natural Blondes en 03 Naturel/Natural Brunettes). Ik heb de 'donkerste' kleur voor brunettes, wat ik technisch gezien ook ben (zwart is heel heel heel donkerbruin, niet waar?).
There are 4 available colours (Clair/Light 00 Clair/Light Blondes, 01 Clair/Light Brunettes, 02 Naturel/Natural Blondes and 03 Naturel/Natural Brunette) and I have 03.

03 Naturel/Natural Brunette is een vrij lichte bronzer met een abrikooskleurtje. Heel fris en gewoonweg mooi om te zien. Het poeder bevat trouwens kleine shimmerdeeltjes die je eigenlijk niet direct ziet op de huid – het zorgt voor een mooie glans zonder het 'glittereffect'.
03 Natural/Natural Brunette is quite a lightcoloured bronzer. It contains an apricot colour but it doesn't show up that much on the skin. The powder also contains a bit of shimmer – just enough to give the skin a glow.
Van links naar rechts zien jullie de bronzer, het gekleurde gedeelte en de twee gemengd. Zoals jullie kunnen zien, is dit toch de ideale bronzer: mooi op te bouwen, geen al te oranje ondertoon en glanzend zonder glitters of shimmers. Ik weet niet of het gekleurde gedeelte echt een invloed heeft op de uiteindelijke kleur van de bronzer waardoor je eigenlijk alle 4 de bronzers kunt gebruiken, ongeacht je haarkleur. Desalniettemin blijft dit één van de mooiste bronzers in mijn stash!
From left to right you can see the bronzer, the coloured shade and the two combined. To me this is the ideal bronzer: not too orange, a buildable colour without a large amount of noticeable shimmer. To be honest, I don't know if the coloured shade has a lot of effect on the final hue of the bronzer so I think you can just use any of the 4 availabe colours.
Guerlain Terracotta Joli Teint Natural Healthy Glow Powder Duo – €50,27