First of all: mijn oprechte excuses voor de afwezigheid. Ik werk nu full-time van 9 tot 6 en zit de hele dag achter een computerscherm waardoor ik 's avonds absoluut geen zin meer heb om nog een blogpost te tikken. Maar dat mag geen excuus zijn uiteraard! Vandaar dat jullie nu een uitgebreid artikel over de zomercollectie van Guerlain kunnen lezen.
Ugh, I seem to be posting something on my blog once a week now. So sorry but it's crazy busy at work and after sitting 8 hours behind my desk all day, I just don't feel like turning on my laptop to write a blog post. I'll try to do my best to post more (I've got so many good stuff that I want to show you!) but for now, I'm showing you this gorgeous Guerlain Summer 2015 collection.
Voor haar zomercollectie heeft Guerlain een hommage gebracht aan haar geliefde Terracotta lijn door haar inspiratie te halen bij de zon en zee. Het resultaat is een prachtige collectie met mintblauwe en bronstinten.
For their Summer collection, Guerlain used its famous Terracotta as a source of inspiration. The result is a mixture of bronzey and turquoise shades for an optimal summer feeling.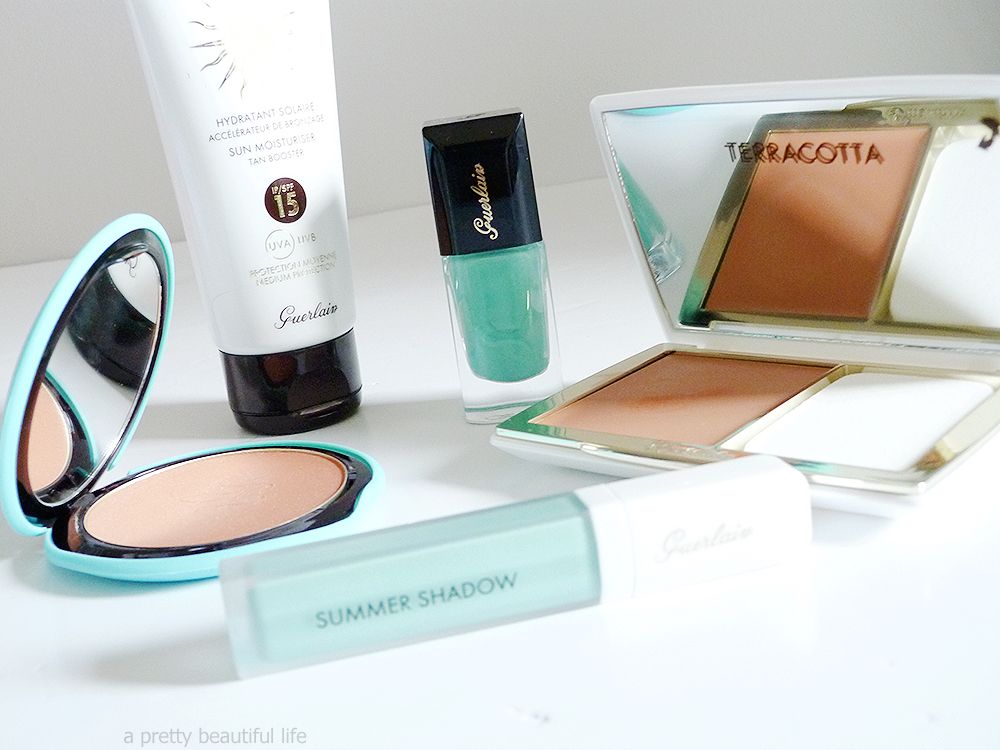 De Summer Shadows zijn cream oogschadows met een waterproof formule waardoor je gerust de hele dag op het strand kan paraderen zonder dat je oogschaduw verdwijnt. Er zijn 2 kleuren beschikbaar: Blue Ocean en White Sand.
The Summer Shadow eyeshadows have a creamy, waterproof formula and are available in two colours, Blue Ocean and White Sand.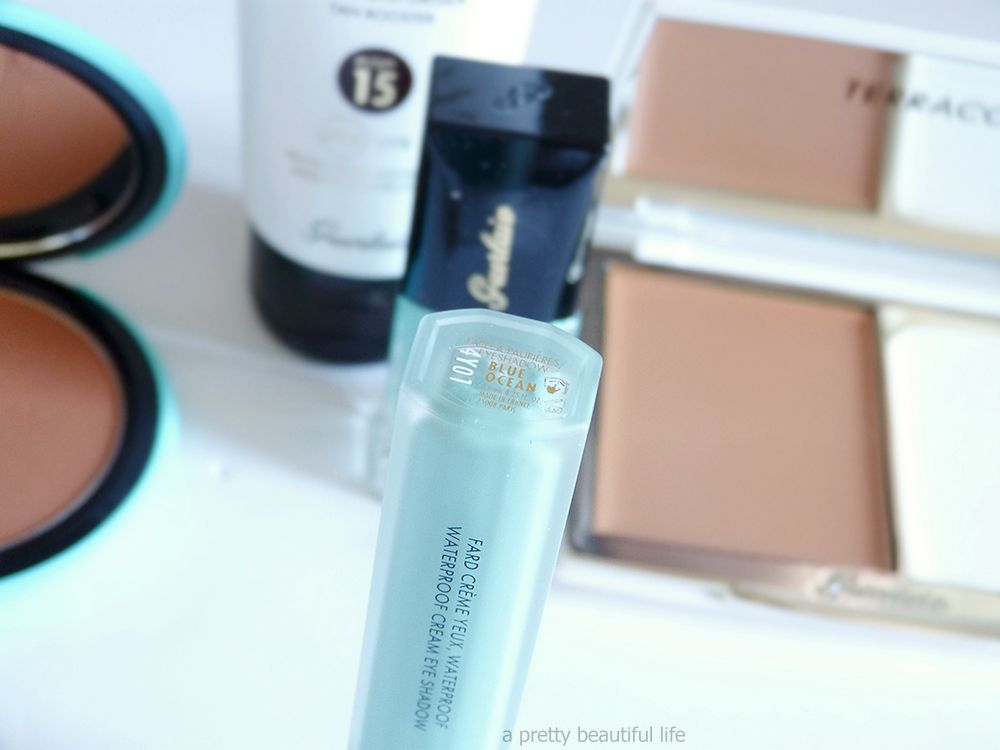 De oogschaduw heeft een sponsapplicator waardoor het geheel sterk doet denken aan een lipgloss.
De oogschaduw is heel romig en voelt lekker fris aan. Hij plakt niet en is gemakkelijk te blenden. Alleen is de pigmentatie niet denderend. Op zich valt het mee maar vanaf het moment dat je het probeert te blenden, hou je enkel een lichte blauwe waas over. Op zich geen minpunt want je kan de kleur gewoon netjes opbouwen, maar wie een sterk gepigmenteerde cream eyeshadow verwacht, moet dit product overslaan.
The eyeshadow is very creamy and is easy to blend. However, the product is not opaque at all. Once you've blended the eyeshadow out, you're left with a wash of colour. This isn't necessarily a bad thing, but if you're expecting a fully opaque cream eyeshadow, you'd better skip this one.
In deze collectie zitten er ook nog 2 bronzing powders met elk een speciale, rubberen sleeve die je van het doosje kunt afhalen. Een leuk detail!
This collection also contains 2 bronzing powders, each containing a special rubber removable sleeve.
Hier zien jullie #02, een bronzing poeder met een warme, rode ondertoon en gouden shimmers.
Dit poeder is erg zacht en verstuift absoluut niet. De kleurafgave is prima en geeft je direct een gezonde, zomerse gloed!
The powder is very soft and has a lot of pigmentation. It's perfect for creating a warm, healthy glow.
Guerlain lanceert ook een volledig nieuw product in deze collectie: de SPF 20 Terracotta Compact Foundation dat huidverzorging en makeup naadloos met elkaar combineert.
Guerlain also launches a completely new product: the SPF 20 Terracotta Compact Foundation that combines makeup and skincare effortlessly.
Deze foundation is erg gemakkelijk aan te brengen dankzij het sponsje. Het voelt niet vettig aan en kan met gemak in de huid geblend worden. Het effect is een matte huid met een gezonde gloed. Zoals jullie kunnen zien, is Sand te donker voor mij, maar ik hou van de formule en de dekking!
The foundation is easy to apply and really melts into the skin. As you can see, 'Sand' is way too dark for me but I'm definitely a fan of the coverage and feel of this product.
Last but definitely not least: de Terracotta Sun Moisturiser Tan Booster. Het is eigenlijk zonnebescherming voor je gezicht maar met alle voordelen van een goede moisturiser. Dit goedje belooft om je huid intens te hydrateren én je te beschermen tegen de schadelijke zonnestralen – het is dus meer dan een zonnebrand voor je gezicht.
The Terracotta Sun Moisturiser Tan Booster is a moisturiser that also protects your skin against the sun. It's non-sticky and feels extremely hydrating.
Om af te sluiten, toon ik graag deze prachtige nagellak in de kleur 700 Blue Ocean.
Kijk naar die kleur! Ik hoef er toch geen uitleg meer bij te geven? Dit is een fantastische turquoise kleur die prachtig staat bij iedereen. Op en top zomers!
Summer Shadow – €32
Terracotta #2 Bronzing Powder Moisturizing and Long Lasting – €52,5
Terracotta Sun Sun Protection Compact Foundation – €61
 Blue Ocean La Laque Couleur – €26
Terracotta Sun Moisturiser Tan Booster – €42,95