Tijdens de persdag van LVMH was er één display dat direct in het oog sprong: dat van de Guerlain Kiss Kiss lipsticks. Deze welgevormde, zwarte tubes met gouden details trokken mijn aandacht en als een mot bij een vlam bleef ik rond het display hangen. Gelukkig kreeg ik twee exemplaren mee die ik jullie in dit artikel heel graag wil tonen.
During the pressday at LVMH, there was one display that caught my attention: the Guerlain Kiss Kiss lipsticks. These new lipsticks kept pulling me like a moth to a flame. The gorgeous, sleek, black packaging with the golden details are just so captivating. Luckily I got to go home with two lippies and I'm very eager to show them to you.
Nu zijn deze KissKiss lipsticks niet helemaal nieuw: het zijn eigenlijk 'revamped' versies van de originele KissKiss producten die nu, in plaats van een gouden huls, een zwart laagje hebben gekregen. Volgens de creative director van Guerlain, Olivier Echaudemaison, moet elke vrouw minstens drie tinten lipsticks in haar bezit hebben en ik denk dat deze Kiss Kiss lipsticks daar zeker voor kunnen zorgen. Ik heb alvast een nude kleurtje en een rode tint dat perfect voor overdag is.
The Kiss Kiss lipsticks aren't completely new. They're actually a revamped version of the original Kiss Kiss products but instead of a golden packaging, these new lipsticks received a black colour. According to Guerlain's creative director, Olivier Echaudemaison, every woman needs at least three shades of lipstick. These Kiss Kiss ones make me want ALL shades so I think he translated that idea into this collection really well.
Ik kreeg een feestelijke, goudbeige tint (Golden Girl) en een frisse, rode kleur (Rouge Kiss). Het zijn beiden kleuren die ik niet zelf direct zou kiezen, maar waar ik nu erg van overtuigd ben!
I got a festive, gold beigey colour (Golden Girl) and a soft red (Rouge Kiss). I wouldn't pick out these colours myself but I'm pleasantly surprised by how well these colours suit most skintones, including mine.
De textuur van deze Kiss Kiss lipsticks is erg zacht en romig. Dat is te danken aan onder andere mangoboter dat voor hydratatie zorgt en hyaluronzuur en mirre-olie die de lippen gladder en voller maken. Ik vind dat de lipsticks zo zacht als lippenbalsems aanvoelen maar de pigmentatie van een goede lipstick hebben.
The texture of the Kiss Kiss lipsticks is super soft and creamy thanks to mango butter that hydrates the lips. Hyaluronic acid and myrrh oil make the lips softer and fuller. I personally find that these are like very pigmented lipbalms.
Golden Girl ziet er misschien een beetje te eighties uit in de huls, maar aangebracht geeft het een subtiel en mooi effect. Het heeft een nude effect en de gouden glitters geven je lippen een mooie glans. Niks te disco-achtig – I like it!
Golden Girl gives off a strong eighties vibe but when applied, the colour is very soft and nude. The golden sheen is very pretty and makes your lips look nice and full.
Rouge Kiss is de 'star shade' van deze collectie. Het is een koraalrode kleur dat er minder fel uitziet dan op de promotiefoto's, maar dat vind ik niet erg. Ik vind het persoonlijk mooier en meer draagbaar! Rouge Kiss geeft mijn lippen een zachtrode kleur dat fris en best natuurlijk oogt.
Rouge Kiss is the star shade in this collection. It's a coral red colour that actually appears to be less vibrant than on the promotional pics. I personally don't mind because I find it looks prettier and more wearable. Rouge Kiss gives my lips that natural, red flush with a nice sheen.
Het prachtig gezicht van deze collectie, Natalia Vodianova, draagt hier trouwens ook Rouge Kiss. Het ziet er wel heel anders uit dan mijn foto's, niet waar? Al kan je deze kleur erg goed benaderen door meerdere laagjes van Rouge Kiss aan te brengen.
The face of this collection, Natalia Vodianova, is wearing Rouge Kiss on this picture. It does look quite different from my pictures, but you can definitely get a similar intensity by layering the lipstick.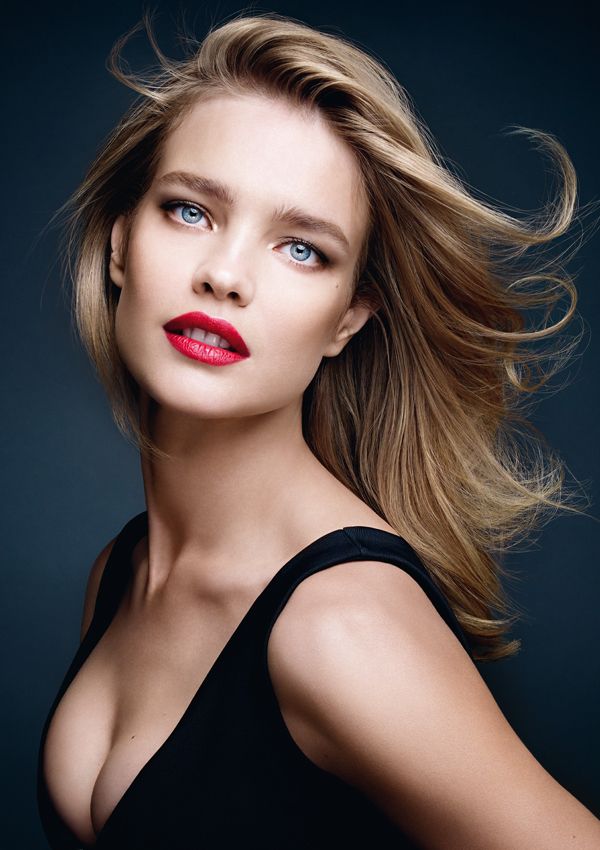 Wat ben ik blij met deze schatjes! Het zijn echte topproducten, dat merk je al vanaf het eerste laagje dat je op je lippen aanbrengt. Andere kleuren die me aanspreken zijn Air Kiss en Cherry Pink, maar stiekem wil ik elk exemplaar uitgestald in mijn slaapkamer. Guerlain, you did well!
I am so happy with these lippies! They're really great products, as you will definitely notice when you swatch these in the store. Other colours that I'm currently lemming, are Air Kiss and Cherry Pink. But let's be honest here: who doesn't want to own every colour from this collection? Guerlain, you did well!
Guerlain Kiss Kiss lipstick – €36