Hey y'all. Allereerst mijn excuses voor mijn kleine afwezigheid. Ik zit voor mijn werk elke dag bijna 8 uur achter mijn computerscherm en dan heb ik 's avonds vaak geen zin meer om mijn laptop aan te zetten. Maar goed, vandaag ben ik weer terug met enkele nieuwe, toffe producten van GOSH. Zoals altijd: blijf lezen om meer te weten te komen over deze wenkbrauwgels.
Hey everyone. First of all: my apologies for being absent the last few days. I have to sit behind a computerscreen for almost 8 hours a day so I don't really feel like opening my laptophttp://www.aprettybeautifullife.be/wp-admin/post.php?post=10663&action=edit again when I get home. Anyway, I'm back again with a review of some new products by GOSH. As per usual: keep reading if you want to know more about these brow gels.
Voor mij zijn sterke wenkbrauwen een must. Een goed gedefinieerd paar wenkbrauwen geeft je gezicht meer uitstraling en karakter. Nu, omdat mijn wenkbrauwen heel raar groeien, ben ik veel bezig om ze goed in model te brengen. Wenkbrauwgels heb ik nooit gebruikt omdat mijn haartjes recht naar beneden groeien dus had het weinig zin, maar deze gekleurde varianten vind ik wel erg geslaagd.
Strong eyebrows are a must: they define your face and give it more character. Now, I have very strange brows (they grow downwards instead of upwards) so I spend a lot of time grooming them. I never used brow gel because of the way my hair grows, but I'm definitely digging these coloured ones by GOSH.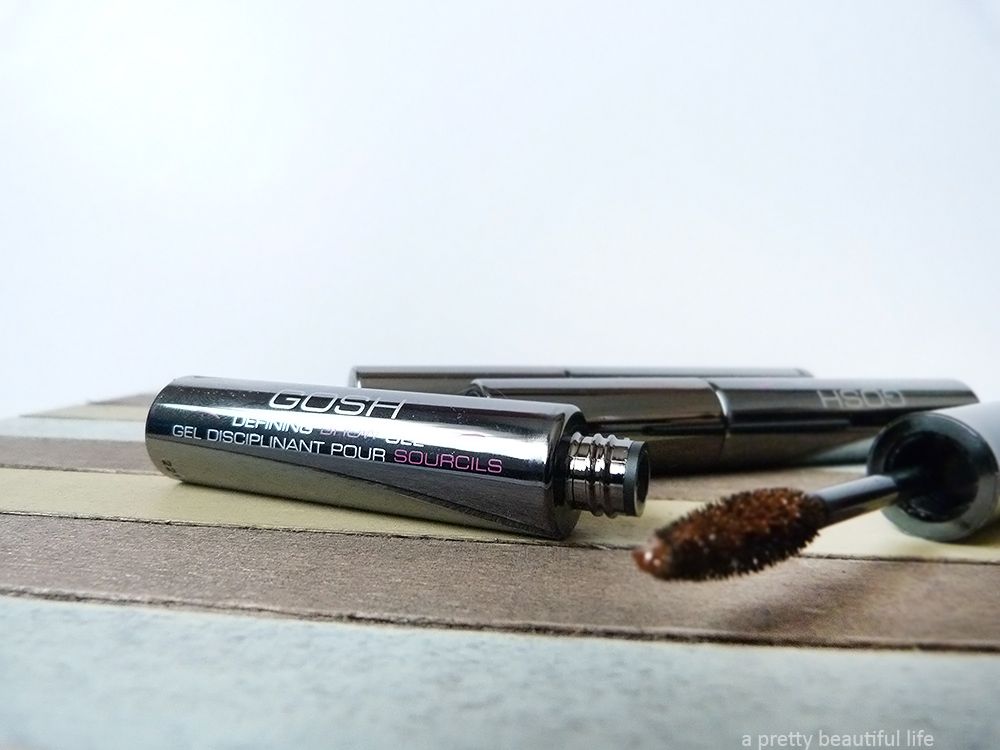 De gels komen in vier kleuren: 001 Clear, 002 Brown, 003 Brown/Grey en 004 Black. Ik heb 001 Clear niet maar ik denk dat jullie wel snugger genoeg zijn om te weten hoe die er uit ziet 😉
These brow gels are available in four colours: 001 Clear, 002 Brown, 003 Brown/Grey and 004 Black. I don't have Clear but I think you're all clever enough to know what one looks like 😉
De gels komen in een glanzende zwarte huls en hebben allemaal een spoolie brush ding. Ik vind het borsteltje wel wat kort waardoor ik de hele tijd mijn neus raak met mijn hand (als je je er iets bij kunt voorstellen). Het had voor mij dus wat langer mogen zijn, gewoon voor het gemak.
The gels come in a shiny and sleek packaging and have spoolie brushes. I think the wand is a bit short – I always hit my nose with my hand while applying the gel.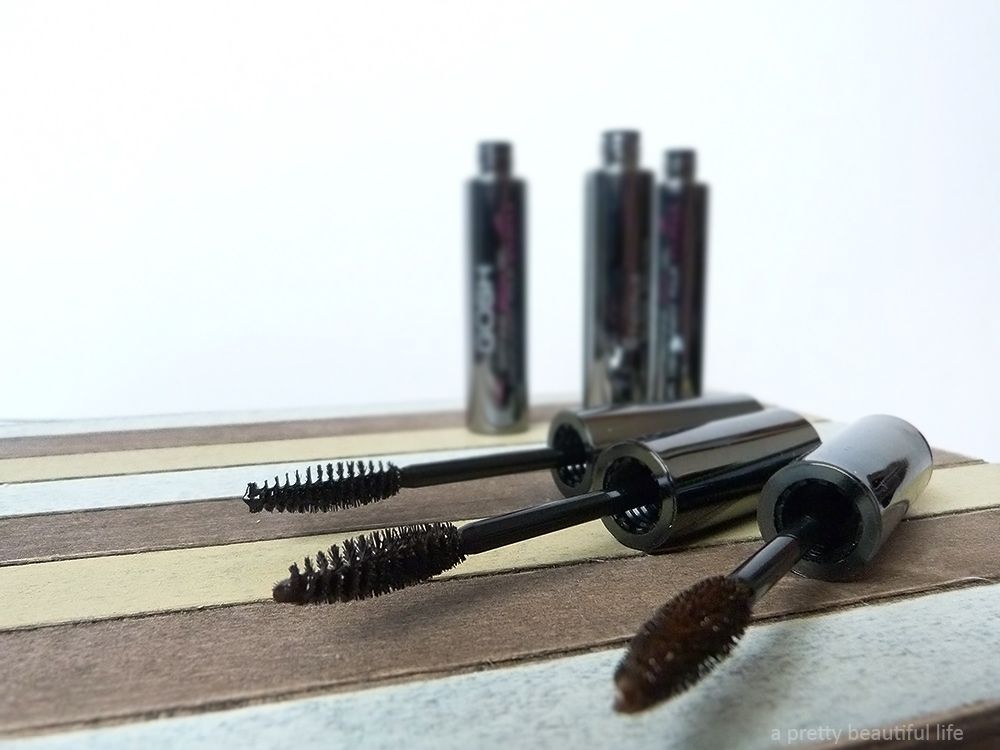 Wat ik zo geweldig vind, is dat je een duidelijk kleurverschil ziet tussen de gels. En de kleur is ook goed zichtbaar! Bij sommige andere brow gels lijken alle kleuren een beetje op elkaar en dan heb je er weinig aan. Deze geven je wenkbrauwen echt wel een kleurtje en houden ze netjes in model. Ik gebruik 004 Black altijd nadat ik mijn MUFE Aquabrow heb aangebracht, om de kleur wat intenser en egaler te maken. Dit zijn toch echt wel één van de betere brow gels op de markt dus ik raad ze zeker en vast aan!
What I love about these gels is that you can clearly see a colour difference. Some brands also have coloured brow gels but they all look alike and you can't even see the colour when applied. These gels by GOSH really tint your brows and keep them in check during the day. I always use 004 Black after I applied my MUFE Aquabrow for an even more intense colour effect. I definitely think GOSH has launched one of the better brow gels on the market so I really recommend them to everyone.
GOSH Defining Brow Gels – €8,29