De herfst- en wintercollecties beginnen langzaamaan hun weg te vinden naar de winkels. Ik toon jullie alvast graag die van GOSH. Deze bestaat uit 2 mascara's, 3 lippotloden, 3 nagellakken, 3 wenkbrauwgels en  8 nieuwe lipsticks. Laten we snel een kijkje nemen naar deze nieuwe Velvet Touch Lipsticks!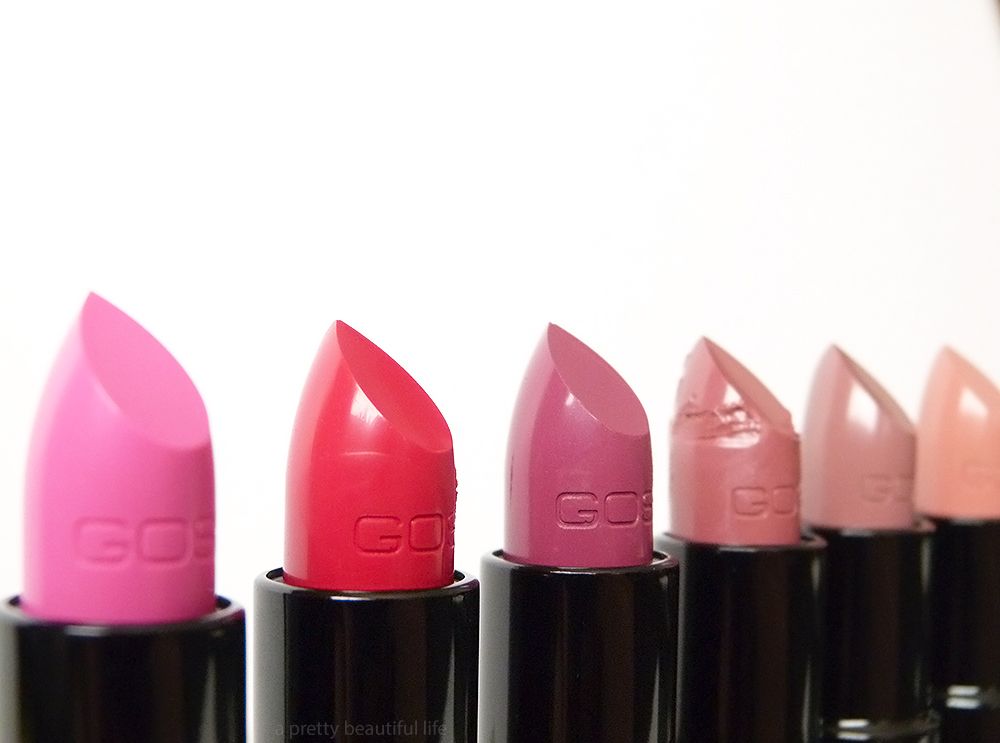 The autumn and winter collections are slowly making their way to the stores. Today I'll be showing you the collection by GOSH, which consists of 2 mascara's, 3 lip pencils, 3 nail polishes, 3 brow gels and 8 lipsticks. Let's take a look at the latter: the new Velvet Touch lipsticks!
De Velvet Touch Lipsticks maken al lang onderdeel van de vaste collectie van GOSH. Deze herfst worden er 8 nieuwe kleuren toegevoegd: allemaal creamy lipsticks met licht-refelecterende deeltjes die je lippen voller laat lijken. De vitamine E en extracten van plantaardige oliën beschermen en hydrateren de lippen.
The Velvet Touch Lipsticks have been a part of GOSH's regular collection for a while now. But this autumn, they're adding 8 new colours: all creamy colours with light-reflecting particles that make your lips look fuller. Vitamin E and extracts of vegetable oils protect and hydrate the lips.
Er zijn dus 8 nieuwe kleuren, gaande van mooie nudes tot felroze en donkerrood. Ik vind het een mooie mix van draagbare en opvallende kleuren, voor zowel overdag op het werk als voor een avondje stappen.
There are 8 new colours, ranging from natural nudes to hot pink and berry red. This is a beautiful mix of wearable and flashy colours, suitable for work or for an evening out.
Hieronder een swatch van alle kleuren op een rij. Ik ga ze nu één voor één in detail tonen.
Here's a swatch of all the colours. I'm now going to show them to you, one by one.
De eerste vier kleuren heten 155 Innocent, 156 Romance, 157 Precious en 158 Yours Forever. Het zijn allemaal rozige tinten – de vier anderen hebben een andere ondertoon.
The first four colours are called 155 Innocent, 156 Romance, 157 Precious and 158 Yours Forever. These are all pink-based hues – the four other colours have different undertones.
155 Innocent is een lichtroze, beige tint. Bij mijn gepigmenteerde lippen ziet het er heel onnatuurlijk uit, een beetje à la Nicki Minaj, en dat is niet een look dat ik graag draag.
155 Innocent is a light pink, slightly beige colour. I have quite pigmented lips so this looks quite unnatural, a bit like Nicki Minaj. Unfortunately, this is not the kind of look that I'm after so I'm not a big fan of this colour.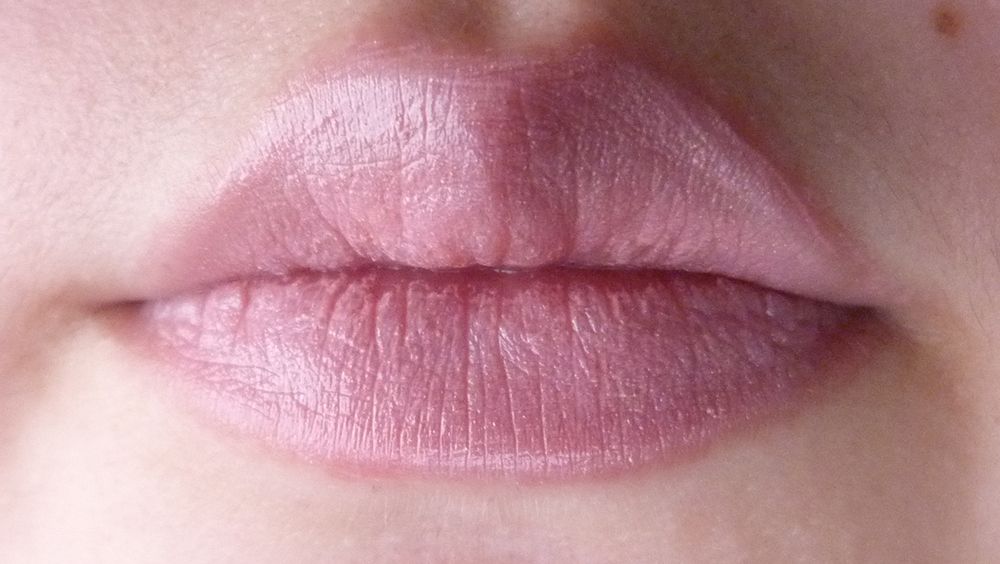 156 Romance is een witroze kleur met blauwe ondertoon. Verschrikkelijke kleur bij mij, maar fantastisch bij anderen.
156 Romance is a milky pink colour with a blue undertone. It's a horrible colour on me, but I do think it looks great on others.
157 Precious is een erg speciale kleur. Het ziet er echt heel fel roze uit, maar bij het aanbrengen is het een beetje transparant zodat je de kleur mooi kunt opbouwen. Ik vind dat het een ongelofelijk mooie kleur is, en de finish is fantastisch. De formule is echt fijn en zorgt voor een mooie glans. Heel raar, maar de andere lipsticks hebben deze formule niet.
157 Precious is a very special colour. It looks like a bright pink, but the formula is a bit transparant which allows you to layer the colour. I love this lipstick and the finish is great. The formula is very lovely and leaves your lips nice and glossy. It's weird but this is the only one of the bunch with this kind of formula and texture.
Dan is er nog 158 Yours Forever. Het is een donkerroze kleurtje dat sterk naar rood neigt. Een erg mooie en draagbare kleur, ik hou er van!
Then there's 158 Yours Forever, a dark pink that's almost red. It's a very beautiful and wearable colour, I love it!
De vier laatste kleuren zijn meer beige-achtig, behalve de ene bordeaux kleur. Dit is meer mijn ding, want roze en ik vloeken nogal. Hier zijn 159 Boheme, 160 Delicious, 161 Sweetheart en 162 Nude.
The last four colours are more beige-bases, except for the one berry red colour. I prefer these to the first four lipsticks, since pink and I don't really go well together. Here are 159 Boheme, 160 Delicious, 161 Sweetheart and 162 Nude.
159 Boheme is de mooiste kleur van ze alle acht! Het is een bordeaux, bessenrode kleur dat niet té donker is. Het geeft je geen gothic look, maar is wel een speciaal kleurtje.
159 Boheme is, in my opinion, the most beautiful colour of the bunch. It's a berry red colour that's not too dark. It doesn't give you that gothic look, but it is a special colour.
160 Delicious is een simpele roze kleur. Het is een mooie neutrale kleur dat een beetje 'my lips but better' is.
160 Delicious is a nsimpel pink colour. It's a nice neutral lipstick that's a bit 'my lips but better'.
161 Sweetheart is een beige kleur met een vleugje roze. Erg draagbaar, en voor mij komt deze al in de buurt van een nude lipstick.
161 Sweetheart is a beige colour with a hint of pink. It's very wearable and for me, it's a good nude lipstick.
162 Nude is voor mij de perfecte nude. Het lijkt op de vorige kleur, maar met minder roze.
162 Nude is the perfect nude for me. It looks a lot like the last colour, but with a little less pink.
Ik ben best een grote fan van al deze kleurtjes, behalve de eerste twee. Deze zijn té licht en té roze voor mij, en ze brengen ook niet mooi aan op mijn lippen. Er zijn ongetwijfeld wel meiden die gek zijn op dit soort kleurtjes, maar ik ben er alvast geen fan van.
Al de andere kleuren zijn wel mijn ding. Voor mij is deze collectie dus enorm geslaagd! Ik vind de formule erg fijn en hydraterend, en de lipsticks blijven verrassend goed zitten. De glans verdwijnt wel bij het eten en drinken, maar de kleur blijft urenlang zitten. Ik ben erg onder de indruk!
I'm a big fan of these colours, except for the two first ones. These are too light and too pink for me, and they don't apply nicely to the lips either. Nevertheless, I'm sure there are people out there who love these types of colours, but they're not for me. The other lipsticks are great, so overall, this collection is a hit for me. I love the formula: it's hydrating and gives a nice glossy finish to the lips. The lipsticks also stay on the lips for a very long time. The shine will disappear after a few drinks or a meal, but the colour stays put for a few hours. I'm very impressed!
Wat mij wel is opgevallen, is de ongelijkheid wat de formules betreft. 157 en 158 zijn meer glossy en hydraterend dan de rest, terwijl de laatste 4 kleuren meer matte zijn. Raar dat de formules zo anders zijn. Dit is trouwens niet de eerste keer, want de Lip Lacquers verschilden ook erg.
What I noticed, is that the formulas of the lipsticks are quite inconsistent. 157 and 158 are glossy and hydrating, while the last 4 colours are more matte. It's so weird that there's such a big difference between the formulas. Unfortunately, this isn't the first time that this has happened: the Lip Lacquers also had different formulas.
Hier is ook een voorproefje van de hele collectie. Laat me zeker weten naar wat jullie het meeste benieuwd zijn, dan kan ik deze eerst reviewen!
Here's also a preview of the entire collection. Be sure to let me know what you'd like to see first!
GOSH Velvet Touch Lipsticks – €9,49