Givenchy heeft mijn aandacht maanden geleden kunnen trekken met haar campagnefoto's voor de herfst-/wintercollectie: Extravagancia. De leren toetsen op de verpakkingen, het opvallend goud,… Op en top luxe waar je niet langs kunt kijken. Ik ontving enkele productjes uit deze fantastische collectie en ik sta echt te springen om deze met jullie te delen!
Givenchy caught my eye a few months ago when they launched their gorgeous campaign pics for the autumn/winter make up collection Extravagancia. The leather touches on the packaging, the golden print… Luxury to the max. I received a few products from this collection and I can't wait to share these with you.
Zullen we beginnen met dé blikvanger uit deze collectie? Aanschouw, het prachtige Palette Extravagancia. Dit palette heeft vier sprankelende oogschaduws en een transparante roze lipstick, verpakt in een prachtig doosje met ledereffect en gouden opdruk. Als je nu niet spontaan naar je adem grijpt als je dit palette in handen hebt, dan is er iets mis met je want dit is toch één van de mooiste verpakkingen in de geschiedenis van make up palettes.
Let's start with the eyecatcher of the collection, the Palette Extravagancia. This beauty contains four stunning eyeshadows and a transparant pink lipstick, packaged in a gorgeous faux leather case with golden print. I think this is one of the most beautiful make up packagings that has ever existed, so kudos to you, Givenchy!
De 4 oogschaduws in dit palette hebben verschillende finishes (satijn, matte, glitter). Linksboven wordt een glitterbom, dat kan je al zien! Nu, de kleurencombinatie is uniek maar ik vind dat ze elkaar goed aanvullen. Paars en goud, hoe mooi is dat wel niet?! En het matte bruin zorgt voor een mooie basiskleur waarmee je o.a. smoky eyes kan maken. En de grijze kleur met glitters linksboven zorgt voor een enorme feestelijke touch.
The 4 eyeshadows in the palette have different finishes (satin, matte, glitter). The combination of the colours is quite unique. I especially love the gold and purple combination. The matte brown adds a nice basis touch, perfect for e.g. smoky eyes or contouring. And the glitter eyeshadow will help turn any look into a party look.
Het palette bevat nog een transparante lipstick, maar ik vind het meer een gloss of lippenbalsem want het is best voedend. Op de swatches (beneden) zie je wel een beetje een roze kleur, maar helaas verdwijnt dit effect als je het aanbrengt op je lippen. Dat kan ook natuurlijk aan mezelf liggen want ik heb best gepigmenteerde lippen dus dan zie je zulke lichte kleuren niet gemakkelijk.
The palette also contains a transparant lipstick but I find it's more like a gloss or a lipbalm since it's quite hydrating. In the picture with the swatches you'll see a hint of pink but that effect doesn't show up on the lips (of course that can be due to the fact that I have quite pigmented lips myself).
Goede pigmentatie? Check. Feestelijke kleuren en verschillende finishes? Check en check. Ik ben vooral onder de indruk van de kleur linksboven; ik heb al vaak meegemaakt dat oogschaduws met veel glitter niet goed gepigmenteerd zijn, maar dat is hier absoluut niet het geval.
De bruine kleur is trouwens matte, maar ik had mijn vinger niet goed afgeveegd waardoor een paar glittertjes van de eerste kleur zijn meegelift 😉 De paarse tint is echt heel mooi en zacht, maar springt er toch genoeg uit om je een kleurrijke touch aan je ooglook te geven.En de laatste kleur. Mijn god, wat is deze prachtig. Het is net… Puur licht. Kijk hoe mooi! Dit is perfect om op het midden van je bewegend ooglid aan te brengen om je ogen meer dimensie te geven. Of breng wat aan op de binnenkant van je ogen voor een oplichtend effect.
Great pigmentation? Check. Beautiful, festive colours and different finishes? Check and check. I'm mostly impressed by the glittery colour; often you'll see that eyeshadows with that amount of glitter don't have decent pigmentation, but Givenchy definitely made this one work.
The brown eyeshadow is supposed to be matte but a few glitters from the first eyeshadow hitchhiked onto this swatch. The purple eyeshadow is a gorgeous soft colour, and the gold eyeshadow is absolute perfection. It's like pure light or something. You can dab a bit onto your eyelid to give your eye a bit more depth, or apply it onto the inner corners of your eyes for a brightening effect.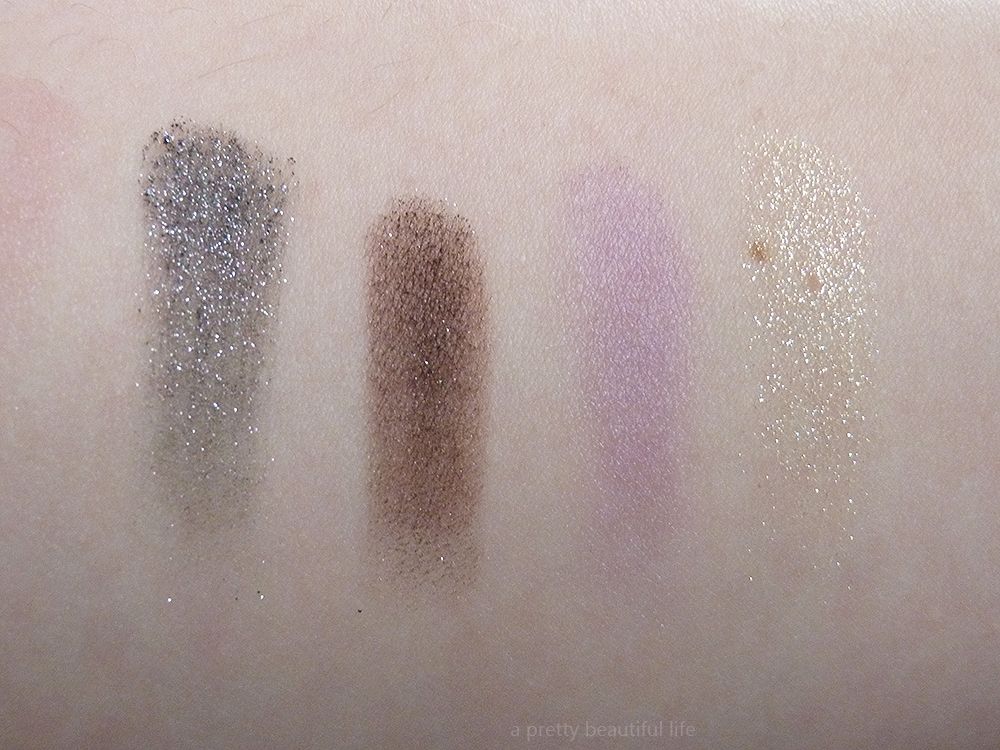 Dit is trouwens de lipstick. Zoals je kunt zien, is hij zeker niet volledig transparant en kan je de roze kleur duidelijk zien. Alleen zie je daar niks van terug op mijn lippen (vandaar dat ik geen swatch heb gemaakt).
Here's also a swatch of the lipstick. As you can see, it's not completely transparant, but the pink colour doesn't show up on my pigmented lips.
Uit deze collectie heb ik nog een prachtig nagellakje ontvangen. Hier heb ik Le Vernis Givenchy in Bronze Insensé. Deze kleur vond haar inspiratie in de glans van zeldzame metalen.
I also received a gorgeous nailpolish from this collection. This is Bronze Insensé, a Le Vernis Givenchy that got its inspiration from rare metals.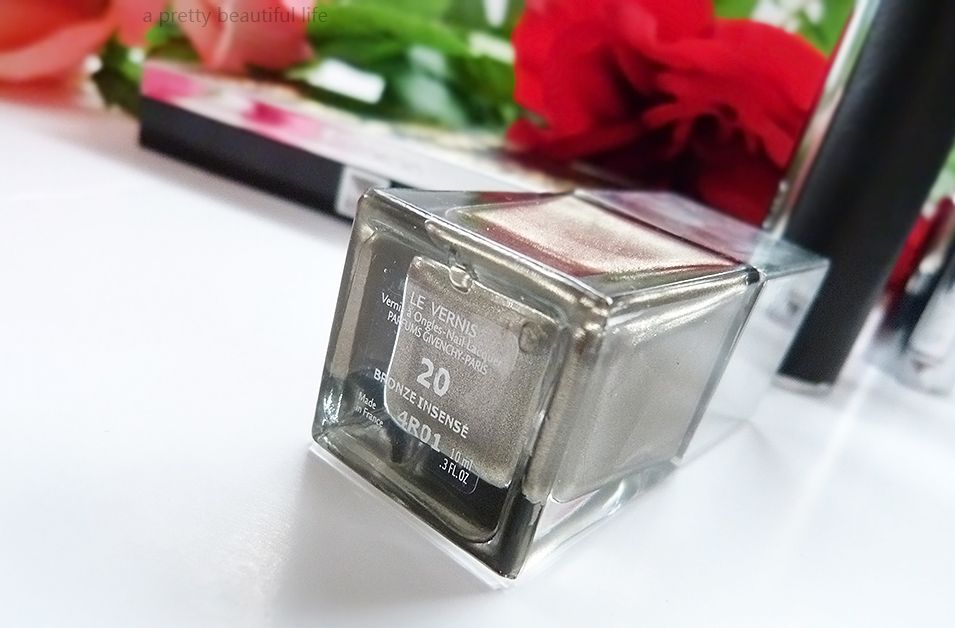 Het kwastje vind ik perfect: net breed genoeg om mijn hele nagel in één beweging te kunnen lakken. Foutjes worden dus ook niet snel gemaakt met dit kwastje.
The brush is perfect: it's just wide enough to cover my entire nail with just one swipe.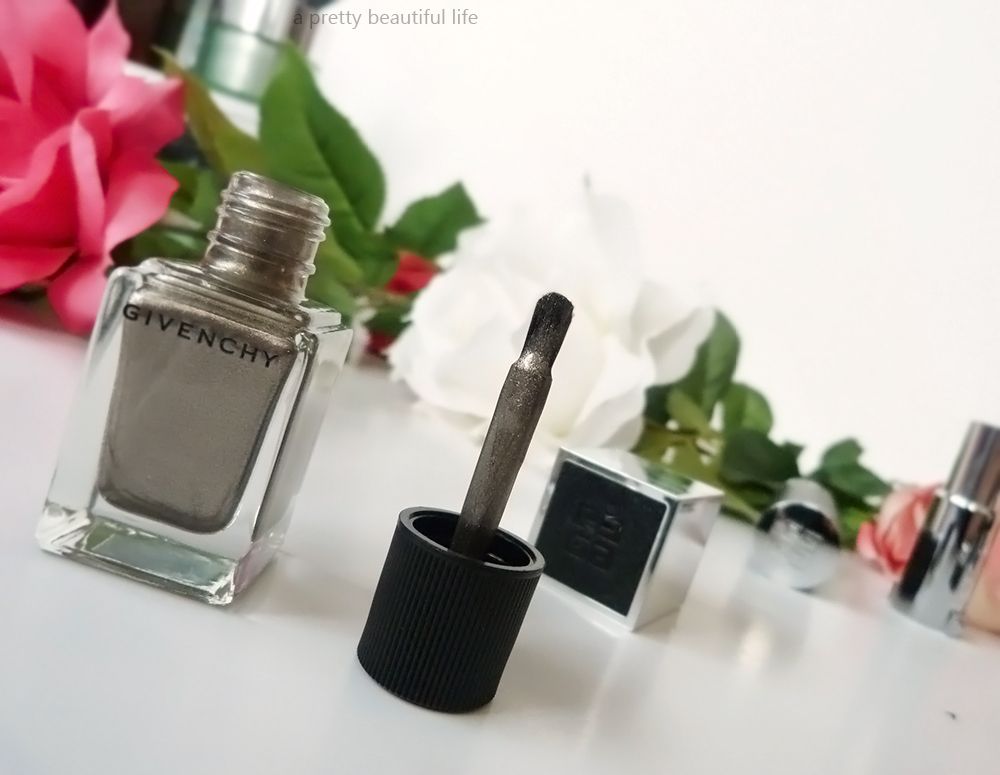 Ik vond het heel moeilijk om deze nagellak goed op foto te krijgen. Het verandert van kleur naargelang de lichtinval. Wel vind ik het effect echt prachtig! Inderdaad, gesmolten metaal op je nagels. Echt betoverend! Wat mij betreft, wordt dit mijn nagellakkeuze voor de feestdagen.
It was quite a difficult task to capture this nailpolish correctly. The colour really changes and depends on the light. I really really love the effect; it's exactly like molten metal. Quite enchanting, actually! I'm pretty sure I just found my nailpolish for the holidays.
En dan mijn persoonlijke favoriet uit de collectie: Le Rouge Givenchy in Pourpre Inouï. Ik zag deze tijdens de persdag bij LVMH en ik toen ik deze kleur in handen had, wilde ik hem niet meer loslaten. Gelukkig heb ik hem nu in mijn bezit!
My favorite piece from this collection is Le Rouge Givenchy in Pourpre Inouï. I already spotted this beauty during the LVMH pressday and I found it very hard to let go of this lipstick. Luckily I now got my hands on this beauty!
Kijk naar die kleur. Zo betoverend mooi. Ik ben al maandenlang op zoek naar de perfecte bordeaux/berry lipstick en ik denk dat ik hem nu heb gevonden. Niet te rood, maar zeker ook niet te donker – ik ben niet van plan om goth the worden. En natuurlijk speelt de prachtige huls met leeropdruk ook een belangrijke rol in het hoge hebben-gehalte van deze lipstick.
Just look at the colour – isn't it enchanting? I've been looking for the perfect bordeaux/berry lipstick for a while now and I think I really found it this time. Pourpre Inouï is not too red but definitely not too dark – I'm not going for a goth look. And the luxurious packaging with the faux leather of course plays a big part in how much I coveted this lipstick.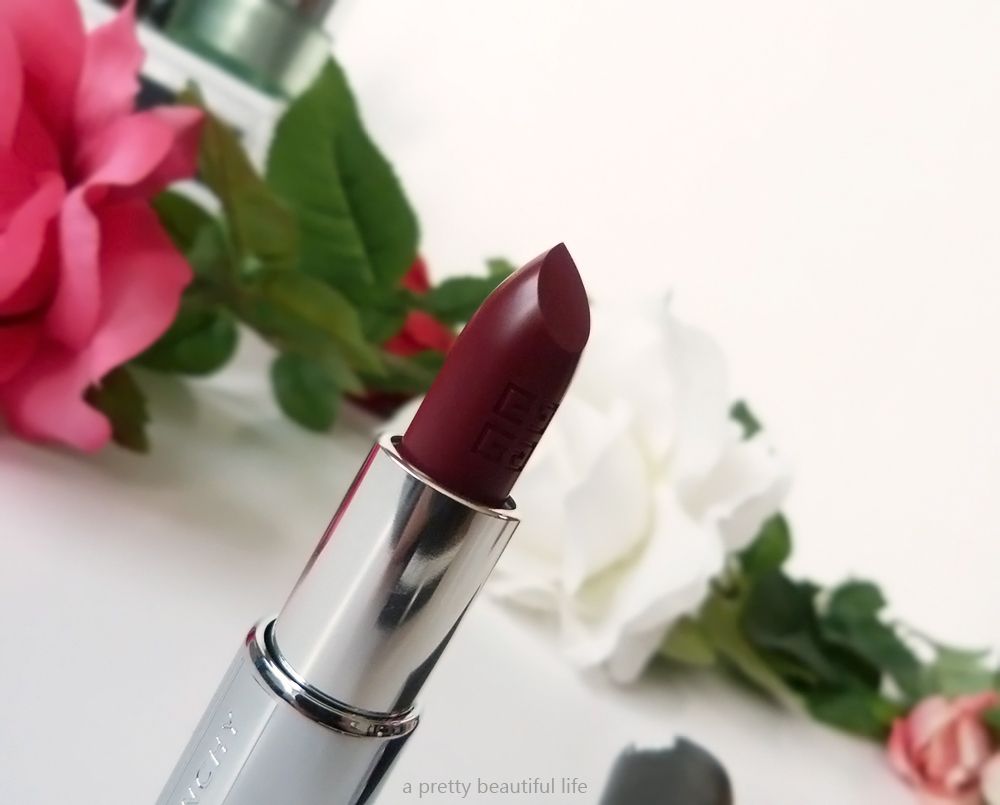 Zoals ik wel had verwacht, is de lipstick superromig en enorm gepigmenteerd. Perfectie, meer kan ik hier niet over zeggen.
Like I expected, this lipstick is super creamy and very opaque. Perfection, that's all I've got to say.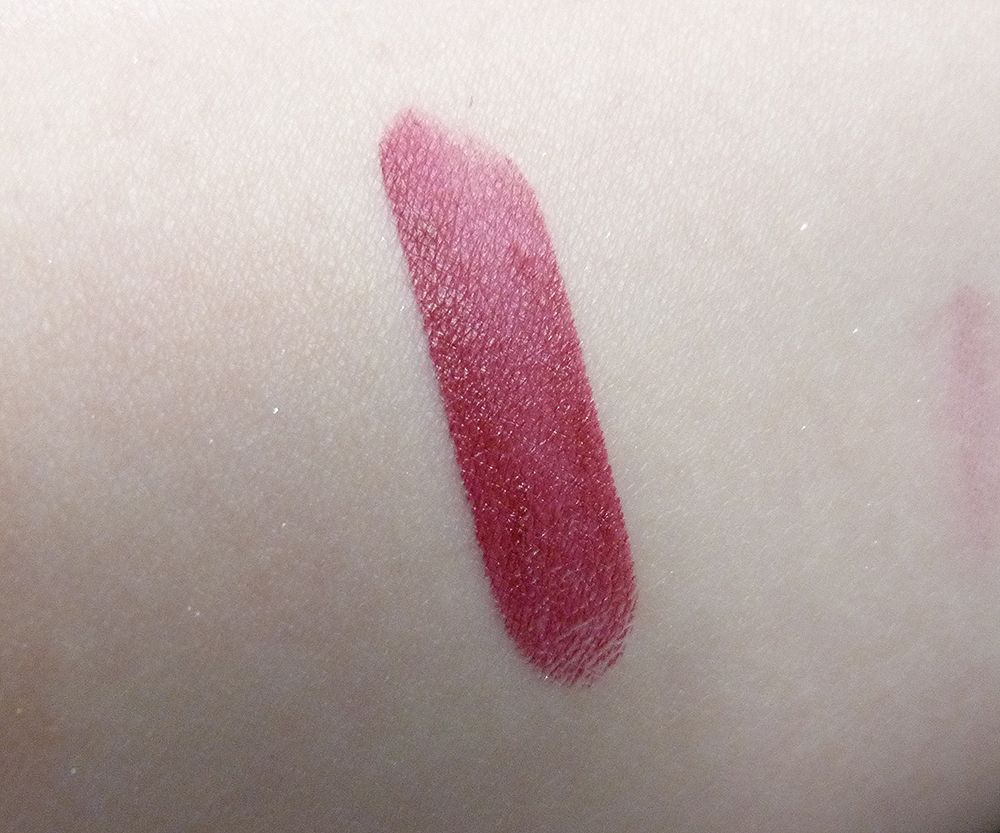 Niet de meeste perfecte swatch, maar je begrijpt het wel. Ideaal. Perfectie. Je kan de lipstick ook zachtjes op je lippen deppen voor dat effect van gezonde, natuurlijke, rode lippen.
Not the most perfect swatch, but you get the picture. Perfection. You can apply the lipstick like this or you can dab it lightly onto your lips for that healthy, naturally red lip effect.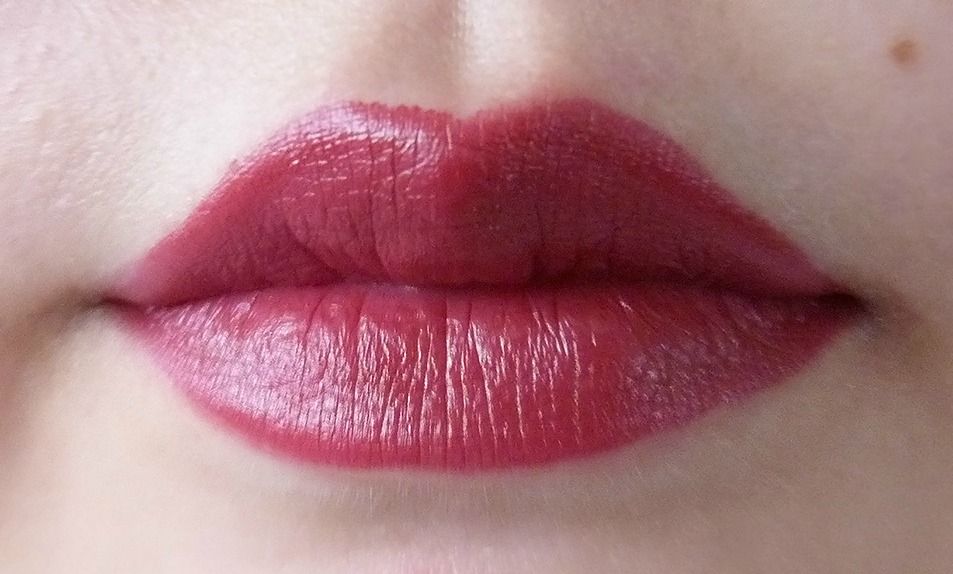 Extravagancia is de perfecte herfst/winter collectie. Het palette bevat feestelijke kleuren, de nagellak is ideaal voor de feestdagen en de lipstick geeft mij zo'n warm herfstgevoel.
Als je de kans krijgt om de blush in het echt te testen: DOEN. Ik kon hem aanraken tijdens de persdag en het was echt een bijzondere ervaring. De blush heeft echt een memory foam-achtig gevoel: je raakt het aan, je ziet je vingerafdruk en binnen een paar seconden ziet het er weer uit alsof het net van de Givenchy fabrieksband is gerold.
Extravagancia is the perfect autumn/winter collection. The palette contains festive colours, the nailpolish is ideal for the holidays and the lipstick gives me that warm autumn feeling. Oh, and if you get the chance to test the blush in this collection: DO IT. I got to swatch this special blush and it was just like memory foam: super soft and bouncy and when you touch it, you'll see your fingerprint disappear after a second or two. Then, it's like the blush just came out of the Givenchy factory. Magic, man.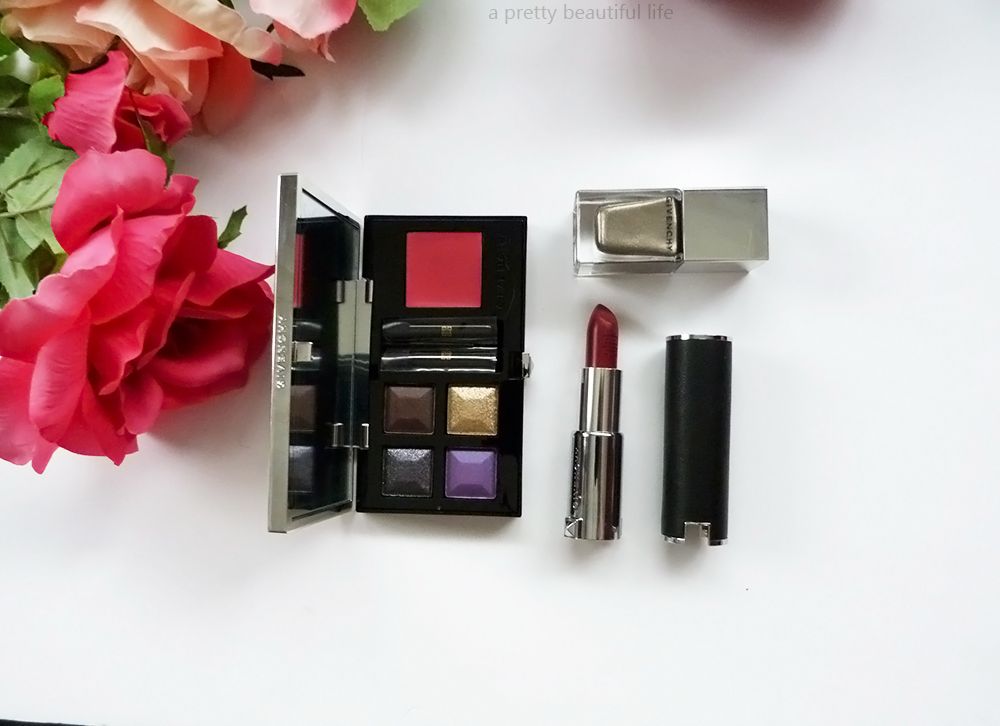 Givenchy Palette Extravagancia – €63,50
Givenchy Le Vernis – €22,90