De eerste lente/zomercollectie is aangekomen ten huize APBL: de COLOreCreation collectie van Givenchy. Ik ontving enkele kleurrijke items en toon jullie vandaag alvast deel 1. Het prachtige 'Le Prisme Visage Color Confetti' toon ik jullie een andere keer want zo'n pareltje verdient een eigen artikel.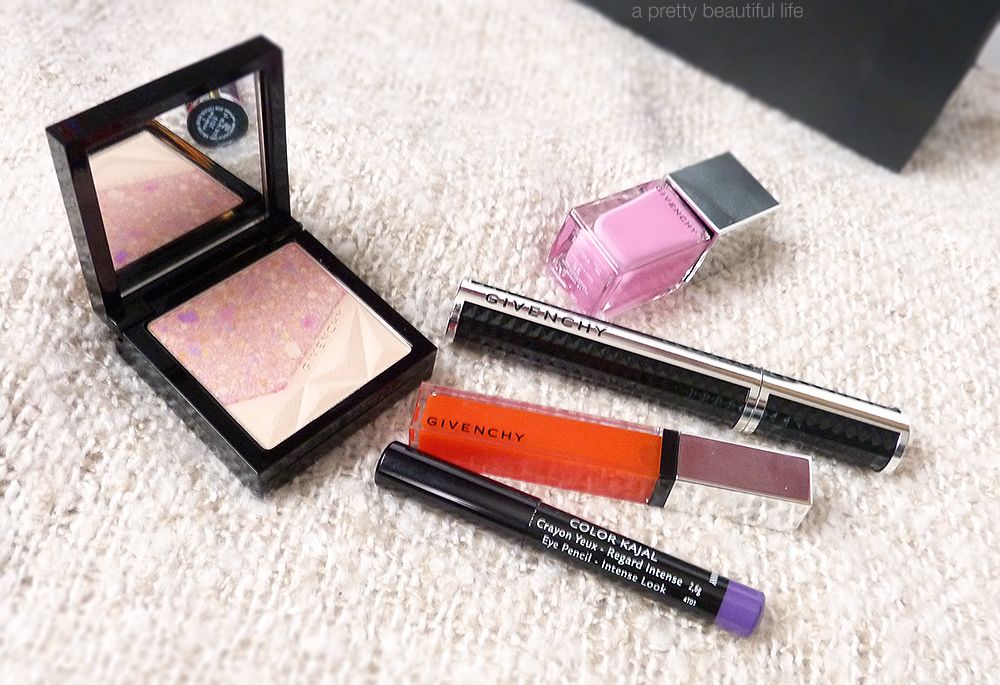 Today I'll be showing you the first spring/summer collection of 2015: Givenchy COLOreCreation. I received a couple of items that I'm dividing into 2 articles. The 'Le Prisme Visage Color Confetti' deserves its own blogpost since it's soooo pretty!
Allereerst heb ik hier de Le Vernis Givenchy in Rose Évocation (limited edition), een snoepjesroze tint die het meisjesachtige vakantiesfeertje versterken. Een echte lentekleur als je het mij vraagt!
Up first is Le Vernis Givenchy in Rose Évocation (limited edition), a very vibrant pink and perfect for spring/summer.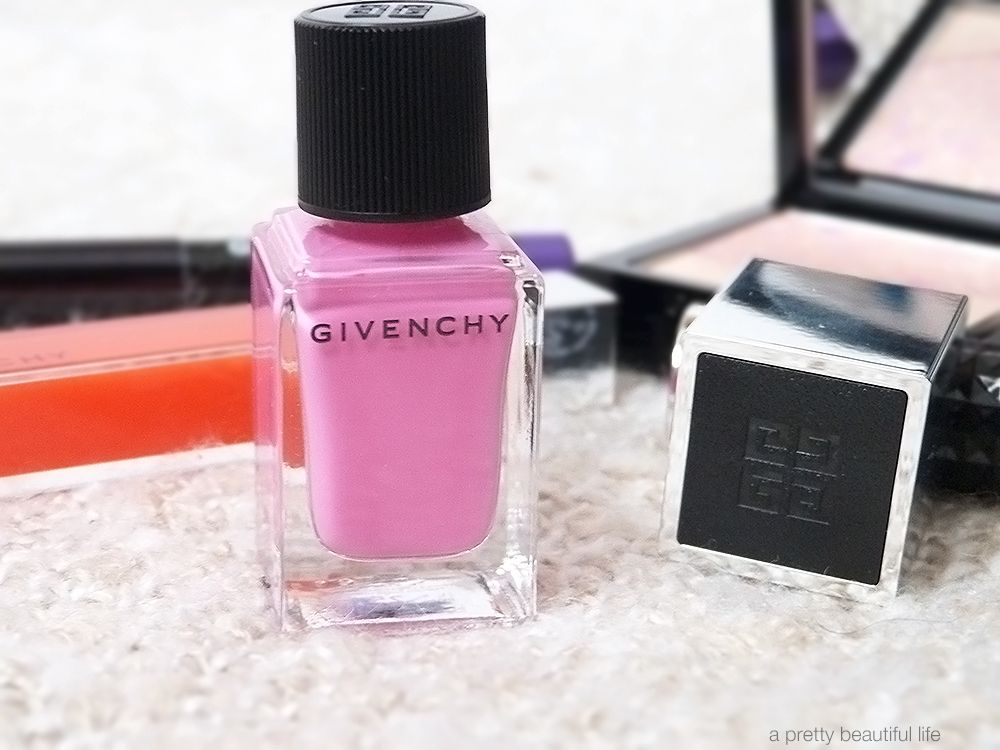 Deze lak dekt al vanaf het eerste laagje, maar op onderstaande foto heb ik twee dunne laagjes aangebracht. Voor iemand die absoluut geen fan is van roze ben ik toch helemaal weg van deze kleur.
The nail polish is very opaque and you can actually get away with just one layer. I'm usually not a fan of pink but this one is really nice.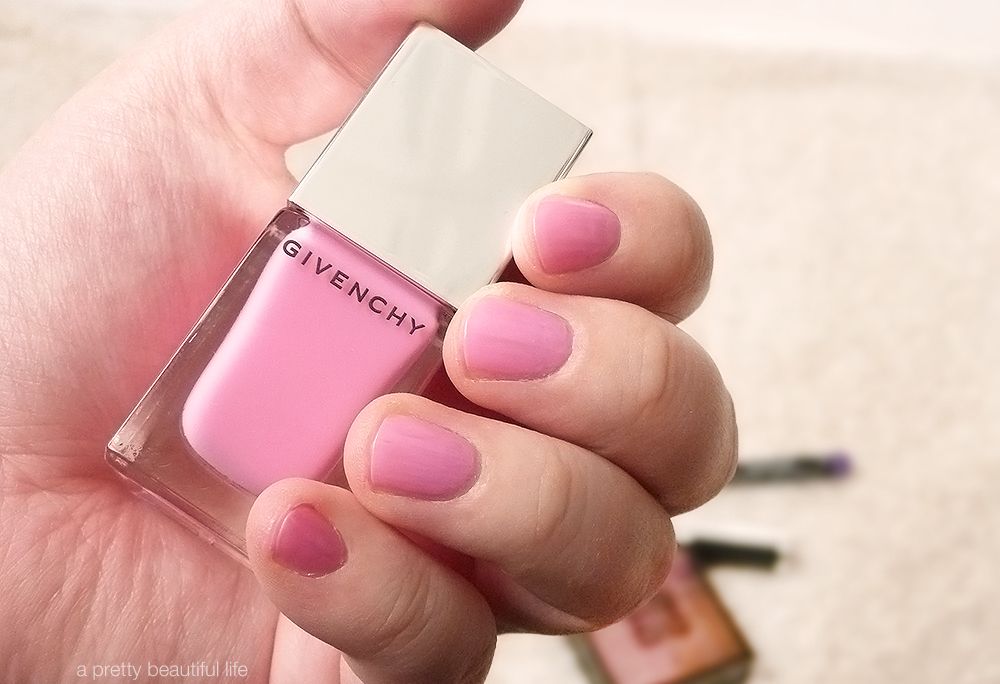 De Color Kajal van Givenchy is een romige oogpotlood met natuurlijke pigmenten. Er zijn drie beschikbare kleuren: Vert Invention, Turquoise Imagination en Violet Création waarvan ik deze laatste heb ontvangen.
Het potloodje lijkt op het eerste zicht helemaal niet romig. Bij mijn eerste swatch vond ik zelfs dat het redelijk droog en stug aanvoelde. Maar je moet het product een beetje opwarmen voor de ware formule naar boven komt. Eenmaal opgewarmd, glijdt de Color Kajal over de huid en geeft het enorm veel kleur af. Het blijft ook goed zitten op de huid (ook op mijn vettere oogleden) – indrukwekkend!
The Color Kajal is a creamy eyepincil enriched with natural pigments. There are three available colours: Vert Invention, Turquoise Imagination and Violet Création which I received. At first glance, the product seems quite dry and not creamy at all. In fact, when I swatched the Color Kajal for the first time, it tugged my skin quite a bit. But after I warmed it up a bit on the back of my hand, the pencil became very creamy and the pigmentation was just amazing.
De Gelée d'Interdit in Orange Distraction is een lipgloss met de hydraterende werking van een lippenbalsem. Het bevat geen parelmoerdeeltjes maar wel natuurlijke vitamines die de lippen enorm doen glanzen.
The Gelée d'Interdit in Orange Distraction is a lipgloss with the hydrating properties of a lipbalm. It contains natural vitamines that give a gorgeous glossy finish to the lips.
Tot slot toon ik jullie nog graag de Noir Couture Volume mascara in Blue Taffeta. Ja, je leest het goed: blauw. Deze felle, elektrische kleur geeft je ogen een fascinerende blik en de lichte comforttextuur modelleert en maakt de wimpers compacter voor een intens resultaat.
Finally, there's the Noir Couture Volume mascara in Blue Taffeta. Yes, blue! This bright and electric colour light up your eyes and the lightweight formule intensifies your lashes.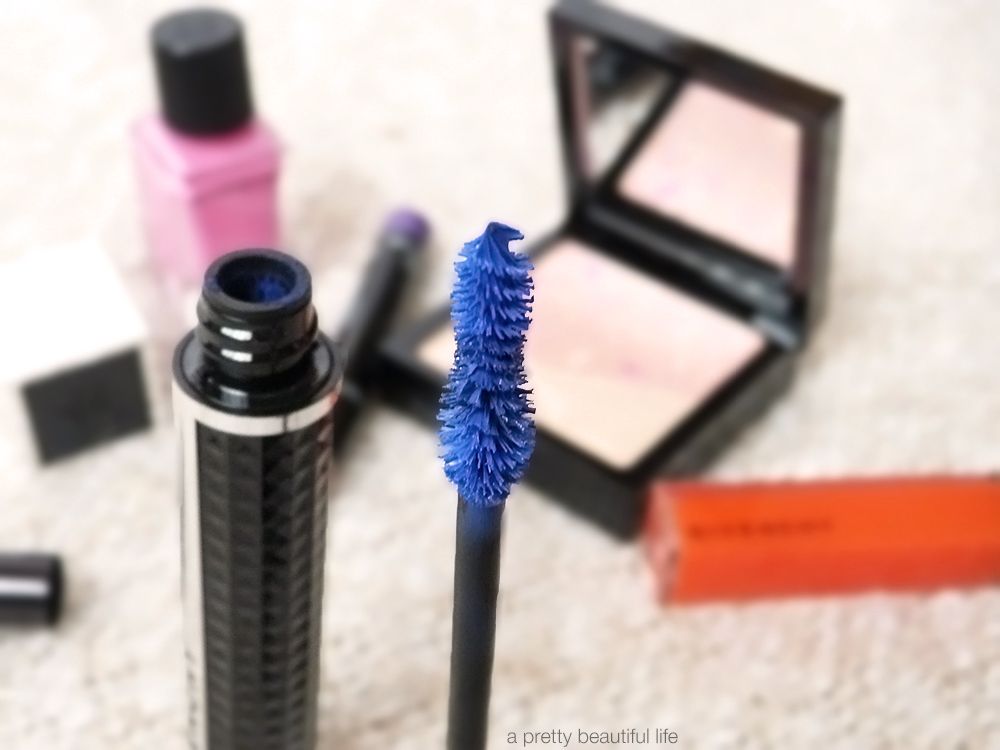 Ik draag normaal nooit mascara maar ik dacht, laat ik het toch eens doen voor de blog. Op onderstaande foto draag ik niks buiten de blauwe mascara. Voor een extra mooi effect breng je eerst je favoriete mascara aan gevolgd door deze Noir Couture Volume. Ik vind het effect eigenlijk wel erg leuk. Het maakt je look net wat interessanter zonder dat je aan de slag hoeft te gaan met ingewikkelde ooglooks die te veel skills vereisen die ik totaal niet bezit.
I normally never wear mascara but I tried it anyway for the blog. In this picture, I'm only wearing the blue mascara. As you can see, it's actually quite wearable. It gives your eyes a pop of colour without having to go crazy with all kinds of eyeshadows and difficult eyelooks.
http://i1273.photobucket.com/albums/y410/fu_diana/P1170601_zps4f229798.jpg
Ik toon jullie alvast het prachtige Le Prisme Visage Color Confetti poeder maar voor een volledige review moeten jullie nog even wachten!
Here's a sneak peek of the gorgeous Le Prisme Visage Color Confetti powder, but you'll have to wait a little bit longer for the full review.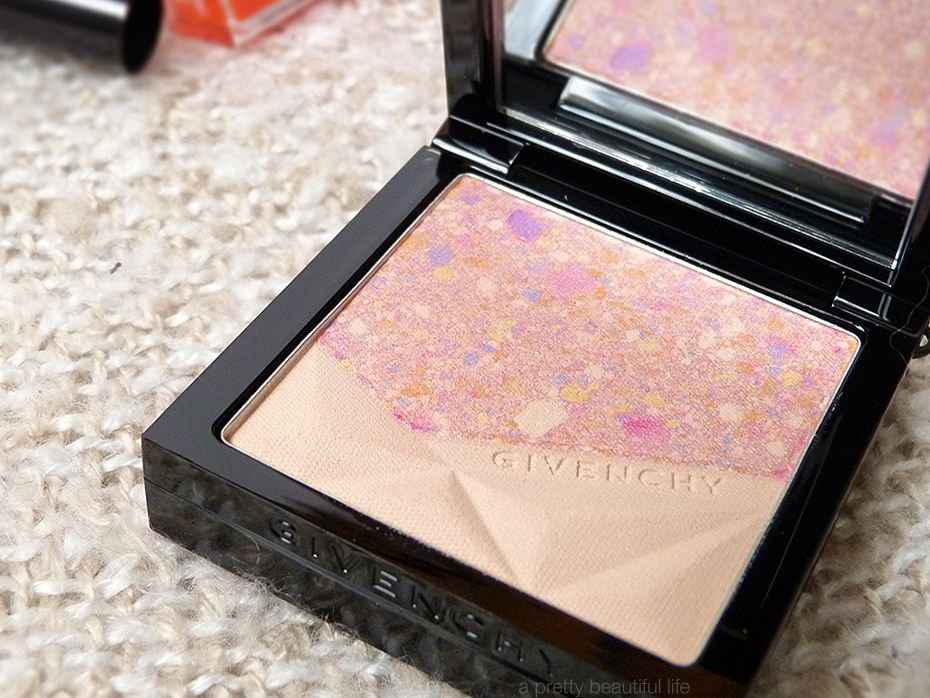 Wat vinden jullie van de Givenchy COLOreCreation collectie? Geeft het jullie ook al direct zin in de zomer?
I'm curious to hear about your thoughts on the Givenchy COLOreCreation collection so let me know in the comments.
Le prisme visage – €53,50
Color Kajal – €22
Gelée d'interdit – €30
Le vernis Givenchy – €23,50
Noir Couture Volume – €24,50
Ombre couture – €24,50
Nu verkrijgbaar in de parfumerie