Omdat niet iedereen gezegend is met de perfecte, jonge, dewy huid heb ik mijn favoriete make-upproducten op een rijtje gezet waarmee je die begeerde gloed kunt faken. Lees meer over mijn favoriete highlighters en illuminators!
Since we're not all blessed with a smooth and glowy skin, we'll have to fake it by using make up. I've highlighted (pun fully intended) my favorite highlighters and illuminators and I'm happy to show them to you in this article.
Van links naar rechts zien jullie: Burberry Fresh Glow Luminous Fluid Base, The Balm Mary-Lou Manizer, Clinique Chubby Stick Sculpting Highlight 'Hefty Higlight' en Benefit's fameuze Watt's Up!.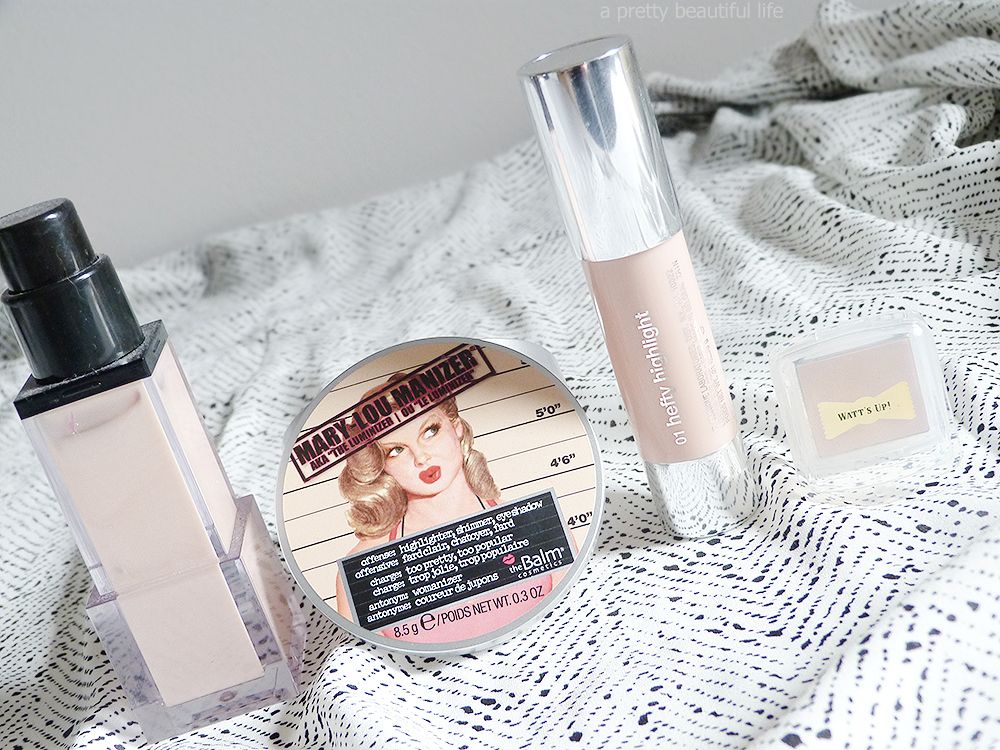 Mijn jarenlange favoriet is de Fresh Glow Nude Radiance Luminous Fluid Base van Burberry (review hier). Dit is een vloeibare basis die je voor je foundation aanbrengt voor een subtiele glow, maar je kunt hem ook als highlighter aanbrengen nadat je je make-up hebt gedaan. Het effect is subtiel maar ongelofelijk mooi en naturel. Ik combineer deze het liefste met een mattere foundation om toch wat leven in mijn teint te brengen.
My absolute favorite is the this baby by Burberry. It's actually a make up base but I also dab it on top of my foundation. I tend to mix this with a more matte foundation to create a softer, more glowy effect.
Pas nieuw maar ook al één van mijn favorieten: de befaamde Mary-Lou Manizer van The Balm. Deze staat bekend als één van de beste en mooiste highlighters in de beautywereld.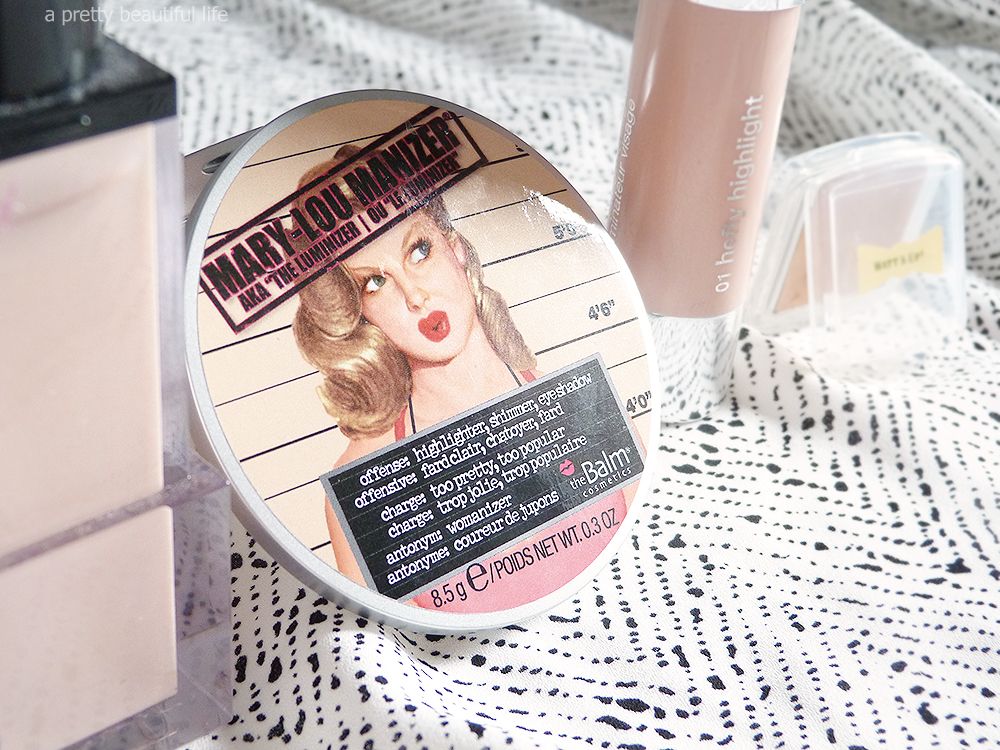 Dit prachtig poedertje ziet er misschien iets té goud uit uit de pan, maar aangebracht is hij echt fantastisch mooi. Je kan hem lichtjes aanbrengen voor een subtiel effect, maar als je hem opbouwt, kan je echt voor een opvallend effect gaan.
Mary-Lou Manizer by the Balm is one of the most loved highlighters in the beauty world. I can't disagree: this gorgeous highlighter has captured my heart completely.
Voor degenen die nieuw zijn in de wereld van het highlighten en contouren, raad ik de Chubby Stick Sculpting Contour & Highlight van Clinique aan (review hier). De sticks zijn erg gemakkelijk in gebruik en de formules blenden gemakkelijk uit. 'Hefty Highlight' is ideaal voor beginners die een gezonde glans aan hun jukbeenderen willen geven: het effect is subtiel maar je ziet het wel zitten. Het product heeft ook een neutrale ondertoon (in tegenstelling tot bv. de warme ondertoon van Mary-Lou Manizer) en is geschikt voor iedereen.
If you're looking for a more naturel and subtle highlight, you have to try the Chubby Stick Sculpting Highlight by Clinique. The stick is so easy to use and the effect is noticeable yet natural.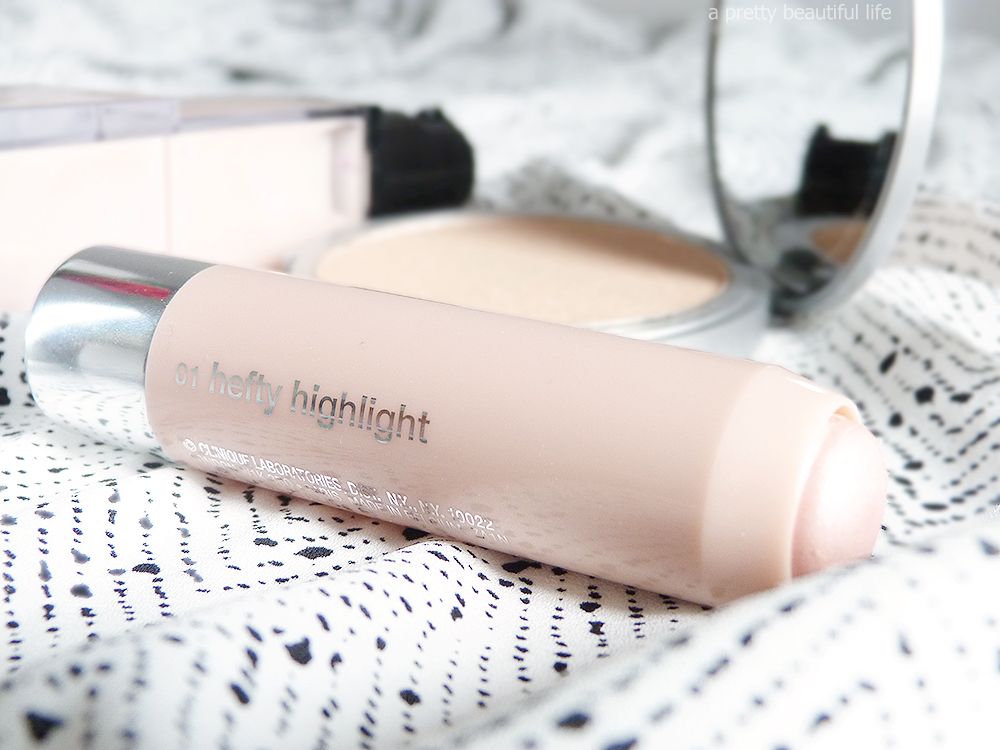 Tot slot heb ik nog de befaamde Watt's Up! van Benefit. Dit is een kleine versie die in mijn geliefde Cheeky Sweet Spot Box 'o Blushes zat (review hier). Deze kan je vergelijken met Clinique, enkel is Watt's Up! meer goudkleurig en het effect is ook iets zichtbaarder.
Finally, we have the famous Watt's Up! by Benefit. You can compare it to Clinique, but Watt's Up! has a noticable warm undertone.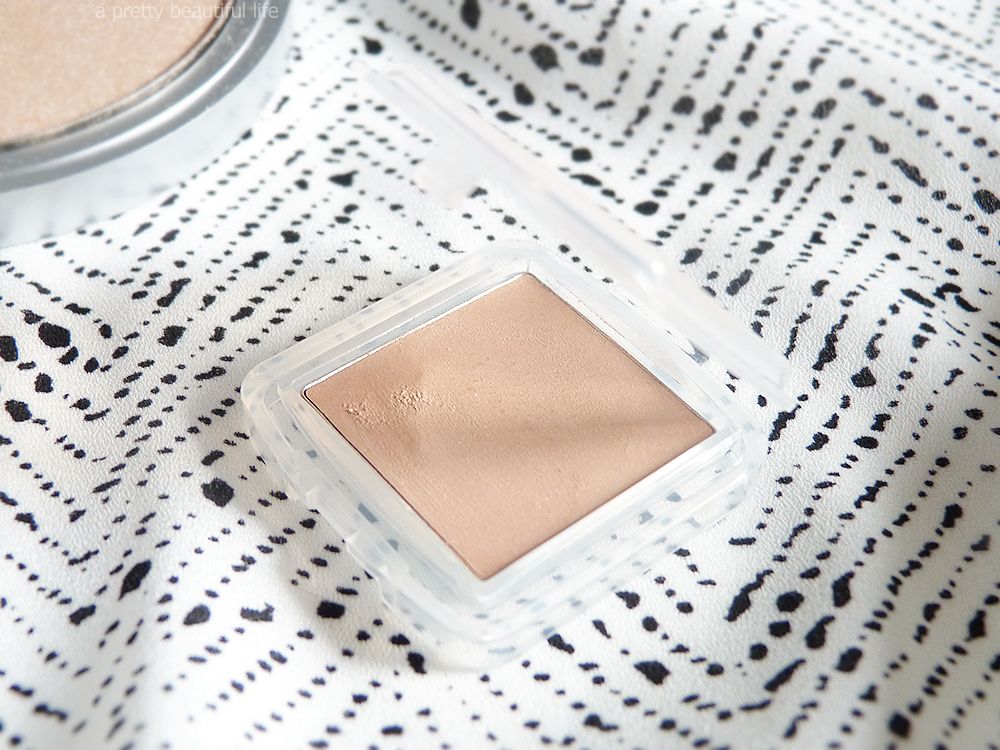 Van links naar rechts: Burberry, The Balm, Clinique en Benefit.
Welke van de 4 zou ik nu absoluut aanraden? Wel, het hangt er echt vanaf wat je zoekt. Clinique en Benefit zijn geschikter voor degenen die het naturel willen houden. Burberry behoort ook tot dit rijtje maar het is daarnaast ook ideaal als primer en ook een beetje als moisturizer. Als je dus een multifunctioneel product zoekt, investeer dan in Burberry. Mary-Lou Manizer zou ik dan weer aanraden voor de meer 'ervaren' make-up liefhebbers, al kan je met een lichte hand een erg subtiel effect bereiken.
Clinique and Benefit are definitely more suitable for people who are just trying their hand at highlighting. I'd also recommend Burberry. Not only does it illuminate the skin – it also doubles as a primer and even a bit as a moisturizer. Definitely go for Burberry if you have a bit more money to spend and you're looking for a multifunctional product. The Balm is more noticeable so I'd recommend it to the true highlighting-lovers.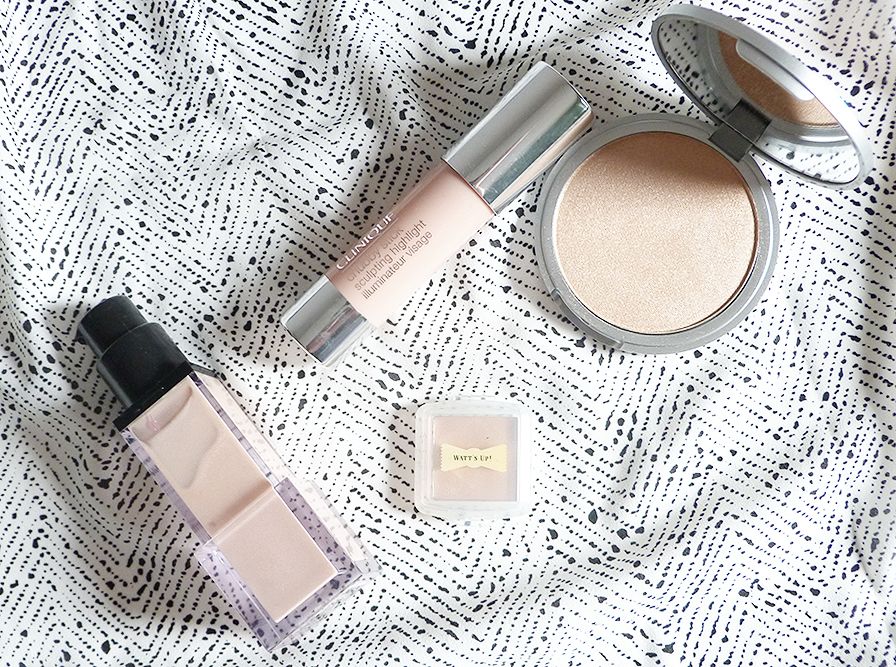 Burberry Fresh Glow Luminous Fluid Base – €40 (INNO Louizalaan/online)
The Balm Mary-Lou Manizer – €18 (online)
Clinique Chubby Stick Sculpting Highlight – €25,85 (parfumerie/online)
Benefit Watt's Up! – €33 (in store/online)