Ik hou van Estée Lauder. Niet enkel de skincare kan mij bekoren – ook de make up behoort tot mijn favorieten. Het bewijs vind je onder andere hier, hier en hier.
Begin vorige week lanceerde Estée Lauder haar nieuwe Pure Color Envy Sculpting Eyeshadow 5-Color Palettes, en ik was enthousiast. Er worden 6 limited edition palettes die allemaal 5 prachtige oogschaduws bevatten. Ik heb het prachtige Currant Desire palette gekregen die ik jullie vandaag graag wil tonen.
I love Estée Lauder – not just the skincare but the make up as well. You can find my ravings about their products here, here and here. Now last week my favorite brand launched 6 new Pure Color Envy Sculpting Eyeshadow 5-Color Palettes, each containing 5 beautiful eyeshadows. I received the gorgeous Currant Desire palette that I'm going to share with you guys today.
De Pure Color Envy Palettes hebben elk een goed doordachte kleurcombinatie die je op verschillende manieren kunt gebruiken. Een lichte look voor overdag of zwoele ogen om mee te gaan stappen? Dat gaat allemaal met deze palettes. Elk palette heeft lichte kleuren die voor een liftend en oplichtend effect zorgen terwijl je met de middentonen kunt shapen en contouren. De donkerste tinten tot slot zorgen voor die begeerde smokey eye. Ook de texturen werden in een nieuw jasje gestoken: matte, satijn, pareltinten – Estée Lauder heeft er allemaal voor gezorgd.
The Pure Color Envy Palettes each contain a thought out color combination: light colors make your eyes pop, the mid tones can be used for sculpting and the dark colours create a smokey eye. There are also different textures – matte, satin, pearly colours. Estée Lauder really thought of everything!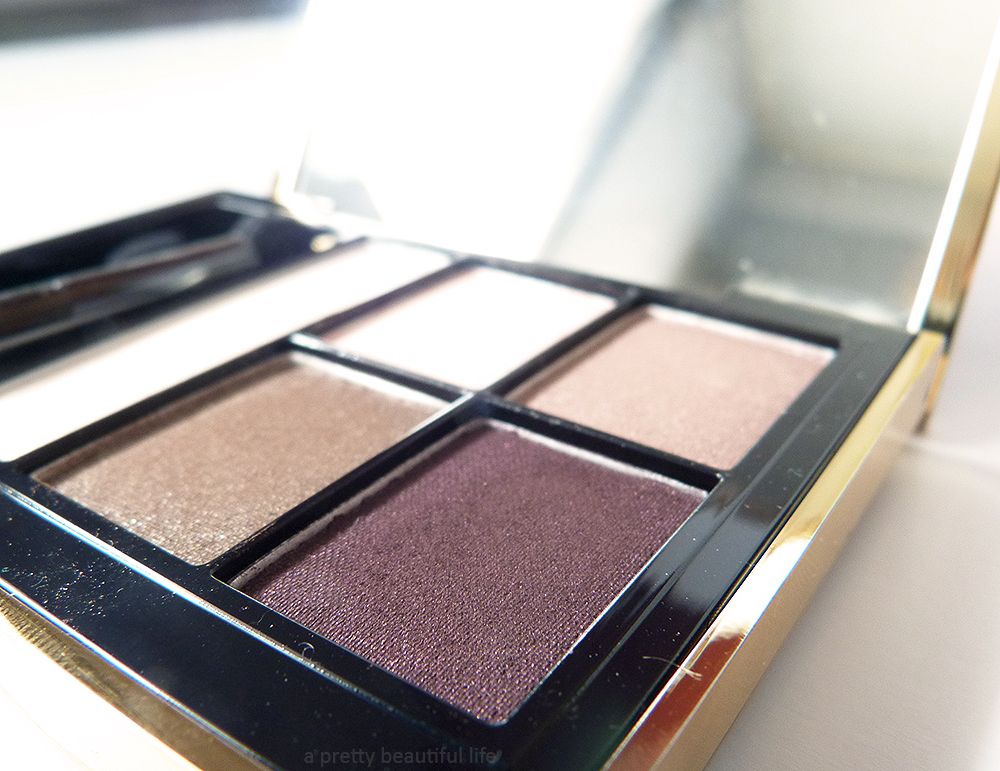 Ik heb Currant Desire gekregen, een prachtig palette met paarse en taupe tinten. #1 is een witgouden kleur, ideaal als highlighter. #2 is een matte, lichtroze kleur. #3 is een erg speciale kleur: een beetje beige met een vleugje taupe en roze. #4 is een donkerbruine oogschaduw en #5 is een donkerpaarse matte kleur.
I got Currant Desire, a beautiful mix of neutrals, purple and taupe colours. #1 is a white color with a gorgeous golden sheen. The colour I marked 2 is a matte beige colour. #3 is a special tint: a peachy, beige-y golden colour with a bit of taupe. #4 is a dark brown colour and #5 is a matte purple hue.
Ik heb wat swatches gemaakt in verschillend licht zodat je de lichtste tinten beter kunt zien.
Wat mij direct opvalt, is de superzachte textuur van de oogschaduws: ze zijn totaal niet poederig, verstuiven niet en zijn ongelofelijk goed gepigmenteerd. Je kan de oogschaduws ook nat gebruiken voor een nog intenser effect, maar ik vond het zo al indrukwekkend genoeg dat ik dit niet heb gedaan.
I made some swatches in different light so you can clearly see the lighter colours. What I immediately noticed while swatching, is that the eyeshadows are super soft and silky. They're not powdery and the colour pay off is amazing. You can also use a damp brush for a more intense effect but I felt that was not needed as I was already very impressed by the swatches.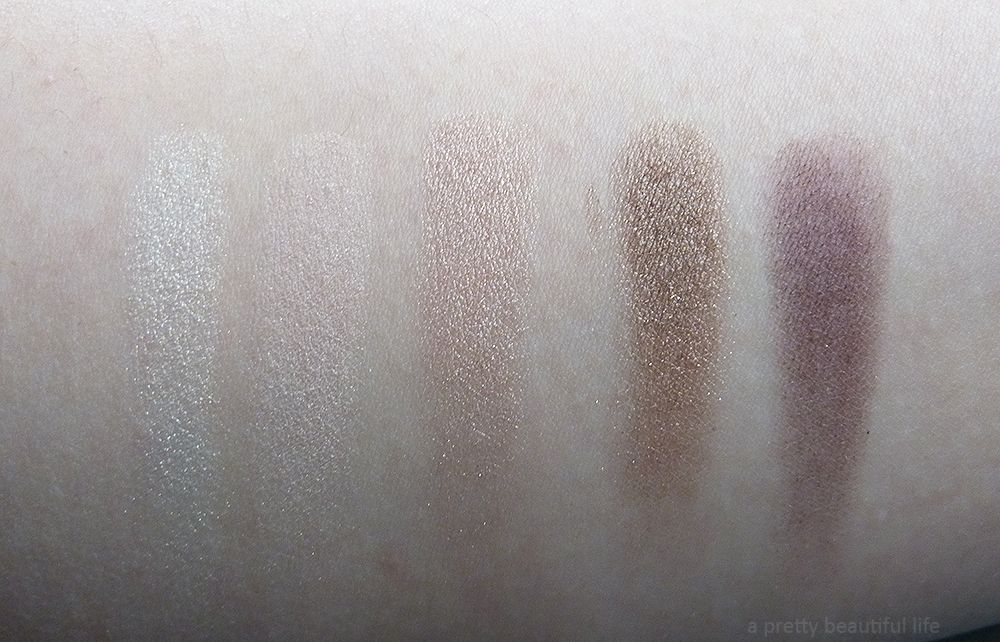 De donkerpaarse kleur is wel niet zo goed gepigmenteerd als de rest maar als je het nat aanbrengt, wordt de kleur intenser en feller.
The purple eyeshadow isn't as pigmented as the other ones but when you apply them wet, the colour intensifies a lot.
Estée Lauder heeft ook een how-to in elkaar gestoken om te tonen op welke manieren je de palettes kunt gebruiken. Dit geldt voor alle palettes dus erg handig als je daar mee wilt spelen!
Estée Lauder also created a little guide on how to use these palettes to create different looks.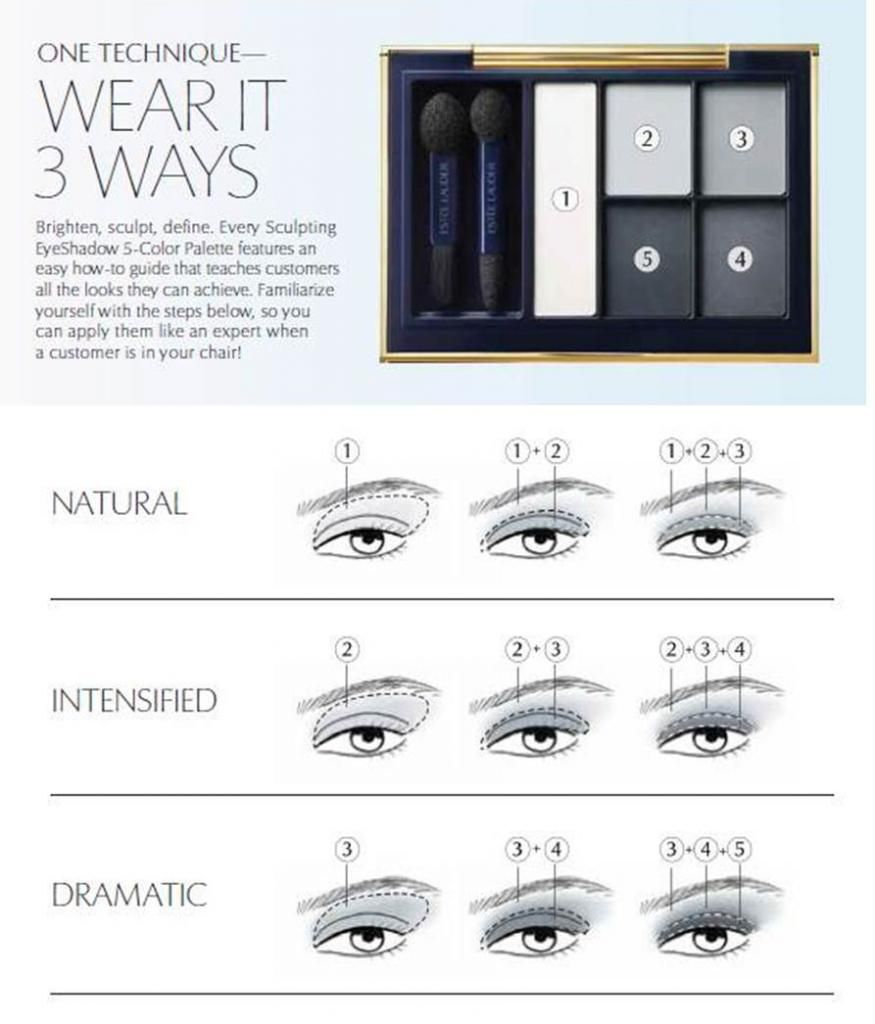 Voor mij heeft Estée Lauder alweer een fantastisch product aan haar reeds indrukwekkend gamma toegevoegd. Deze Pure Color Envy Sculpting Eyeshadow palettes zijn echt veelzijdig door de verschillende tinten, finishes en de combinaties die je er mee kunt maken. Wie dus nog op zoek is naar een oogschaduwpalette waar je zowel basis looks voor overdag als meer knallende looks mee kunt maken, dan moet je zeker één van deze zes schatjes in huis halen.
Estée Lauder has added yet another fantastic product to its already impressive make up collection. These Pure Color Envy Sculpting Eyeshadow palettes are very versatile due to the different colours and finishes. You can create daytime looks as well as a deep smokey eye. You definitely NEED one of these palettes!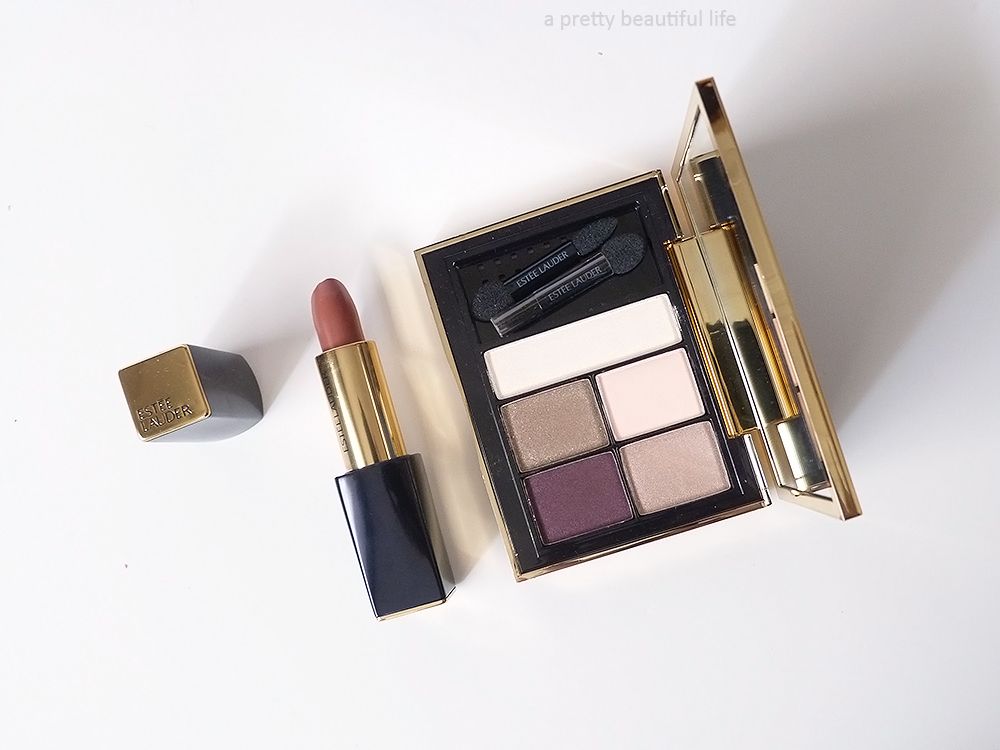 Pure Color Envy Sculpting EyeShadow 5-Color Palette: Ivory Power, Fierce Safari, Infamous Sky, Fiery Saffron, Envious Orchid en Currant Desire
€52,76 – Limited Edition