Inmiddels kent iedereen wel het trucje 'witte eyeliner op je waterlijn' om je ogen groter te doen lijken, maar ik vind wit toch net iets te nep. Ik hou meer van lichtbeige kleurtjes die dicht bij mijn eigen huidskleur liggen, dat lijkt toch iets natuurlijker. Ik heb al veel varianten versleten maar ik ben nog nooit echt volledig tevreden geweest – tot nu. Ontmoet mijn nieuwe beste vriendin, de Estée Lauder Double Wear Stay-In-Place Eye Pencil in de kleur Pearl.
I like to use skin coloured eye pencils to create the optical illusion of bigger eyes (I try to avoid white colours as they tend to look quite fake on me). Today, I'm sharing on of my new favorites: The Estée Lauder Double Wear Stay-In-Place Eye Pencil.

Ik ben dol op de Double Wear Stay-In-Place foundation, dat weten jullie al. Maar nu kan ik deze Double Wear Stay-In-Place Eye Pencils aan toevoegen. De romige formule is gemakkelijk om aan te brengen, geeft een intense dekking en blijft de hele dag zitten. Het is ook waterbestendig en de vitamine E en jojobaolie beschermen de huid.
Er zijn in totaal 10 kleuren met een matte of glanzende finish en ik heb er 2 in mijn bezit: Pearl en Gold.
I love the Double Wear Stay-In-Place products – the foundation was my holy grail for a very long time. Now I can add these Eye Pencils to my new favorites: the creamy formula is so smooth, it has an intense pigmentation and stays put during the entire day. It's also waterproof and the vitamin E and jojoba oil protect the skin. There are 10 new colours with a matte or shiny finish. I have 2 colours to show you: Pearl and Gold.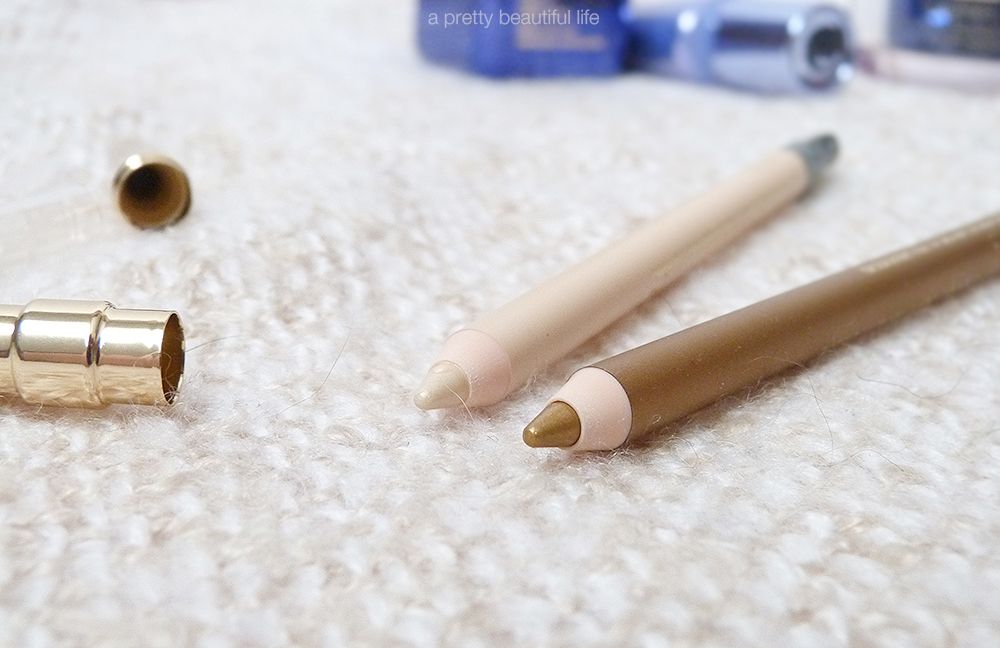 De Double Wear Stay-In-Place Eye Pencils hebben ook een speciale siliconen smudgetip om de kleur makkelijk te vervagen of te mengen met een andere kleur. De vorm is best speciaal en werd ontwikkeld om de oogcontour te volgen zodat het smudgen makkelijker verloopt.
The Double Wear Stay-In-Place Eye Pencils have a special silicone tip to smudge or blend the colour. It has a special shape to fit the eye contour to facilitate the smudging.

Hier zien julie de swatches. Prachtig, niet waar? Ik ben absoluut verliefd op Pearl, een witgouden kleur die perfect is als highlighter aan de binnenkant van je ogen of zelfs onder je wenkbrauw. Ik gebruik het ook op mijn waterlijn voor een meer wakkere en frisse blik. Het laat mijn ogen er veel helderder uitzien en het is veel natuurlijk dan wit.
Gold is een gouden kleur (duh). Ik gebruik het bovenop mijn zwarte winged liner (op deze manier) voor een specialere oogopslag. Goud is erg mooi en kan je op veel manieren gebruiken, dus als jullie nog leuke ideeën of tips hebben – shout.
Here are the swatches. I absolutely love Pearl, a golden white colour that's perfect as a highlighter in the inner corner of the eyes or even underneath your eyebrows. I personally love to use it on my waterline to brighten my eyes, and it looks a lot more natural than white. I like to use Gold on top of my regular black winged liner – it looks pretty and it adds a little 'oomph' to my look.
En blijven deze oogpotloden 12 uur zitten? Ja. Natuurlijk niet op mijn waterlijn (daar vervaagt het veel sneller), maar elders blijft het de hele dag zitten. Ik heb zelfs speciale remover nodig om de restjes te verwijderen dus dat zegt veel, niet waar?
These eye pencils have an amazing staying power. It doesn't last a whole day on my waterline but that's a normal thing.
Double Wear Stay-in-Place Eye Pencil  – €22,24