Oktober staat altijd bekend als borstkankermaand, maar eigenlijk zou dat elke maand moeten zijn. Wisten jullie dat maar liefst 1 op 8 vrouwen te maken krijgt met borstkanker? Dat zijn vreselijke cijfers en ik vind het dus ook belangrijk om ook nu in november aandacht te besteden aan borstkanker. Daarom ga ik jullie vandaag meer vertellen over de geweldige Breast Cancer Awareness-campagne van de Estée Lauder Companies. Jullie weten dat Estée Lauder mijn favoriete make up -en skincaremerk is, maar omdat het zich inzet voor borstkanker krijgt het een extra speciaal plekje in mijn hart.
Een bedrijf dat je mooi maakt, zowel vanbinnen als vanbuiten!
At least 1 in 8 women have a chance of being diagnosed with breast cancer during their lives. The goal of the Estée Lauder's Breast Cancer Awareness campaign is to raise awareness by implementing real testimonials by cancer patients and their loved ones. I'll be telling you more about this great initiative today so keep reading.
De Pink Ribbon werd in 1992 co-ontwikkeld door Evelyn H. Lauder. Samen met Alexandra Penney, de toenmalige hoofdredactrice van het tijdschrift SELF, creërden ze het roze lintje – de Pink Ribbon – wat erkend werd als het wereldwijde symbool voor de gezondheid van de borst.
Tegelijkertijd zette Evelyn Lauder ook de Breast Cancer Awareness campagne op. Al 22 jaar strijd de BCA-campagne tegen borstkanker via voorlichting en medisch onderzoek en dit in meer dan 70 landen. In die periode heeft de BCA-campagne al meer dan 39 miljoen euro ingezameld dankzij o.a. (privé)donaties en een deel van de opbrengst van de verkoop van hun producten te doneren. Bijna 31 miljoen euro daarvan werden in de voorbije 20 jaar wereldwijd 166 Breast Cancer Research Foundation onderzoeksprojecten gefinancierd.
The Pink Ribbon, a worldwide symbol for breast health, was developed in 1992 by Evelyn H. Lauder and Alexandra Penney. At the same time, Evelyn also created the Breast Cancer Awareness campaign. For over 22 years, the BCA-campaign has been informing people from all over the world about breast cancer as well as donating money for important research. Today, the BCA-campaign has raised more than $53 million through donations, fundraisers and events and was used for financing over 166 Breast Cancer Research Foundation research projects.

Dit jaar is het thema van de BCA-campagne 'Let's defeat breast cancer. We're stronger together.'. Het is de bedoeling om mensen overal ter wereld aan te moedigen om samen een eerbetoon te brengen aan al wie getroffen werd door borstkanker of patiënten bijstond in hun strijd tegen de ziekte. Dit gebeurt door middel van digital storytelling: authentieke, grijpende en inspirerende verhalen van dappere vrouwen en mannen die te maken hadden met borstkanker en hun families. In onderstaand filmpje vertellen een paar moedige mensen hun verhaal op een hele unieke manier.
This year's BCA-campaign theme is 'Let's defeat breast cancer. We're stronger together'. The purpose is to encourage people from all over the world to honour those who have faced breast cancer and their loved ones who supported them. This clip shows some brave people who talk about their hardships and how they overcame them.
Ik vertelde dat de BCA-campagne ook geld inzamelt voor belangrijke research omtrent borstkanker. Dat kan op vele manieren gebeuren, maar één daarvan zal jullie zeker aanspreken. De merken van de
Estée Lauder Companies
hebben de krachten gebundeld om samen geld in te zamelen voor het Breast Cancer Research Foundation. Denk aan Estée Lauder, Clinique, Bumble and bumble, Bobbi Brown en veel meer – zij hebben allemaal speciale
Pink Ribbon
producten uitgebracht waarbij een deel van de opbrengsten naar het BCRF gaan. Heel interessant voor jullie beautyliefhebbers! Op deze manier kan je prachtige producten kopen én steun je het een erg belangrijk doel.
I told you earlier that the BCA-campaign also raises money for important breast cancer research. This can happen through donations and fundraisers, but also through the sale of special Pink Ribbon products. Brand from the Estée Lauder Companies such as Estée Lauder, Clinique, Bobbi Brown, Bumble and bumble and much more, have joined together and launched special products. The profits then go to the Breast Cancer Research Foundation.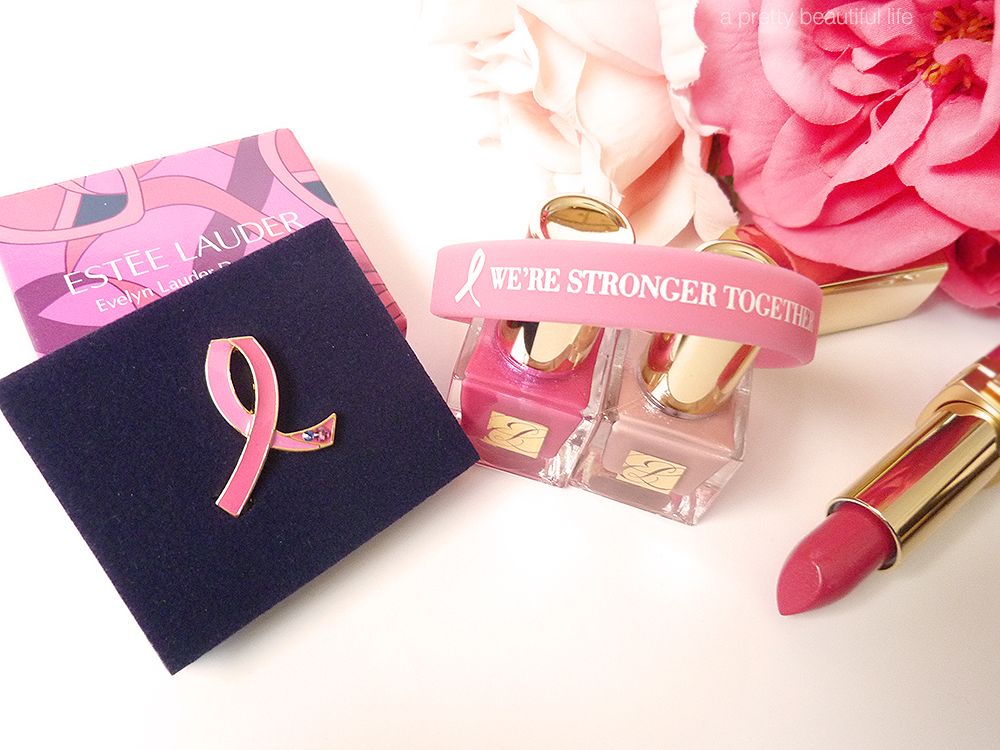 Liefhebbers van de make up van Estée Lauder moeten zeker het Evelyn Lauder and Elizabeth Hurley Dream Pink Collection setje in huis halen. Deze bevat een prachtige lipstick in Dream Pink en twee mini Pure Color nagellakjes in Blozen Lilac en Berry Hot. Dit zijn trouwens drie limited edition kleuren en nergens anders verkrijgbaar. (meer info onderaan het artikel)
Make up lovers should definitely get the 'Evelyn Lauder and Elizabeth Hurley Dream Pink Collection' set. This cute set contains a gorgeous pink lipstick in 'Dream Pink' and two mini Pure Color nail polishes in 'Blozen Lilac' and 'Berry Hot', all limited editions. It costs €33,11 and 20% will be donated to the BCRF.
Ook Darphin vecht tegen borstkanker en doet dat door een limited edition van haar beroemd Intral Redness Relief Soothing Serum te verkopen. Ik gebruik het al een paar weken en dit is het beste serum dat ik ooit heb gebruikt. Niet alleen heeft het de roodheid op mijn wangen serieus verminderd – mijn huid is enorm egaal en veel zachter geworden. Ik schrijf nog wel een volledige review van dit goedje, maar ik denk dat iédere huidtype baat heeft bij dit serum.
Darphin also joined the battle against breast cancer by creating a limited edition of the bestselling Intral Redness Relief Soothing Serum. I've been using this for a few weeks now and this is, hands down, the best serum I've ever used. Not only did it completely erase the redness on my cheeks – it also managed to make my skin supersmooth and soft. I'll put up a full review soon but I'm certain that practically every skin type will benefit from it.
Ook Aveda doet mee met haar limited edition Aveda Hand Relief with Shampure Aroma. Dit is een vochtinbrengende handcreme met vitaminen en exfoliërende fruitzuren die de huid merkbaar zachter en gladder maakt. Deze Hand Relief bevat de limited edition Shampure, een aroma op basis van 25 pure bloemen -en plantenessences om de zintuigen te kalmeren. Een heerlijke geur die je zeker moet ontdekken!
Aveda also joined in with a limited edition Aveda Hand Relief with Shampure Aroma. This is a moisturizing handcream with vitamins and exfoliating acids that make the skin notably smoother and softer. This Hand Relief contains the limited edition Shampure aroma, a delicious scent you just have to discover.
Ik ontving ook de prachtige Evelyn Lauder Dream Pin – het ultieme symbool om je steun aan de borstkankerpatiënten te tonen!
I also received this gorgeous 'Evelyn Lauder Dream Pin', the ultimate symbol to show your support.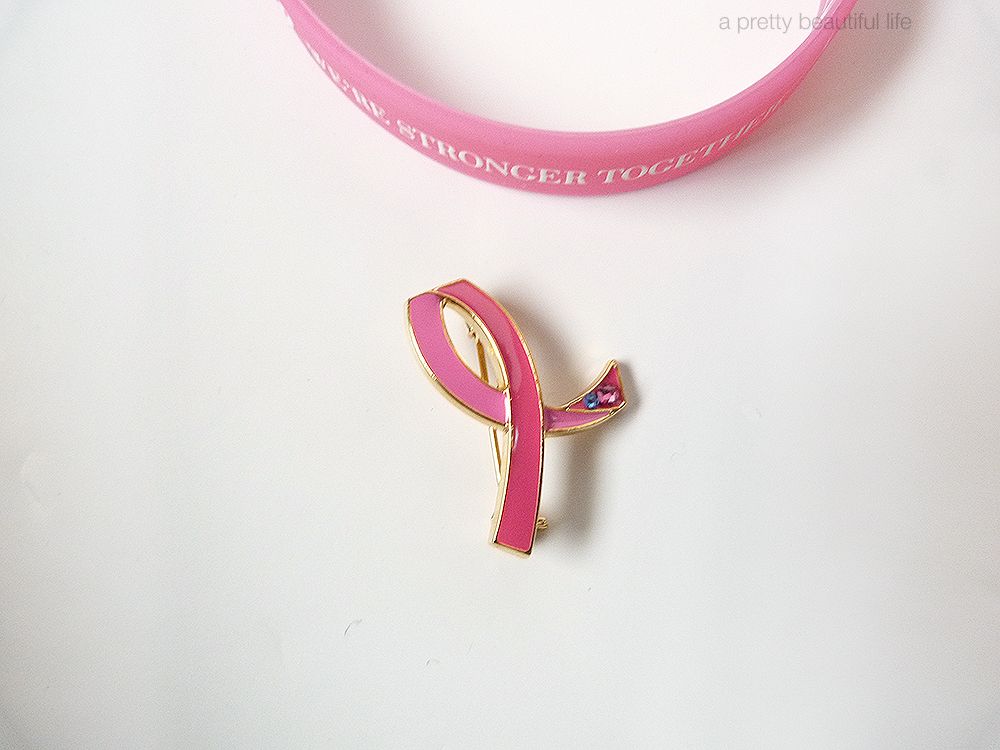 Nu weet ik dat het ondertussen al november is en dat oktober normaal in het teken van borstkanker staat. Maar dat belet ons toch niet om in november – en eigenlijk iedere maand van het jaar – aandacht te besteden aan borstkanker. Deze producten kan je nog steeds verkrijgen zolang de voorraad strekt. Mocht je dus één van onderstaande producten spotten, koop het dan en steun de BCA-campagne!
Je kan natuurlijk ook een bedrag doneren aan het BCRF via deze link. Elk bedrag, klein of groot, helpt het BCRF een stap dichter bij een oplossing voor borstkanker. Deze ziekte treft nog steeds 1 op de 8 vrouwen, een niet te onderschatten cijfer. Samen kunnen we een oplossing vinden dus SPREAD THE WORD!
I think that every month should be breast awareness month. A shocking 1 in 8 women will face breast cancer in her life, so it is vital that we put our strengths together and find a solution. You can still find some of these products in the stores. If you're interested in donating to the BCRF, click here. Together we can find a cure so SPREAD THE WORD!
Voor meer informatie over de BCA-campagne:
– website: www.bcacampaign.com
– Facebook: www.facebook.com/BCAcampaign
– Twitter: www.twitter.com/BCAcampaign
– Instagram: www.instagram.com/BCAcampaign
– YouTube: www.youtube.com/BCAcampaign
#BCAstrength