Blijdschap in een flesje – zo beschrijft Escada haar nieuwste geur. Joyful is een heldere geur voor de vrouw dat een leven vol optimisme, spontaniteit en zelfvertrouwen tegemoet gaat. Vandaag kunnen jullie deze nieuwe geur ontdekken op de blog- met Miranda Kerr als gezicht!
Happiness in a bottle – that's how Escada describes its new scent. Joyful is a vivid scent, created for the woman who wants a life filled with optimism, spontaneity and confidence. Today you can discover this new scent on the blog – with Miranda Kerr as spokesperson!
Australisch topmodel Miranda Kerr is het mooie gezicht van 'Joyful'. Haar prachtige, roze jurk past perfect bij de vormgeving van het flacon en weerspiegelt ook weer dat zorgeloos, gelukzalig gevoel dat bij dit parfum hoort.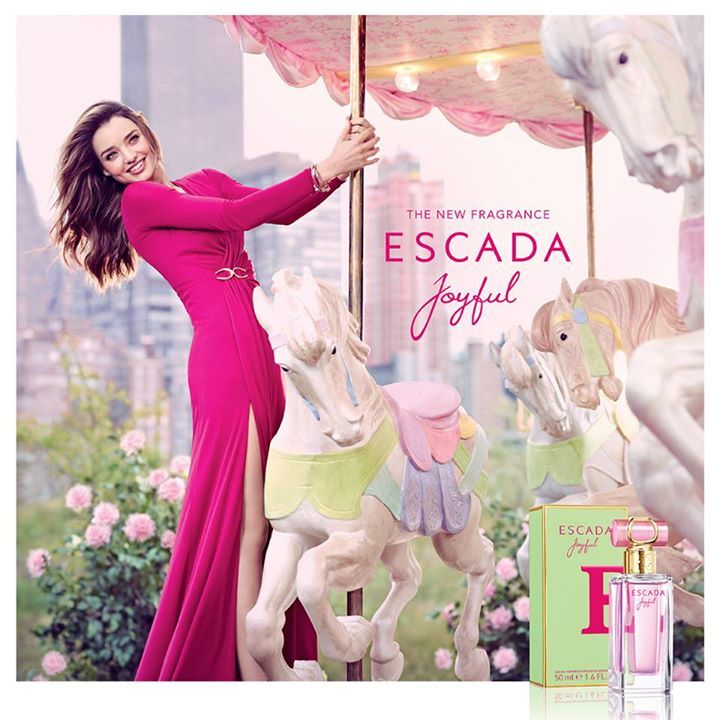 Laten we beginnen met de flacon zelf. Ik denk dat we het unaniem eens zijn dat Escada er veel tijd en moeite in heeft gestoken. De vorm van de flacon doet denken aan een wolkenkrabber, als ode aan het leven in de bruisende grote steden. Een leuk detail: de flacon zelf is niet roze, maar wel het parfum.
I think I speak for all of us when I say Escada put a lot of thought into it. The shape of the bottle reminds one of a tall skyscraper. This is an ode to life in the big and bustling cities. Escada also added a very cute detail: the bottle isn't pink, but the perfume itself is.
De dop is bovendien superfancy met haar gouden opdruk. Ik ben een grote fan van het design en dan vooral van de kleur!
I really love the cap of the flask. It's really fancy, with the gold printed E's on it. And the color totally speaks to me!
Joyful is een hele lichte, frisse bloemengeur. In haar topnoten zitten zwarte bessen, mandarijn en meloen, terwijl je in de hartnoten vioolblaadjes, roze pioenen, magnolia en roze fresia zal ruiken. De basis wordt gevormd door sandelhout, honingraat en florimos.
Joyful is a very light and fresh floral scent. In the top notes you'll find black berries, tangerine and melon. The heart notes contain pansies, pink peonies, magnolia and pink fresia, which attribute to the floral element in the perfume. Finally you can smell sandalwood, florimos and honeycomb.
Zoals je kunt zien, is er in dit parfum geen gebrek aan bloemen. Ik draag het liefst 'The One' van D&G, een nogal zware geur, maar zo'n frisse, delicate geur kan mij zeker ook bekoren.
There's obviously an abundance of flowers in Joyful. I love to wear 'The One' by D&G (a heavy scent), but the fresh and delicate smell of Escada's new baby can definitely win me over.
Escada Joyful  Eau de Parfum
30 ml – €49
50 ml – €69
75 ml – €89