Voor de feestdagen heeft Yves Rocher een superleuk setje uitgebracht om voor wat glitter en glamour tijdens de feestdagen te zorgen. Dit setje bevat een verzorgende lipstick in een limited edition kleur 'Or' en een glitterlotion in 'Or'. Het thema is duidelijk: GOLD!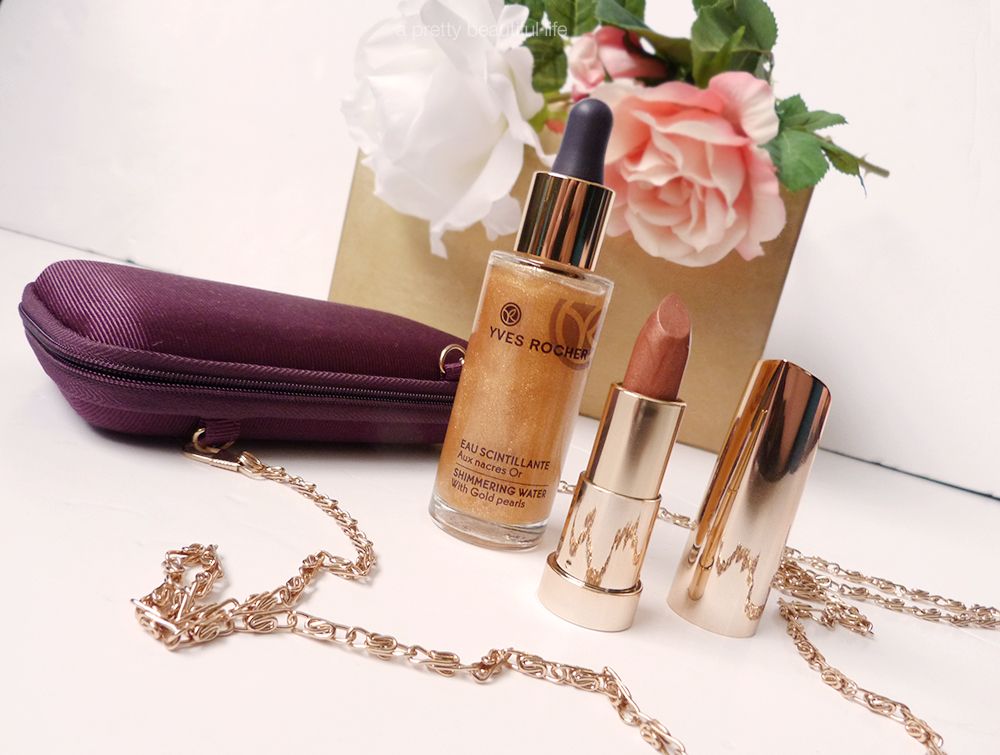 Yves Rocher has a cute little gift for the holidays including two products that will make you shine.
Het Shimmering Water With Gold vind ik een fantastisch product. Dit is een soort van licht geparfumeerd watertje dat glitters bevat om je gezicht en decolleté laat schijnen. Je kan het ook gewoon in je haar gebruiken voor een supermooi effect.
The Shimmering Water With Gold is a very interesting product. It's a lightly-scented water that contains a bunch of gold glitters. You can apply it to your face, body and even your hair.
Het flesje bevat een pipet waarmee je het product kunt dispenseren. Op onderstaande foto zie je een close up van een druppeltje van dit product. Het ziet er misschien een beetje intimiderend uit (glitters. overal.) maar laat je niet afschrikken.
The bottle contains a dropper to dispense the product. At first glance, the product looks very intimidating with all that glitter, but don't let that scare you away.
Dit product heeft een erg mooi en subtiel effect. De glitters worden erg mooi verspreid en het ziet er absoluut niet ordinair uit. Je kan natuurlijk meer aanbrengen voor een feller effect als je dat wilt. Ik vind het een erg tof product, vooral omdat het subtiel is.
The water has a very nice and subtle effect – you don't have to worry that it'll make you look cheap (or like Edward Cullen). You could layer this product for a more notable effect.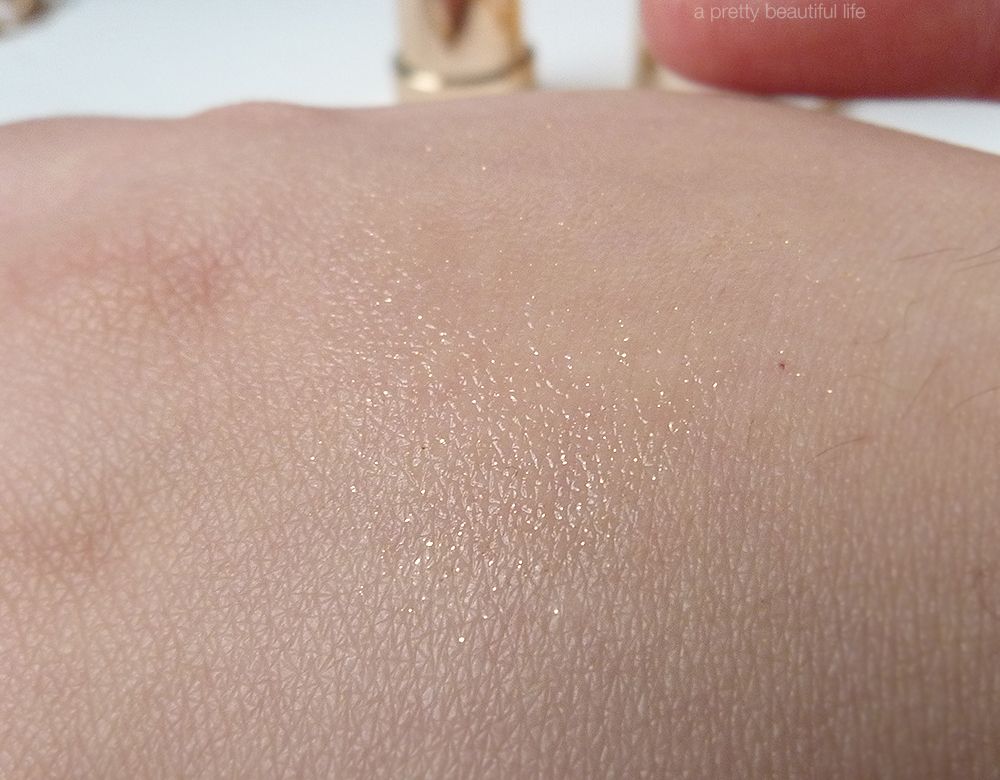 De lipstick geeft ongeveer hetzelfde effect als het water: geen echte kleur maar meer een mooie glans. Ook hier zijn de glitters niet in your face maar meer subtiel. Bovendien is het product erg zacht en voedt het mijn lippen erg goed, dus je kan dit ook als een feestelijke lippenbalsem gebruiken.
The lipstick is a bit like the water: it doesn't give off any colour but it does give your lips a gorgeous sheen. The lipstick is also very moisturizing so you could actually use it as a festive lipbalm!
Dit setje is een erg leuk cadeau voor jezelf of voor een beautyliefhebbende vriendin. Het paars tasje dat je erbij krijgt is erg mooi en perfect bij je little black dress of ander feestjurkje. Zeker in huis halen dus!
This set is a very cute gift for yourself or for your beauty loving friend. The purple bag that comes with the products is also a perfect match for your little black dress or other party dress!
Ik heb niet de exacte prijs van dit setje, maar apart kosten de producten €19,90 (Shimmering Water) en €17,90 (verzorgende lipstick). Van zodra ik de prijs heb, zal ik het hier vermelden.