De nieuwe trend in make-up land? Waterige foundations die vederlicht aanvoelen maar toch meer dan genoeg dekking geven. Je zag het al bij Giorgio Armani en L'Oréal Paris, en nu volgt Dior met haar Diorskin Nude Air Serum. Lees verder om meer te ontdekken over dit magisch nieuw goedje.
The newest make up trend: watery foundations that feel very airy, but that offer a fully opaque cover. We saw it already at Giorgio Armani and L'Oréal Paris and now, Dior has launched its own version: the Diorksin Nude Air Serum.
De Diorskin Nude Air formule is speciaal ontwikkeld om een dun en haast onzichtbaar laagje make-up achter te laten op de huid dankzij de vluchtige oliën in het product. De pigmenten en lichtreflecterende deeltjes zorgen voor een egale en glowy huid. De Oxygen Activ™ technologie van Dior bevat specialie oiën, vitamines en mineralen die voor een revitaliserende en ademende huid zorgt.
Er zijn 6 beschikbare tinten en ik heb de lichtste, 020 Light Beige. Er is nóg een tint lichter die geschikter zou zijn voor mij maar helaas is deze niet verkrijgbaar in België.
The Diorskin Nude Air formula was created to deposet an undetectable film of make up on the skin. It's also enriched with soft-focus agents and glazed pigments to produce an even, radiant complexion. The Oxygen Activ™ technology that Dior implemented in this foundation is an innovative combination of a hyper-oxygenated oil, cranberry oil, vitamins and minerals to revitalised the skin.
There are 6 available colours and I have the lightest one, 020 Beige. There's actually one more lighter shade but unfortunately, it's not available in Belgium. Too bad as I believe that one would have been a perfect match for me.
De foundation heeft een dunne, loperige structuur dat bijna als water aanvoelt. Hierdoor kan de foundation met gemak verdeeld worden met een glazen pipet. Het lijkt me ook handiger dan met een pompje: mijn NARS foundation heeft ook een erg waterige textuur en het pompje wordt daardoor erg snel vies. Goed idee van Dior, dus.
The product has a very thin and runny texture that reminds me of water. Dior used a glass dropper to deliver the right amount of product. I think this is a wonderful idea as I own a NARS foundation with the same kind of texture but the pump it comes with gets SO dirty.
Je ziet hier al eigenlijk dat het druppeltje al begint uit te lopen. Ik heb trouwens gewoon een keer gedept met de pipet op mijn hand en deze hoeveelheid is zowaar genoeg voor mijn hele gezicht. Het product is zo fijn en gemakkelijk om uit te smeren en de dekking is fan-tas-tisch. Ik had dit echt niet verwacht vanwege de waterige textuur, maar deze foundation dekt al mijn rode plekjes zonder problemen.
I just tapped the glass dropper against my skin, and this amount is enough for my entire face. The formula is very runny as you can see, but I love the coverage it gives me. It really erases all of my redness and I didn't even need to layer the product.
De finish is semi-matte. Je ziet duidelijk dat er een gezonde glans aanwezig is, maar het maakt je huid absoluut niet vettig. Het is eigenlijk ook prima voor mijn ietwat vettere huid – het glijdt er niet af en dat had ik eerlijk gezegd wel een beetje verwacht van zo'n luchtige formule.
The finish is semi-matte. You can clearly see a nice glowy sheen to the skin. It also works great on my oily skin which, to be honest, I didn't expect at all. I thought the watery formula wouldn't mix well with my oily skin but it does, and the foundation doesn't budge at all during the day.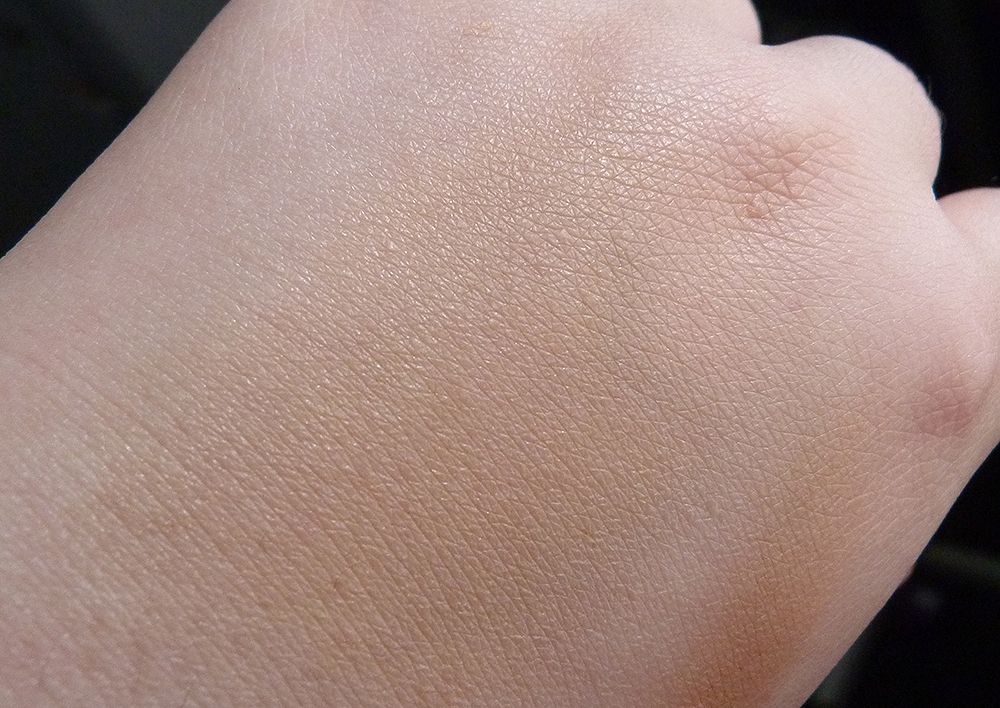 Al bij al: een verrassende, geweldige foundation die voor elk huidtype wel geschikt lijkt. Jammer dat er geen lichtere kleur beschikbaar is (en ik zie mezelf ook geen andere producten ermee mengen vanwege de waterige textuur), maar voor de rest ben ik hier uiterst tevreden over!
This is an amazing foundation and it works well on every skin type. Too bad the lightest colour isn't available here in Belgium, and I don't see myself mixing other products with this watery formula.
Diorskin Nude Air Serum – €53/30ml