Over een paar weken is het Kerstmis dus tijd om nog eens een kerstcollectie op de blog te tonen: Golden Shock van Dior. Ik kreeg enkele productjes toegestuurd waarvan ik vandaag een deel ga tonen, namelijk het oogschaduwpalette en de mono oogschaduw. Lees snel verder voor meer golden goodies!
It's Christmas in a couple of weeks so time to present you a new festive collection: Golden Shock by Dior. I received a couple of products and I'm going to show you a few of them in this article. Keep reading to find more about these golden goodies!
Ik zet vandaag de oogproducten in de kijker, namelijk het 5 Couleurs Edition Limitée Noël 2014 oogschaduwpalette en een Diorshow Fusion Mono Eyeshadow.
I'll be showing you two eye makeup products: the 5 Couleurs Edition Limitée Noël 2014 palette and a Diorshow Fusion Mono Eyeshadow.
In deze collectie zit er één Diorshow Fusion Mono Eyeshadow in Mirror, een nieuwe permanente kleur. Dit kleurtje sprak me al direct aan toen ik de promofoto's zag want ik hou van lichte, beigegouden tinten. En de laatste tijd ben ik gek van crèmeoogschaduws dus kom maar op met die Fusion Mono!
This collection has one Diorshow Fusion Mono Eyeshadow in Mirror, a new permanent shade. This colour really appealed to me when I saw the promo pics, since I love light, beige golden colours. And I've been using a lot of cream eyeshadows lately so I was very happy to discover this one.
Er zit een kleine applicator bij de oogschaduw die erg fijn in gebruik is. Ik gebruik dit het liefste om een beetje Mirror in mijn binnenste ooghoeken aan te brengen.
The eyeshadow comes with a tiny sponge applicator that I actually use quite a lot, especially to apply a bit of product in the inner corners of my eyes.
Het grootste pluspunt van de Diorshow Fusion Mono's is de fantastische textuur: luchtig, zacht, romig en erg gepigmenteerd. Ik gebruik Songe altijd als oogschaduwbasis (het egaliseert mijn oogleden en zorgt voor een intensere pigmentatie van andere oogschaduws) of voor een vleugje kleur, en ik blijf er nog steeds erg content over. Mirror is geen uitzondering; de textuur is to die for en zoals je kunt zien, geeft het een feestelijke glans af.
The thing I love the most about these Diorshow Fusion Mono eyeshadows is the lovely texture: light, creamy, soft and highly pigmented. I've been using Songe as an eyeshadow base ever since I got it and I'm still superhappy with it. Mirror is no exception: the texture is to die for and as you can see, it gives off a gorgeous, festive sheen.
Mirror heeft zelf ook een licht kleurtje: een goudbeige tint, gepaard met veel glitters. Dit is de perfecte kleur om op het midden van je oogleden aan te brengen voor een vergrotend effect, of aan de binnenkant van je ogen. Je kan het ook evengoed gebruiken als highlighter op je jukbeenderen. De glitters erin zijn misschien een beetje teveel van het goede voor een dagelijkse look maar voor de feestdagen is dit zeker geschikt!
Mirror is a beige gold colour with a LOT of glitters. You can use it in many ways: you can apply it on the middle of your eyelids or on the the inner corners of your eyes. You can even use it as a highlighter on your cheekbones; the glitters might be a bit too much for an everyday look but it's perfect for the holidays.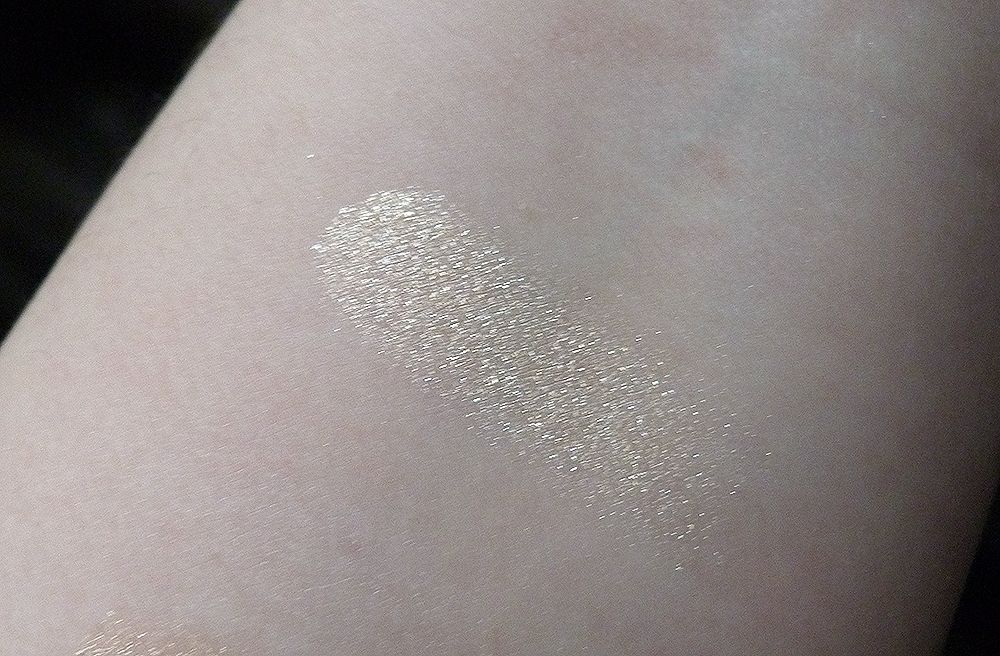 Dan toon ik jullie nog graag het 5 Couleurs palette in Golden Shock. Er is nog een andere variant beschikbaar (Golden Reflections) en is zeker de moeite waard om eens te bekijken.
I also have the 5 Couleurs palette in Golden Shock. You should also check out Golden Reflections, the other palette in this collection – very pretty!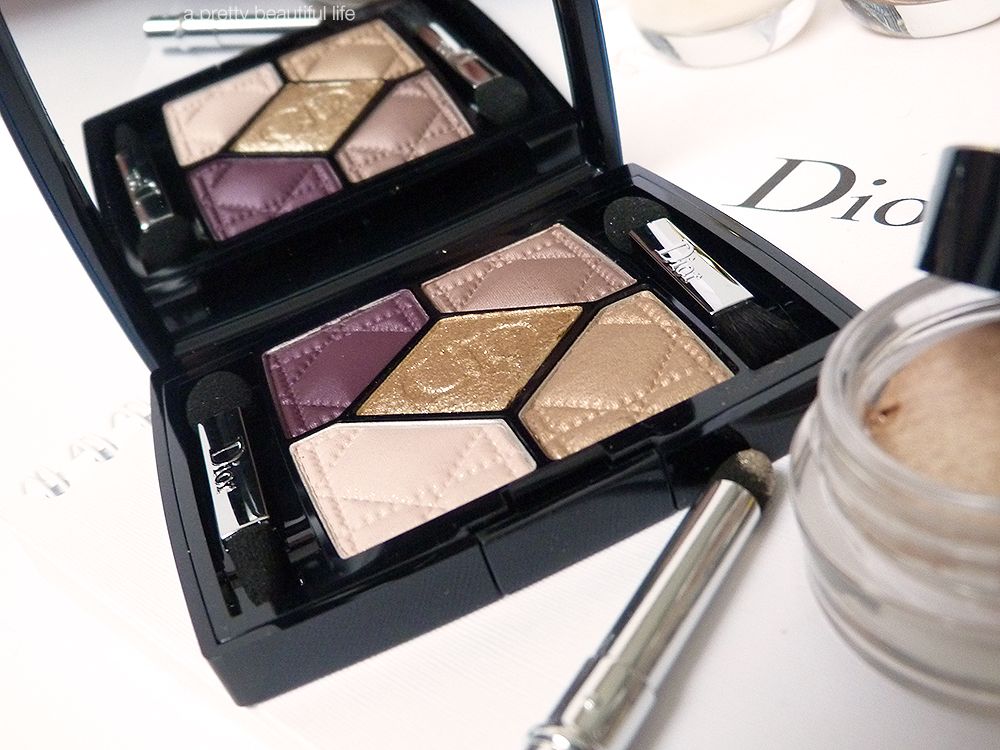 De 5 Couleurs oogschaduwpalettes zijn altijd opgebouwd rond 1 centrale kleur met daarbij 4 complimenterende tinten. De kleuren en texturen variëren enorm waardoor je zo'n palette eigenlijk eindeloos kunt combineren voor zowel naturelle als zwaardere looks. 'Golden Shock' draait rond de gouden tint in het midden. Daarrond heeft Dior een prachtig donkerpaarse tint aan toegevoegd, samen met een donkerbruine kleur en twee lichtere tinten.
The 5 Couleurs eyeshadow palettes always contain 1 central colour surrounded by 4 complimentary shadows. The colours and textures vary alot so you can create all kinds of different looks with just one palette. Golden Shock contains a central gold eyeshadow, a gorgeous purple colour and two lighter shades.
De oogschaduws zijn allemaal erg goed gepigmenteerd, ik ben er erg van onder de indruk! Zoals je kunt zien, zitten er ook verschillende texturen in dit palette. De paarse oogschaduw en de tweede van rechts zijn matte (de verdwaalde glitters komen van de andere oogschaduws). De tweede en derde kleur van links hebben meer een satijnen finish voor een erg mooie glans. En hét feestelijkste kleurtje van dit palette is de middelste gouden kleur: veel glitter en shimmer!
The eyeshadows are all really opaque – I'm very impressed. The different textures of the eyeshadows also work really well together. The purple eyeshadow and the pink colour (2nd from the right) are both matte. The 2d and 3rd eyeshadows from the left have a satin finish. And the most festive colour in this palette is the golden shadow in the middle which contains a lot of glitters and shimmer.
De oogschaduws blijven bij mij erg goed zitten, zelfs zonder basis. Het blenden verloopt erg gemakkelijk en hemels dus daar ben ik ook erg tevreden over. Ja, dit paletteje is toch een schot in de roos van Dior!
The eyeshadows last a long time, even without a base or primer. Blending is also very easy as the eyeshadows are very soft. I really like this palette!
Dior 5 Couleurs – €58,50
Diorshow Fusion Mono Eyeshadow – €33
Meer info op de website van Dior