Eén van mijn kerstcadeautjes was een pakket van LVMH met daarin heerlijke beautyproducten (thank you!), en eentje daarvan was dit schattig makeup palette van Dior. Superklein en compact maar nu al gebombardeerd tot mijn favoriet palette van 2015!
One of my Christmas gifts was a package from LVMH containing a few great beauty products, including this little make up palette by Dior. It's so tiny and compact but it has already become my favorite palette of the year (even though 2015 has only started).
Voor ik begin met mijn review en jullie hopeloos verliefd worden, moet ik even vermelden dat ik niet weet waar je dit schatje kunt kopen. Volgens mij is het een erg luxueuze staal, maar ik zal het zeker navragen en dan iets laten weten.
Dit palette bevat 3 oogschaduws (2 x 0,75g en 1 x 0,59g), een Rouge Dior lippenstift in 'Nude' (0,45g) en een Dior Addict Gloss (0,44g). Niet veel product maar aangezien ik niet veel oogschaduw draag, is dit de perfecte grootte voor me. Zo weet ik tenminste dat ik eens een make up palette kan opmaken!
Before you continue reading and completely fall in love with this palette, I have to say that I don't know where you can buy this. I'll definitely ask and if I get an answer, I'll share it on Twitter. So this palette contains 3 eyeshadows, a Rouge Dior lipstick in 'Nude' and a Dior Addict Gloss. As you can see, it's not a lot of product but I'm happy with the size since I don't use a lot of eyeshadow anyway.
Van links naar rechts: de Dior Addict Gloss, Rouge Dior in 'Nude' en de drie oogschaduws. Allemaal erg mooie en draagbare kleuren, maar het is toch iets anders dan de traditionele bruintinten en nudekleuren die je vaak in palettes ziet.
From left to right: the Dior Addict Gloss, Rouge Dior in 'Nude' and 3 eyeshadows. I love the colours; they're very pretty and wearable, and it's not a traditional nude eye palette.
De oogschaduws zijn oh zo mooi! De meest rechtse kleur (hier links op de foto) is een prachtige beigegouden highlighter. De kleur erlangs is meer taupe, en daarlangs vind je een khaki kleur (geen goede beschrijving maar het is zo'n speciale kleur). De pigmentatie is ook echt geweldig, en de oogschaduws verstuiven ook niet. 10/10!
De Rouge Dior is ook verrassend goed gepigmenteerd. Het is een meer koraalroze kleur en inderdaad een mooie nudetint. De gloss heeft een lichtroze kleur en bevat shimmers maar die valt niet erg op op de lippen, buiten het feit dat het een erg mooie en gezonde glans geeft.
The eyeshadows are very opaque and have a soft texture. The highlighter has a golden sheen (so gorgeous); the colour in the middle is a soft taupe; the other eyeshadow is a kind of dark green colour. The Rouge Dior, a soft pink lipstick, is also very well pigmented. And the Dior Addict Gloss doesn't really show up on the lips but it does give off a gorgeous sheen.
Dit palette ligt nu bij mijn producten die ik dagelijks gebruik. Ik vind het een superschattig en kwalitatief palette en denk dat dit één van de eerste palettes zal zijn die ik volledig opgebruik.
This palette is one of my go-to products now. I think I might have finally found the first palette that I'll completely use up.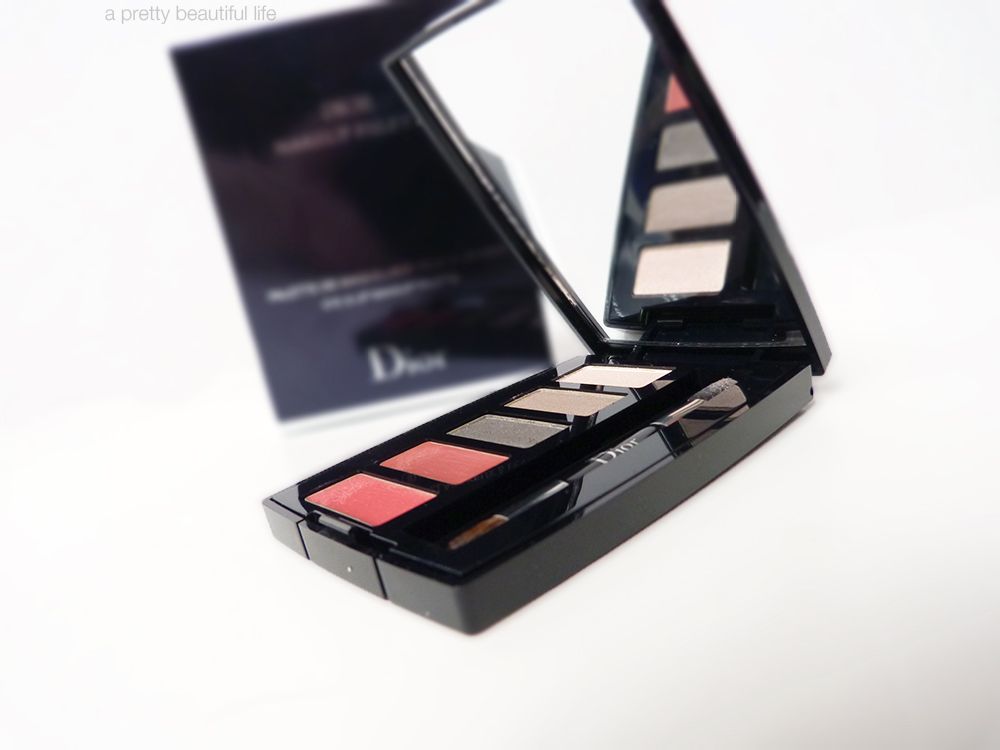 Veel liefs,
Diana