Al sinds 1987 schrijft Dior geschiedenis met haar beroemde 5 Couleurs palettes die bij iedereen het hart sneller doen slaan. Onlangs besloot Dior om de klassieker onder haar oogschaduws in een nieuw jasje te steken door het gebruik van nieuwe kleurencombinaties, vernieuwde, langhoudende texturen en verschillende finishes.  Dit allemaal zorgt er voor dat je met één palette verscheidene looks kunt maken, zowel naturelle looks als een indrukwekkende smoky eye. Alles wat je nodig hebt in één palette – perfect! Ik toon jullie alvast 2 van de 11 nieuwe palettes: Cuir Cannage en Trafalgar.
The 5 Couleurs palettes by Dior have been a staple in the make up world ever since its launch in 1987. Now, everybody knows you don't mess with perfection, but Dior did it anyway ánd succeeded. For their autumn collection, Dior launched 11 new eyeshadow palettes with a new long-lasting formula, new color combinations and different finishes. I got to test 2 gorgeous palettes: Cuir Cannage and Trafalgar.
De 5 Couleurs oogschaduwpalettes bevatten elk 5 oogschaduws met verschillende finishes (mat, satijn, iriserend of shimmery) voor een veelzijdige look. Mixen en matchen, dus. Elk palette wordt opgebouwd rond één centrale tint waardoor alle kleuren in het palette harmonieus samen gaan.
The 5 Couleurs eyeshadow palettes contain 5 eyeshadows with different finishes (matte, satin, iridescent of shimmery). Each palette is built around one central colour and you can use it to create different looks.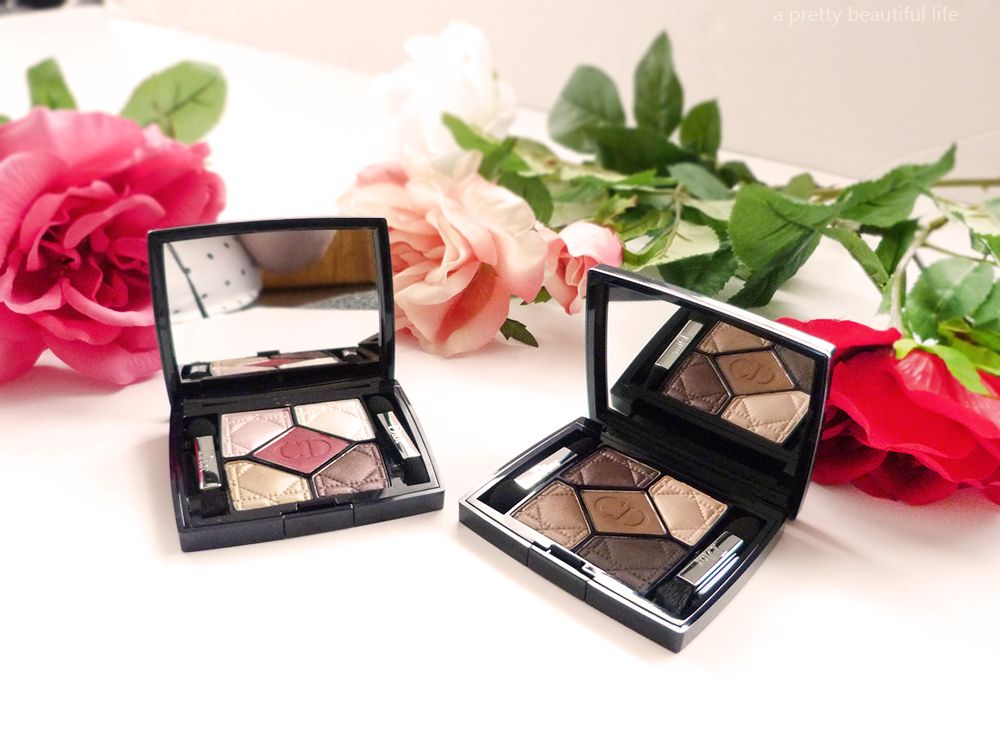 Trafalgar is een mix van roze, goud en bordeaux – ideaal voor de herfst. De blikvanger is de donkerrode (!) oogschaduw in het midden van het palette. Nu, bij rode oogschaduw denk ik altijd spontaan aan vampiers met bloeddoorlopen ogen, maar laat je niet afschrikken door mijn uit de hand gelopen fantasieën. Dit is verrassend draagbare en mooie kleur die, in combinatie met de rest van het palette, voor een prachtige, warme look kan zorgen.
Trafalgar is a mix of pink, gold and plummy colours – perfect for autumn. The eyecatcher (pun intended) here is definitely the deep red shade in the middle. I immediately had to think of those oldschool vampires with bloodshot eyes, but don't mind my crazy fantasies – this colour is surprisingly wearable!
Alle vijf de oogschaduws zijn fantastisch goed gepigmenteerd. De twee bovenste kleuren lijken op het eerste zicht erg op elkaar, maar de linkerkleur is meer roze terwijl de andere een witgouden basis heeft. Beiden zijn ideaal om mee te highlighten of als basiskleur over je hele ooglid. Linksonder vinden we een erg mooie gouden kleur, ideaal voor de komende feestdagen.
The five eyeshadows are all amazingly well pigmentated. The two colours on top look alike but if you look a bit closer, you'll notice the left eyeshadow is a bit more pink than the colour on the right (which is more a yellow gold colour). Both are perfect for highlighting. On the bottom left you'll find a beautiful golden bronze eyeshadow with a slightly frosty finish.
Rechtsonder vinden we een donkere bruinrode kleur met een satijnen finish. Met deze tint kan je een mooie smoky eye creëren. Tot slot vinden we in het midden van het palette de bordeaux kleur met een licht glanzende finish.
Ik ben verrassend gek op deze combinatie van kleuren! Nooit gedacht dat rood (bordeaux) zo mooi kan zijn op de ogen, maar in combinatie met het bruin en het goud krijg je een erg draagbaar resultaat. De kleur doet me trouwens ook denken aan de herfst – de kleurrijke bladeren die op de grond vallen… Geweldig!
On the bottom right is a dark brown eyeshadow with a reddish undertone. This colour has a satin finish and it's perfect to use for a smoky eye. Finally there's the plummy red colour in the middle, also with a satin finish. I'm actually quite in love with this combination of colours! I would never have thought that a plummy red eyeshadow, which can be quite tricky to pull off, would be so wearable. I especially love the plummy eyeshadow paired with the dark brown one.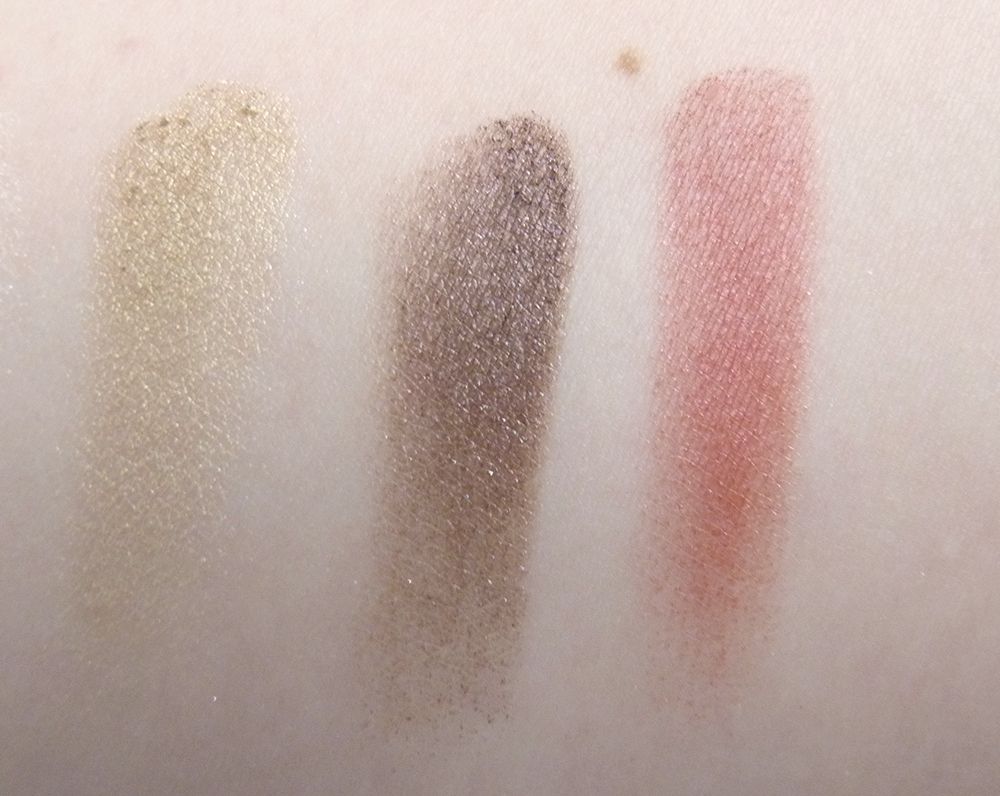 Degenen die op zoek zijn naar het perfecte basispalette waar je zowel nude looks als smoky eyes mee kan maken, moeten Cuir Cannage in huis halen. Dit is een mix van bruine en beige tinten met nét genoeg verschil in kleuren om het geheel interessant te houden.
Those who are looking for a good palette that can be used for nude looks and smoky eyes, should definitely go and get Cuir Cannage, a beautiful mix of different hues of browns and beiges.
In dit palette vinden we één highlighter kleur die je rechtsboven ziet. Dit is een geweldig mooie witgouden oogschaduw die je ook gerust op je jukbeenderen kunt gebruiken. Daar links van vinden we een donkerbruine tint met satijnen finish. Onderaan zien we twee bruine oogschaduws. De linkse kleur is meer bronsgoud en heeft een satijnen finish terwijl de rechter meer zwartbruin is en volledig matte is. Het hart van dit palette is een matte mediumbruine kleur die iedereen moet bezitten. Het is perfect om diepte te creëren of als smoky eye.
Cuir Cannage contains one highlighter: on the top right you'll find a gorgeous golden white highlighter that you can also use on your cheekbones. On its left is a reddish brown eyeshadow with a satin finish. The bottom two colours in this palette are both brown. However, the colour on the left is more bronze-y with a satin finish whereas the other one is more brown-black and completely matte. The colour in the middle is also matte and is a medium brown shade that's ideal for adding depth to your eyes.
De oogschaduws zijn allemaal fantastisch goed gepigmenteerd – er zijn géén uitzonderingen. En ongeacht de verschillende finishes voelen alle oogschaduws zijdezacht aan. Je kan ze ook met gemak blenden en meerdere lagen aanbrengen zonder dat het geheel begint te creasen. Oh, en zonder oogschaduwbasis blijft alles ook perfect zitten gedurende de dag!
All of these eyeshadows have amazing pigmentation and even though they have different finishes, they all feel super soft to the touch. You can also blend them easily and layer the eyeshadows without fear of creasing. I managed to wear these eyeshadows for an entire day without an eyeshadow base – pretty impressive!
Ik weet niet welke van de twee mooier is, maar wat vast staat, is dat ik er meer wil. Oké, deze palettes zijn niet goedkoop, maar je krijgt wel 5 oogschaduws van topkwaliteit die je eindeloos kunt combineren met elkaar. Een frisse look om mee naar het werk of naar school te gaan? Combineer de highlighter met een medium tint. Als je daarna van plan bent om op stap te gaan, moet je enkel je palette bovenhalen en een donker kleurtje aanbrengen. Daarnaast kan je ook met de verschillende finishes spelen en zo een prachtige oogopslag te creëren.
I can't decide which one is prettier, but I can tell you this: I want more. These palettes aren't very cheap, but you'll get 5 top-quality eyeshadows that you can combine effortlessly. So whether you need a simple look to wear to work or you're planning on going out – all you need, can be found in one little palette.
DIOR 5 COULEURS – €60,58