Toen de koerier eerder deze week bij me aanbelde, had hij een gigantische zak bij met de nieuwste Clinique lanceringen. Ik geef jullie alvast een sneak peek van enkele nieuwe producten dus blijf zeker lezen.
I received a bunch of new Clinique products earlier this week and in this article, I'm going to give you guys a sneak peek of what's to come.
Jullie zijn zeker het meest benieuwd naar de make up producten, niet waar? Hier zien jullie wat jullie binnenkort mogen verwachten op de blog! Allereerst de nieuwe Beyond Perfecting Foundation + Concealer, een combinatie van concealer en foundation in één voor een perfecte dekking zonder dat het zwaar aanvoelt op de huid. Ik heb twee kleuren, Ivory en Creamwhip, die ondanks hun naam véél te donker zijn voor mijn huidje. Er zijn zes tinten in de winkels verkrijgbaar, maar online vind je maar liefst twintig tinten.
You're all probably the most interested in the make up products, so here's an overview of what you can expect soon on the blog. First, let's take a look at the new Beyond Perfecting Foundation+Concealer, a combination of foundation and concealer. There are six available colours in the stores but you'll find twenty colours online.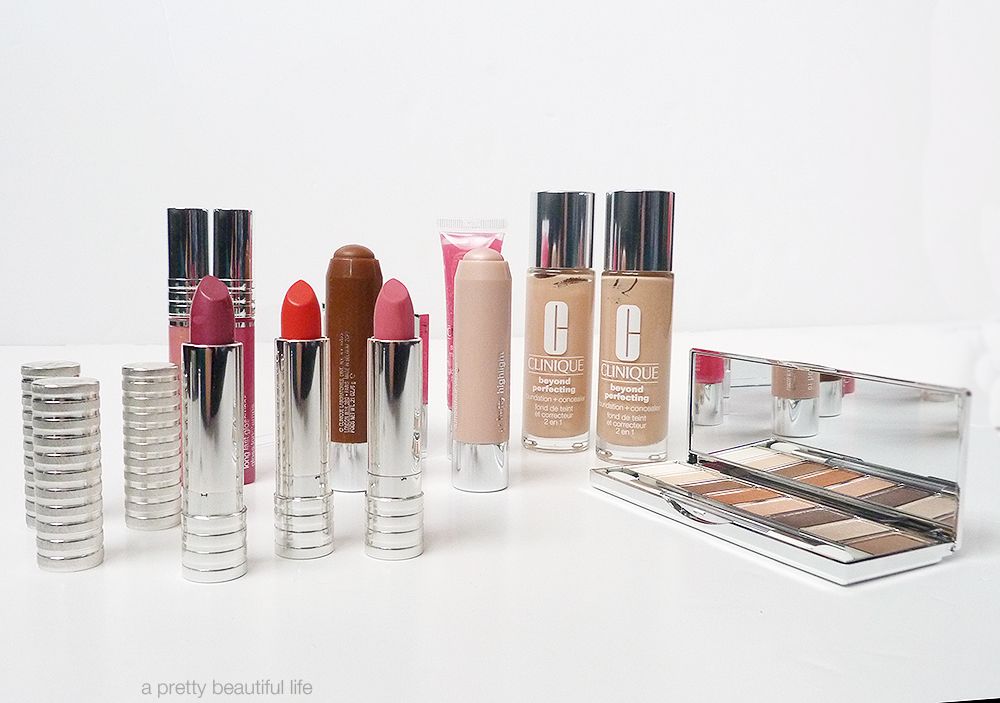 Clinique lanceert een limited edition Long Last Soft Shine Lipsticks genaamd 'Kiss The Bride'. Er zijn drie kleuren beschikbaar waarvan jullie er twee op onderstaande foto zien (links en rechts).
In het midden zien jullie de Long Last Soft Matte Lipstick. In tegenstelling tot de andere kleuren heeft deze lipstick een matte finish.
Clinique will launch three limited edition Long Last Soft Shine Lipsticks. This collection, 'Kiss The Bride', will be launched in april. You can see two of the three colours in this picture on the left and the right. In the middle, you see a Long Last Soft Matte Lipstick.
Wat je nu al in de winkels kunt vinden, zijn de Long Last Glosswear lipglossjes. Deze hebben een langhoudende, vochtinbrengende formule met een intense kleur.
You can already find the Long Last Glosswear lip glosses. These have a long-lasting and moisturizing formula with an intense pigmentation.
Ben je op zoek naar een meer hydaterend product? Ga dan voor de Superbalm Moisturizing Gloss, een lipgloss met een licht kleurtje die je lippen intens hydrateert.
If you're looking for a more moisturizing product, the Superbalm Moisturizing Gloss is definitely something worth checking out. This extremely hydrating lipgloss also provides your lips with a hint of colour.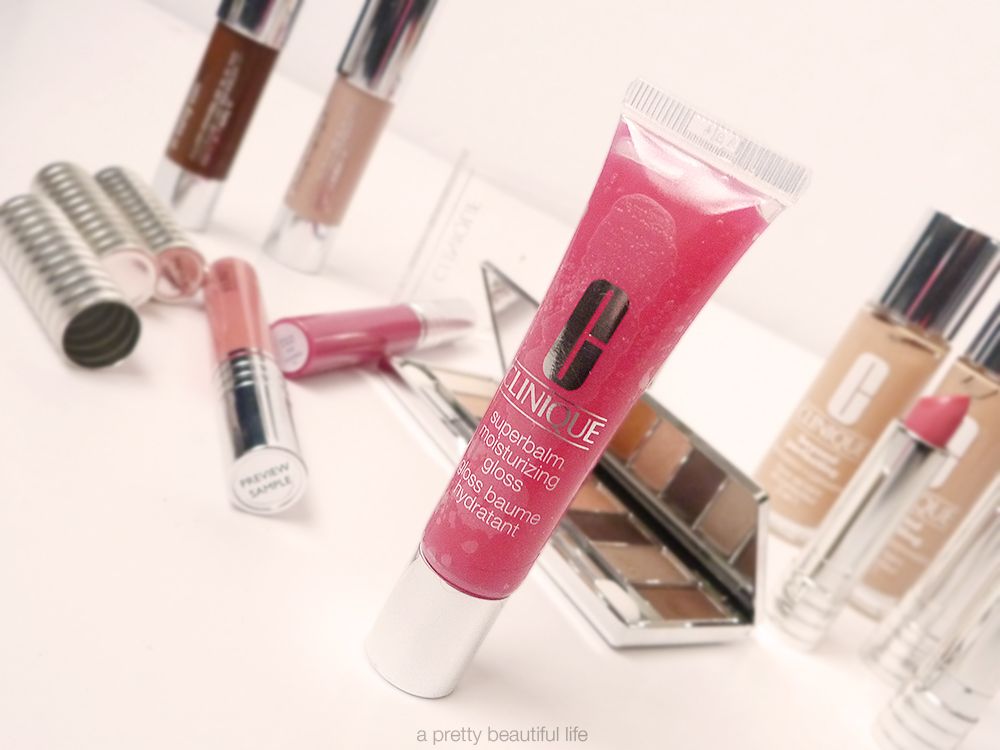 Over naar de ogen! Dit prachtig Wear Everywhere Nudes palette behoort tot de Wear Everywhere Neutrals oogschaduwpalette collectie. Er zijn in totaal vijf varianten met telkens acht oogschaduws die je eindeloos kunt mixen en matchen. Naast een nude palette zijn er ook nog andere kleurenfamilies: Pinks, Greens, Greys en Blues. Vanaf maart exclusief online verkrijgbaar.
Let's move over to the eyes. This gorgeous Wear Everywhere Nudes palette is part of the Wear Everywhere Neutrals collection. You'll find five different palettes (nudes, pinks, greens, greys, blues) in this collection, each containing eight eyeshadows.
Voor prachtige jukbeenderen moet je de Chubby Stick Sculpting Contour en Sculpting Highlight ontdekken. Met deze sticks kun je de perfecte jukbeenderen creëren in een handomdraai. Ik heb deze al getest en ik ben er dol op.
For the perfect cheekbones you should use the Chubby Stick Sculpting Contour and Sculpting Highlight. These sticks allow you to contour like a professional. I've already tested these and I absolutely love them.
De nieuwe Sculptionary Cheek Contouring Palettes zijn nieuwe blushes die je kunt mengen voor een frisse blos, of je gebruikt alle drie de kleuren perfect voor een accentuering van je gezichtsvormen.
The new Sculptionary Cheek Contouring Palettes are new blushes that you can either mix for a luminous blush, or you can use the colours seperately to accentuate your facial features.
Naast de make up zijn er ook nog enkele huidverzorgingsproducten. De Clinique Sonic System Purifying Cleansing Brush is een gezichtsborstel waarmee de huid enorm grondig gereinigd wordt – een beetje zoals de Clarisonic, dus. Je kan deze combineren met de Anti-Blemish Solutions Cleansing Gel en Anti-Blemish Solutions Deep Cleansing Brush Head. Deze combinatie is ideaal voor de vettere, onzuivere huid. Achteraf kan je dan de Anti-Blemish Solutions BB Cream SPF 40 gebruiken (verkrijgbaar in drie tinten). De nieuwe Clinique Dramatically Different Moisturizing Cream houdt je huid lekker fris en daarnaast herstelt het de vochtbarrière van je huid in enkele weken tijd. Tot slot is er nog een nieuw parfume van Clinique, de Aromatics in White, speciaal gecreëerd voor de vrouw die zichzelf wilt onderscheiden van de rest.
On to the skincare products. The Sonic System Purifying Cleansing Brush is a cleansing brush, kind of like the Clarisonic. You can combine this with the Anti-Blemish Solutions Cleansing Gel and Deep Cleansing Brush head – perfect for the more oily and acne-prone skin. To finish off, use the Anti-Blemish Solutions BB Cream SPF 40 (available in three colours). If you're looking for a new moisturizier, try the new Dramatically Different Moisturizing Cream. It keeps your skin fresh and glowy and transforms it in just a couple of weeks. And finally we have the new Clinique perfume, Aromatics in White, for the woman who wants to distinguish herself from the rest.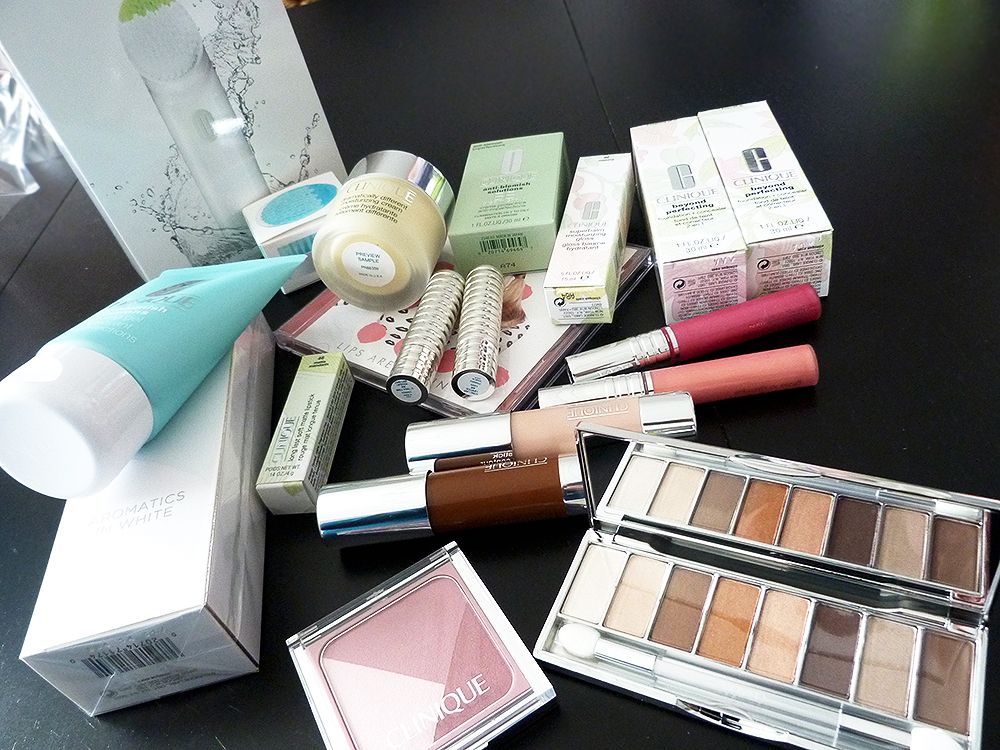 Ik hoor heel graag wat jullie eerst willen zien op de blog, dus laat het me zeker weten in de comments. En als je nog specifieke vragen hebt of de lanceringsdatum wilt weten van een product, mag je dat uiteraard ook achterlaten in de comments!
I'd love to hear what products you'd like to see first so let me know in the comment section. And if you have any specific questions about a product or if you want to know when something launches, ask away.
Veel liefs,
Diana