Nudetinten – they'll never go out of style, om Taylor Swift te quoten. Giet dat nog eens in een handig palette met spiegel en je hebt een recept voor succes. Clinique kwam onlangs uit met de Wear Everywhere Neutrals, een collectie oogschaduwpalettes met 8 oogschaduwkleuren die je eindeloos met elkaar kunt combineren. Er zijn 5 varianten beschikbaar en ik heb het felbegeerde Nudes palette in handen gekregen. Lees verder voor swatches en een uitgebreide review.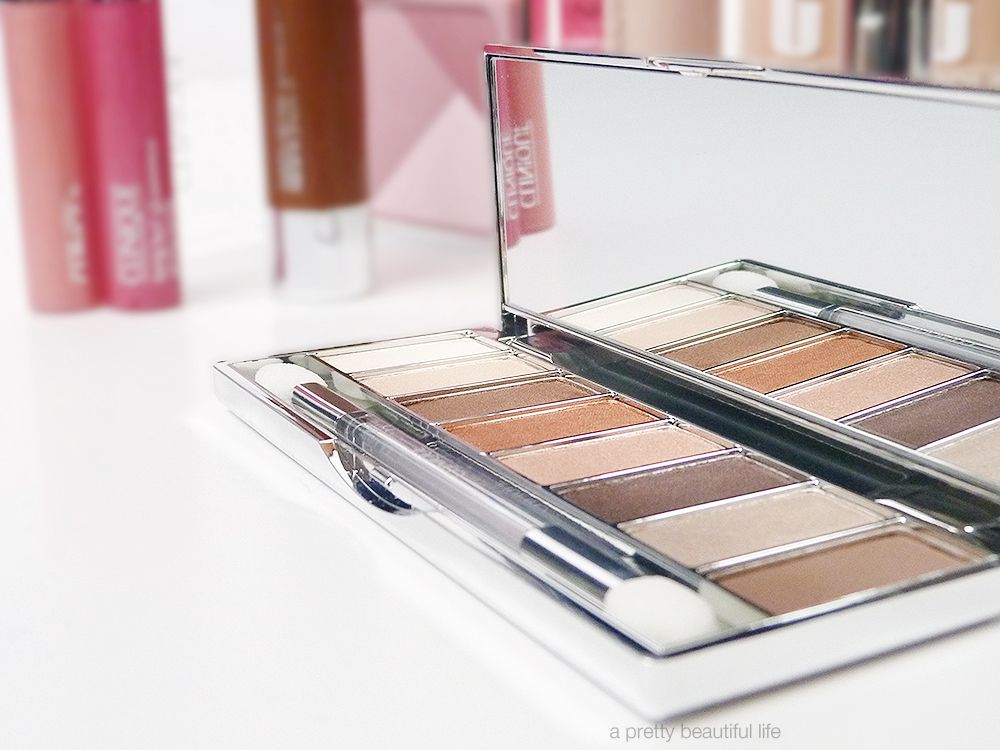 Clinique recently brought out a collection of eyeshadow palettes called 'Wear Everywhere Neutrals'. These beauties each contain 8 gorgeous eyeshadows that you can combine endlessly for different kinds of looks. I received Nude to try out and I'm excited to show you this lovely palette so keep reading for an in-depth review.
In totaal zijn er dus 5 varianten verkrijgbaar met elk 8 oogschaduws. Elk palette kost €49,65 en kan je verkrijgen via de website van Clinique.
– Sahara Sand/Nudes
– Kawaii Rose/Pinks
– Rainforest Greens/Greens
– London Fog/Greys
– Parisian Blue/Blues
Het palette is vrij klein en compact – handig om mee te nemen in je tas. Dankzij de grote spiegel en het bijgevoegd kwastje kan je overal en altijd je oogmake-up bijwerken. Het design is bovendien ook erg Clinique: strak, simpel en chique.
The eyeshadow palette is smaller than I'd expected but this is a good thing. The size, the mirror and the brush make this the perfect partner for on the go.
Hier zien we dus Sahara Sand. Het is een combinatie van 8 verschillende tinten en 3 finishes (soft en super shimmer en matte).
– Alabaster – soft shimmer (limited edition, new)
– Daybreak – super shimmer
– Moroccan Brown – soft shimmer (limited edition, new)
– At Dusk – super shimmer
– Sahara Sun – super shimmer (limited edition, new)
– Jute Brown – soft shimmer (limited editon, new)
– The Light Shade of Starlight Starbright Duo – soft shimmer
– Chocolate Bark – matte (limited edition, new)
Sahara Sand is a combination of 8 different shades and 3 kinds of finishes (soft and super shimmer and matte).
Hier zien jullie een snelle swatch van alle kleuren. Prachtig, niet waar? Het zijn 8 mooie, warme tinten die je inderdaad op verschillende manieren kunt combineren voor verschillende looks. De donkerdere tinten zijn bijvoorbeeld ideaal voor een zwoele smokey eye. De 4de kleur van links zorgt voor wat kleur in je oogopslag, en als je de lichtere kleuren gebruikt, kan je een mooie look voor overdag in elkaar flansen. De mogelijkheden zijn eindeloos!
Here's a quick swatch of the eyeshadows. I can already see an endless amount of combinations and looks before me: a dark smoky eye, a soft neutral look for school or work, a vibrant eyelook with 'At Dusk',…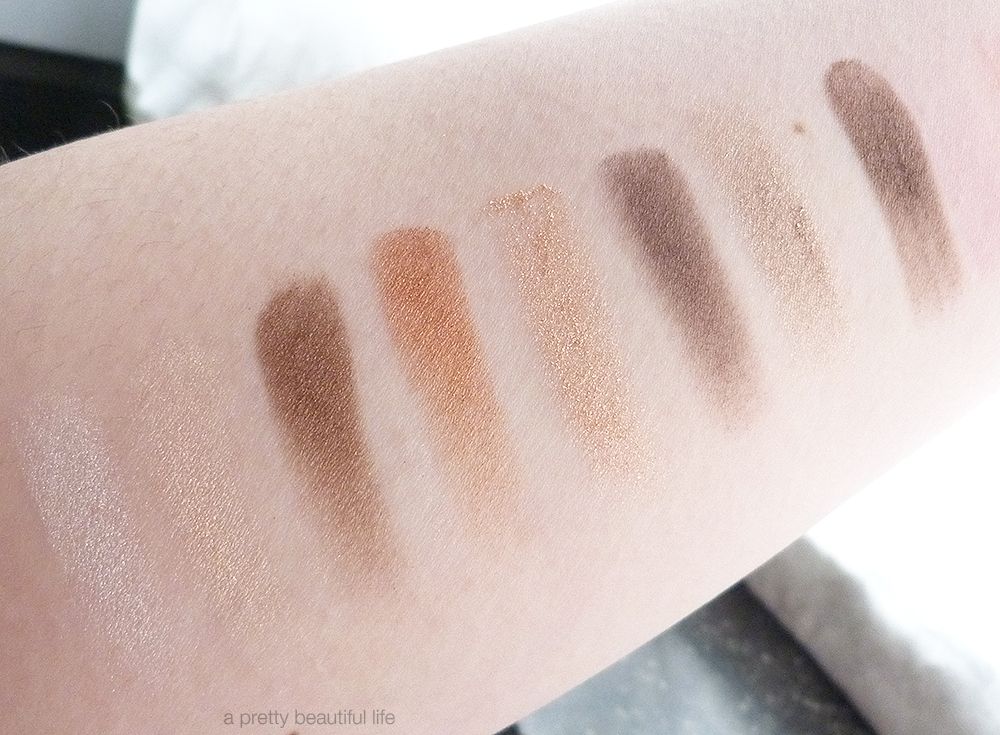 Daybreak (2de van links) is echt een mooie highlighter en mijn favoriet. At Dusk is dan weer een fel koperoranje tint die een pop of colour toevoegt aan elke look.
Sahara Sun is een beetje brokkelig van textuur (tevens de enigste in het palette) maar de kleur is enorm mooi en speciaal. The Light Shade of Starlight Starbright Duo is mijn favoriet. Het is een goud/taupe kleurtje, perfect voor over je gehele ooglid voor een vleugje kleur. Chocolate Bark is dan weer de enige matte tint in het palette en kan ook perfect dienen als eyeliner of wenkbrauwpoeder.
Alle oogschaduws zijn heerlijk zacht qua textuur en blijven mooi zitten, zelfs zonder primer. De kleuren zijn enorm fijn om te blenden en de pigmentatie is erg intens. Mijn conclusie: dit is het perfecte nude oogschaduwpalette!
The eyeshadows are super soft, easy to blend and stay put nicely even without a primer. I really can't say anything negative about it! It definitely gets two big thumbs up.
Clinique Wear Everywhere Neutrals Eyeshadow Palettes – €49,65
Verkrijgbaar via de website van Clinique.