In mijn ogen is Clinique altijd al de ontdekker van make upproducten in stickvorm geweest. Hun befaamde Chubby Sticks zorgden er voor dat zowat ieder ander make up merk een lipstick of oogschaduw in potloden op de markt bracht. Voor mij blijft Clinique echter de beste, en ik was dan ook erg enthousiast toen ik hoorde dat de Chubby Stick familie werd uitgebreid met de Baby Tints en de Cheek Colour Balms. Ik testte twee kleurtjes uit en vertel jullie graag wat ik er van vind.
For me Clinique has paved the way for other make up brands when it comes to make up in sticks. I've always been a huge fan of the Chubby Sticks, so when the news came that Clinique would be launching new Chubbies, I could hardly wait to get my hands on them. I received samples of the Baby Tints and the Cheek Colour Balms which I'll be showing you guys in this article.
Laten we beginnen met de nieuwe Chubby Stick Baby Tints, een hydraterende lippenbalsem met een vleugje kleur. Het gamma bestaat uit vier nieuwe kleuren (Poppin' Poppy, Coming Up Rosy, Budding Blossom, Flowering Freesia) die bij elke vrouw de natuurlijke teint van de lippen versterkt. Daarnaast bevatten de Baby Tints voedende ingrediënten zoals vitamine C, sheaboter, mangopitboter en jojobaolie die je lippen soepel en zacht houden.
Up first: the Chubby Stick Baby Tints, hydrating lipbalms that give your lips a hint of colour. The Baby Tints line consists out of four colours (Poppin' Poppy, Coming Up Rosy, Budding Blossom, Flowering Freesia) that enhances the natural lip colour of every woman. Ingredients such as vitamin C, shea butter and jojoba oil keep your lips soft and supple.
De kleur die ik heb ontvangen, heet Flowering Freesia. Het ziet er misschien wat intimiderend uit (ik bedoel maar: paars?), maar zoals ik al eerder zei, zorgen deze Baby Tints voor een vleugje kleur en niet voor een knallend effect.
Swatches vind je onderaan, maar ik ben alvast een grote fan. Mijn lippen zijn verzorgd, hebben een gezond glansje en ik zie ook een vleugje paars terug. Een subtiele manier om wat kleur in je make up look te brengen!
The colour I received is Flowering Freesia. It looks a bit daunting (I mean, purple?) but the Baby Tints aren't fully opaque. You can find swatches below but I can tell you that I love the texture and feel of this product. My lips are hydrated, have a nice sheen and a bit of colour. It's a great way to incorporate more colour into your make up routine!
Dan mijn favoriet: de Chubby Stick Cheek Colour Balms. Deze creme blushes zijn geschikt voor iedere teint en geeft je een langhoudende blos zonder een drogend effect. Dat komt door de combinatie van onder andere lecithine, squalaan en vitamine E die het herstel van de vochtbarrière bevorderen én die voor een water-, zweet- en vochtbestendig effect zorgen. Ook hier zijn er weer vier kleuren: Amp'd up Apple, Plumped up Peony, Robust Rhubarb en Roly Poly Rosy.
My favorite is the Chubby Stick Cheek Colour Balms, lovely cream blushes that delivers a healthy flush of colour to your face. These Cheek Colour Balms come in four colours: Amp'd up Apple, Plumped up Peony, Robust Rhubarb en Roly Poly Rosy.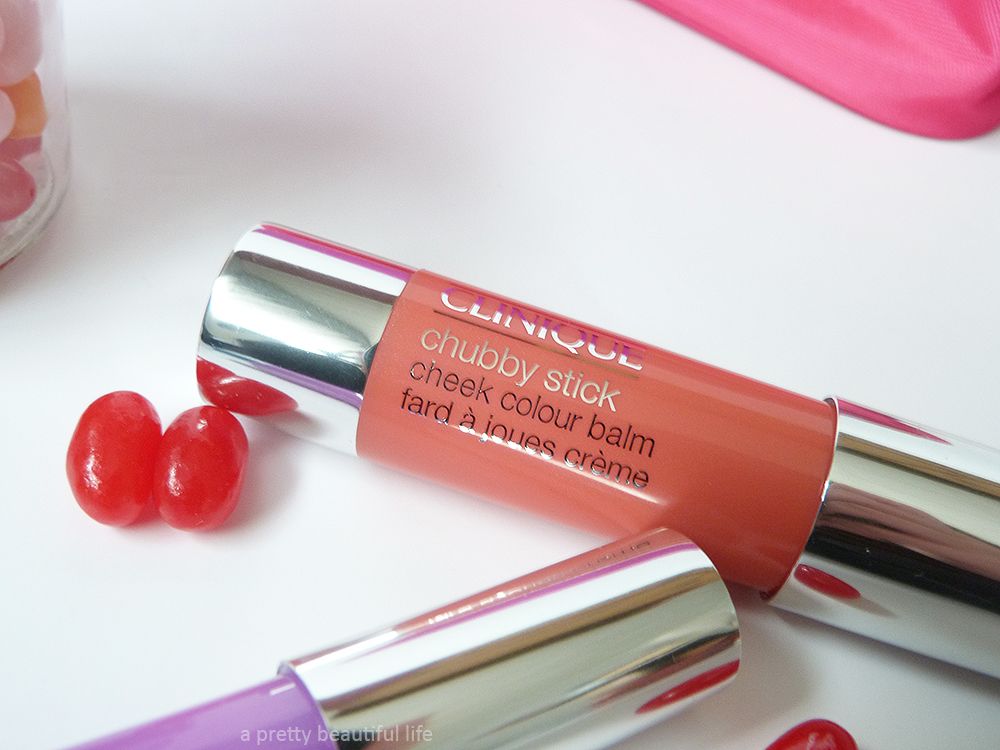 Ik heb Robust Rhubarb, een prachtige zachte perzikkleur. Dit is helemaal mijn ding – Clinique kent me goed! Nu, deze blush is echt hemels. De textuur is superzacht (like buttarrr) en blendt gemakkelijk. De pigmentatie is fantastisch en het resultaat hemels. Jaja, je kan zien dat ik dol ben op dit schatje.
Ik merk dat de Cheek Colour Balm iets 'vettiger' aanvoelt in vergelijking met andere blushes. Daardoor had ik schrik dat het misschien niet zo lang ging uithouden op mijn huid, maar niets is minder waar. Dit schatje is netjes op haar plek blijven zitten!
Het gebruik is ook erg simpel: ik stippel wat van de blush op mijn wang, rechtstreeks uit de tube, en blend het geheel daarna met mijn vingers. De warmte van mijn vingertoppen blendt de blush in mijn huid zodat ik een erg natuurlijk resultaat bekom. Simpel, niet?
I got Robust Rhubarb, a gorgeous peachy colour – Clinique knows me well. Anyway, this blush is amazing: the texture is supersoft and it blends really well. I dab a bit of the blush on my cheeks, straight from the stick, and blend it with my fingers. The result is a natural flush that lasts all day.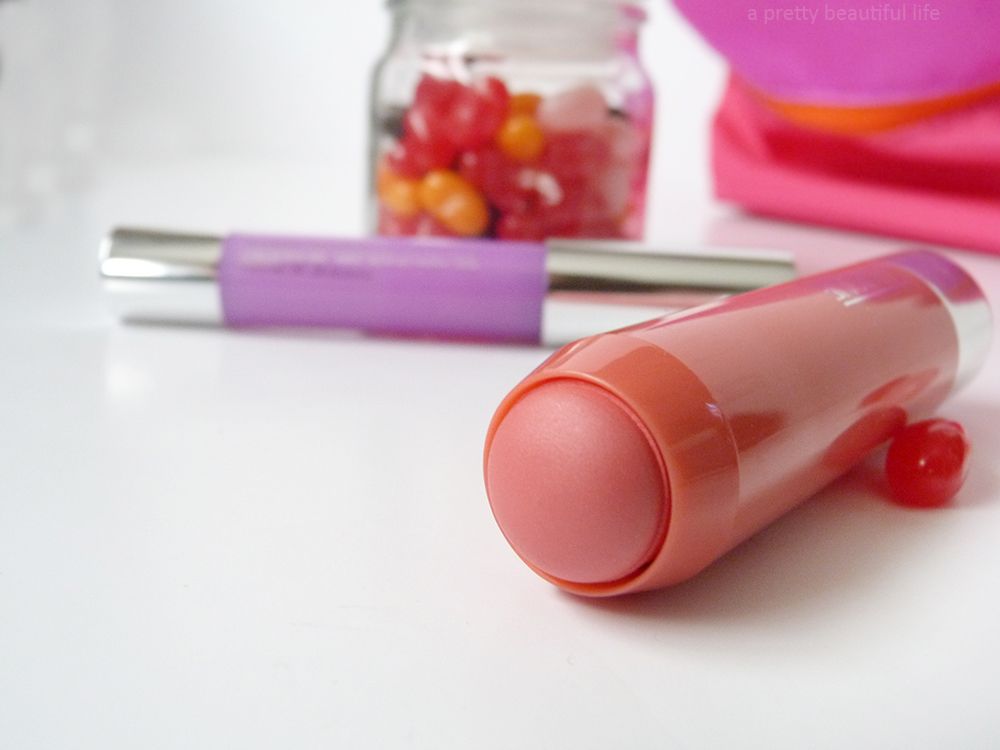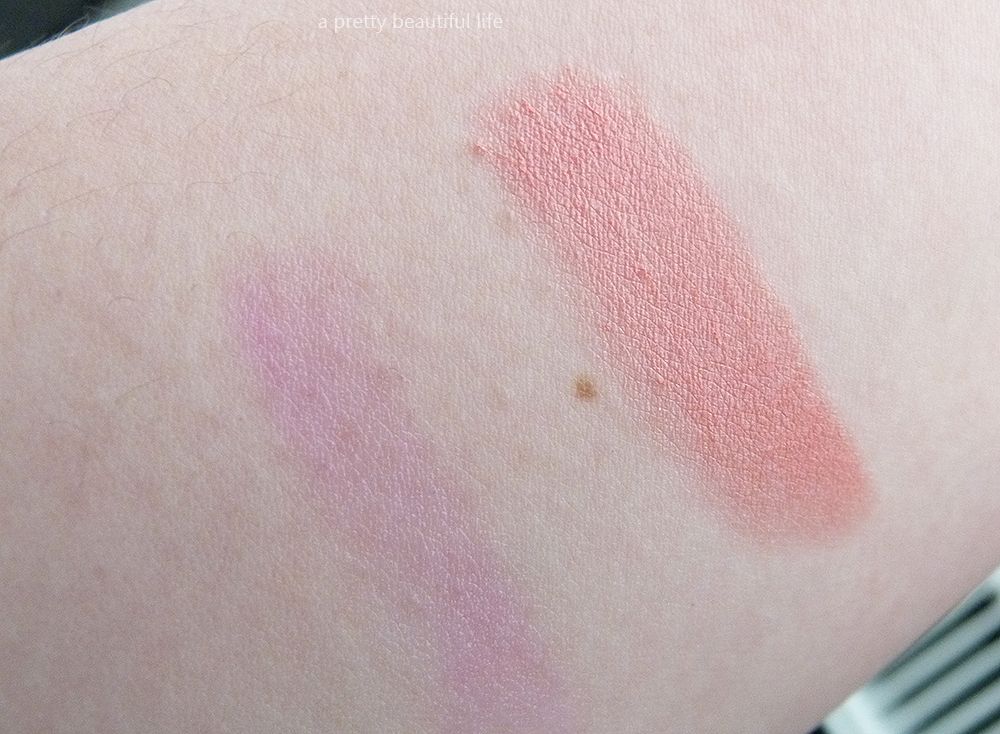 Alweer een schot in de roos voor Clinique, denk ik zo! Ik vind het persoonlijk ook gewoon erg fijn om zo'n stick te gebruiken. Ik heb ook geen kwasten nodig (je kan de blush natuurlijk ook met een kwast aanbrengen) en hoe minder tools, hoe handiger vind ik. De kwaliteit is ook gewoonweg super! Voor mij kan Clinique gewoon niets mis doen met deze Chubbies.
Another big hit for Clinique! I personally love to use make up sticks because I don't need brushes, though you could definitely use a brush to apply the Cheek Colour. The quality is amazing as well, so I really can't think of a bad thing to say about these Chubbies.
Clinique Baby Tint Moisturizing Lip Colour Balm – €20,70 (exclusief online verkrijgbaar)
Clinique Cheek Colour Balm – €25,89