Deze lente worden de Rouge Coco lippenstiften van Chanel in een nieuw jasje gestoken. De vernieuwde formule is nóg lichter, zachter en glanzender dan de originele Rouge Coco. Ik testte 5 prachtige kleurtjes uit: 408 Jeanne, 414 Sari Doré, 434 Mademoiselle, 440 Arthur en 452 Emilienne.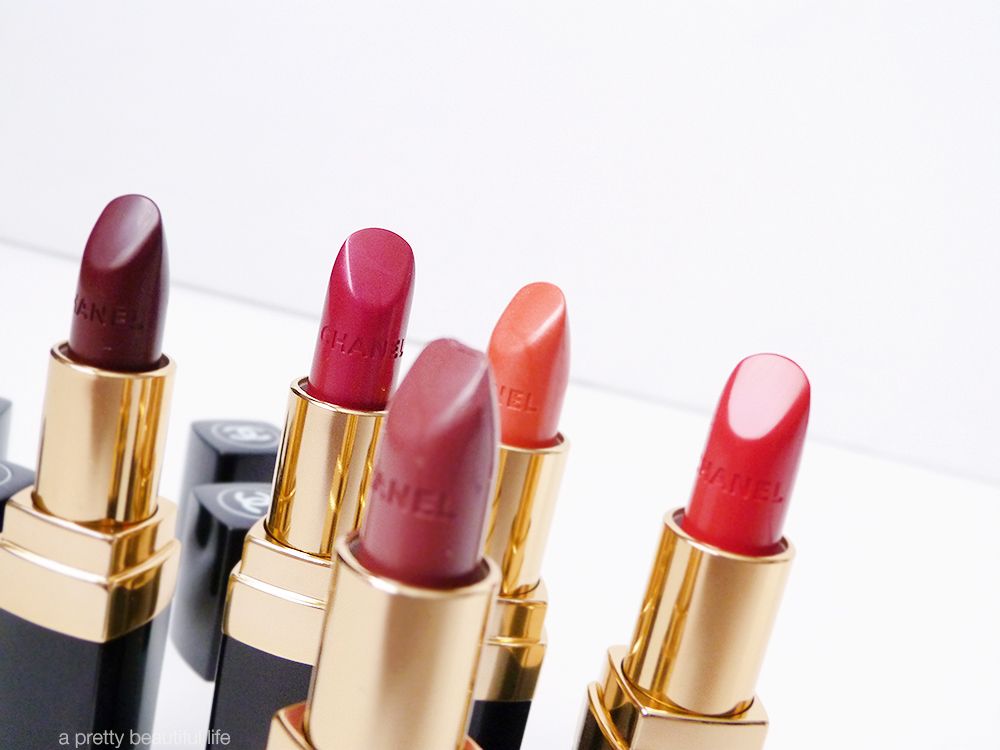 For this spring, Chanel is revamping their legendary Rouge Coco lipsticks with a new formula that's lighter, softer and glossier. I got to test 5 gorgeous lipsticks so keep reading to find out more about these little gems.

De nieuwe Rouge Coco's komen in 29 stralende kleuren, verdeeld over 6 kleurenpalettes The Nudes, Oranges, Pinks, Rosewoods, Reds en Plums. De namen van de lipsticks zijn genoemd naar mensen uit de directe omgeveing van Mademoiselle Chanel: haar vrienden, haar geliefden, haar inspiratiebronnen… Iedere kleur draagt dus de naam van iemand die nauw aan het hart van Chanel ligt. Een mooier eerbetoon bestaat er niet, toch?
The new Rouge Coco's come in 29 new shades in 6 colour palettes: The Nudes, Oranges, Pinks, Rosewoods, Reds and Plums. Each lipstick is named after the circles of friends of Mademoiselle Chanel: her close companions, her friends, her loves, her muses… A very beautiful and unique way to name your products, am I right?

De verpakking van de Rouge Coco lipsticks is, zoals alles wat de naam 'Chanel' draagt, extreem luxueus en elegant. De zwarte huls met een goud randje en het Chanel logo op de dop is alles wat er nodig is om een lippenstift tijdloze klasse te geven.
The packaging of the Rouge Coco lipsticks is extremely luxurious and elegant, just like practically everything that bares the name 'Chanel'.
De kleuren die ik heb, behoren elk tot een aparte kleurenpalette. Een kort overzichtje:
– 408 JEANNE; The Nudes ("simple shades ranging from sensual, sunny or apricot beige to deep brown")
– 414 SARI DORÉ; Oranges ("radiant and joyful shades: rosy peaches, tangy apricots and copper corals")
– 434 MADEMOISELLE; Rosewoods ("delicate and universal sahdes of rosy beiges")
– 440 ARTHUR; Reds ("classic shades of smoldering red, from the brighter to the most intense garnet")
– 452 EMILIENNE; Plums ("these original shades display a bold character, from an extroverted fuchsia to a charismatic blackcurrant")
Er ontbreekt enkel nog een roze lipstick uit de Pinks kleurenfamilie ("tender shades, vibrant and powdery: every glimmer of pink") maar ik denk dat ik mijn collectie ga vervolledigen door 424 Edith of 430 Marie aan te schaffen.
The colours I have each belong to a colour palette. I'm only missing a lipstick from the Pinks colour palette but I'm seriously contemplating buying 424 Edith or 430 Marie to complete my little collection.
Hieronder zien jullie de kleuren nog eens in dezelfde volgorde als hierboven. Mooi, niet waar? <3
Here are the lipsticks in the same order as above.
Jeanne is een diepbruine kleur en blijkbaar zijn bruine lippen weer helemaal hot wat van Jeanne een echt hebbeding maakt. Ik vond het heel moeilijk om met deze kleur te werken. Zoals jullie kunnen zien, trekt de kleur erg fel in de lijntjes van de lippen, en op sommige plaatsen is de kleur iets donkerder. Mijn tip: exfolieer je lippen goed op voorhand, gebruik een goede lipliner en breng de lipstick aan met een kwastje. Dan kan het niet misgaan!
Jeanne is a deep brown colour and apparently, brown lips are hot this season. I thought this colour was quite difficult to work with as it really settles into the lines of your lips. I'd recommend exfoliating your lips really well in advance, using a lipliner and applying the product with a brush for a clean and precise finish.
Sari Doré is een licht zalmkleurtje met een ietwat frosty finish. Ik dacht dat het me niet mooi zou staan vanwege die finish maar uiteindelijk ben ik erg tevreden over het resultaat. Het is een erg mooi nudekleurtje die perfect is voor de lente.
Sari Doré is a soft orange-y colour with a slightly frosty finish. At first I thought this colour wouldn't work on me but I ended up loving it! It's perfect for spring.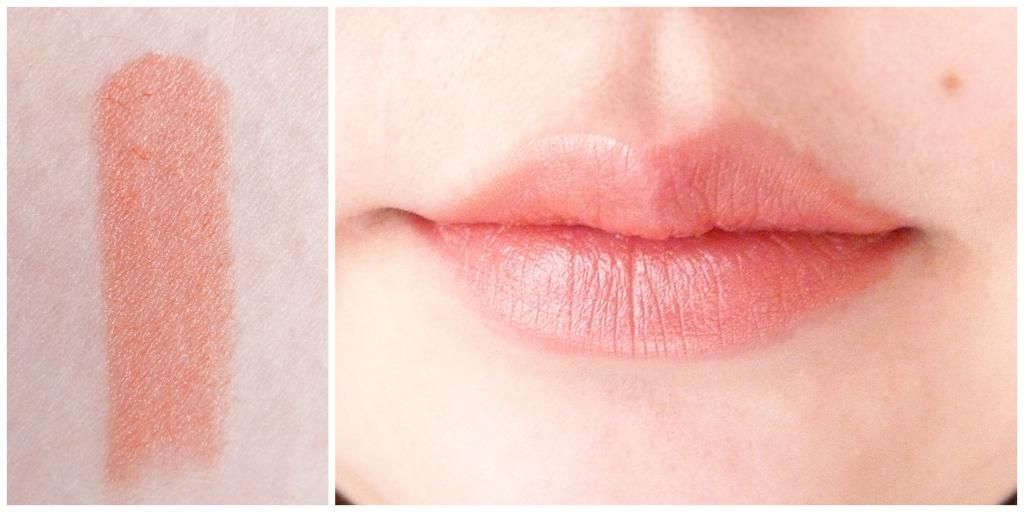 Mademoiselle is een echte 'my lips but waaay better' kleur. Het is een warme, oudroze tint die bij velen het perfecte nude zullen vormen.
Mademoiselle enhances the natural colour of my lips. It's a warm, pink hue that would make the perfect nude lipstick for a lot of people.
Voor een instant glamoureuze pout moet je naar Arthur grijpen. Deze frisse koraalrode kleur laat mijn lippen direct voller lijken en het rood zorgt voor een luxueus gevoel. Ik hou van je, Arthur!
Arthur is a gorgeous coral red hue. It's perfect for those who are afraid to wear a 'true' red but still want that glamourous feeling that a red lipstick gives you.
Als laatste heb ik Emilienne, een bessenrode kleur met een blauwe ondertoon. Perfect voor wie graag wijnrode kleuren draagt maar nu iets frisser zoekt voor de lente.
Lastly, I'm showing you Emilienne, a berry colour with a blue undertone. It's perfect for people who love plummy colours but are looking for a lighter and fresher hue for spring.
De vernieuwde formule is HEMELS. De Rouge Coco's voelen net aan als lippenbalsems, hydrateren minstens even goed en de pigmentatie blijft top. En de glanzende finish vind ik ook zo mooi. Ik kan nog uren blijven doorgaan over de geweldige formule en textuur!
The new formula is just to die for. The Rouge Coco's are extremely creamy, they hydrate the lips just like a lip balm and the colour pay-off is amazing. And I also love the glossy finish it gives my lips. I could honestly rave about the formula for hours!
De Rouge Coco's blijven, ondanks hun hydraterende en glanzende formule, erg lang op de lippen zitten. Ik kreeg bijvoorbeeld de swatches op mijn armen pas na 2 dagen af. Nog een pluspunt: de lippenstiften stainen je lippen ook een beetje waardoor je altijd een licht kleurtje behoudt, ook al verdwijnt je lippenstift tijdens het eten of drinken.
The Rouge Coco's are very long-lasting. I wasn't able to get the swatches off of my arm for two days. The lipsticks also tend to stain a bit so you'll always have a hint of colour on your lips.
Mijn favoriet van de vijf is Arthur. Je kan het fel aanbrengen voor een klassieke red lip of lichtjes voor naturelle, rode lippen. Maar eigenlijk kunnen alle kleurtjes me wel bekoren! Alleen ben ik niet zo'n grote fan van Jeanne maar enkel omdat ik geen kei ben in het aanbrengen van donkere lipsticks.
My favorite is definitely Arthur. You can apply it heavily for that classic red lip or just dab it on for naturally red lips. Jeanne was my least favorite of the bunch but only because I can't really work with dark coloured lipsticks.
Voor de rest denk ik dat mijn review erg duidelijk is geweest: de nieuwe Rouge Coco's zijn hemels en een musthave voor iedere make up liefhebber. Er zijn maar liefst 29 kleuren beschikbaar dus je vindt sowieso eentje die bij jou past!
I think my opinion is pretty clear: the new Rouge Coco's are simply divine and a musthave for every make up lover. There are 29 colours available so there's no doubt you'll find the perfect colour for you.

Chanel Rouge Coco – €33,50