Caudalie heeft zeer snel mijn hart weten te veroveren. Ik gebruik de geliefde Eau de Beauté zowat elke dag – een ideale oppepper voor de huid.
Onlangs heeft het Franse verzorgingsmerk een parfum uitgebracht: Parfum Divin de Caudalie. Deze vond haar weg naar mijn deurmat samen met twee klassiekers: de Huile Divine en de Divine Legs zelfbruinende olie. Vandaag een review van alle drie de producten, dus lees snel verder!
Caudalie has very rapidly conquered my heart. I use the beloved Eau de Beauté almost every day. It's the ideal energy boost for the skin.
Recently, Caudalie launched a perfume: Parfum Divin de Caudalie. It quickly found its way to my doorstep, accompanied with two other classics: the Huile Divine and the Divine Legs self-tanning oil. This will be an in-depth review of all three products, so keep on reading! 
Het parfum kwam in één van de mooiste verpakkingen die ik ooit heb gezien. Deze papieren 'doos' (of eigenlijk: kunstwerk) bevat dus het parfum.
The perfume was delivered in one of the most beautiful packages I've ever seen. This paper 'box' (or should I say: artwork) contains the actual product.
Parfum Divin de Caudalie werd ontwikkeld door Jacques Cavallier, die een exclusief contract afsloot met Caudalie. Het volgt uit het succes van de Huile Divine. Deze heeft namelijk een zalige geur, die tevens een favoriet is van de oprichtster van het merk, Mathilde Thomas. Voor degenen die bekend zijn met de Huile Divine en die gek op de geur zijn: dit parfum is dus perfect voor jullie.
Parfum Divin de Caudalie was created by Jacques Cavallier who had an exclusive contract with Caudalie. The scent follows the success from Huile Divine. As it happens, both products have the same heavenly scent. It is also a favorite of the founders of Caudalie, Mathilde Thomas. So for the ones who love the scent of Huile Divine, this perfume will be a huge hit.
Het parfum komt in een prachtige, glazen fles met houten dop. Niet teveel poespas: simpel, elegant en oh zo luxueus.
The perfume comes in a glass bottle with a wooden cap. The design is very simple yet elegant and oh so very luxurious.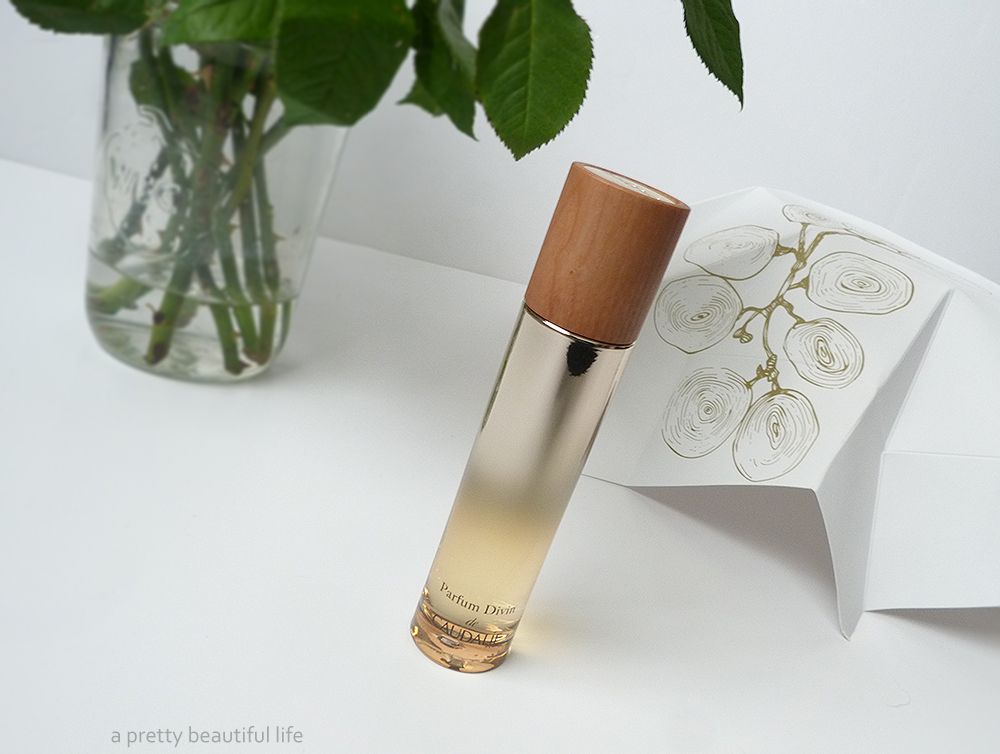 Het parfum ruikt precies hetzelfde als de Huile Divine. Het bevat rozen – de Marrokaanse roos en de Bulgaarse roos -, voorafgegaan door pompelmoes en kruidige roze peper, drie stokjes van een zeldzame vanillesoort 'planifolia Uganda', Virginie cederhout en muskus. Kortom, een warme en sensuele geur dat je direct doet wegdromen naar een veld met bloemen op een warme zomeravond. Heerlijk!
The perfume smells exactly like the Huile Divine. It contains roses – the Morrocon rose and the Bulgarian rose -, preceded by grapefruit, spicy pink pepper, three sticks of rare vanilla 'planifolia Uganda'm Virginie cedar wood and musk. So in short, this is a warm and sensual scent that immediately whisks you to a field of flowers on a warm summer's eve. It's amazing!
Op naar de twee andere producten.
De Huile Divine moet ik jullie vast niet meer voorstellen. Ik heb er al eerder over geschreven (lees hier) en mijn mening blijft hetzelfde: zalig product dat je op je huid kunt aanbrengen en die geen vettige laag achter laat. Een aanrader voor iedereen die nog geen kennis heeft gemaakt met een droge olie.
De Divine Legs is echt een briljante uitvinding. Het is namelijk een zelfbruiner dat je aan het einde van de dag terug afwast. Het is dus geen permanent kleurtje, dus je kunt er weinig mis mee doen. Het product geeft je benen (en eigenlijk elk ander lichaamsdeel) een gezond kleurtje met een beetje shimmer erin. Daarnaast verzorgt het je huid en laat het een zalig geurtje achter (je raadt het al: dezelfde geur als alle Divine-producten).
On to the next two products.
I think that I don't have to introduce you to the Huile Divine. I already wrote an article about it (read here) and my opinion stays the same: it's a great product that you can apply to the skin and that doesn't leave a greasy feeling behind. It's definitely a musthave for people who are curious about dry oils but haven't tried any yet.
The Divine Legs is a brilliant invention. This is a self-tanner that you can wash off at the end of the day. It's not a permanent tanner, so you can't really screw things up. This product gives your legs (you can use it on other body parts as well) a healthy tan. It also moisturises the skin and leaves a great smell behind. And you guessed it: it's the same as the other Divine-products.
Je kan mij dus zeker rekenen bij de fans van de Divine-collectie van Caudalie! Ik vind het zeer kwaliteitsvolle producten die bovendien ook 100% natuurlijk zijn (dus geen parabenen, minerale oliën,…).
Bottom line: you can definitely count me in as a fan of the Divine-collecton. I think these products work great and also, they are 100% natural (so no parabens, mineral oils,…).
Huile Divine – €21
Divine Legs – €22
Parfum de Divin – €49,30

Veel liefs,
Diana