Voor SS15 brengt Burberry een make up collectie uit gebaseerd op hun Burberry Prorsum Womenswear lijn. Het glanzend leder, de vederlichte voile en de poederige suède worden mooi gereflecteerd in hun kleurrijke collectie. Ik toon jullie vandaag graag enkele items uit de prachtige 'The Birds and the Bees' lijn!
For spring/summer 2015 Burberry created a make up collection based on their Prorsum Womenswear clothing line. The shiny leather, the sheer tulle and the powder-soft suede are reflected in the colorful make up collection called 'The Birds and the Bees'.
Nieuw zijn de Burberry Eye Colour Wet & Dry Silk Shadow oogschaduws. Zij vervangen de Sheer Eye Shadow oogschaduws dus als je deze nog wilt bemachtigen, zul je snel moeten zijn. De nieuwe Wet & Dry Silk Shadows hebben een lichte textuur met een zijdezachte finish. Je kan ze droog aanbrengen voor een natuurlijke look, of nat voor een intense kleur. Er zijn in deze collectie 4 kleuren beschikbaar: Aqua Green, Stone Blue, Rose Pink en Tea Rose.
Burberry is replacing their Sheer Eye Shadow with the new Wet & Dry Silk Shadow. These revamped single eyeshadows have a weightless texture and a silky smooth finish. You can apply them dry for a natural finish, or wet for a more intense result. There are 4 available colours in this collection: Aqua Green, Stone Blue, Rose Pink and Tea Rose.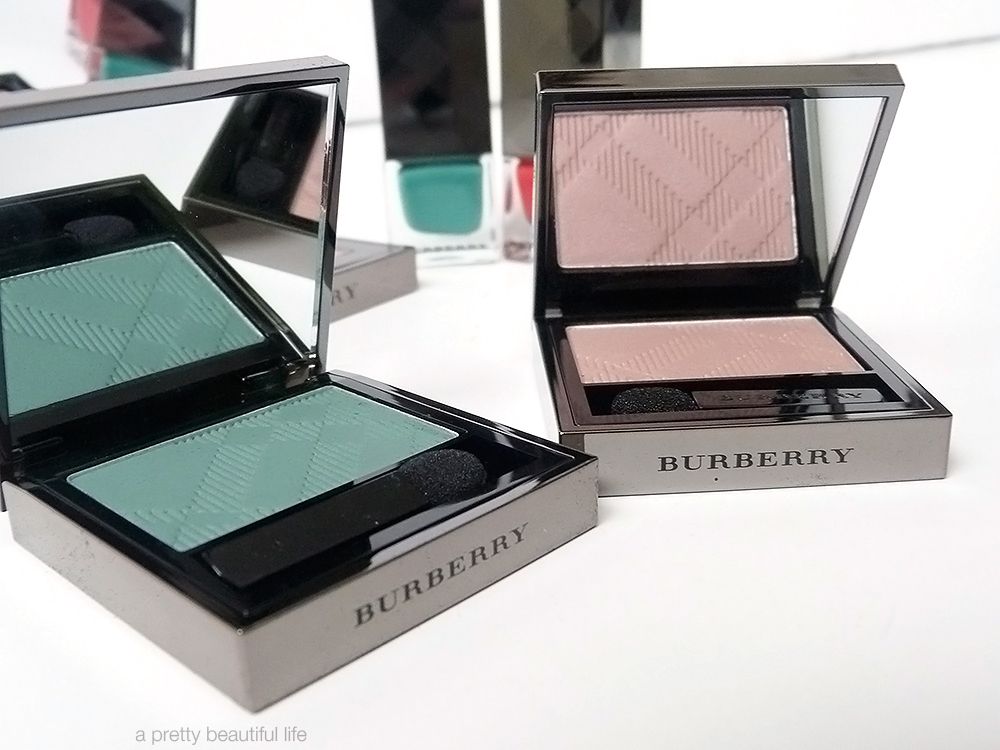 Ik ontving 2 supermooie kleuren: Tea Rose en Aqua Green. Tea Rose is een kleur die ik zeker zelf zou kopen, maar Aqua Green schrikt me op eerste zicht toch een beetje af. Ik gebruik niet vaak felle oogschaduwkleuren maar knallende eyeliner is wel mijn ding, dus deze zou ik met een natte eyelinerkwast gebruiken.
I received 2 gorgeous shades: Tea Rose and Aqua Green. Tea Rose is a colour that I'd definitely pick out myself, but Aqua Green is really out of my comfort zone. I usually stick to neutral shades, but I love bright eyeliner so I'd definitely use this one with a wet eyeliner brush.
Hier zien jullie swatches van beide kleuren. Nu lijken ze misschien niet zo indrukwekkend maar ik kan jullie verzekeren dat dat aan mijn camera en bleke huid ligt. In het echt zijn de oogschaduws ongelofelijk goed gepigmenteerd! Ik vond het daarom ook niet nodig om 'natte' swatches te maken want ik zag eigenlijk weinig verschil. Al met één veegje heb je een intense kleurafgave die ik nog maar zelden ben tegengekomen. Ja, ik ben hier zeker fan van!
Here are the swatches. They might not seem very impressive but I can assure you that, in real life, both colours have an amazing pigmentation. I really didn't think it was necessary to make wet swatches since I didn't notice much of a difference. The eyeshadows have an amazing colour pay-off that I haven't seen often with other brands.
Dé ster van deze collectie is ongetwijfeld het Spring/Summer 2015 Runway Palette, een highlighter in een compact doosje met kwast en spiegel.
The eyecatcher in this collection is without a doubt the Spring/Summer 2015 Runway Palette, a highlighting powder in a compact packaging with a mirror and a brush.
Het poeder werd geïnspireerd door de met de hand gemaakte illustraties in de Burberry Prorsum Womenswear collectie en bevat de woorden 'Rain or Shine'. Het bestaat uit een prachtige mix van roze en koraalrood die samen de mooie Burberry glow nabootsen die we allemaal begeren. Kijk maar naar model Suki Waterhouse voor Burberry en haar prachtige, glanzende huid.
This powder was inspired by the hand-painted illustrations featured on the Burberry Prorsum Womenswear runway collection. The powder includes a mix of different shades of pink and coral red and is embossed with the words 'Rain or Shine'. The shades blend beautifully together to create that signature Burberry glow.

Ik heb zelf een hele lichte huid waardoor het poeder bij mij prima als blush kan dienen. Je kan het ook zachtjes aanbrengen op je jukbeenderen als highlighter. Als je een meer getinte huid hebt, kunt je je gezicht er lichtjes mee afpoederen voor een gezonde gloed. Echt een multifunctioneel product dat bovendien nog eens on-ge-lo-fe-lijk mooi is om naar te kijken.
 I am very fair-skinned so I can use the Runway Palette perfectly as a blush. You can also just apply it on your cheekbones for a healthy glow and if the powder is too light to show up on your skin, you can dust it all over your face for an all over glow. It's truly a multifunctional product that's also suuuper pretty.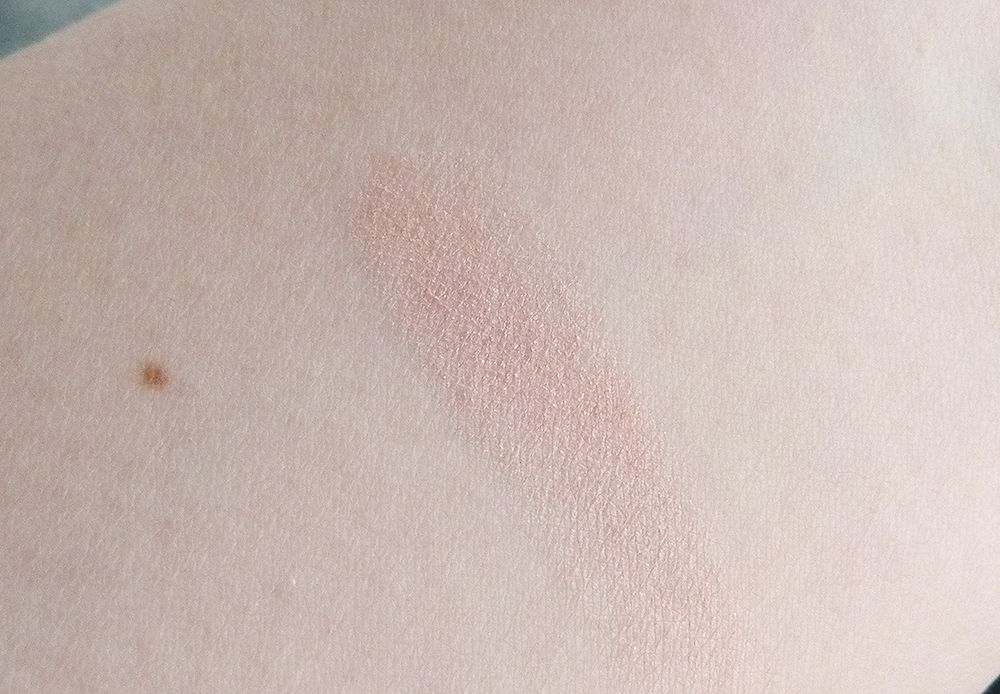 Tot slot heb ik nog 2 felgekleurde nagellakjes, de Burberry Nail Polish. Ook deze vonden hun inspiratie weer uit de kledingcollecties van Burberry. Er zijn 6 kleurtjes beschikbaar (limited edition): Hydrangea Pink, Pink Azalea, Stone Blue, Imperial Blue, Bright Coral Red en Aqua Green. Ik heb de laatste 2 kleuren in mijn bezit.
Finally I have 2 brightly coloured nail polishes to show you. These are also inspired by Burberry's runway and ready-to-wear collections. There are 6 available colours and I have 2 of them: Bright Coral Red and Aqua Green.
Wat ik direct opmerkte aan deze nagellakjes is dat de kwastjes erg veel product opnemen. Je moet deze dus goed afvegen aan de rand van de opening van het flesje, anders heb je direct een klodder nagellak op je nagel. Voor de rest is het kwastje erg fijn in gebruik.
The brushes pick up a lot of nail polish so make sure to wipe off the excess product before you apply it. Otherwise you'll end up with a blob of polish on your nails.
Aqua Green is mijn absolute favoriet! Turquoise/zeeblauw is sowieso mijn favoriete kleur dus mijn liefde voor deze nagellak ontstond vrijwel direct. Hier heb ik maar 1 laagje aangebracht en zoals jullie kunnen zien, is de dekking fantastisch (al had een 2de laag geen kwaad gekund).
De formule is trouwens erg indrukwekkend. Ik swatchte de nagellak, trok een foto en alles was al kurkdroog (mind you, ik was binnen een minuut klaar). Ongetwijfeld de meest sneldrogende nagellak die ik ooit heb geprobeerd.
Aqua Green is a magnificent turquoise hue that's basically fully opaque with just one coat. The formula is very impressive as well: the polish was completely dry in under 60 seconds! 
Bright Coral Red is een prachtig – zoals de naam al verklapt – koraalrood. Het roept echt een zomers gevoel bij me op en ik word er gewoon spontaan vrolijk van.
Bright Coral Red is a very fun colour that reminds me of spring and summer.
Burberry, ik ben onder de indruk. Ik heb nog niet erg veel ervaring met dit merk maar ik ben echt compleet onder de indruk van de producten die ik tot nu toe heb geprobeerd. Naar mijn mening overtreft de kwaliteit van Burberry veel high end merken: de producten zijn stuk voor stuk ongelofelijk goed gepigmenteerd, de nagellak droogt razendsnel en alles blijft zelfs zonder enige vorm van basis erg goed zitten. Kan Burberry mijn geliefde Estée Lauder van haar troon stoten als mijn favoriete make up merk? We zullen zien…
I am thoroughly impressed with Burberry beauty. I haven't tried out a lot of their make up products but the products I've used have all blown me away. I can honestly say that the quality of Burberry's make up vastly surpasses that of many other high end brands. I think Burberry is very close to being my favorite make up brand…
Spring/Summer 2015 Runway Palette – €55
Wet & Dry Silk Shadows – €28,50
Nail Polish – €19
Available at Inno Louiza (Brussels) or online.