Smokey eyes zijn niet aan mij besteed, maar kleurrijke eyeliner draag ik met veel plezier. Toen ik deze Liner Feutre in de winkel spotte, wist ik dat ik hem moest kopen. Een vloeibare eyeliner met een felt-tip in een prachtig kleurtje? Check, check en nog eens check. Ontmoet de Liner Feutre van Bourjois in Noir Violine.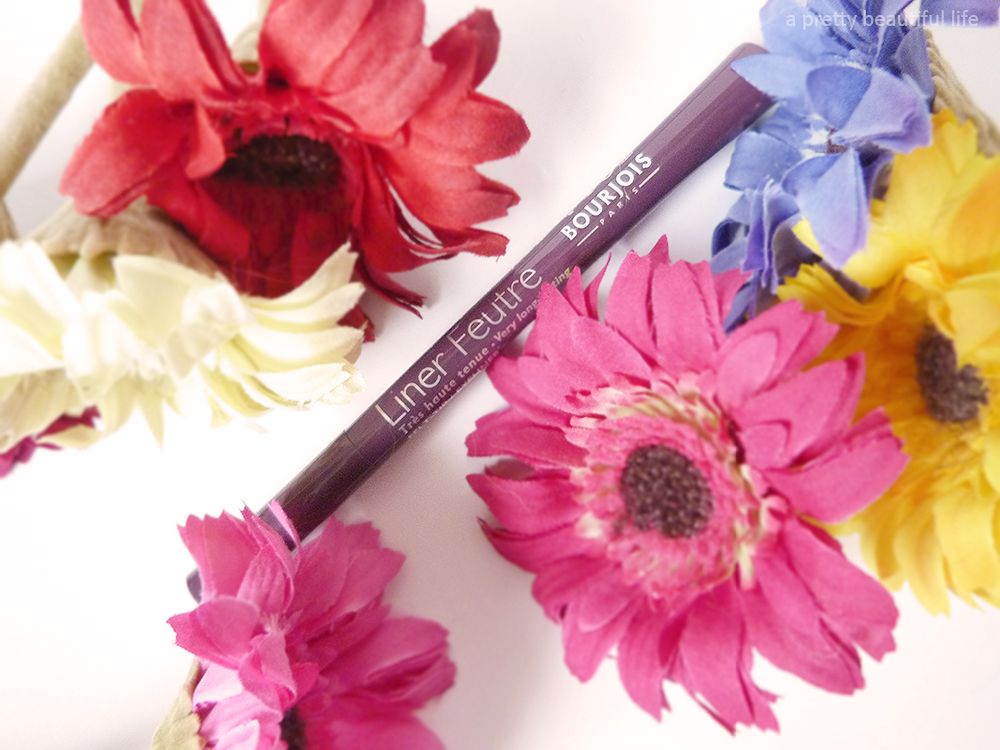 Smokey eyes really aren't my cup of tea, but colourful eyeliner is something I wear almost every day. So when I spotted this Liner Feutre by Bourjois, I knew I had to have it. A liquid eyeliner with a felt-tip in a beautiful colour? Check, check and check.
Mijn favoriete eyeliners zijn de varianten met een stiftje. Ik vind het gewoon veel fijner en preciezer werken dan als ik met een kwastje en gelliner aan de slag moet gaan. Een dun pennetje ligt ook fijner in de hand en is aangenamer om mee te nemen dan een gelliner en kwast.
I prefer felt-tip eyeliners to any other kind. I just like the fact that you don't have to get a seperate brush, and the application is also very smooth.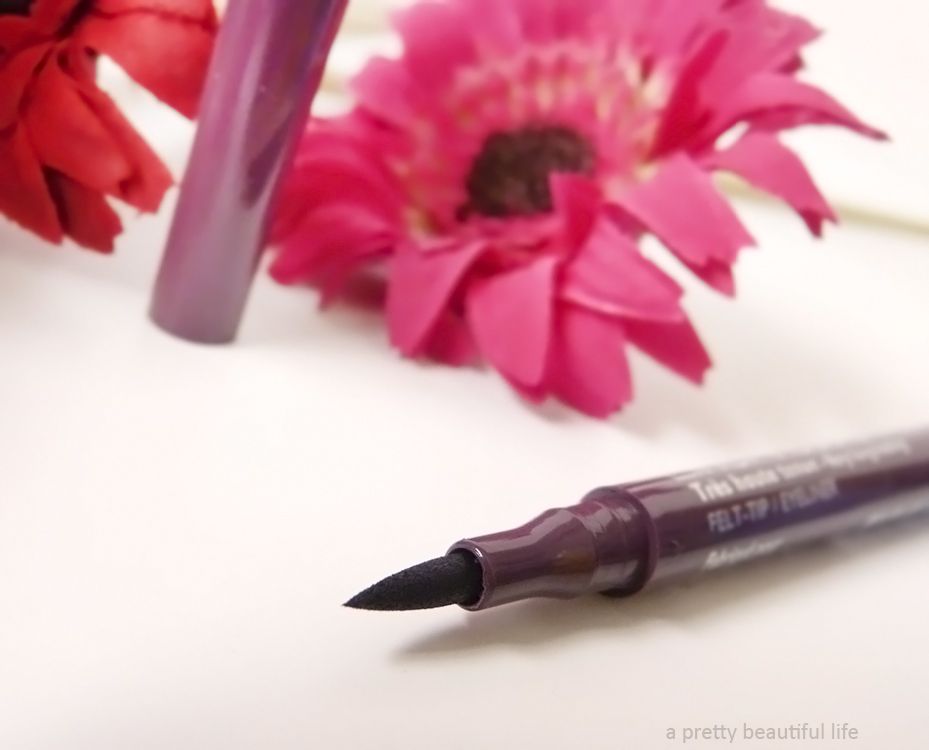 Ik kocht de kleur Noir Violine, een erg donkerpaarse kleur. Toen ik thuis kwam, besefte ik opeens dat ik al dezelfde eyeliner in het zwart had maar daar absoluut niet tevreden over was: de pigmentatie was niet goed en het product liep al snel uit. Toch probeerde ik met goede moed 'Noir Violine' uit en ik ben echt aangenaam verrast.
I bought the colour Noir Violine, a dark eggplant colour. When I arrived home, I remembered that I had already bought the same eyeliner in black and that I was very unhappy with it: the pigmentation sucked and the liner gave me panda eyes in under an hour. I tried to forget my previous experience and decided to test the eyeliner anyway.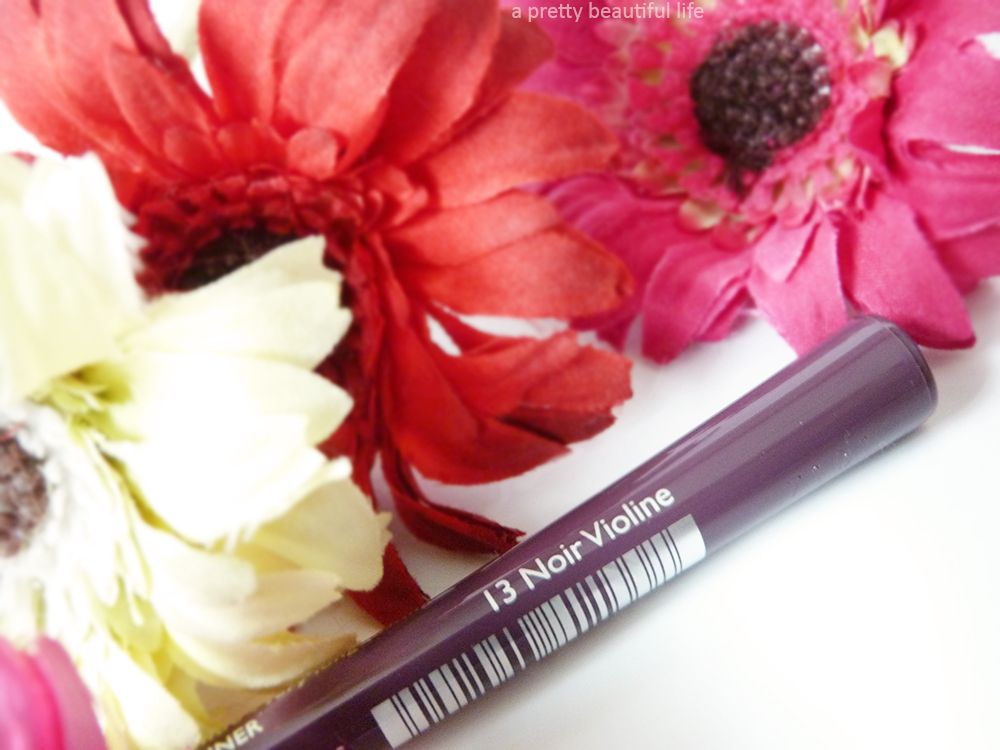 Allereerst was de kleurafgave erg goed. De liner dekt direct – je moet niet meerdere lijntjes aanbrengen vooraleer je een mooi, dekkend effect krijgt. Daarnaast blijft het ook goed zitten. Wat zeg ik – je krijgt dit spul er niet af zonder wat make up remover. Ik heb het uitvoerig getest: zowel in een stortbui als tropisch weer waarin je gezicht smelt, blijft de Liner Feutre zitten. Ook een namiddagdutje overleeft hij zonder problemen. Ik wrijf ook regelmatig in mijn ogen en ook dan weiger de liner uit te lopen of te smudgen.
The colour pay off is great: the liner is very opaque so you won't have to apply multiple layers. It also has great staying power. This baby won't budge, even in the rain or in hot weather where all your other make up melts off your face in an instant. It also survives a little afternoon nap, and when I rub my eyes, the liner doesn't smudge.
Ondanks mijn vorige negatieve ervaringen met de Liner Feutre (misschien had ik gewoon een slecht exemplaar) ben ik nu helemaal overtuigd. Ik draag deze eyeliner zo goed als elke dag en het maakt niet uit wat ik doe: het product loopt niet uit. Ik ben dus zéér te spreken over dit product en ga zeker nog wat kleurtjes in huis halen: er is nog een appelgroene en bronsgouden kleur in het assortiment.
I've had negative experiences with the Liner Feutre, but I'm quite convinced now that I just bought one that was a bit off from the rest. I really love the Liner Feutre and I've been wearing it almost every day. It doesn't matter what I do – the product will never, ever budge. You'll definitely find me at the drugstore very soon to purchase more colours!
Bourjois Liner Feutre – €10,99