Ik ben een vrouw. Goed, ik verkies actiefilms boven romcoms, ik maak vuile mopjes en ik kan schelden als een viswijf, maar als het op luchtjes aankomt, grijp ik naar typische vrouwelijke geuren. Mijn all time favorite blijft D&G The One maar ik wissel graag af met frissere, bloemige geurtjes. Tegenwoordig spuit ik echter het liefst Ma Vie van Boss – de perfecte vrouwelijke combinatie van warme ondertonen en bloemige noten.
I am a woman, even though I prefer action movies to romantic comedies. I also like to make dirty jokes and I have a potty mouth. But when it comes to perfume I prefer typical feminine scents. My all time favorite perfume is D&G The One, but recently I found myself using Ma Vie by Boss almost every day, a warm flowery scent.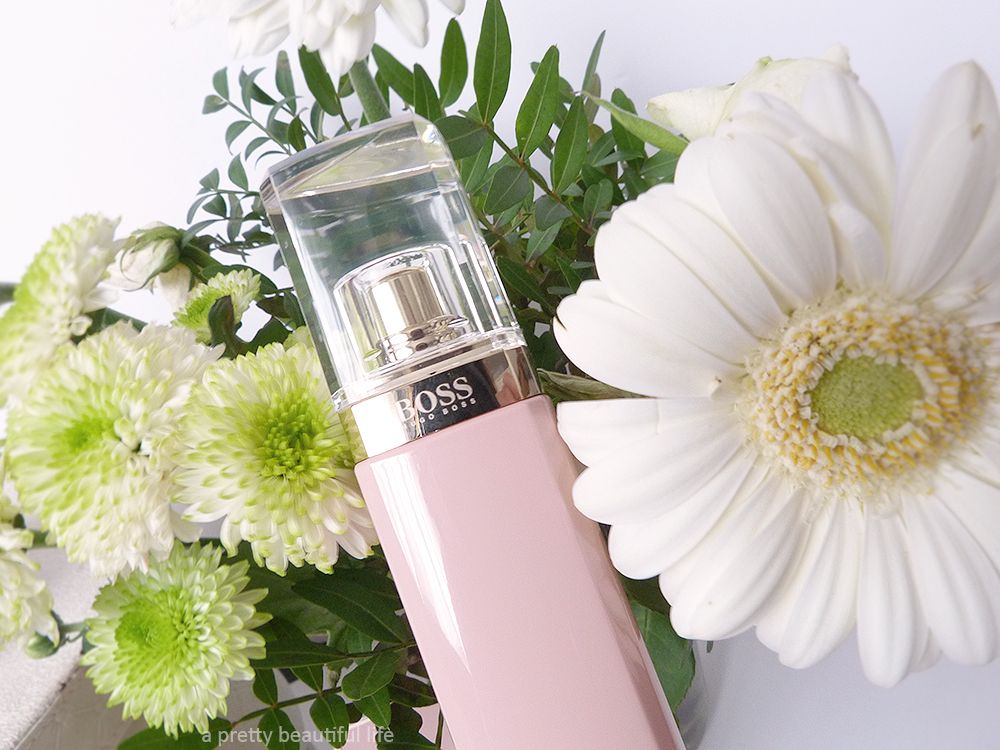 We worden tegenwoordig overstelpt met de reclamespotjes van Hugo Boss met Gwyneth 'GOOP' Paltrow in de hoofdrol, dus je hebt zeker en vast wel al gehoord van dit parfum. Maar je neusje vraagt zich wellicht af hoe dit parfum ruikt?
Daar heeft Hugo Boss goed over nagedacht. Volgens het merk bestaat 'Ma Vie' uit drie componenten: modernity, femininity en confidence. Modernity vind je terug in de topnoten (cactusbloemen) terwijl femininity de hartnoten van fresia, jasmijn en roosknoppen vertegenwoordigt. Modernity, tot slot, vormt de basis van het parfum dankzij de warme cederhout. Het resultaat is een warme, bloemige geur die op en top vrouwelijk ruikt.
I bet you've already heard of this perfume since we're constantly bombarded with the TV commercial featuring Gwyneth Paltrow. But you're probably wondering how this perfume smells like. Well, Hugo Boss describes it as a combination of three components: modernity, femininity and confidence. Modernity is represented in the topnotes (cactus flower) whereas femininity contains heart notes such as freesia, jasmin and rosebuds. Finally, modernity closes the perfume with warm notes of cedar wood. The result is a warm, flowery scent that exudes femininity.
De lange, slanke flacon van 'Ma Vie' heeft een poederroze kleur en ziet er tegelijkertijd zacht en elegant uit. 'Ma Vie' behoort tot dezelfde lijn als Boss Nuit, Boss Jour en Boss Nuit Intense en heeft bijgevolg dezelfde design; enkel de kleur is anders.
The bottle is long and delicate and has a powdery pink colour. It looks very soft and elegant at the same time. 'Ma Vie' belongs to the same line as Boss Nuit, Boss Jour and Boss Nuit Intense and shares the same design; only the colour differs.
Zoals ik in het begin van dit artikel al verklapte, ben ik helemaal in de ban van dit parfum. Het heeft iets warm en zwoel, net zoals mijn geliefde 'The One', maar tegelijkertijd pikt mijn neusje ook bloemige noten op. Het is ideaal voor alle seizoenen, in tegenstelling tot bijvoorbeeld Joyful van Escada, een frisse geur dat erg zomers is.
Like I said before, I'm completely crazy about this perfume. It's warm and sensual, just like 'The One' but it also has delicate, flowery notes. It's perfect for all seasons, unlike e.g. Joyful by Escada that's definitely more a summer scent.
Ma Vie EDP – €60,55 / 50 ml
€ 78,10 / 75 ml