Toen ik werd uitgenodigd voor het bloggersevent in Maasmechelen Village kon ik mijn geluk niet op. Redenen? 1) Ik woon op 10 minuutjes rijden van deze outlet shopping dus geen lange pendelsituaties voor mij. 2) De Village is rond de kerstperiode altijd adembenemend mooi versierd. 3) L'Occitane en Swarovski en G&G en Le Creuset en Essentiel,… Genoeg redenen om enthousiast te zijn, dus stond ik zaterdag om 12 uur 's middags stipt in de Village voor een erg uniek en fantastisch evenement. Dus step into the story en ontdek meer over het sprookjesachtige Maasmechelen Village!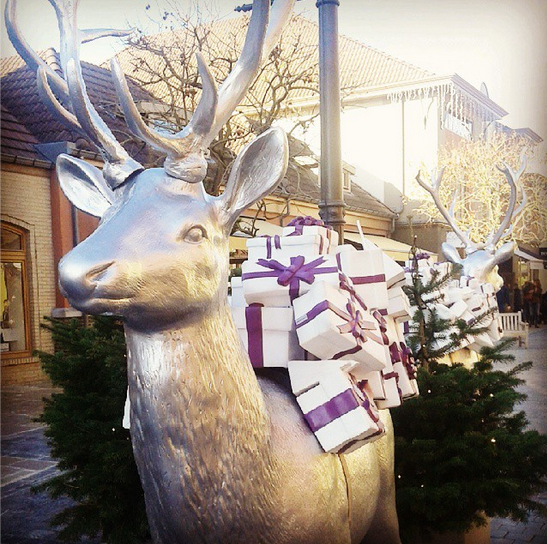 This past saturday, I was invited by the lovely people of Maasmechelen Village for an unique Christmas event. Since Maasmechelen is my hometown, I didn't have to travel for hours to get there – yay! So anyway, step into the story and find out more about Maasmechelen Village.
Onze middag begon alvast erg smakelijk met een lunch bij Ellis Gourmet Burger. Ik ging voor de klassieke cheeseburger en frietjes – overhéérlijk. Als je een bezoekje brengt aan Maasmechelen Village, dan moet je zeker hier eten. Een andere aanrader is G&G, een fantastisch Italiaans restaurant recht tegenover Ellis.
We started off with a delicious lunch at Ellis Gourmet Burger. Seriously, the cheeseburger and fries are to die for. You can't leave Maasmechelen Village without dining here, and Ellis Gourmet Burger is definitely a great option. Another fantastic restaurant is G&G which serves authentic Italian dishes.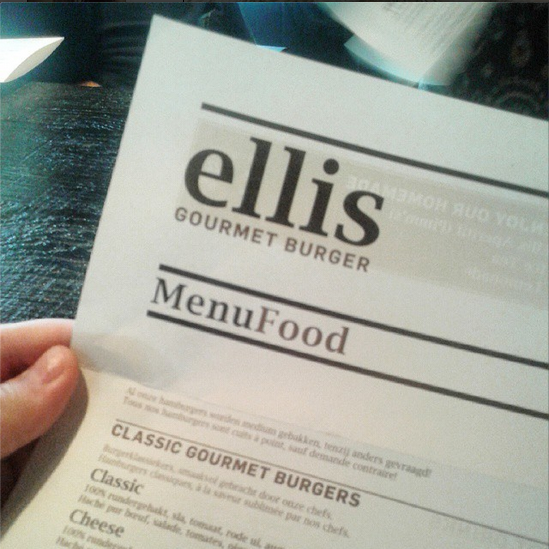 De volgende stop was de VIP Lounge. Hier wil ik blijven wonen, echt waar. De inrichting is helemaal mijn smaak en overal zijn er zachte, kleurrijke kussens. Mijn innerlijke huismus kon haar geluk niet meer op!
We kregen hier uitleg over de rest van de dag. Ik had verwacht dat het een soort van conferentie zou worden, maar het was véél leuker! We kregen namelijk 5 opdrachten die we in de Village moesten uitvoeren. De winnares van elke opdracht won shoptegoed voor zichzelf én een lezer! Wie mijn Instagram in de gaten hield, kon deze spannende wedstrijd volgen.
Next stop: the amazing VIP Lounge. I seriously want to live here! The room is soooo pretty, and there's fluffy pillows everywhere. Anyway, we then received the planning for the rest of our day. I was expecting some kind of press conference, but it turned out to be something way cooler. The PR people actually organised a super fun contest consisting of 5 assignments that we had to fullfill in the Village. The winner of each assignment won a gift card for herself and one for a lucky reader.
Je kan een kijkje nemen op mijn Instagram om mijn foto's voor de wedstrijd te bekijken. Het was echt héél leuk en uiteindelijk heb ik zelfs 3 keer gewonnen! Heel fijn voor mij maar natuurlijk ook voor jullie, maar daar komt later meer nieuws over…
You can take a look on my Instagram account to view the pictures I took for the contest. I really loved doing it and I actually won 3 times! Stay tuned because I have a nice surprise for you gals…
Als laatste was er nog een heel leuk initiatief van Maasmechelen Village. Zij werken namelijk samen met Make-A-Wish Belgium in november en december om de dromen van kinderen met een levensbedreigende ziekte te verwezelijken. Je kan een Make-A-Wish Belgium kaart kopen voor €1 waar je dan je grootste wens op schrijft. Deze plak je vervolgens op de grote cadeau's die in de Village staan. Alle opbrengsten gaan naar Make-A-Wish Belgium, en uiteindelijk kiest Maasmechelen Village één wens uit die ze vervolgens vervullen! Hoe geweldig is dit wel niet?
We also heard more about the collaboration between Make-A-Wish Belgium and Maasmechelen Village. During the months of november and december, you can buy a Make-A-Wish Belgium card for €1. You then write your biggest wish on it and stick it on one of the large gift boxes in the Village. At the end of december, Maasmechelen Village will pick one lucky duck and fullfill their wish! The profits will go to the Make-A-Wish Belgium Foundation who will then make the dreams of children with life-threatening diseases come true.
Mijn wens? Een nieuwe puppy – uit het asiel uiteraard want adopt, don't shop. Ik heb zelf al 2 hondjes en een kleine kat maar ik wil nog een hondje een warm onderdak bieden. Van mijn zusje mag het niet ('veel te druk'), maar hey, ik mag toch dromen?
My wish was a new puppy! I already have 2 dogs and a cat but I'd love to give a warm home to a doggy from the shelter. My sister is against it since it's already hectic enough here, but a girl can dream, right?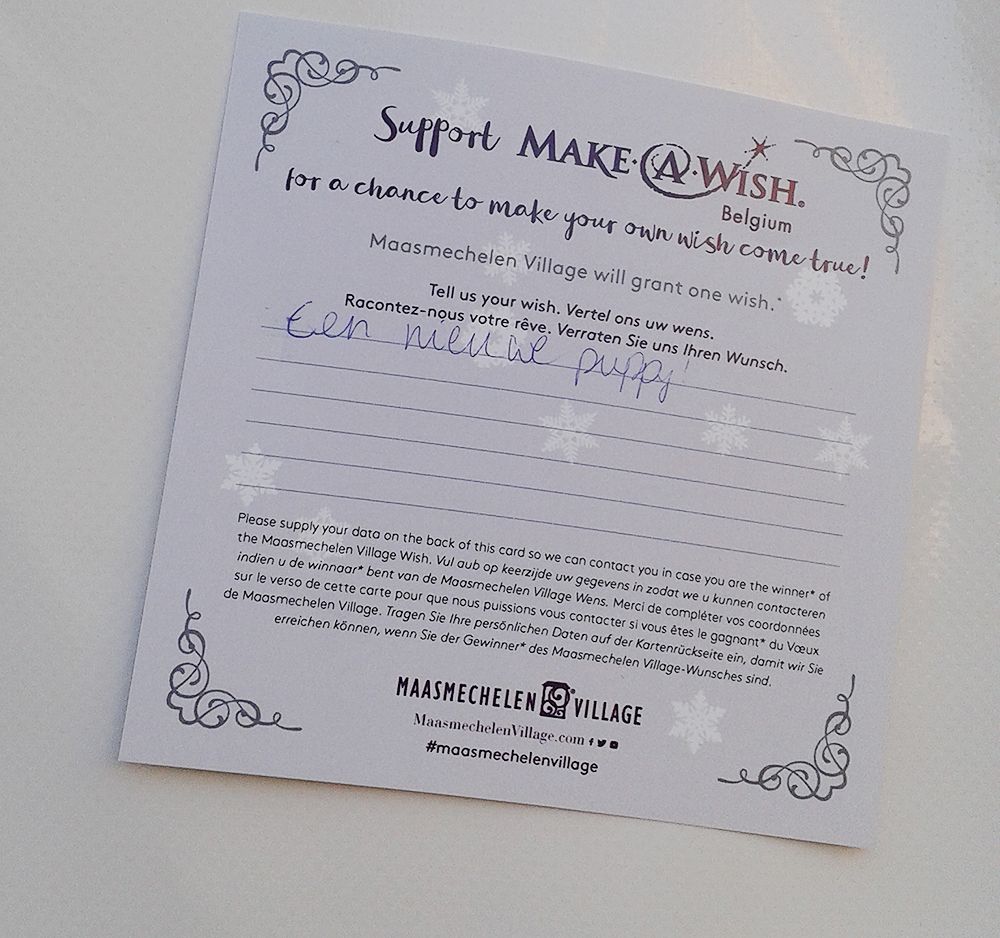 Ik had echt een superfijne namiddag achter de rug dankzij Maasmechelen Village! Ik heb ook nog heel wat shoptegoed gewonnen dus binnenkort ga ik terug om mijn kerstinkopen te doen. Natuurlijk moet ik nog eens stoppen bij Ellis of bij één van de vele andere restaurantjes (er is net een nieuwe noodle bar geopend, OMG). Er zijn ook standjes met pannekoeken en glühwein die ik zeker ga bezoeken als het eens sneeuwt (voor dat ultieme kerstgevoel hé).
I really had a great afternoon thanks to Maasmechelen Village. I still have a bunch of gift cards that I won so I'm going back soon to do some early Christmas shopping and I'm definitely going to stop at one of the restaurants for a quick bite (a new noodle bar just opened, omg).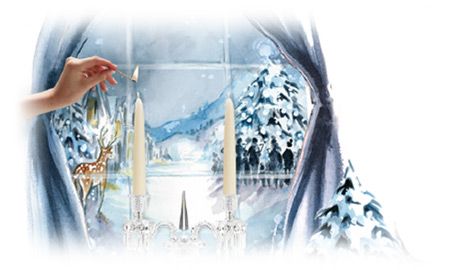 Ik ben echt héél trots op Maasmechelen Village en mijn hometown! Ik hoop dat er in de toekomst meer beautywinkels zullen verschijnen want voorlopig is er enkel de L'Occitane om mijn beauty cravings te bevredigen. Maar Maasmechelen Village heeft in de afgelopen jaren enorm veel fantastische veranderingen doorgevoerd waardoor het een echte hotspot is geworden. Om de zoveel tijd verschijnen er wel nieuwe winkels en restaurantjes waardoor elk bezoek weer nieuw is. Ik ga altijd minstens 1 keer per maand naar de Village, maar met de kerstperiode gaat dat vaker zijn. De outlet is namelijk on-ge-lo-fe-lijk mooi versierd voor kerstmis – overal lichtjes! – waardoor het 's avonds op een echt sprookjesstad lijkt.
I am very proud of Maasmechelen Village and my hometown. I'm so impressed by the amazing changes that happened over the years. Every few weeks/months, a new store or restaurant will pop up so every visit is a new experience. I always visit Maasmechelen Village at least once a month but I think I'll be going a lot more, especially now during the christmas period. The village is beautifully decorated with twinkling lights – it's just like a real life fairytale!
Veel liefs,
Diana
A big thanks and lots of hugs to Céline and Karima for organising the most fun event I've ever been to! xoxo