FINALLY – Birchbox is naar België gekomen! Deze fantastische beauty box kon al zowat de hele wereld veroveren en is sinds enkele weken verkrijgbaar in ons landje. Ik kreeg deze week opeens een box binnen en toon jullie heel graag wat er in zit en natuurlijk ook wat ik er van vind.
Finally, the amazing Birchbox made its way to Belgium! This beauty box managed to conquer the whole world by storm and now, our little country can be added to that list. I received a box earlier this week and I'm so excited to show you what's in it! Keep reading to find out more.
Wie Birchbox niet kent, krijgt nu een spoedcursus beauty box van me. Birchbox is een beauty abonnement waarbij je €13 per maand betaalt en bijgevolg een doos met luxestalen samples bij je thuis geleverd krijgt. Ben je tevreden over het product? Dan kan je via de website van Birchbox direct de fullsize versie aanschaffen. Simpel en snel, en je hoeft geen geld uit te geven aan producten waar je achteraf misschien niet tevreden over bent.
For those of you who don't know Birchbox yet: it's a beauty subscription which allows you to try out five samples of different brands. These are all luxury samples – not those dreaded sachets – and if you're happy with it, you can purchase the product directly from the Birchbox website.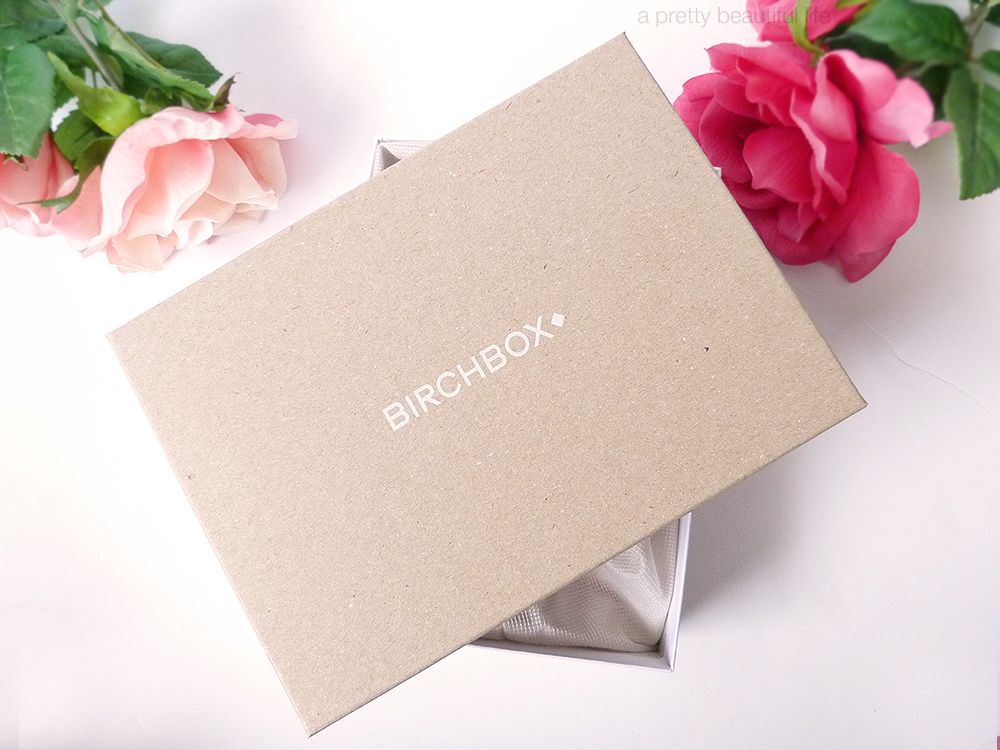 Heel veel grote beautymerken zijn al overtuigd van het Birchbox concept. Denk maar aan Alpha H, Burt's Bees, Caudalie, Dermalogica, Embryolisse, Lush, Paul and Joe, The Balm ennnn de Beautyblender! Dat zijn grote namen en slechts een handgreep uit het gigantische aanbod. Kan niet anders dan goed zijn!
A lot of beauty brands are already collaborating with Birchbox: Alpha H, Burt's Bees, Caudalie, Dermalogica, Embryolisse, Lush, Paul and Joe, The Balm and Beautyblender. And these are just a few of the brands that are working with Birchbox!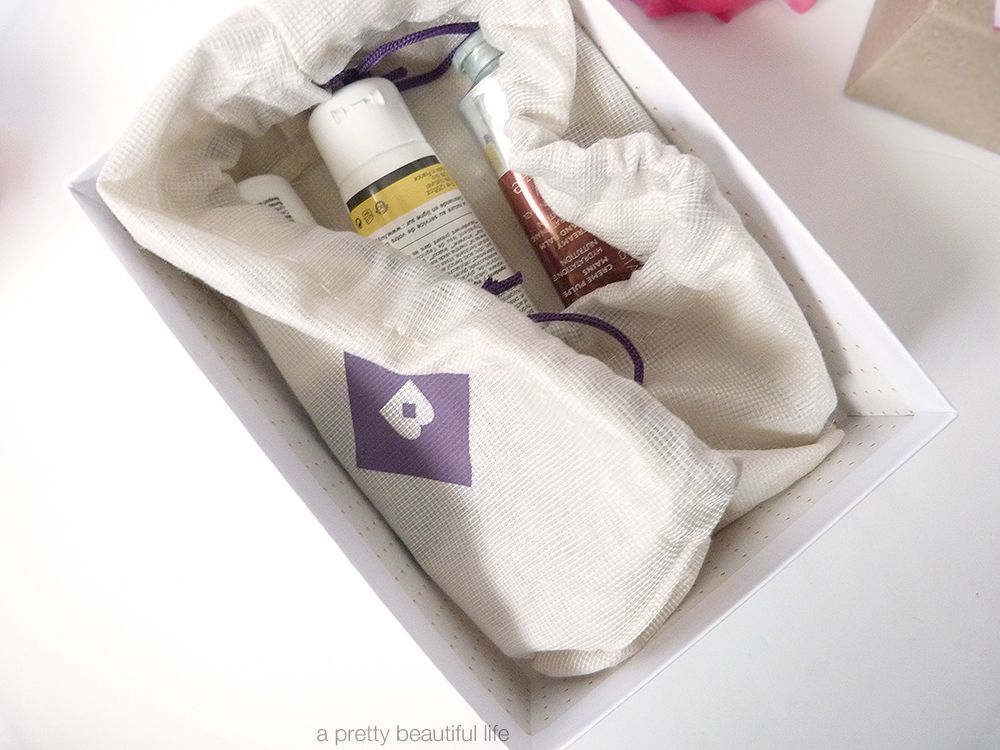 In de box van oktober zitten er alvast enkele grote kleppers. Ik ben in ieder geval héél blij met het aanbod; het is een gevarieerde mix van make up, haarproducten en huidverzorging.
The October box contains a great mix of make up, hair products and skin care.
Het nagellakje van Lollipops Make-Up springt er direct uit dankzij haar knallende rode kleur, Voyage à Paris. Dit is een fullsize product en een erg mooie kleur voor de feestdagen, maar ook om een dosis glamour in je dagelijks leven te brengen.
This gorgeous nail polish by Lollipops Make-Up immediately catches your eye. 'Voyage à Paris' is a vibrant red colour that's perfect for the holidays.
Lollipops Make-Up Vernis à ongles  |  12 ml – €8,90
Mijn favoriet uit de box: de Staniac 'Beauty Queen' van The Balm. Dit is een luxestaal maar volgens mij ga ik hier nog lang mee zoet zijn! Ik heb hem al even getest en ik snap helemaal waarom iedereen zo lovend is over dit product.
My favorite product is the Staniac in 'Beauty Queen' by The Balm. This is a large sample but I think it's going to last a very long time. I already tried this product and I completely understand why Staniac is such a staple in the beauty world.
The Balm Cosmetics – Staniac 'Beauty Queen'  |  8,5g – €13,50
In de box zit ook een redelijk grote tube body milk van Huygens, een erg groot Frans merk dat door velen wordt opgehemeld. Ik ben erg benieuwd om dit te proberen maar ik kan jullie alvast zeggen dat de crème heerlijk ruikt.
The box also contains a generous amount of Huygens body milk. I'm very curious about this product as I've heard a lot of great things about this brand.
Huygens Le Lait Corps Verveine d'Huygens  |  250ml – €22,40
Nog een toppertje én exclusief voor Birchbox: de Super Comb Prep&Protect leave-in conditioner van Number 4. Deze kende ik nog niet, maar de beschrijving klinkt alvast erg goed en het feit dat je deze niet moet uitspoelen, maakt het nog beter. Hier ga ik nog een aparte review over schrijven!
Number 4 is one of Birchbox's exclusive brands. The Super Comb Prep&Protect leave in conditioner sounds great; you're definitely getting a seperate review of this one.
Number 4 Super Comb Prep&Protect  |  200ml – €23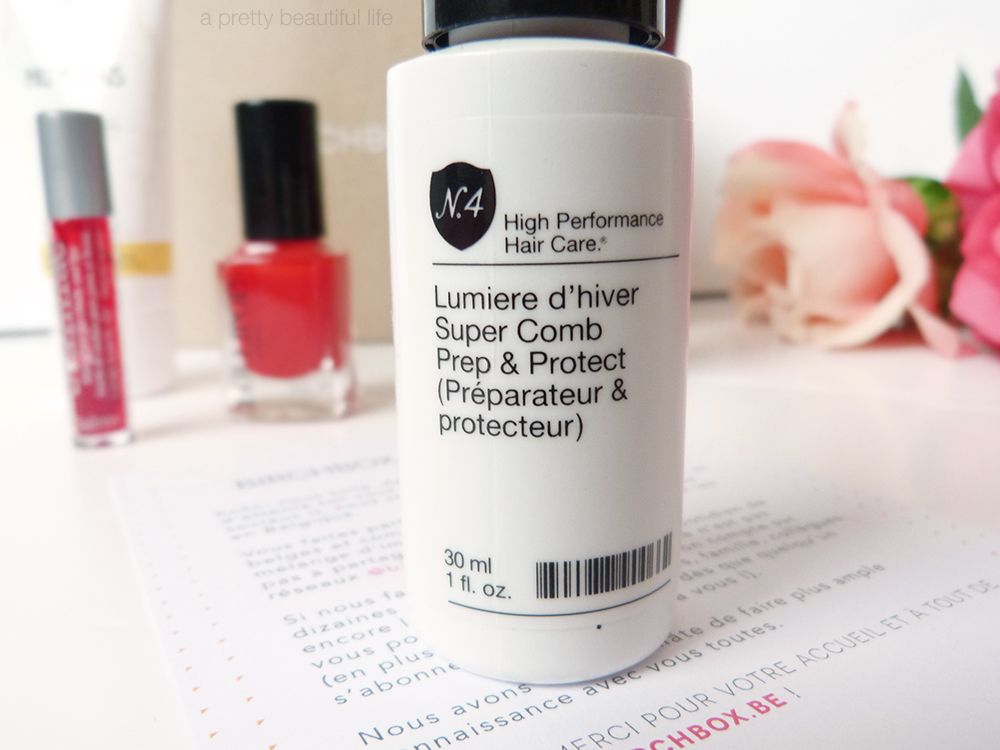 Een goede handcrème is broodnodig met dit weer. Ik ga in de komende tijden alvast deze handcrème van Natura Brasil gebruiken. Dit is trouwens een fullsize product.
A good hand cream is necessary with this cold and windy weather. I'm sure I'll be using this one by Natura Brasil a lot!
Natura Brasil Ekos Crème pulpe main Castanha  |  75 g – €15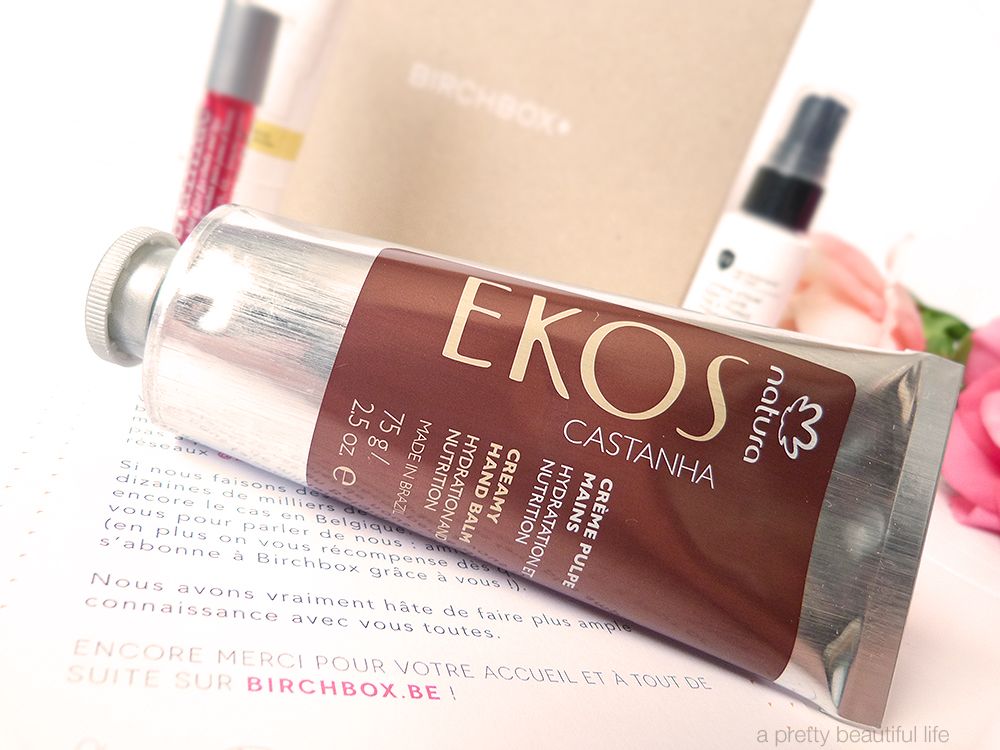 Ik ben dol op Birchbox. Meer kan ik niet zeggen. Ik vind het veel beter dan de Deauty box want er zijn gewoon veel meer (exclusieve!) merken die met Birchbox samenwerken. Bovendien is het aanbod erg gevarieerd. Ik heb de inhoud bekeken van vorige boxen en je zal niet snel meerdere producten uit 1 categorie in 1 box vinden, wat wel af en toe het geval was bij Deauty. Ik heb het gevoel dat je bij Birchbox écht waar voor je geld krijgt! Ook het feit dat je achteraf via de site het fullsize product kunt kopen, is een erg handige functie. Zo hoef je ook niet meer apart op zoek te gaan naar dat product.
I love Birchbox – that's all I've got to say. I think it's a lot better than the Deauty box, which often had multiple products in the same category in one box. And I don't think there are a lot of people who are paying €15 a month for a box full of tiny shampoos. That's the big difference: Birchbox offers different kinds of products ànd the amount of brands that work with them is just a lot larger. I really feel that you're getting your money's worth when purchasing a Birchbox.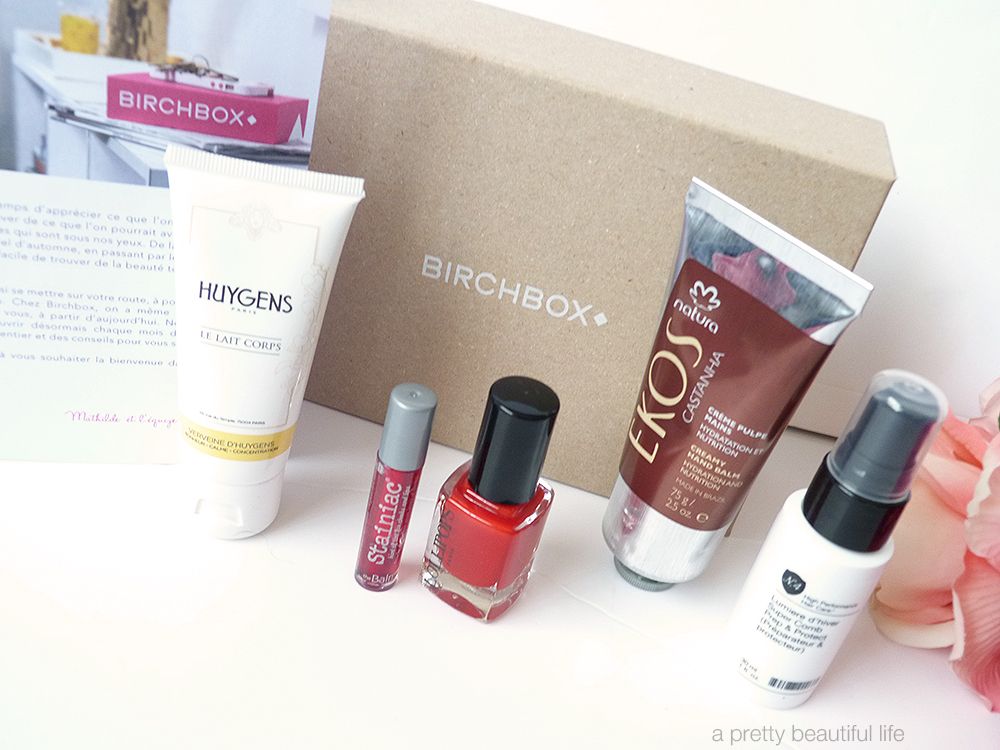 Bestellen is erg simpel. Je gaat naar www.birchbox.be, je betaalt €16 (€13 voor een box en €3 verzendkosten) en voor je het weet, heb je je eigen Birchbox in handen! Ik ben alvast enorm verleid om een vast abonnement te nemen want de producten die in deze boxen zitten, zou ik zelf direct gebruiken!
You can order your own box via www.birchbox.be. One box costs €16 (€13 and €3 shipping) and before you know it, you'll be a proud owner of a Birchbox. I'm very, very tempted to get a subscription…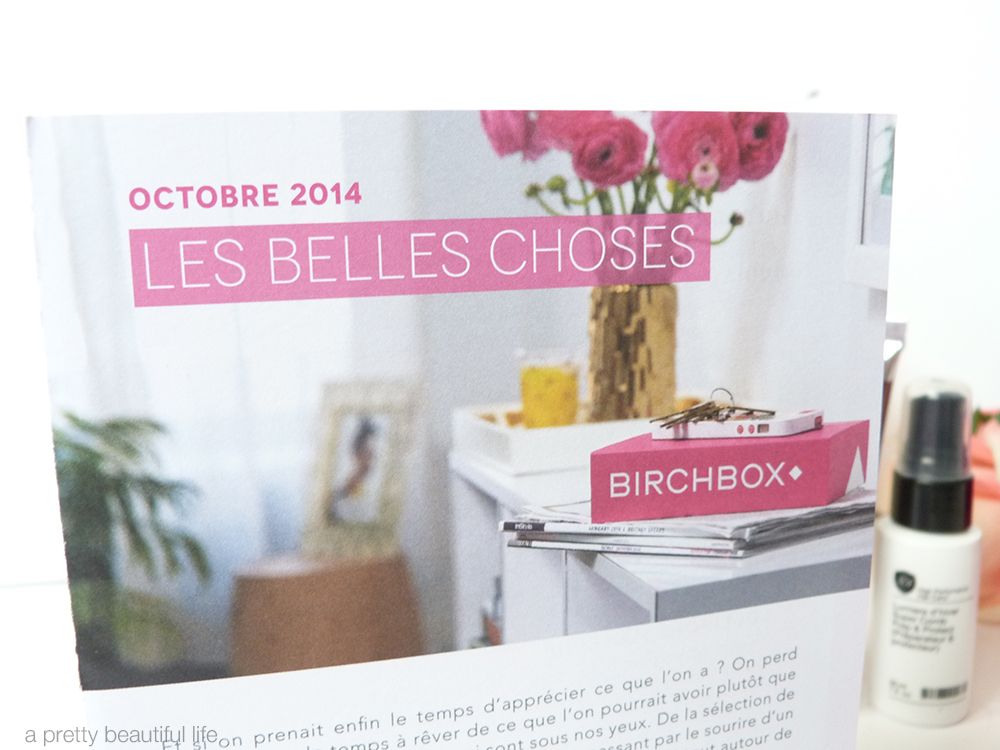 BIRCHBOX – €13/MONTH OR €120/YEAR