Een tijdje geleden stond lady luck aan mijn zijde en won ik een License To Blot van Benefit bij Deb. Omdat ik doorheen de dag al snel een glimmend voorhoofd krijg (niet erg charmant, I know), kwam dit schatje helemaal van pas. Ik gebruik het al enkele weken en vandaag horen jullie wat ik er van vind.
A couple of weeks ago, lady luck was on my side: I won a POREfessional License to Blot by Benefit. I've been testing this baby out for a couple of weeks now so be ready to read what I think about it.
De beloftes van de License To Blot? Een matte huid, kleinere poriën en het teveel aan sebum wordt geabsorbeerd. Eigenlijk een beetje hetzelfde effect als blotting papers maar dan in een stick vorm.
Voor mij worden alle beloftes waar gemaakt en mijn huid ziet eruit alsof ik met een blotting paper in de weer ben geweest. Mijn huid ziet er ook gladder uit en de poriën lijken inderdaad een beetje vervaagd te zijn. Ja hoor, ik ben tevreden!
License to Blot promises to mattify the skin, reduce the visibility of pores and absorb excess oil. It has the same effect as a blotting paper (minus the minimalisation of pores).
Het enige wat ik mijn serieus afvraag: dit kan toch niet hygiënisch zijn? Goed, de stick doet zijn werk prima, maar waar gaat al die vuiligheid naar toe? Vergeet niet dat je eigenlijk olie en makeup op de stick smeert – ew. Hoewel dit geen slecht product is en handig voor on the go, verkies ik liever blotting papers omdat je deze na gebruik gewoon in de vuilnisbak kunt smijten. Ik wil niet weten hoe deze stick er uitziet na pakweg 10 keer gebruiken…
The only downside: this isn't very hygienic. Sure, it does it's job really well but I prefer to use blotting papers, simply because I can chuck them in the trash can afterwards. Don't forget you're picking up oil and makeup with that stick! An alternative is using the stick as a mattifying primer underneath your makeup.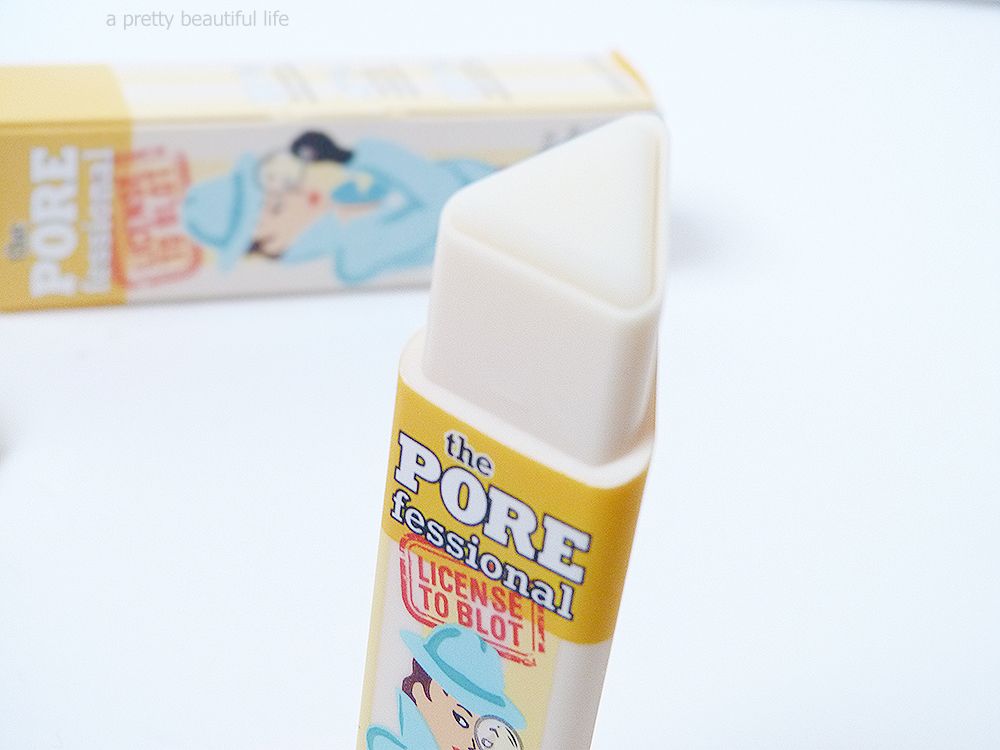 Wat ik wel vaak heb gelezen, is dat je deze stick perfect als een mattifiërende primer kunt gebruiken. Ik heb het eens geprobeerd en ja hoor, dit is een prima alternatief. Het is niet het toppunt van hygiëne maar er komt toch al minder rotzooi terecht op je stick.
Benefit POREfessional License To Blot – €21,10
Availability: Douglas, INNO