Herfstcollecties zijn ongetwijfeld mijn favoriet. De rijke kleuren, donkere lippen en zwoele ogen – need I say more?
BE Creative bracht vorige maand al haar herfstcollectie op de markt. Ik testte alvast twee producten uit – de 'Mystery' eyeshadow quad en de 'Lovely' lipgloss – die jullie vandaag kunnen bewonderen.
Autumn collections are my favorite: the rich colours, dark lips and sophisticated eyes. BE Creative launched their autumn collection last month and I got to test two products.
De kartonnen doosjes waar de producten in zitten, vind ik al echt superleuk gedaan. Lekker kleurrijk en veel leuker dan een simpel zwart doosje.
I love colours and the print on the cardboard packaging that contains the products.
Ik toon jullie eerst de Eyeshadow Quad in 'Mystery', een prachtig palette met vier complementaire en unieke kleuren.
Up first is the Eyeshadow Quad in 'Mystery'. It contains four complementary en quite unique colours.
Linksboven hebben we een witgouden highlighter- of basiskleur. Daarnaast vinden we een blauwzilveren tint. Linksonder in het palette zit een taupekleur. Als laatste is er nog een warme auberginekleur. Ik vind deze kleuren erg goed gekozen (vooral de laatste twee) – ze reflecteren echt dat warm, knus, herfstig gevoel.
Clockwise starting from the top left we have a golden white highlighter or base colour, a gunmetal blueish/greyish tint, a warm aubergine colour and a soft taupe. I really like the colours in this palette – they reflect that warm, fuzzy autumny feeling really well.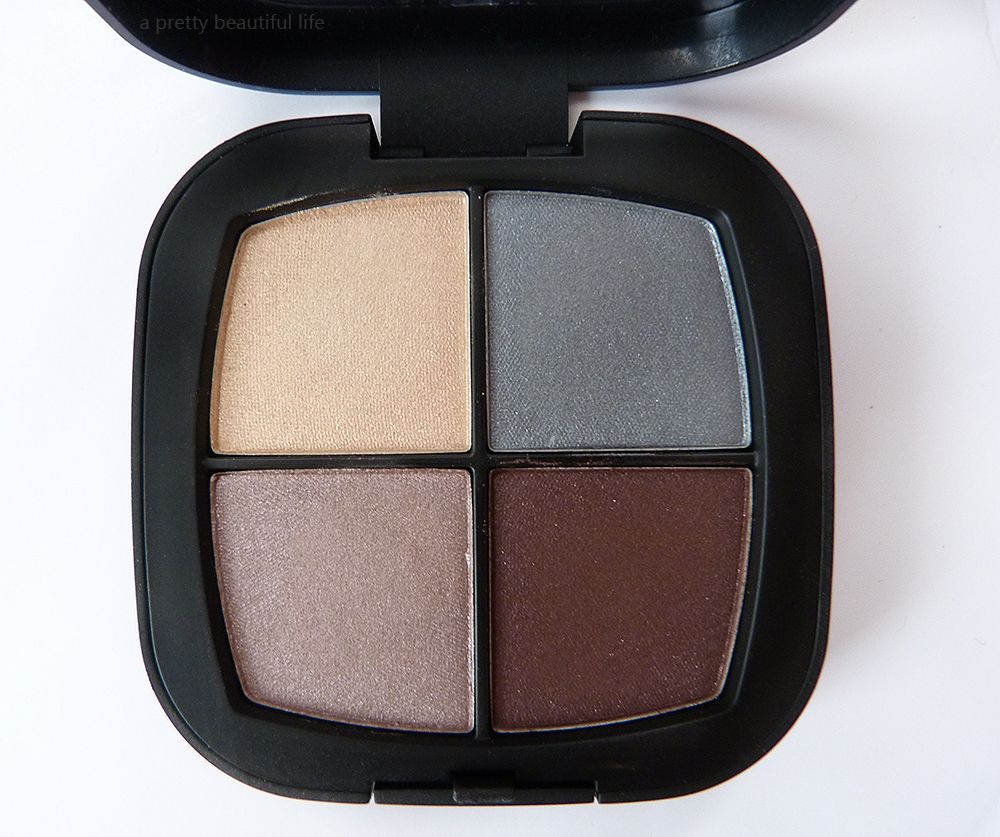 Zoals jullie zelf kunnen zien, is de pigmentatie van dit palette dik in orde. Ik ben vooral gek op de highlighter kleur dat me een beetje doet denken aan NARS Albatross. Stiekem gebruik ik deze ook als highlighter op mijn jukbeenderen, zo mooi vind ik hem. De blauwgrijze tint vind ik ook prachtig. Het is zo'n mooie accentkleur dat ik regelmatig wel eens durf te gebruiken. De taupetint gebruik ik vaak als basiskleur over mijn gehele ooglid, en de auberginekleur is ideaal voor een warme smoky eye.
As you can see for yourselves, the pigmentation of these eyeshadows is amazing. I especially love the highlighter colour – it kind of reminds me of NARS Albatross. I must admit that I sometimes dab this colour on my cheekbones as well. The blueish eyeshadow is great as an accent colour. I usually apply the taupe colour as a base colour and the aubergine eyeshadow is perfect for a warm smoky eye.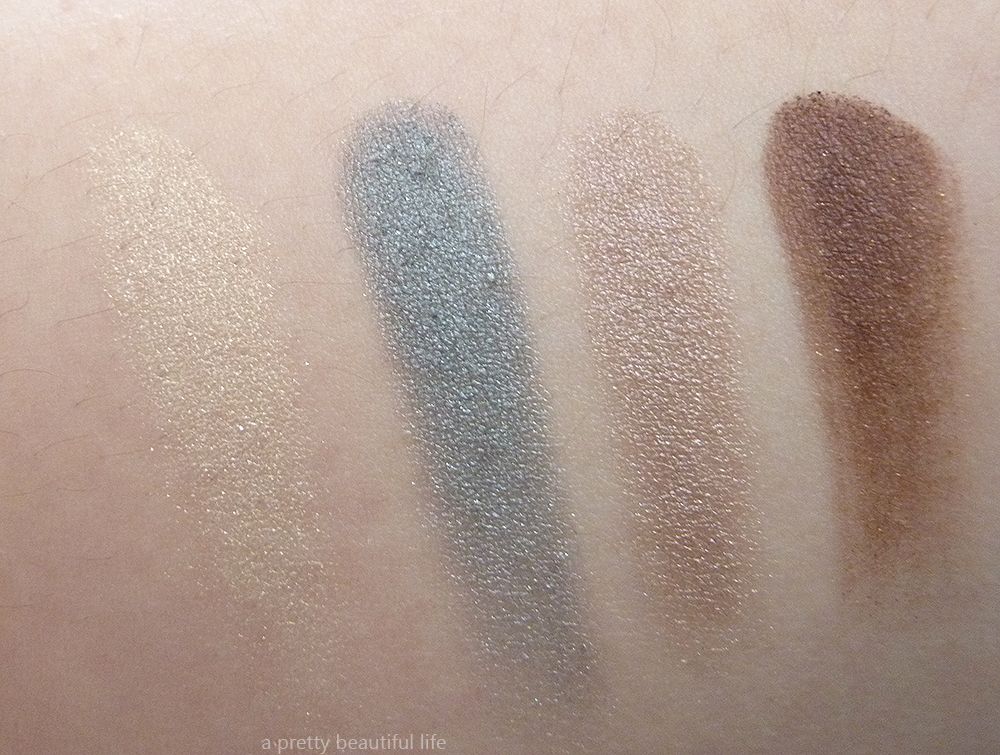 De lipgloss die ik ontving, Lovely, is minstens even mooi. Het doet me denken aan MAC Nymphette maar dan lichter en minder roze.
The gloss I have here is called Lovely and reminds me of MAC Nymphette, only lighter and less pink.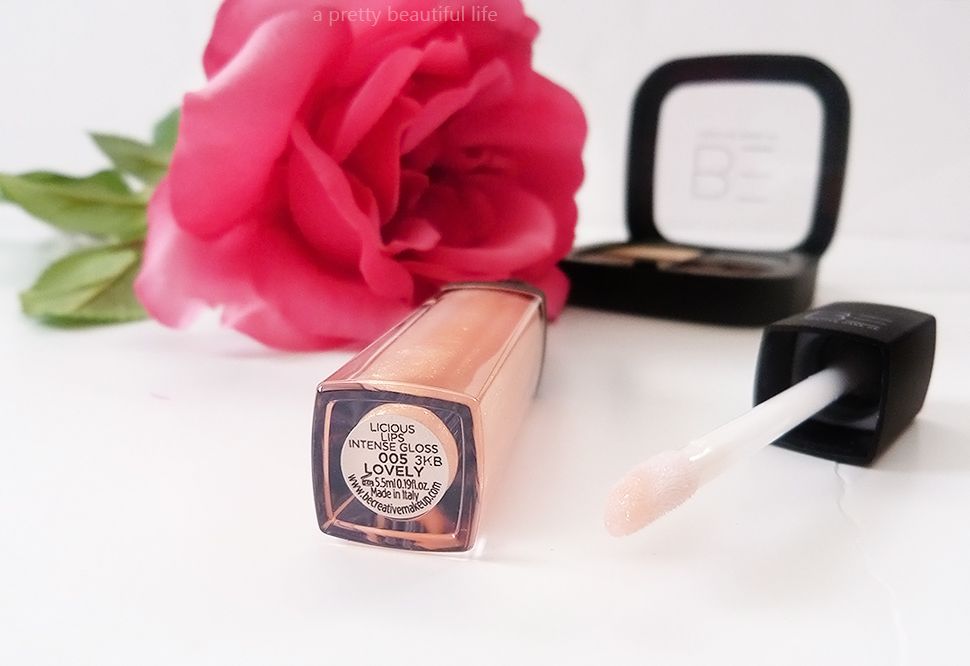 De gloss zelf bevat echter niet veel kleur; je ziet het amper op het kwastje zitten. Toch vind ik dat het mijn lippen iets rozer maakt en voller doet lijken. Simpel, maar ik ben dol op het effect!
Unfortunately the gloss doesn't show up on the applicator. I still love the effect on my lips though: it makes 'em a bit more pink and has a plumping effect. I really love it!
Ik ben altijd al fan geweest van BE Creative en deze producten bevestigen dat nog maar eens. De kwaliteit is super – zonder basis bleef de oogschaduw netjes de hele dag zitten, en de gloss overleeft met gemak een drankje.
I've always been a fan of BE Creative make up and these products are no exception. The quality is amazing: the eyeshadow stays put for a whole day, even without a base, and the lipgloss can definitely survive a drink.
BE Creative herfstcollectie – verkrijgbaar al vanaf 18 augustus bij Ici Paris XL

Eyeshadow Quad – €17,95
Licious Lips Intense Gloss '005 Lovely' – €12,95