Hebben jullie ook al een instant zomergevoel bij het zien van deze collectie van Babor? De rode lippen, een roze blos en bronskleurige oogschaduw – zomer. Ik toon jullie graag deze productjes meer in detail dus blijf zeker lezen.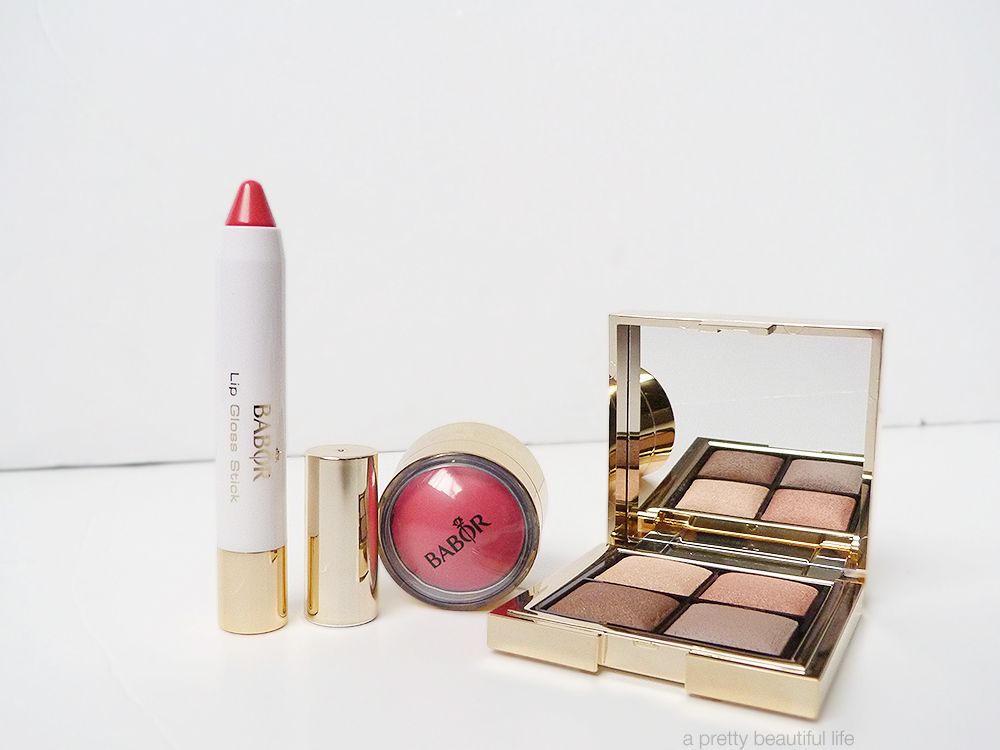 I got an instant summer-feeling when I first received this SS15 collection by Babor. The red lips, a pink blush and bronze eyeshadow reminds me of a hot summer day. Keep reading to find out more about these gorgeous products.
De eyecatcher uit deze collectie, zowel letterlijk als figuurlijk, is het Nude Eye Shadow Collection palette. In dit prachtig doosje zitten vier oogschaduws in naturelle tinten. Het mooiste aan dit palette is dat de oogschaduws net kleine kussentjes zijn – love it.
The eyecatcher in this collectioon (pun intended) is the Nude Eye Shadow Collection palette. It contains 4 gorgeous eyeshadows that are kind of shaped like little pillows.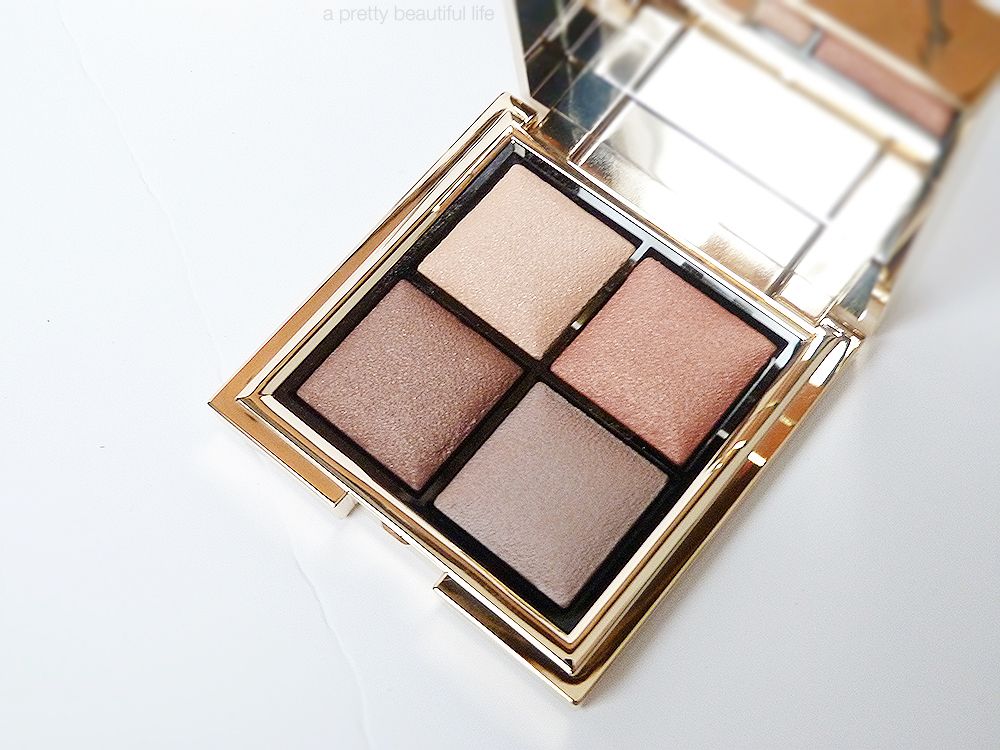 De oogschaduws zijn superzacht en omdat ze totaal niet verstuiven, zijn ze erg fijn om mee te werken. De pigmentatie is misschien niet denderend, maar je kan er toch prachtige looks mee maken. De lichtste kleur gebruik ik als highlighter en de twee kleuren rechts in het palette gebruik ik graag over mijn gehele ooglid, en de donkerbruine tint is fijn om de wimperrand mee aan te zetten. Ik ben hier tevreden over, ja!
The eyeshadows are very soft to the touch and easy to work with as they don't have a very powdery texture. So the pigmentation isn't spectacular, but I still think they're great for natural eye looks. I also love a soft wash of colour over my lids and these eyeshadows are great for that.
Ik verkies zelf een lichte gloss boven een zware lipstick, en dan is zo'n Lip Gloss Stick het ideale product. Deze kleur heet 'Glossy Melon' en het is een frisse roodroze kleur.
I prefer a light moisturizing gloss to a full coverage lipstick so this Lip Gloss Stick is perfect for me. This is the colour 'Glossy Melon' and it's a fresh, reddish pink colour.
Glanzende, gevoede lippen met een gezond kleurtje – meer moet dat toch niet zijn? Ik hou van dit product!
Glossy, hydrated lips with a hint of colour, that's all I need.
De verpakking van de Cream Blush Stick heeft Babor doet me sterk denken aan de Météorites Blush (zie hier) van Guerlain. Maar daar is niks mis mee want zo'n kleine verpakking is compact en handig voor on the go.
The packaging of Babor's Cream Blush Stick reminds me of Guerlain's Météorites Blush. But I don't mind that since the packaging is tiny and compact – perfect for on the go.
Deze blush heeft een felroze kleur met een blauwe ondertoon. Je kan hem lichtjes aanbrengen voor een gezond blosje of juist hevig voor een opvallende look. Een multifunctioneel kleurtje, dus!
The blush has a bright pink colour with a blue undertone.
Rechts zien jullie de swatch van de blush. Het heeft een fijne cremetextuur die gemakkelijk met de huid versmelt. Je kan hem ook met een kwast aanbrengen voor een subtielere look, of rechtstreeks op de huid en dan met de vingers uitwerken.
On the right you see a swatch of the blush. It has a nice creamy texture that's very easy to work with. You can use a brush for a light application or just dot it onto your cheeks and then blend it with your fingers.
Yup, ik ben fan van de Babor makeup. Vooral de oogschaduws zijn ideaal voor mij – je verkrijgt een vleugje kleur die je gemakkelijk kunt opbouwen voor een intensere look. En de lipgloss is hemels!
I really like the Babor makeup! I especially like the eyeshadows. You get a wash of colour but you can also layer the eyeshadow for a more intense effect. And the lipgloss is just plain amazing.
Cream Blush Stick – € 13,50
Lip Gloss Stick: 3 glossy melon – €17,00
Nude Eye Shadow Collection (zijde, rosé, bruin, brons) – €29,00
Alle Babor producten zijn verkrijgbaar in het schoonheidsinstituut en op de website van Babor. Je kan hier ook de volledige SS15 collectie bekijken.